home
/ advertising networks
Choosing an affiliate program for making money is one of the most important steps for an affiliate marketer. The profit of the campaign, the convenience of working with the CPA network, and payouts depend on how well you choose an affiliate program. We have compiled our rating of affiliate programs and want to share with you the secrets of choosing the truly best affiliate program for making money
Teaser Ad Networks
Push Ad Networks
Popunder Ad Networks
Native Ad Networks
Video Ad Networks
Text Ad Networks

Advertising networks for affiliate marketing allow you to get high-quality traffic for any offer – from sweepstakes to nutra. Each network has its own features: some have a lot of adult traffic, while others only work with push notifications on informational websites.
To make it easier for you to choose, we have compiled a top-list of best networks for earning on websites and obtaining traffic from them. We also explain what advertising networks are, how they work, what types there are, and how much you can earn from them.
What is an advertising network and how does it work?
An advertising network is a platform that brings together advertisers (those who want to promote a product) and webmasters (website owners who want to earn money from them). The network combines places on partner sites and sells them to advertisers.
Platforms essentially buy and sell traffic:
Buy from webmasters. The advertising network offers website owners to connect to the platform. Webmasters install special code on their resource, which allows the network to place ads on it. In exchange, the advertising network shares with website owners a portion of the revenue earned from advertisers;
Sell to advertisers. An affiliate comes to the platform to launch advertising. They choose who should see it: for example, it could be only a user from Russia and only on a Windows PC. The advertising network determines which of the partner sites has such traffic and shows the ad to the desired audience.
The more sites connected to the network, the more traffic volume the advertiser can get.
Types of advertising networks for affiliate marketing
There are many advertising networks, and each has its own features. They are often divided into groups depending on where exactly the advertising is placed on partner sites, or what type of traffic prevails. There are 6 major groups in total.
Push networks
They are popular in affiliate marketing because it is a relatively new format that allows you to get cheap leads. Networks place ads in push notifications – pop-up messages from websites, less often – from applications.
This is how it works: there are websites that offer users to subscribe to push mailings and receive useful materials or special offers. Then these resources are connected to an advertising network, and advertisers in affiliate network can place ads in such notifications.
Push notifications allow you to get high conversions for several reasons:
they break through banner blindness because they look like messages received on social networks;
they are easy to make similar to personalized messages, and therefore – to generate additional interest from users.
Therefore, many push advertising networks have appeared in just a year, working only with this format. And those who offer different types of advertising also connected placement in push notifications.
Native advertising networks
Native advertising networks work with organic placement of offers from advertisers, so with deep work, they are able to give good results in affiliate marketing. They place ads on partner sites not everywhere, but in specially designated places.
Native advertising implies an organic offer of a product, so it looks unobtrusive. It can be a short text, banner or text with an image in a relevant article or on a suitable page of a website. For example, in affiliate marketing, an advertisement for a lucky charm can be placed in an article about ways to attract luck.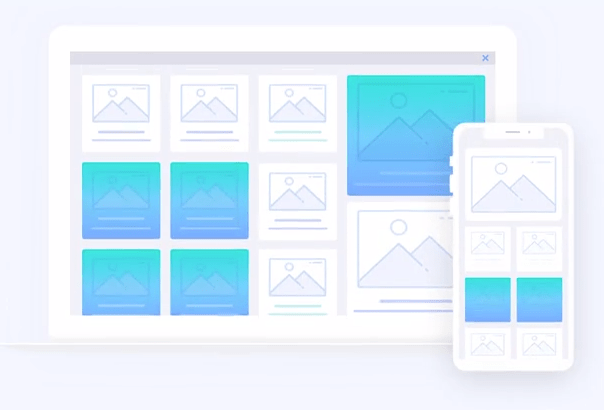 Native advertising networks are as popular as push. This advertising format allows webmasters to monetize their site through Google or "Yandex", and advertisers to get traffic with CTR up to 60% with proper targeting settings and ad placement.
Teaser advertising networks
A separate advertising format popular in affiliate marketing is teasers. These are short ads with intriguing headlines that arouse interest and a desire to click on the link. They often use clickbait: emotional exaggeration of facts.
Advertising networks that work with this format offer cheap traffic. This is because teasers give high clickability, but require traffic warming – without it, the conversion to leads will be extremely low.
Popunder and clickunder networks
These advertising networks work with an unusual ad format that generates the most clicks but few conversions:
Popunder – a full-screen popup window that, when closed, opens the advertiser's website in a new tab. Clickunder– a format in which the advertiser's website appears in a new tab when clicked anywhere on the partner website. In fact, users do not request ads – they simply see a new website in a different tab and often do not explore it but leave.
That's why popunder and clickunder networks offer the cheapest traffic – starting from 0.01 rubles per click. At the same time, with the warming up of the audience, it can pay off in affiliate marketing, if promoting offers to a wide target audience.
There are many advertising networks that work with multiple formats at the same time. For example, Evadav offers both popunders, push notifications, and native advertising. Some networks specialize in one format, but there are few of them. Even TeaserNet, which initially worked only with teasers, now offers 7 variations of ad placement.
Mobile app advertising networks
This category includes networks that work with a specific type of traffic: clicks from mobile apps. Instead of websites, they are connected to mobile apps where advertising can be placed. Advertisers receive traffic from there.
Most often, in affiliate marketing, advertising networks with apps are used to promote advertisers' applications or their own, which act as a bridge and lead users to a landing page. For example, they are used in gambling and betting.
Advertising networks for earning money on websites
Such platforms are separated into a separate group, although they are essentially the same services. In this case, advertising networks are viewed from the perspective of money making for webmasters: they can connect to the platform and earn money from it by using traffic.
Each advertising network has its own requirements – some accept sites with a minimum of 500 unique visitors per day, while others require at least 2,000 visitors. Also, platforms pay for advertising differently, but on average the level of deductions is 50-70% of the income received from advertisers.
Earning on ad networks: 3 useful cases
In affiliate marketing, it is possible to earn in any advertising network if you choose a relevant format for a specific offer and set up the campaign correctly. We have collected three indicative cases for you, from which you can gain useful experience.
$60,000 on native advertising
In this case, an affiliate promoted a crypto offer in the form of native advertising. Various options for earning money were used as creatives, along with different calls to action.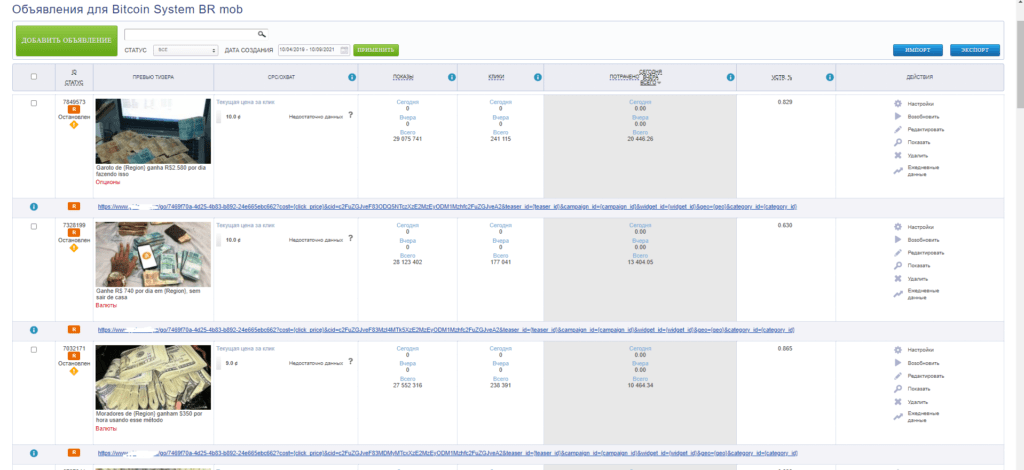 The period of the campaign lasted just under a year. The affiliate constantly worked on optimizing the campaign: deleting old creatives, adding new ones, and changing pre-landers. As a result, $135,164 was spent on advertising, and $195,250 was earned. The net profit was $60,000.
$3,600 on a prostate remedy in MGID
This case discusses working with a nutra offer in a new geography. MGID has a relaxed moderation policy, so most creatives were approved; only certificates, doctors, and shocking images were rejected.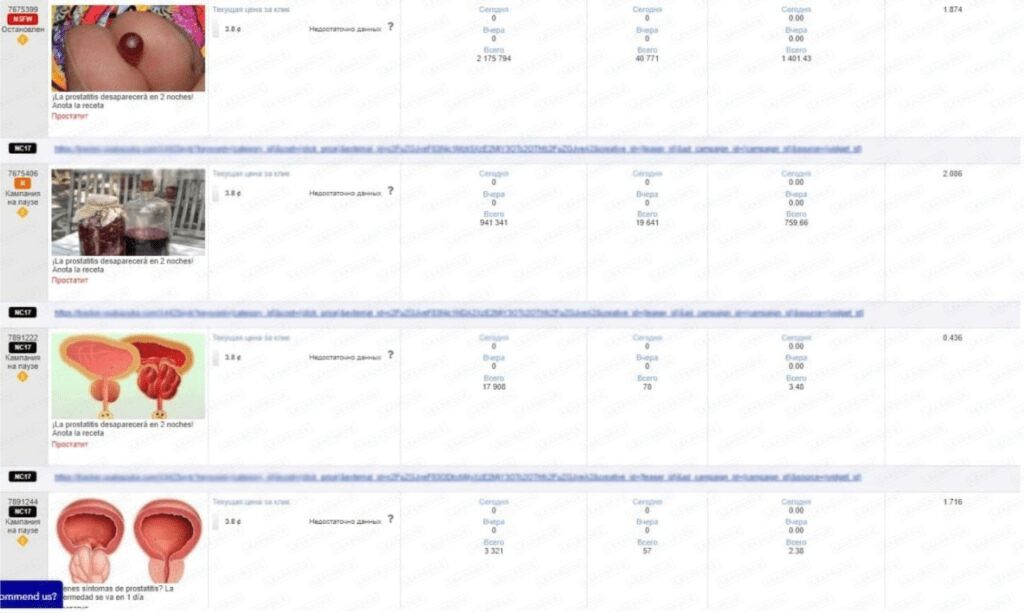 The promotion scheme was simple: increasing the bid on platforms with cheap traffic, and lowering or disabling those that were breaking even or operating at a loss. In a month's work, $6,606 was spent on advertising, and $10,238 was received in the partner network. The net profit was $3,600.
1,300 USD on dating with push notifications
Another example is a promotion of dating offers in the USA. Affiliates used a standard approach: they designed push notifications in the ad network in the form of a personal appeal – missed call messages. They used photos of girls in the creatives.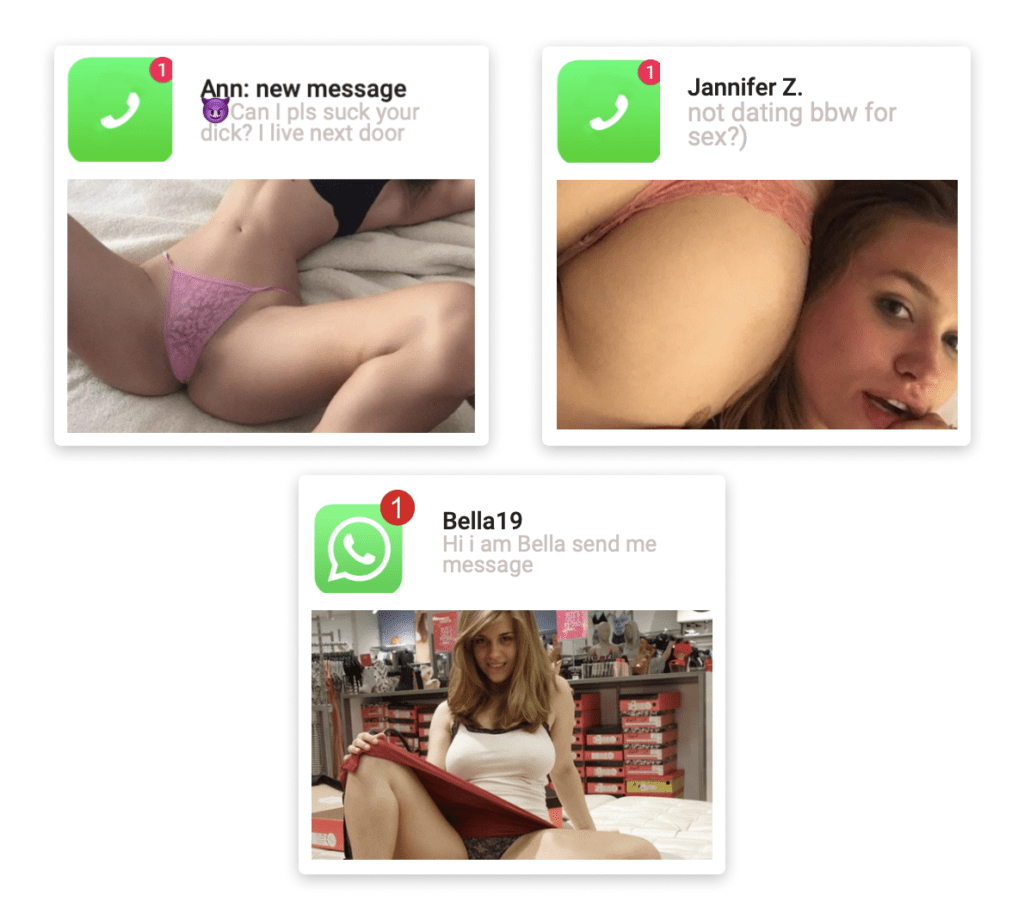 In just 11 days, they spent $1,721 on pushes, received $3,022 on four different offers. The net profit was $1,300.
If you also want to make a profit in affiliate marketing, choose an advertising network from our top-list and set up an advertising campaign.
AffDays 
Advertising Network Rating: Which Networks Made it In
To make your search easier, we have gathered the top advertising networks in one place. The top-list includes only platforms with good traffic that can be profitable for different verticals.
We tried to choose advertising networks that work with different concepts so that you can select a platform for traffic overflow to different offers. Look at the short description to see which traffic or concept prevails in the network to make the right choice.
The benefits of the AffDays top advertising networks
It's quite simply to choose, since in one place you can view short descriptions of different networks instead of searching through many sites. There's detailed information about the networks – each platform has a detailed review with "inside" screenshots. There are different opinions – users can leave feedback on networks and you can read them and choose the best. Find advertising networks suitable for affiliate marketing in your vertical, set up campaigns, and get profits.
What are the sources of traffic in affiliate marketing?
They can be divided into free and paid. Free – your own informational website, manual spamming on forums, placing materials in Yandex.Dzen or other visited resources.
Paid – contextual advertising in Google and Yandex, targeted advertising in social networks, advertising networks, posts in communities and messengers in popular groups and channels.
How to promote in advertising networks?
Set up advertising campaigns so that the target audience sees the ads. Optimize campaigns – turn off non-working creatives and platforms, add new ads. It is also important to choose the appropriate advertising network: for example, there are networks that specialize in adult traffic. It will be difficult to get leads on crypto from them.
What is Pop Up traffic?
Users who come to the advertiser's site from pop-ups. This is called a large pop-up window, when closed, the landing page opens in a new tab. The user does not make the transition himself, so this traffic requires warming up – most often prelanders are used for this.
How to work with a clickunder?
When promoting with clickunders, you get a large volume of traffic, but it is "cold". Users do not show interest in the advertisement: the advertiser's site opens automatically. Therefore, traffic needs to be warmed up – explain why the product is important and what it will change in a person's life if they buy it.
What makes push advertising networks interesting?
Advertising in push notifications is interesting for a large volume of traffic, active audience, and high conversion. Pushes are easy to make "personalized": such that they will look like a message in a personal chat. Therefore, users pay more attention to them than to standard advertisements, and they respond more favorably because they themselves agreed to receive notifications.
How do advertising networks for mobile applications differ from ordinary ones?
Traffic comes not from websites, but from applications. Therefore, it is better to use them in niches where it is possible to attract leads through application installation: for example, in betting and gambling.
Are teaser advertising networks relevant?
Yes, they are. Teasers attract attention quite well and usually have high clickability. With proper warming up of traffic through prelanders, they are capable of bringing in a large number of leads and high ROI.
Is it possible to withdraw money from an advertising network?
Yes, webmasters who connect websites to the advertising network regularly receive payouts. Withdrawal conditions depend on the specific platform: someone pays twice a month, someone once a week. In some networks, there are several withdrawal options, in others only Webmoney is an option.