A popunder ad networks is a type of banner that appears behind the main content of a website. Unlike pop-ups, which open on top of the current page, popunders remain hidden until the user closes or minimizes the current window. Once the user interacts with the popunder, a new tab opens in the browser, displaying the advertiser's site while the original tab remains active. This unique ad format provides advertisers with a powerful way to capture the attention of potential customers while maintaining a positive user experience.




Popunder traffic is a familiar sight to anyone who browses the internet, with windows appearing on top of open windows, encouraging users to make purchases. It is considered to be one of the most powerful ways of monetization, making it an excellent access point to the realm of affiliate marketing. This guide provides in-depth information on Popunder traffic and effective ways of monetizing it, including its history and its effectiveness as an advertising platform. With reliable marketing methods evolving to suit the online space, Popunder ads are now managed and serviced by dedicated servers like EZMob. Explore the world of Popunder advertising and start monetizing your traffic today!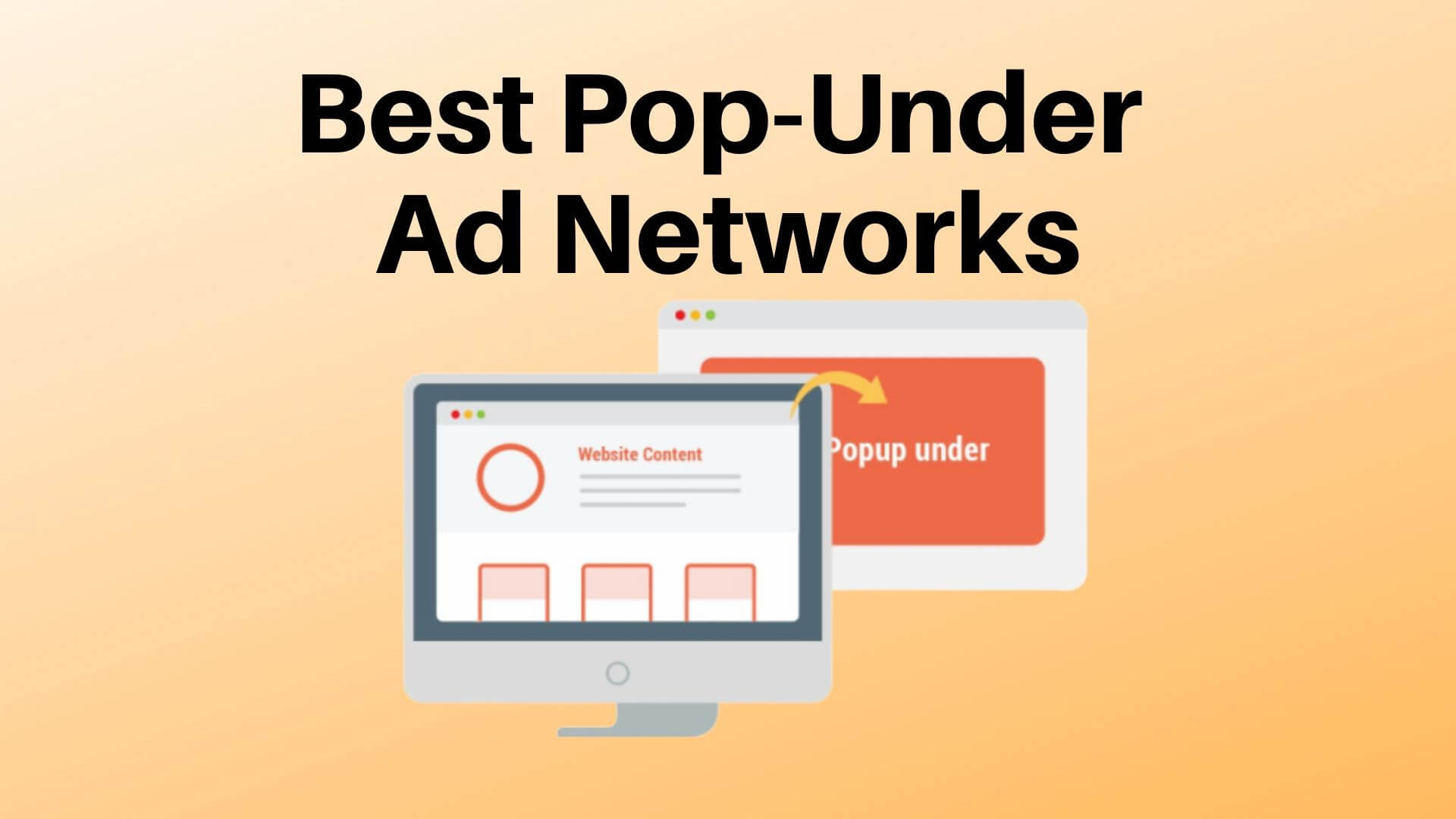 What Is Popunder Ads
Pop-under advertisements are one of the many options available to promote products or services. Unlike pop-up ads, pop-under ads appear beneath the active browser window and do not interrupt the user's experience on the main website. Instead, they remain in the user's peripheral vision until the user decides to interact with them at a later time. Pop-unders are less invasive and distracting than many other forms of advertising, as they are located beneath the active browser and do not require the user to download or install any applications. While some individuals may still prefer to block all forms of pop-up advertising, pop-under ads are not affected by ad blockers and are also mobile-friendly.
Before proceeding further, it is important to distinguish between pop-under ads and tab-under ads. This is significant because affiliates often avoid using pop-under ads due to the perception that they are too aggressive in driving traffic. While these two instruments may initially appear similar, they are actually quite distinct from each other.
A tab-under ad opens in the same window as the active tab, which is the most significant difference. It can appear either over the active tab (tab-up) or behind it (tab-under), which can irritate page visitors. These types of ads are considered more aggressive than pop-unders, which can only be viewed after the active browser window is closed. This is a major advantage of pop-under ads.
What Is Popunder Ad Traffic
Pop-under traffic refers to the total number of site visitors directed to a landing web page or website through pop-under ads. When selecting a pop-under ad as part of a paid marketing campaign, the process is straightforward. You purchase a set number of ads based on the package you have chosen, or you may be given a set time period for which the ads will be displayed.
Numerous ad networks offer pop-under ads as a type of advertisement. To select an ad network, you should try out several platforms, conduct your own research on their services, and evaluate the effectiveness of their services.
Once you have decided on an ad network, you typically have the option of being either managed or self-served, using a convenient platform that allows you to launch and optimize multiple campaigns targeted to specific audiences. In most cases, it takes only a few minutes to register and get your account approved. Then, you will need to create a draft of your first campaign, which typically can be approved within a few hours.
Why Do You Need to Use Popunder Ads
Pop-under ads have higher conversion rates compared to other ad formats. They are difficult for users to ignore since they are installed on the web page and not displayed as banners. Additionally, pop-under ads are typically less expensive than ads on social media platforms such as Facebook or Instagram.
The following are some of the objectives that can be achieved through pop-under ads:
Increase website pageviews.
Maximize revenue from ads.
Boost brand awareness.
Increase app installations.
Promote online purchases.
Generate subscriptions and lead numbers.
How Does Popunder Ad Work
Pop-under ads are often used not only to drive website traffic but also to collect contact information such as email addresses, phone numbers, etc. They are used to generate high-quality leads. Before we define what "high-quality leads" means, let us explain how pop-under ads work. When users sign up for a website that features pop-under ads and click on any of its tabs, they are redirected to a pre-landing page in a separate window. These pre-landing pages typically feature a call-to-action button and various incentives such as big prizes.
All the user has to do is click on the call-to-action button, and they will be redirected to the provider's webpage. They will also be asked to enter their contact details, such as their email address, phone number, and address. Once they enter their credentials, the advertiser is provided with high-quality leads. Since this involves dealing with private data, it is important to keep in mind that security is essential.
Alarm! No Traffic in Popunder Ad
Affiliates who work with pop-under ads may experience a sudden alert indicating that no traffic has been generated. This can be alarming, but there are steps you can take to resolve the issue.
First, check your account balance to ensure that you have funds. If you have funds, then check your campaign status and budget settings. It is possible that your campaign's daily budget has been exhausted, which means that ads will no longer be displayed for the remainder of the day. However, they will reappear the following day unless you pause the ad or the campaign limit is reached. If your campaign's total budget is reached, your ad will become inactive unless you increase the limit and restart the campaign. You can also estimate the number of impressions your ad will generate based on your campaign's bid and targeting settings using a traffic estimator.
How Much You Can Earn with Popunder Ads
Pop-under affiliates typically earn a standard income of at least $4 per 1,000 impressions from pop-under ads. While this rate may not be the highest in the world, it is far from the lowest. However, as with any ad network, the income potential depends on a variety of factors.
Revenue is influenced by the visitor's location, website traffic volume, website condition and niche, day of the week, time of day, and many other factors. Currently, pop-under ads are available in over 40 countries, including North America, Western Europe, Australia, India, and Southern Asia.
The rates for pop-under ads are higher in the United Kingdom ($2.5/1,000 impressions), the United States ($1.5/1,000 impressions), Canada, Australia, and most European countries ($2.0/1,000 impressions) than in most Asian countries like India ($0.6) and the Philippines ($0.3).
If most of the visitors to your website are from North American and European regions, you will likely earn more from your website or blog. This is because these countries have greater purchasing power than most other countries. You can compare the purchasing power of countries around the world for 2019 on the map below to better understand how rates are estimated based on the country of origin.
Pop-under ads typically pay an average of $4 or more for websites running their ads and generating 1000 unique visitors from the United States.
Pricing Models in Popunder Ad Networks
There are two primary pricing models for Pop-under traffic: CPM and CPA.
CPM, or cost per mille, is a marketing term that refers to the cost of 1,000 ad impressions on one page. Advertisers are charged a certain amount for each 1,000 impressions of their ad. The success of a CPM campaign is often measured by its click-through rate (CTR), which is the percentage of people who viewed the ad and clicked on it. However, CTR alone is not always an accurate measure of an ad's success, as an ad that viewers see but do not click may still have an impact.
CPA, or cost per action, is a marketing model where publishers are paid for a specific action taken as a direct result of their advertising, such as filling out a form or submitting contact information.
Other pricing models, such as CPI (cost per install) and CPL (cost per lead), are also applicable for Pop-under traffic. CPI is specific to mobile applications and charges advertisers a fixed fee only when the advertised application is installed. CPL is typically used by direct response marketers and pays a fee whenever a lead, or potential customer's contact information, is obtained.
The costs for each of these pricing models can vary depending on the platform and region. For example, the average cost per install for iOS apps globally is $0.86, while the cost per lead for a CPL campaign collecting a list of 1,000 individuals interested in purchasing a PlayStation could be $4,000.
What Verticals Work with Popunders Ads
Pop-under ads can be effective for a broad target market, but it is important to select offers that are suitable for such a diverse audience. Narrowly-focused sentences may not work well for this type of traffic, as it is not ideal for niches where buyers take a long time to make a purchase, such as investment products. Due to the nature of the ad format, pop-unders are more suitable for products with a large target audience.
While pop-unders can be used for many other verticals, the effectiveness of advertising campaigns may be questioned. Based on statistical studies of various ad landing pages, it is best to promote products and items that can be purchased impulsively. The following verticals are recommended for running pop-under ads:
Internet dating;
Gambling;
Adult;
Applications and utilities.
What Features of a Running Popunder Campaign You Should Focus on
When creating a popunder ad campaign, it is essential to consider the frequency and capping of your ads. The frequency determines how often the ad is displayed, while capping sets the time frame of impressions. Avoid setting a high frequency per day, as it will not result in a high conversion rate and will instead annoy users. By setting the frequency and capping rate to a moderate level, such as 1,000 impressions per week, the system will need to find more unique users, which can substantially increase your audience.
It is also crucial to schedule your ads to display when customers are not busy and more likely to engage with them, such as after work or during rest times. Monitor your campaigns' performance in specific zones to avoid unnecessary costs and focus on those that bring the most profit. There are various targeting options available, such as carrier, device, domain, geo, supply, browser, category, and app targeting, that can help you segment and target your market effectively.
Tracking events, such as clicks on the landing page or time spent on it, can help you understand your potential customers' behavior and preferences and create a custom audience of prospects. When it comes to interested users, you have three options: send them to a special offer page, leave them on the same landing page, or reroute them to another landing page.
In summary, the prelanding and landing pages play a significant role in a successful conversion in pop traffic. They are the first and only opportunity to interest the user, so it's essential to invest time and effort into creating compelling and engaging pages.
Prelanding Page
The prelanding page is the initial webpage that potential customers see before reaching the landing page. Its primary purposes are to engage and warm up potential customers and to collect their contact and personal details. Its most important function is to lead users to the primary landing page with your offer.
How to generate leads with pre-landing pages?
To generate leads with pre-landing pages, it's important to have a properly designed page with a strong call-to-action (CTA). The page should have a clear structure and be concise, highlighting the reason why consumers should click the button and follow the path that has been created for them. An effective pre-landing page should include a thoughtful copy, consisting of a headline, body, call-to-action, and footer.
Offering free valuable resources on your pre-landing page is a great way to attract potential customers. You can offer free samples, guides, books, lists, or other educational items. The key is to make sure that the resource you offer is of real value to your target audience and relevant to your offer. This will help build trust and credibility with your potential customers and increase the likelihood of conversion.
Using a landing page with a set of questions can help you to get to know your target market better. You can ask them questions such as their age, gender, or other demographic information to establish a more meaningful connection. This information can be used to further tailor your marketing message to your target audience and create a more effective campaign.
Gamified web pages have been shown to positively affect brand engagement and equity, according to several scientific articles. Features related to achievement and social interaction in gamification are positively associated with emotional, cognitive, and social forms of brand engagement. Leaderboards, progression bars, loyalty programs, and simple quests are all examples of gamification that can be used. The key to success is the ability to tap into human natural instincts such as competition, exploration, and curiosity.
Creating a sense of urgency on a landing page can be an effective way to encourage conversions. This urgency can be created by setting time or resource limits, and using keywords like "now," "today," or "latest" to emphasize the urgency of the offer. For even more impact, a limited time offer with a unique price can work best. An example of an "urgent" offer is shown below from Bloomberg.
Landing page
When it comes to creating a landing page that generates income, the most important factor is the number of conversions it can generate, rather than relying on subjective viewpoints and ratings. While there is no secret formula that can guarantee overnight success, there are certain tricks that can statistically improve its conversion rate (CR). These include:
Appealing design with high quality images and visuals. Avoid overwhelming your audience by showing too many visual approaches. Instead, stick to the concept of visual simplicity by emphasizing customers' interest on CTAs by separating them from other elements, displaying and comparing key attributes and calls, and placing elements in a way that guides customers to keep reading.
Social proof. Display various types of social proof on your landing page, such as testimonials, reviews, case studies, customer displays, star recommendations, a variety of shares, and the number of customers/individuals. You can see a good example of social engagement on the official webpage of Bloomberg.
Well-developed value proposition. A value proposition is a clear claim that explains the benefits of what you are offering, how you solve needs and problems, and what differentiates you from the competition. Effective value propositions are characterized by differentiation, tested value, and relevance. When it comes to landing pages, it should be communicated in the first 10 seconds. You can see an example of offerings from Nike+ webpage.
Video demonstration. Including an explainer video, testimonial video, or video background on your landing page can significantly increase engagement and improve conversion rates. For example, you can find many inspiring videos with famous sportsmen on the Nike+ webpage.
Ultimately, it's recommended to try different combinations of landing and prelanding pages and to continually refine and adjust your approach.
Campaign Optimization: Black- and White-lists
To optimize your campaign and ensure maximum efficiency, it is essential to use black- and white-lists. The blacklists contain sources or pages that are costly and fail to generate conversions. On the other hand, whitelists consist of sources that successfully generate conversions. To create a high-quality whitelist, you need to collect data for at least 7 days, whereas a blacklist can be created in just 1-3 days. In order to create effective black and whitelists, it is important to understand the structure of website traffic sources and identify pages that are relevant for your ads and add value to them.
How to Start the Lists?
Optimizing your campaign through the use of blacklists and whitelists is an important step to maximize your campaign's effectiveness and cost efficiency. The first step is to identify contextually relevant sites and consider whether local, national or international sites would be valuable for your campaign. Analyzing your overall advertising strategy and avoiding duplicated efforts can help you create a checklist of ideal sites. Next, confirm your programmatic advertising space on the chosen sites before applying your blacklist and whitelist. These lists play a crucial role in protecting your brand identity and ensuring compliance with brand guidelines and safety standards.
In addition to blacklists and whitelists, there are other ways to enhance your campaign and increase profitability. Consider focusing on these aspects to improve your results.
Tips for Working with Popunder Ads Traffic
When working with popunder traffic, it's important to consider several factors to boost your campaign and increase profits. One effective approach is to separate your marketing campaign by geographic location, taking into account the time periods when gains are highest for each region. It's also a good idea to split-test landing pages and pre-landing pages to find the most effective combination.
To avoid irritating users, limit the number of times the same pop-up advertisement is shown throughout the day and display different ads. It's crucial to work with a tracker and analyze data before making any changes to landing pages, geographic targeting, or time periods.
Using popunder ads can be more attractive than pop-ups, as they are less intrusive and more likely to be seen when the user has finished their current task. However, popunders are often overlooked due to misconceptions about their impact on user experience and SEO penalties. Experts suggest testing different approaches and avoiding common misconceptions to get the most out of popunder ads.
Misconception # 1: Websites will receive Google penalties for making use of popunder ads
Experts have debunked the misconception that Pop-under ads can harm a website's rank in Google. In fact, according to Google specialist Matt Cutts, Pop-under ads do not lead to Google penalties from a search engine perspective. Additionally, Popunders have been shown to be more attractive to users than other forms of pop traffic, such as pop-ups. However, it is important to use Popunders carefully and not irritate users with the same ad repeatedly. It is also recommended to split test landing pages and use a tracker for data analysis.
Misconception # 2: You can't use popunder ads if you're already using AdSense
Many of our writers make use of both OnclickAds Pop-under and AdSense on their websites to increase their revenue. Contrary to popular belief, it is not against Google's Ad Placement Policy to use Popunders on the same page as Google Ads, as long as there are no more than three pop-ups and they do not interfere with site navigation or harm the user experience.
We hope to dispel any misconceptions about Popunder Ads and encourage you to try them on your site. In our experience, they work well with content-rich websites that receive a portion of their traffic from search engines. When used properly, Onclick Ads will not have a negative impact on your site visitors.
It is important to continually evaluate your product and offer when using Popunder Ads. Once you have set up your basic targeting settings, consider implementing Consumer Activity targeting. Start with the "High" activity group for new products or fresh creatives, as these customers are typically the most engaged. Review campaign results and the number of leads generated, and then scale the campaign to other activity groups to expand its reach. Regular testing, tweaking, and optimizing your Popunder advertising campaign are essential for increasing your earnings.