Black Hat SEO: Definition, History, Examples, Pros & Cons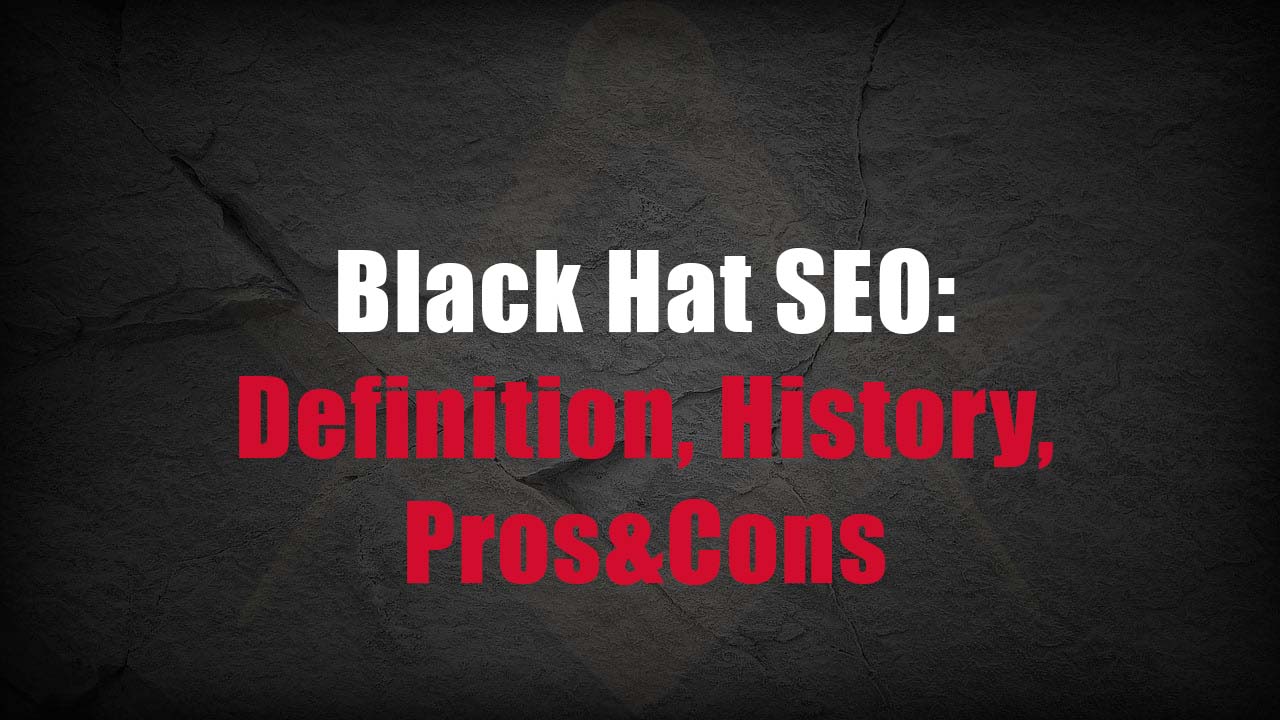 Promoting a website in search results is becoming increasingly challenging. Today, webmasters have to invest a lot of effort and resources to have even minimal chances of successfully ranking a project.
The speed of gaining visibility in organic search depends on the competition in the niche, domain age, optimization quality, and other factors. Therefore, some website owners prefer black hat SEO methods for site promotion, which can expedite achieving their goals.
Black hat SEO is still in demand, but it's important to understand that the risk of permanently missing the opportunity for successful promotion is very high. Therefore, setting priorities and making the right choice is crucial.
Definition & History
Black hat SEO, or black hat methods, is a set of website optimization approaches that rely on manipulating ranking algorithms. Webmasters use them to quickly achieve KPIs. These approaches were relevant 10-15 years ago when Google was still developing content ranking algorithms. Back then, it was possible to get a page to the top in just a few days.
Website owners created pages with lists of keywords or multiple versions of content for search engine robots and users. Later, they received targeted traffic with minimal effort and tried to streamline their operations.
Now, ranking algorithms are not as easy to manipulate. Therefore, the effectiveness of using black hat SEO methods is not as high as it was in 2005. However, this doesn't stop SEO practitioners from experimenting.
For many years, Google has been developing neural networks and algorithms to improve the quality of search results. If users see pages from doorway pages or fraudulent websites in the search results, their experience will be ruined.
Every service is interested in preserving its audience to the maximum. Therefore, SEO practitioners should not count on an easy ride when it comes to deceiving ranking algorithms. In some cases, over-optimization may still work, but long-term results should not be expected.
Black Hat SEO loosely encompasses all black hat optimization methods built on the weaknesses of ranking algorithms. Gray hat techniques also fall into the category of prohibited SEO practices, but sanctions for using these tools may be less severe.
Novice optimizers often fail to realize the level of threat looming over their project after using black hat SEO techniques. This can cost them high rankings and accumulated trust.
Google's algorithms will ruthlessly block a website, regardless of its previous project history. Even a strong backlink profile and other resource advantages won't help.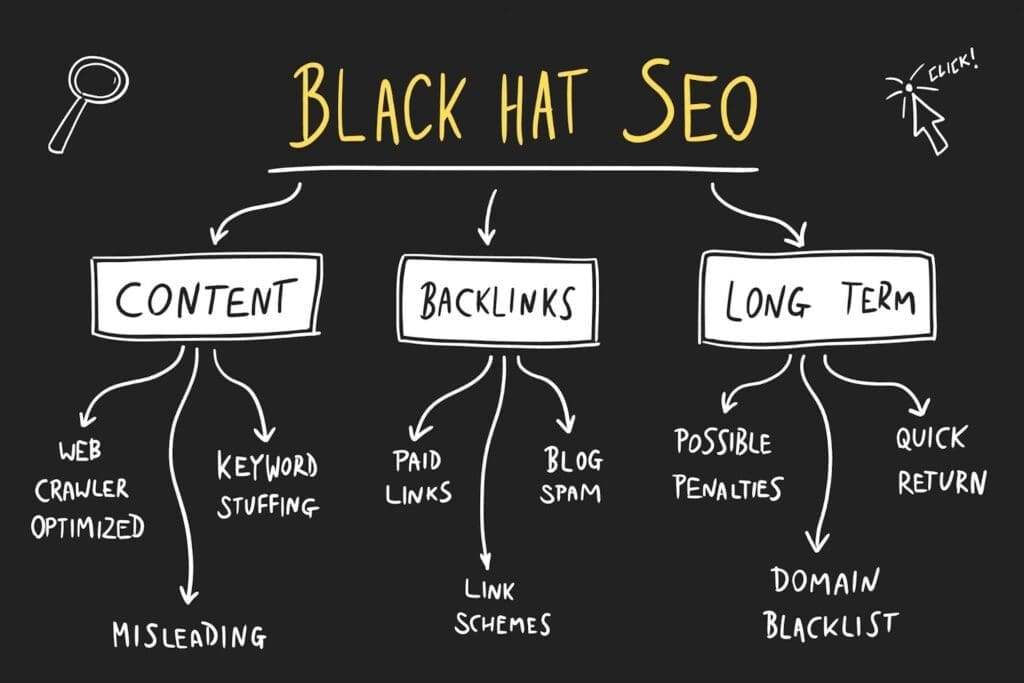 Why is it still relevant?
When novice webmasters inquire about the viability of employing black hat SEO methods, they often receive the response that black hat SEO techniques still work effectively. However, it's important to consider that each case of successful promotion is unique.
For instance, if some webmaster has created 10 doorway pages and managed to promote one project successfully, there's no guarantee that you'll replicate that success, even if they have detailed their optimization scheme.
The fact is that Google's ranking algorithms make decisions about the top search results individually. In some niches, the competition can be very high, while in others, it may be virtually absent.
There are also niche-specific ranking peculiarities. For example, a few years ago, Google introduced the YMYL algorithm to assess the quality of content on websites that can impact people's health and financial well-being. Today, in YMYL niches, it's not enough to simply write a high-quality article. It must be expert, truthful, and up-to-date. If the ranking algorithms don't receive evidence of meeting these requirements, the site will fall far beyond the top 10.
Google's neural networks are constantly learning to detect entities that exploit weaknesses in ranking algorithms. If they perform poorly, it negatively affects the user experience.
It's not accurate to say that black hat SEO methods don't work at all. Periodically, you can find low-quality pages in the search results. However, it doesn't mean that you can elevate any project to the top using Black Hat SEO.
Algorithmic loopholes still exist, but the size of the black hat SEO footprint is shrinking each year. Therefore, there's no point in counting on rapid promotion through over-optimization or a network of doorway pages.
The best promotion tactic in 2023 is optimization in line with webmaster recommendations. Prioritizing audience problem-solving over quick results can yield more long-term profit.
Avoiding experiments is not necessary, but it's best not to conduct them on your main project if there's a risk of facing penalties.
But first, read our article on white hat SEO methods!
Black Hat SEO methods
There are many Black Hat SEO methods, but some of them exist mainly on webmaster blogs and in old optimization books. For instance, the strategy of using invisible text hardly works anymore.
As for new methods, they are rarely introduced, and even if a loophole appears, Google quickly closes it. The algorithms regularly assess user experience quality and draw relevant conclusions.
Sanctions are imposed for every Black Hat SEO method. The extent of damage to a project depends on several factors, with the resource's level of culpability being the primary influence on the search engines' response severity.
If, for example, it's a technical error in the CMS or module, sanctions can be lifted after the resource's normal functioning is restored. However, in cases where a clear violation of webmaster promotion recommendations is evident, one shouldn't expect leniency from the algorithms.
Methods: SEO pies (link networks)
Links from broken projects were popular 10 years ago. This scheme still works today, but the security situation with popular CMS platforms is vastly different from the 2000s.
If a webmaster informs Google that the project is broken and links were placed without their knowledge, recipients may not receive sanctions. It all depends on the specifics of the particular situation.
Buying links from broken sites is not cost-effective because if the resource is controlled by its owners, the security breach will eventually be closed. This will harm the link profiles of all those who took advantage of the situation.
Methods: Doorway pages
Doorway pages are low-quality projects with automatically generated content and generic designs. They provide minimal value to visitors and do not earn the favor of ranking algorithms.
Doorway pages make it to the top through over-optimization. The pages of such resources are overly saturated with keywords and do not focus on fulfilling the intent of search queries.
The niche of developing doorway pages is gradually fading, but you can still find such projects in search results. Sometimes, they gain access to traffic, but the profit is unlikely to be sustainable.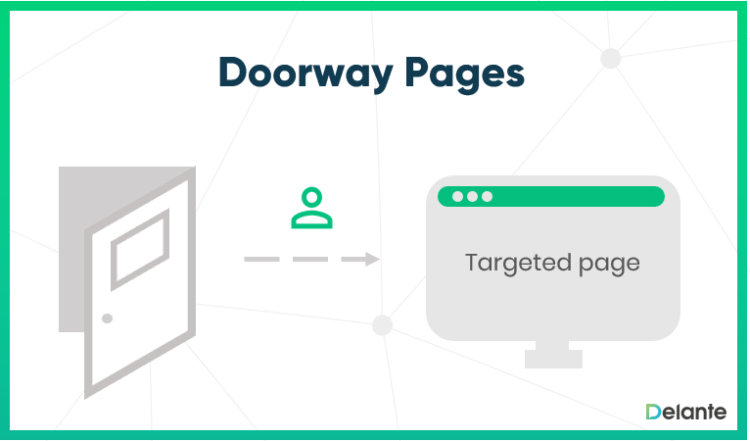 Methods: Cloaking
Cloaking is a black hat SEO method based on creating two versions of web pages. Users see the standard content, while search engine bots see over-optimized text with a high density of keywords.
Ten years ago, cloaking was actively used for organic search engine optimization, but nowadays, it's very risky. Google can impose harsh sanctions, including completely blocking the resource from search results.
Cloaking tools are actively used in contextual advertising to promote grey and black products and services. However, even in this case, neural networks and moderators quickly detect manipulation.
Methods: Link Farming
Link farms are created to boost a website's profile with minimal effort. Instead of building relationships with authoritative projects, webmasters focus on the quantitative growth of their link profile.
In some cases, link farms may yield the desired results, but one should not rely on long-term effects. Search engine algorithms regularly update data on the link profile and can reconsider trustworthiness ratings.
On freelance platforms and other resources, there are offers to buy links from link farms, which can be useful for SEO experiments. However, using them on a primary project carries a significant risk.
Methods: Invisible text or link
Hidden text with keyword stuffing is a classic black hat SEO technique. It was invented a long time ago, but it's still used, although its effectiveness is nearly zero due to Google's constant ranking algorithm improvements.
Hidden text typically consists of automatically generated content and a specific number of relevant keywords. Thanks to high keyword density, webmasters can push a page to the top of search results with minimal backlinking.
Invisible internal links help distribute SEO juice and boost specific pages. However, it's important to remember that there won't be any actual user clicks through these links. Consequently, search engine algorithms consider them low-quality.
Methods: Manipulating behavioral factors
User experience is one of the key quality factors for search engines. If visitors find solutions to their problems through a project, it deserves high rankings.
Manipulating behavioral factors is one of the most common black hat SEO methods. Webmasters resort to such measures when they encounter difficulties with promotion or have a desire to experiment.
For Google, manipulating behavioral factors is an unacceptable practice. It violates webmaster guidelines and almost always leads to negative consequences. The affected project may lose its positions for many months.
Methods: Using someone else's content
Creating high-quality content requires a significant amount of time and money, so sometimes webmasters take a different approach. They use tools to generate text or partially copy content from competitors in the same niche.
It's clear that this approach is not considered white hat in SEO. Content owners can report theft, and if there is evidence, the site may be subject to penalties. Removing sanctions can take up to three months.
Quality content cannot be generated through automation tools, so it's better to focus on collaborating with content creators rather than spending money on synonymizers and other software.
Methods: Link bombing (spam)
Spamming with links involves creating a large number of links without regard to the quality of the sources. In the past, webmasters used profile link building on forums, and within a few days, a website could gain thousands of new links.
Currently, spam tactics are virtually ineffective. They may have a temporary impact on rankings, but one should not underestimate Google's neural networks. After encountering a website that violates SEO rules, their response may not be immediate, but it will come.
Tools for Black Hat SEO in 2023
Interest in using black hat SEO techniques is far from fading away, as there are many automation tools readily available. For instance, setting up cloaking for pages can be done in a matter of minutes.
A similar situation exists with the manipulation of behavioral factors. Services can be ordered on exchanges or specialized platforms. After funding the balance, users will start visiting the website and performing assigned tasks.
The list of most popular black hat SEO tools typically includes:
Xrumer. This program allows for the creation of a large number of links with specific anchor texts;
GSA Search Engine Ranker. One of Xrumer's main competitors, specializing in link building as well. The developer offers additional tools for automating link building;
RankerX. A SaaS platform that provides links from thousands of sources through automation algorithms;
WordAi. This service helps save on content creation. Once configured, the system generates content based on specified filters.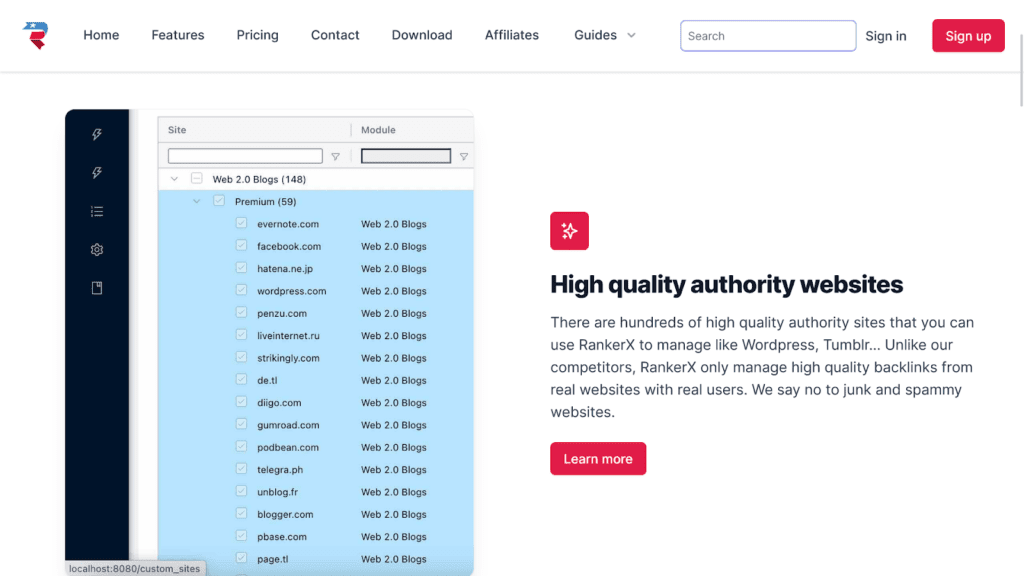 Promo page for RankerX
In SEO blogs and on other niche platforms, you can find less popular tools for employing black hat SEO tactics. For instance, there are several dozen services and scripts for cloaking.
The general principles of using such software are known even to beginners. However, if search engine algorithms find evidence of black hat SEO tactics being used, a website can permanently or temporarily lose visibility and traffic.
Advantages of Black Hat SEO
Webmasters use black hat SEO because they consider it the quickest path to high rankings. However, not everyone accurately assesses the level of risk and harm their website may incur.
In the media, you might read that black hat SEO tactics no longer work, so they can be used for experimentation. But this is not entirely true – Google actively combats any signs of SEO manipulation.
In theory, black hat SEOmethods have their advantages. But how long they will work for a specific website is uncertain. Sometimes, sites get banned just a few days after employing forbidden techniques.
Advantages: Fast results
When a webmaster creates a new site in a competitive niche, it may take around six months to a year for stable traffic to start flowing. In any case, making an accurate prediction in advance is impossible because dozens of factors influence how events unfold.
Black hat SEO methods can expedite the promotion process by using manipulative techniques. For example, if it's challenging to achieve a very high keyword density for high-quality content, black hat SEO techniques can achieve it.
If specific case results yield traffic, the outcome can be either fast or not very fast. In cases where you have to wait several months for clicks, it's better to invest in white hat optimization.
Advantages: Automation capability
Specialized tools enable the automation of routine tasks. Without them, webmasters would have to do everything manually. For example, cloaking can be created manually using ready-made scripts, but it's unlikely to compete with existing software.
This advantage is valuable only if the use of Black Hat SEO proves beneficial. Otherwise, expenses for accessing services will be in vain. It's crucial to plan everything in advance and make decisions based on specific facts.
Disadvantages of Black Hat SEO for website promotion
When newcomers encounter the concept of black hat SEO, they often focus solely on its advantages and forget that all the pros will be nullified if the site quickly falls under sanctions and loses its authority.
Before using prohibited optimization methods, it's essential to delve into their specifics and fully understand the consequences. Any tactic based on manipulating algorithms harms Google.
When users encounter search engine results with zero value, they develop a negative perception of the search engine. The primary goal of any search engine is to prevent such occurrences.
Disadvantages: Poor liquidity
Even if a webmaster manages to obtain traffic and rankings for relevant queries, monetizing it can be challenging. Visitors who see a page filled with keywords are unlikely to want to return to the site.
Poor liquidity is one of the main drawbacks of black hat SEO that newcomers often ignore. Even in the case of doorways monetized with aggressive advertising, the long-term profit will be lower than with white hat monetization.
By the way, here's a list of 17 black hat SEO techniques that you should avoid.
Disadvantages: Short-lived results
In 2023, search engine algorithms are still not perfect, but they easily repel direct attacks. Therefore, one should not hope to achieve long-lasting results.
The complexity of employing black hat optimization methods lies in the fact that a project can lose traffic and authority at any moment. And if the sanctions are severe, restoring trust may be impossible.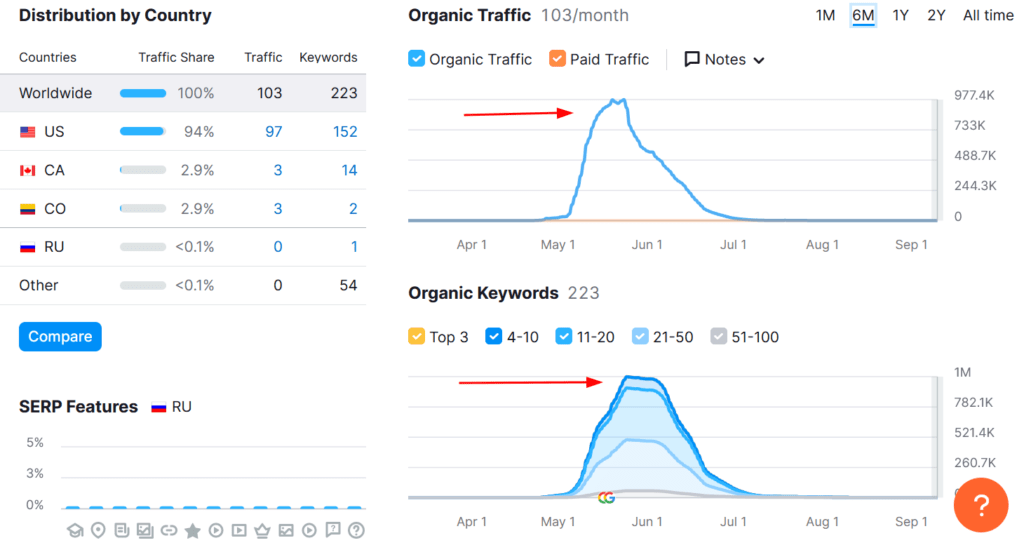 Disadvantages: The lifecycle of a topic
When new black optimization methods emerge or old approaches are partially revived, one cannot discount the short lifecycle of a topic. In some cases, it may remain relevant for only a few hours.
Google has substantial resources and is interested in providing users with the perfect search bar experience. Therefore, any deceptive schemes by webmasters can quickly unravel.
In which niches can it be used?
Grey and black optimization methods are particularly attractive for those promoting websites in challenging niches. When a project can't find donors, the owner has to make difficult decisions.
For example, in the past, it was challenging to build a link profile strengthening strategy for gambling and betting projects. They were considered grey, and popular media outlets refused to collaborate with them. Today, you can find dozens of such authoritative projects with powerful profiles. This has become possible due to the transformation of niches. Betting and other gambling activities are no longer seen as something prohibited.
Adult
Promoting adult projects is significantly different from working with resources where all paths are open. 18+ websites primarily survive thanks to an effective digital marketing strategy that allows them to generate traffic without relying on links.
Black promotion methods in the adult industry are often linked to link creation. In the profiles of such local resources, you can find links from doorways, broken projects, and unmoderated websites. Keyword stuffing on pages is also a common occurrence.
Gambling
As for promoting bookmakers and analytical portals, in 2023, it's unacceptable for them to use black hat techniques. The niche has already undergone significant transformation, so there's no point in competing for traffic through manipulation.
If you search for any highly competitive queries, you'll find dozens of relevant projects with good profiles and high-quality content. These two components will ensure success in the long run.
Other grey and black niches where quick results are needed
Grey and niche-specific markets often trigger a strong desire in experienced webmasters to take a different path. Instead of white optimization, they resort to doorways, cloaking, hidden text, and other tools.
Whether the use of black optimization methods will be relevant in each specific case can only be determined through practical experience. However, one should not forget about the potential destructive consequences for the resource.
Basic sanctions
Sanctions from search engines are conventionally divided into two groups: temporary and lifelong. In the second case, the chances of revival are practically non-existent. Even if you manage to reach out to webmaster support, there are no guarantees that they will help.
Google is interested in ensuring that each page in the service's index fulfills the intent of relevant queries. If this condition is not met, there is no point in expending resources on indexing.
Ban
A lifelong project block is the harshest form of sanctions applied to resources with clear signs of using black hat SEO. For example, if a page redirects users to a phishing project, and this continues for many months, it will be challenging to escape from these sanctions.
Sites that are banned cease to exist for search engines. New pages don't get indexed, and old ones drop out of it. Traffic and rankings can be forgotten for a long time if the ban wasn't accidental.
Filters
Temporary sanctions can be imposed by algorithms or assessors who manually assess the quality of the resource. In both cases, one should not expect a quick resolution of the problem. Algorithmic filters are usually accessible in the webmaster console, so you can find information about them from the panel.
Getting rid of sanctions is only possible after addressing the reasons for their occurrence. If it's a spammed profile, filtering and removal will take a lot of time. Using Disavow Tools can reduce the time, but there are no guarantees.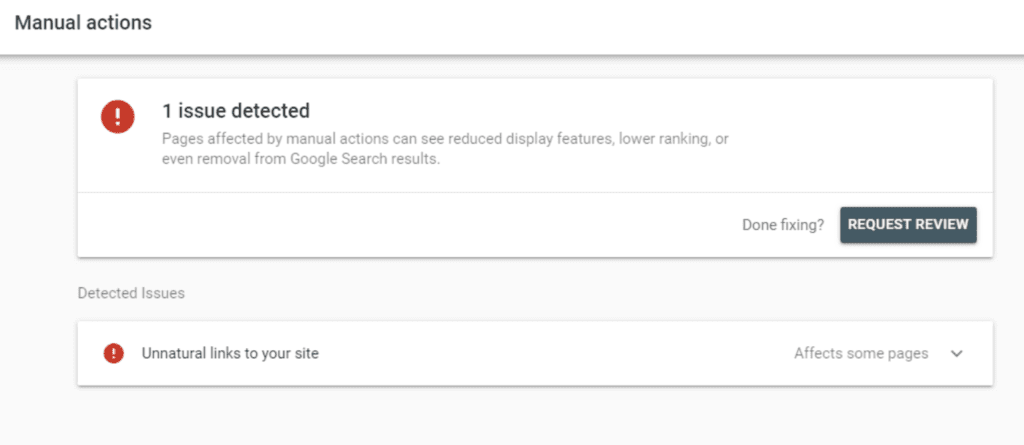 How to protect a website?
It's not possible to protect a project from sanctions 100%. Even if you don't use prohibited optimization methods, competitors can manipulate behavioral factors or damage the link profile.
Search engine algorithms impose sanctions based on a combination of factors, and it will be challenging to prove that suspicious activity is not related to the website owner's actions but rather a result of unfair competition.
It's essential to keep the situation under control to promptly identify issues. For example, if pages drop from the index, you need to react as quickly as possible. Otherwise, valuable time will be lost, and the consequences can be more severe and prolonged.
Set up notifications in Google Search Console
Google sends email notifications about issues with pages and sanctions. Most algorithmic filters are available in the console, but there may be a delay in data updates.
If there is no information about current violations in the console, sanctions may be manual. You shouldn't rely solely on data from Google Search Console because the search engine doesn't provide comprehensive information. You need to use third-party tools to analyze the website.
Backlink audit
A backlink audit is a standard procedure that should be performed at least once a week. When the profile is rapidly evolving, it's advisable to conduct the analysis even more frequently. If issues arise with the website, it's better to notice them right away.
To gather the maximum amount of data, you should use a combination of Google Search Console and external services. Information from the console is crucial, but it's essential to have a comprehensive view of the situation.
Checking for duplicate content
In the content quality assessment niche, there are services that periodically scan search results and send notifications about duplicated content. To protect yourself from negative consequences, you should monitor your website and keep an eye on updates.
Many webmasters set up DMCA protection to effectively combat unfair competitors. Additionally, it's advisable to utilize other tools. For instance, the Copyscape service is fully dedicated to monitoring duplicate content.
What to do if Black Hat SEO tactics are being used against you?
Protecting yourself from competitor attacks is challenging because they can come from any direction. It's essential to stay vigilant and promptly address the consequences of such attacks. The services mentioned above can be helpful in this regard.
Some webmasters may not know what black hat SEO is and encounter issues only after the attack is completed. For example, if behavioral factors were manipulated for several months, the consequences can be quite severe. But if you notice the problem on the second day, you can minimize the damage to your project.
DMCA
When competitors openly steal content and do not provide proper attribution, it's important to combat this. An effective tool for this is the Digital Millennium Copyright Act (DMCA) protection system. It allows you to send takedown requests for pages that infringe on copyright.
DMCA works effectively in niches where projects distribute copyrighted products. For example, if a website shares links to pirated software, it can be blocked after a complaint is filed.
Abuse
If there is evidence that competitors are intentionally trying to sabotage the resource, you can attempt to contact Google. However, it's unlikely that you'll be able to communicate with a moderator.
The search engine has a form for reporting the use of prohibited optimization methods. You can submit a request even without authentication, but there are no guarantees that appropriate actions will be taken after reviewing the complaint.
How has Black Hat SEO evolved in recent years?
The significance of black hat SEO in the field has been steadily diminishing. This is due to improvements in Google's content ranking algorithms.
All search engines are striving to cut off the oxygen to projects that degrade the user experience at any cost. This should be clearly understood before investing in black hat SEO.
In recent years, Google has taken many steps to reduce the impact of link-building on resource promotion. Hidden text, cloaking, redirects, and other black hat methods today hardly yield any results.
Alternative methods
The only effective alternative to black hat optimization methods is white hat SEO. This approach involves actively improving both on-page and off-page optimization to outperform competitors in the traffic battle.
White hat is the complete opposite of black hat. While black hat relies on manipulative techniques, white hat allows you to operate within Google's official recommendations, ensuring a long-term impact.
Instead of investing in acquiring access to black hat tools, it's better to invest in backlinks. A strong link profile can help you succeed in any competitive niche.
Black Hat SEO vs White Hat SEO
The division of promotion methods into white, gray, and black is somewhat arbitrary. SEO is a specialized industry where optimization approaches are primarily based on widely accepted norms. However, the situation with website promotion can sometimes be at odds with these standards.
The fundamental difference between black hat and white hat lies in the fact that white hat focuses on addressing the audience's needs, while black hat is a tool for gaining short-term advantages.
Promoting through white hat methods is a lengthy, costly, and complex process, but it is the only path to achieving the desired results. It's better to forget about black hat approaches and avoid using them.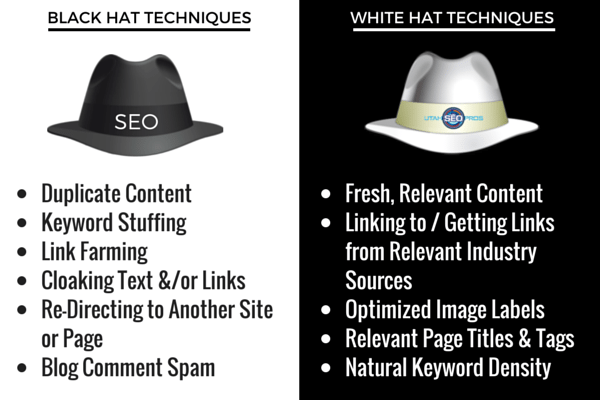 Conclusion
The significance of black hat SEO is greatly exaggerated. Today, most of these methods no longer work. Therefore, it's better to focus on creating high-quality content and utilizing useful website promotion tools.
FAQ
What are black hat SEO methods?
Black hat SEO methods are based on manipulating ranking algorithms. Webmasters search for loopholes through which websites can quickly gain traffic.
Why should one avoid black hat SEO methods?
Because they cannot provide a long-term effect and reduce the chances of successful future website promotion.
What sanctions can be applied to a website?
Sanctions can range from temporary deindexing of pages to permanent blocking. It all depends on the severity of the violations and the project's history.
What alternatives to using Black Hat SEO exist?
An alternative is white hat SEO, which is based on audience needs. Quality content and useful tools will provide good user experience and favorability with Google.