Is earning money on Wildberries a scam? Real user reviews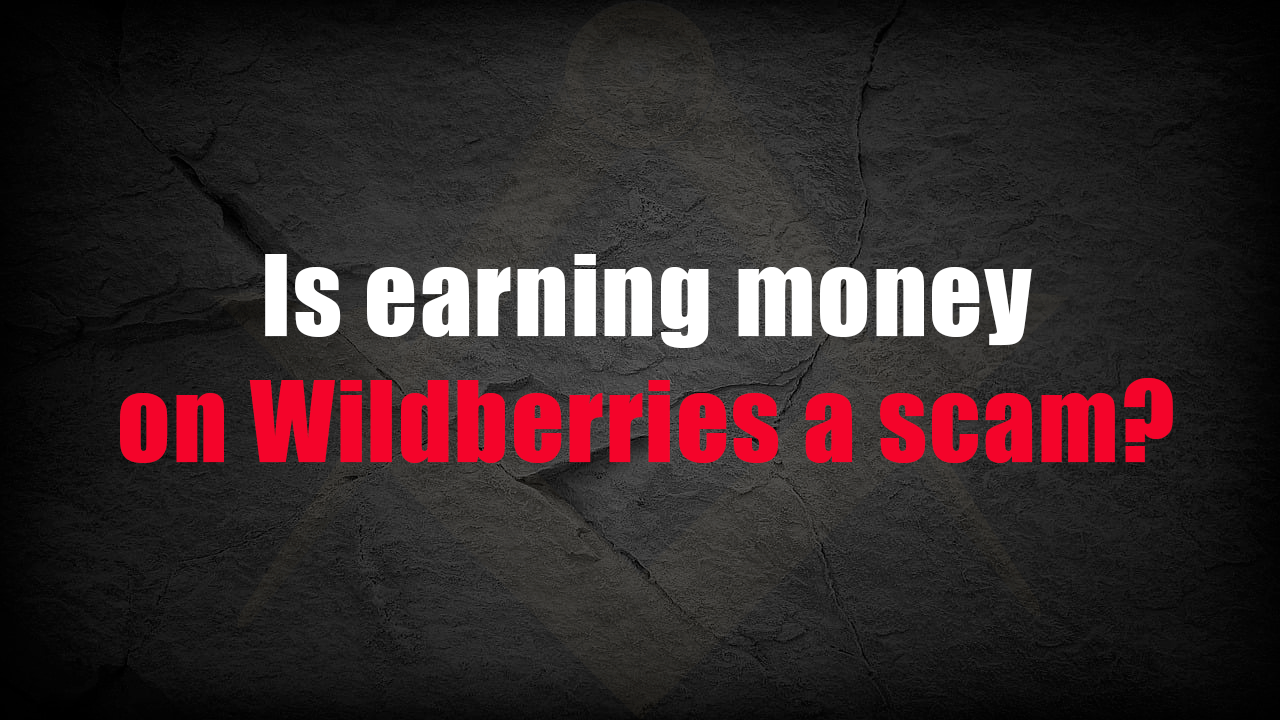 We have collected real user reviews about earning money on Wildberries. Is it a scam, fraud, deception, or a unique opportunity for unlimited profit? Find out more in our article.
Is earning money on Wildberries a scam?
Wildberries is the largest marketplace in the CIS countries, and its turnover is growing every year. It acts as an intermediary between sellers and buyers, providing important processes of online commerce such as storage of goods, their packaging, and delivery to the end consumer – just like Amazon.
Certainly, earning money on marketplaces like Wildberries is not fraud or a scam. If you organize everything correctly, you can make good money (the specific amount depends on your own financial turnover). In other words, just like in running a retail store, you need a business plan that takes into account all expenses and revenues. The only difference is that you don't have to pay rent, hire staff, or pay for utilities.
Why is earning money on marketplaces often considered a scam?
Marketplaces allow you to earn not only as a supplier. There are also plenty of other opportunities to make money remotely. Let's take a closer look at how realistic this is.
Filling in product cards – a scam?
People can fill in product cards for payment. Essentially, you are doing someone else's work and getting paid for it. Filling in product cards, especially if there are many products, is a long and routine part of work on a marketplace. That's why most suppliers trust this work to freelancers.
For example, such vacancies are posted on UpWork, with payment starting from $6. The specific amount depends on the technical task:
SEO optimization of a product card – $20-35;
Design, infographics – $6;
Promotion of product cards in organic search and not only – $40;
Creating 10 product cards from scratch – $13.
So there is no scam – these vacancies are common on freelance exchanges. You get real money for quality work.
It's a different story with learning the process. There are many scammers online who offer to buy courses. That's where the scam lies. You buy a master class that is almost useless. Therefore, be careful and don't fall for tricks. You can learn how to fill in product cards for free.
Is earning money at pickup points a scam?
It is a suitable job for beginners, which involves receiving and distributing goods, delivering them to couriers or customers, and maintaining a database in an internal system. WB guarantees a high level of income, contract employment, and the prospect of further career growth.
The main requirements for the employee are:
Attention to detail – if a mistake is made, the penalty will have to be paid out of your pocket;
Politeness and being nice in general – the ability to work with customers;
Stress resistance – the ability to "smooth over" conflicts;
Computer literacy – it will be necessary to manage order movements in an online format, process the receipt and delivery of goods, and so on.
As for the salary amount, it depends on the specific position.
| | |
| --- | --- |
| Job Position | Hourly wage |
| Packer | $10-15 per hour |
| Sorting manager | $10-15 per hour |
| Courier | $15-25 per hour |
| Customer Service Representative | $15-20 per hour |
| Call Center Operator | $10-15 per hour |
| Warehouse Worker | $10-20 per hour |
Now about scams. After WB introduced a new payment system, many warehouse and pickup point employees were frustrated. The payout is now transferred to the balance of the personal account, as a result of which the company does not pay personal income tax and insurance contributions, and employees lose their official status regarding the income statement. Some people even tried to solve this at the police due to confusion with payments, as withdrawing money from a personal account was difficult – only customers of specific Russian banks could do it. In addition, the marketplace has increased the working hours of the pickup points, and canceled a solid part of the salary of $200. Of course, WB denies everything, assuring that the company is completely transparent and open, and that the payment difficulties are temporary and solvable.
Is working as a manager a scam?
A WB manager is a specialist who organizes and oversees the entire process of selling products through the marketplace. Their tasks include working with active product cards, analyzing products, monitoring competitors, answering customer questions, forecasting deliveries, and much more.
Scams only exist in training courses, as is the case with working at a pickup point. The cost of such a course is decent – $1 400. However, it is not a guarantee that you will be taught anything useful.
Earning without your own product – is it a scam?
Wildberries also allows those interested to earn without their own product. In this case, you will need to promote someone else's product and advertise it. To do this, you will have to negotiate directly with suppliers and receive commissions from them. Unfortunately, there are also risks of falling victim to scammers in this case, especially since Wildberries does not control this process.
Investments – a scam?
Not always. If you find an honest businessman, you can invest in his project and earn up to 21-22% per annum. For example, here is an entrepreneur with a network of 12 retail outlets attracting funds to the turnover of his existing business on WB. There are contacts for communication – phone, email. Call and negotiate, try to formalize everything on paper with legal force. Of course, there are risks – you will lose your money if the businessman's affairs go badly. However, as far as he tells, his annual turnover is more than $7 million.
Selling an account – is it a scam?
If you have an active account on Wildberries, you can sell it for around $150 or rent it out. However, in this case, be prepared for the fact that dishonest sellers may deceive customers on your behalf, and your account may be blocked. And why sell it if you can do affiliate marketing and make good profits? Here you can read about the top affiliate programs in 2023 that provide an opportunity to earn on offers.
Real and honest reviews about earning on Wildberries
We have gathered several honest reviews about earning on WB.
"A friend of mine worked at WB," writes Kristina Goryunova from VK. "Just a few hours a day, as an option for part-time work. She earned about $250 per month. She told me that she uploaded pictures, worked with product cards, and filled in some tables."
"I worked as a manager at WB for a while," says Zhanna Rodman. "My tasks included finding suppliers, negotiating prices and deliveries, controlling the payment and shipment process. Sometimes I earned up to $560 per month, but more often less than that."
"I got a job on the pallet parking lot," writes Nikolay from Elektrostal. "At first, everything was good – I earned about $50-60 a day. Then they started fining me for rejected products and other issues. Once, I worked with a heavy 30-meter pallet, but I was only paid $1 for it. And then it turned out that the goods from this pallet were broken, and I was fined $6. Currently, there is a mess going on with Wildberries. I do not recommend anyone to get into this business!"
How much can you really earn on the marketplace?
Everyone around says that you can earn a million on WB in just one month. But is it really as easy as they say? Let's look at the cases posted by real people.
$1 300 in the first month of trading on WB
Nikolay Shapkin worked with Amazon for 3 years before moving to Wildberries. Here's what he says: "I found a partner who already had some experience. He gave a couple of tips and took all the operational work on himself. My task was to deal with the goods. As a result, we bought the first batch for $400 and put it on the marketplace. We did not expect it, but it started selling instantly, and in 9 days everything was sold out. Then we added a new batch in a hurry. As a result, we earned more than $1 300 in just the first month. The total profit for the entire time of work is about $25 000."
What helped to make profit:
Partner's experience – they knew almost everything about Wildberries, what to do and how to reduce the risks of losing investments;
Testing – we tested the niche and market as a mandatory procedure, did not invest all the money in one product category;
Choosing a unique strategy – we planned not to spend money on reviews, advertising (using only Avito);
Clear calculation – we calculated the gross and net profit in advance;
Russian goods – we sold only goods from Russia to Russian customers, not tied to currency (mostly purchased at Sadovod);
Assortment development – we regularly worked with the product matrix, did not stop at what had already been achieved (after a year of starting, there were about 200 different product names);
Female audience – on WB, the female paying audience prevails.
Earned back investment and made $2 200 in 1.5 months
This is a case study of Leo Shevchenko, a student at a business school. He began selling sets of nuts and sweets, investing $2 500. After 1.5 months, he fully redeemed his expenses and made a net profit of $2 200. He used social media and blog promotion, created quality packaging, business cards with vendor contacts (which helped him identify defects right on time), and compensated customers.
Increased turnover by 3.5 times and eliminated 95% unnecessary SKU's
The author of this case study had been selling men's and women's clothing for 3 years, purchasing from various manufacturers in small quantities. He was unable to make a good profit, as out of 1500 SKU's, only 100 were in demand. He had to consult with a professional who conducted ABC analysis and formed the correct pricing policy. He also optimized product pages. All this led to a 3.5-fold increase in turnover, and the payback period decreased to 50 days.
Conclusions
It is quite possible to earn money on WB, and it is not a scam. The key is to organize the process correctly, and the assistance of an experienced seller would definitely not hurt.
Can a beginner earn money on Wildberries?
Yes, of course. However, you need to be able to choose a unique and in-demand product.
What are the ways to make money without investments?
Filling out product cards, earning money at pick-up points (as a driver, operator, sorter), working as a manager.
What is the most profitable way to earn money on the marketplace?
Invest a large sum of money, purchase in-demand products and start trading, earning money on the price difference.
How much can you earn from selling goods?
You can earn over $2 500 or more in the first month.
What do reviews about earning on Wildberries show?
They showed that trading on the marketplace with investments requires a lot of experience. However, you can earn money without a product.
How much can a supplier earn?
The specific amount depends on the turnover – the more you invest, the higher the likelihood of earning more.
What is "earning money by filling out product cards"?
This is remote work – you fill out product cards for some supplier that you negotiate with. Such job vacancies can be found on freelance exchanges such as Kwork, FL.ru, and others.
Why am I offered to sell my account?
Today, there is a high demand for ready-made accounts on Wildberries. Usually, they are used in affiliate marketing of their product. You can sell or rent them out to those who want to trade on the marketplace. Accounts with a registered individual entrepreneur or self-employment status (those are Russian legislation things) are especially valued.
Why are there so many scammers on Wildberries?
Because a lot of money is involved here.
Yes, really. So happens.