Free and Paid Email Databases for Email Marketing in 2023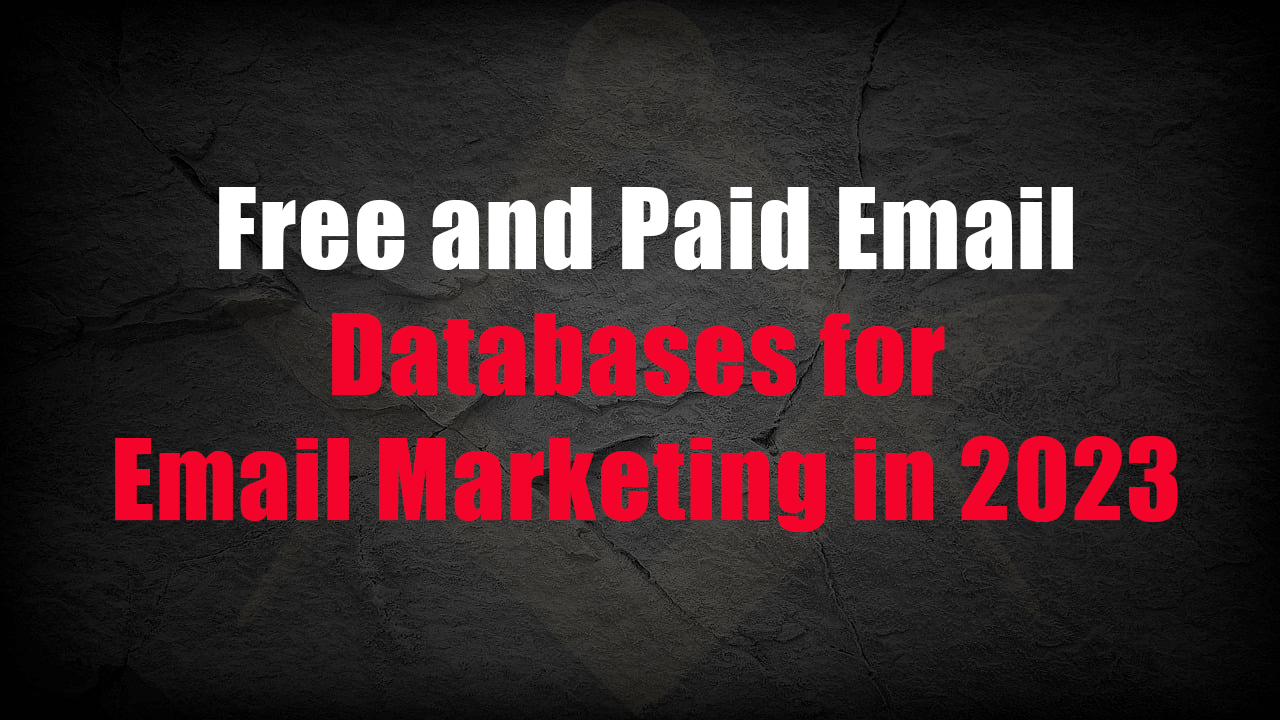 Email marketing is still relevant. It is used by marketers and affiliates who first gather a database of interested users and then offer them relevant products or offers.
Email addresses can also be used for affiliate marketing. The best affiliate programs still have offers with email databases traffic sources!
And when there is no time and money to collect contacts, you can use ready-made email address databases. Here's how it works:
Someone collects a list of emails based on topics, countries, or other parameters and makes it publicly available or sells it;
You download or purchase the email database;
You send emails to the recipients and generate profit in the form of website visits, inquiries, and orders.
This method is quick and profitable, especially when using free email databases. We'll tell you where to get paid and free lists, what to consider when choosing, and whether it's possible to get email databases for markets of different countries.
Comparison of paid and free email databases
There is a huge difference between them. Paid email atabases are usually of higher quality because people put in efforts to gather them. For example, they search for contacts of decision-makers in companies or monitor social networks. Additionally, paid databases have sorting capabilities. For example, one database may contain contacts of people interested in cars, while another may have contacts for dating offers, and so on. It's also possible to find highly relevant email databases, as some sellers hack services and obtain emails from there.
Advantages of paid email databases:
Higher quality compared to free databases. The contacts are verified and, in most cases, up-to-date rather than recently abandoned;
Sorting capabilities allow you to select a list of addresses from your target audience, rather than conducting a "carpet bombing" campaign to everyone;
The possibility to order a database tailored to your needs. Many sellers who offer ready-made email databases can gather them based on your desired parameters.
Disadvantages of paid email databases:
Price. If the price is high, the acquisition may not be profitable, especially if you plan to engage in affiliate marketing;
The possibility of deception. Dishonest sellers may provide a low-quality free database as a paid one that they collected themselves.
Authors usually put less effort into collecting free databases, so these lists are usually of lower quality. The validity (relevance of email addresses) rarely exceeds 50-60%. In contrast, the normal validity rate for purchased databases is 85-90%.
Advantages of free email databases:
You obtain them without spending money, although you may spend a little on the actual email sending;
With due diligence, you can find a valid database sorted according to your desired parameters.
Disadvantages of free email databases:
Deliverability and open rates of emails will be minimal because email addresses are parsed from public sources, and users often provide "fake" data;
Anyone can download the database, so the audience is usually saturated with offers.
The profitability of using databases can be increased by processing them with special services. These services verify addresses, remove inactive emails, eliminate duplicates, and sort the list based on specified parameters. For example, Bouncer cleans lists from duplicates, syntax errors, and non-existent addresses. It also excludes emails from those who actively report spam. The cost starts from $7 for 1,000 addresses. The overall price depends on the quantity in the list.
Risks when purchasing databases and using free email lists
Regardless of whether you purchase or download a database for free, you may be violating a law that protects personal data. If users actively complain about your email campaigns, there is a chance that law enforcement agencies will start looking for you. Additionally, there are other risks:
Investments may not pay off, even if you invest in verifying a free database, as you may be deceived and provided with an invalid list. Even in a paid database, the email open and click-through rates may be extremely low, so keep that in mind;
Your IP address can be blacklisted. If you actively send spam from one address, both email clients and mailing services can block you. Therefore, you will have to use proxies and "fake" accounts with someone else's data to avoid leaving traces.
Where to get paid email address databases
There are online stores that sell ready-made lists of email addresses of users from various countries. There are many of them, and we'll talk about the three most popular ones.
The databases in this online store are sorted by location: first by country and then by cities within each country. It offers a total of 100 email databases, up-to-date for 2023.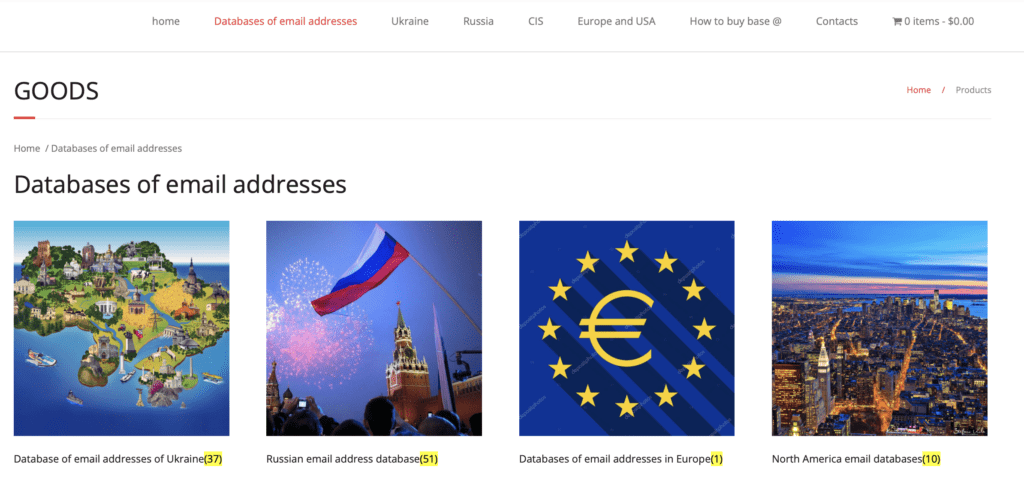 Each database has its own specifics. For example, you can find a list of contacts for furniture companies or firms without specifying specialization. The cost of the collected data starts from $10, depending on the number of email addresses.
The service offers 1,000 addresses lists for $195 in an Excel form, claiming that these 1,000 are happy customers. The email list is cleansed by the NeverBounce service. Also, the product is described as voted Best List Broker by Business.com. You can find various databases, including individuals and companies, sorted by interests or location.
Where to download free email databases
There are also several services online that provide free data lists. Let's look at the most popular ones.
It provides user contacts organized into thematic selections based on sources, countries, or interests. For example, you can find a database of email addresses of those who are interested in healthcare or fitness.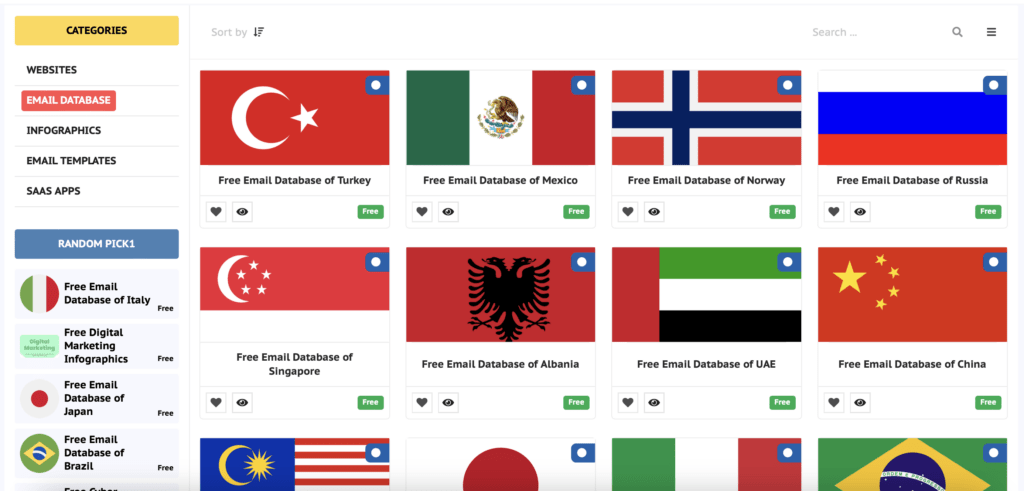 The downside of this service is that when using a free plan you can only download one free database per month.
Summary of the Article:
Difference between paid and free email databases
Paid databases are generally of higher quality, but they come with their own risks. In the article, we explain the differences between paid and free databases and how to work with them.
Risks involved in purchasing paid email databases
In the article, we discuss how to avoid losing money on paid databases and prevent buying empty lists. This will help safeguard your investments. Read on!
Effectiveness of using free email databases
In the article, we delve into how to effectively work with free email address databases and extract value from them. Only useful and verified information.
Where to buy email address databases
In the article, we have gathered six reliable and trusted services where you can find user databases. Make use of them. It's free!