How to get Facebook Cookies and Token
Facebook affiliate marketing is a separate world with its own rules that are constantly changing. Experienced affiliates know that the game conditions can change in an instant, and they should not count on stable work. To keep promoting products, many webmasters buy Facebook cookie accounts.
They have to change their approaches, throw away accounts in batches, fight micro-spends, and set up a cloak to successfully pass moderation. Working with Facebook is hardcore that causes depression among many newcomers, but gives veterans the opportunity to feel real ballsy.
Types of Facebook accounts
In order to drive traffic from Facebook to offers in any niche, you'll need expendables. The main expendable is accounts, without which it is impossible to launch advertising campaigns. The catch is that accounts have different levels of trust from Facebook and a limited lifespan.
Some affiliates farm profiles to drive large volumes of traffic and avoid buying expendables from third parties. Others create auto-registrated accounts and use private schemes to build trust. Some people buy hacked accounts and use the user's trust to quickly spin up advertising and make money.
There are many approaches to working with Facebook, but all of them involve active interaction with accounts. Therefore, beginners will find it useful to learn about the types of accounts that can be purchased or created independently. This is basic information that gives neophytes a better understanding of the game rules.
At the first level of quality of accounts for Facebook are auto-registrated ones. These are profiles that are registered using software or manually and created on a fake identity. The affiliate buys a number in an SMS activation service, creates an email address and confirms the phone number in the account settings.
Auto-registrated accounts need to be carefully warmed up – imitating the actions of a real person so that Facebook's algorithms do not become suspicious of the user's intentions. If you act according to a template and immediately after registration open Ads Manager, the account will be checked and will have to be discarded.
Rented accounts are profiles of living people that are rented out for advertising. At the same time, the owner continues to communicate with friends in private messages, post messages, and lead a normal social life. And on the other side of the account, the affiliate launches promo campaigns on crypto and shortens the life of the profile.
The catch of rented profiles is that the owner can block access to them at any time if he does not like notifications from Facebook or if he changes his mind about following the terms of the deal. Accordingly, there are no guarantees of stable operation and it is not worth linking cards with a large balance to the advertising account. And there are few people who want to rent out their Facebook account – you can read more about the perspective from the owner's point of view in our separate article.
Hacked accounts are obtained through hacking. Experienced users don't fall for million-dollar giveaways, but social media fans still believe in unicorns and enter their data on phishing websites. Then the accounts are resold and end up with affiliates anticipating their profit.
Let's not talk about the fact that using hacked accounts is illegal. Even people who have never bought such profiles know this. In some cases, accounts are even linked to cards, and cunning money-makers launch ad campaigns on other people's money.
Whether to use bruteforce attacks or not is up to each individual to decide. But there are already several legal precedents with sentences for hacking accounts. It's better to rent a profile and overpay than to use bruteforce attacks, which can bring a lot of problems.
Farmed accounts are considered the highest quality product on the market. They are created under the control of experienced webmasters who monitor all changes in the social network and try to maximize the trust of the profile. Using such accounts for advertising is a pleasure, as all checks on them are usually already passed.
Farmed accounts with completed advertising restriction check are quite expensive, so not every affiliate can afford to buy them in sufficient quantities. Especially if we are talking about a solo money maker who started in the niche with a few hundred dollars.
The last type of account is facebook cookie accounts, which are similar to bruteforce attacks but have several differences. Further in the article, we will tell about the characteristics of these accounts and explain how to use them to drive traffic.
Facebook cookie accounts are one of the best products for affiliates who actively work with the social network. A classic Facebook cookie account is a set of login and password, as well as a cookie file.
Facebook cookie accounts are obtained through the same methods as bruteforce attacks. The difference is that hackers do not try to rebind the profile to themselves, but obtain data for authorization. Then cookie accounts are put up for sale in online stores, where affiliates buy them and use them for advertising.
A set of data may consist of:
Login and password;
Email data;
Cookies;
Technical information: User-Agent, screen resolution, OS type.
In some cases, the cookie accounts may already have passed advertising restriction check, but such accounts are more expensive than standard ones. Sellers check the ban on advertising activity before sorting, so it is unlikely to buy an account in a standard batch of Facebook cookie accounts. Accordingly, the cost of a cookie account ranges from a couple of dollars to a couple of hundred dollars.
The source of cookie accounts is various types of hacking activity. These can be stealers, phishing sites, email campaigns with "prizes," and other dark web enticements.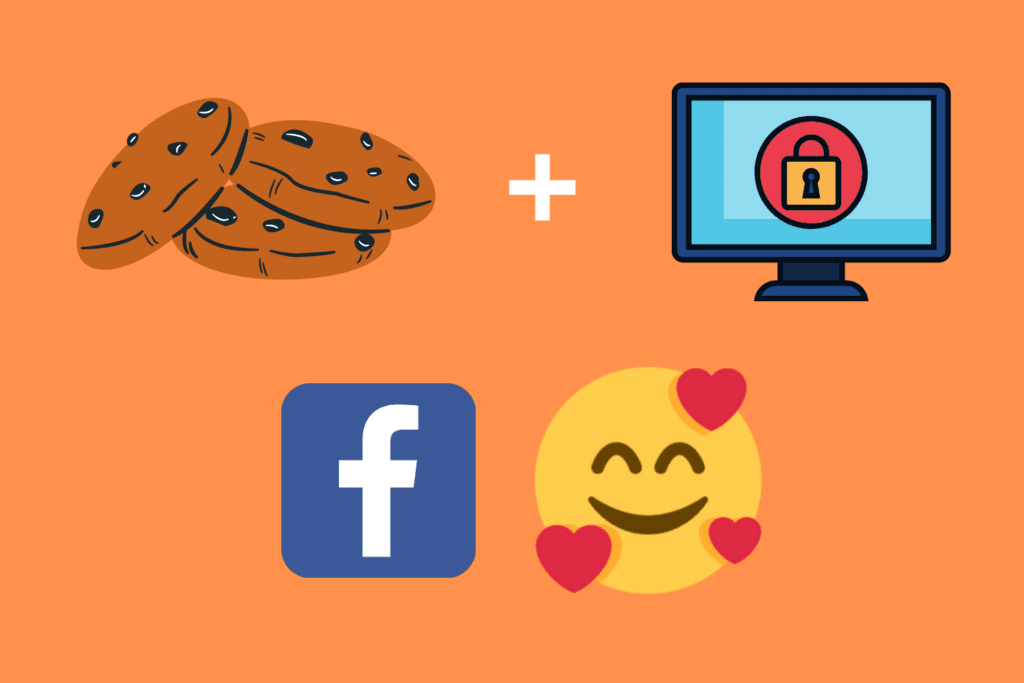 Usually, sellers don't hack accounts but instead buy them in bulk from individuals. For example, profiles can be obtained from email address databases. There are special checkers that scan conversations and extract authorization data or signal the presence of an account.
The advantage of Facebook logs is that the owners of the accounts continue to use them as usual. The affiliate can safely engage in advertising, and the owner of the profile will not even notice that their account is being used to run ads and generate revenue from crypto, dating, or blatant scams.
To prolong the lifespan of a log and reduce the risk of password changes, one must be extremely careful. Any notification of activity not initiated by the account owner will result in changes to the authorization data and the termination of the session.
Authorization in cookie accounts usually occurs through cookies, so two-factor authentication may not work. This is a standard login method that is not only used to bypass the standard login form. For example, when reinstalling Windows, the owner of a Facebook account can save cookies and authorize themselves in the new system without a login and password.
Analyzing the cookie file will show how actively the user interacts with Facebook. The more authorizations and actions the profile owner performs within the social network, the better for the affiliate. They can link a card, launch an advertising campaign, and comfortably generate traffic.
Compared to auto-registrated accounts and brute-force methods, cookie accounts have an advantage: basic protection against cheks. While the affiliate is running advertising campaigns, the profile owner continues their social activity, and the algorithms have less suspicion.
Cookie accounts are ideal for affiliate marketing and protection against checkpoint issues. Money-makers actively use them to get rid of the hassle of verification and generate large volumes of traffic. With the right approach, a cookie accounts will live long and pay for itself with interest on the purchase price.
Every type of Facebook account has its advantages and disadvantages. Cookie accounts cannot be considered a magic tool that allows deceiving Facebook algorithms and easily spending thousands of dollars of advertising budget. They are good for small campaigns, but not more than that.
Advantages:
Authorization by cookies. During standard Facebook login, the platform may request a password from SMS or email.
Creating a device fingerprint. Normal sellers have all the information about the account, and a money maker can recreate the device's fingerprint in anti-detection browser settings.
Full profile data. Including GEO, screen resolution, activity on Facebook, and other information.
Warmed-up account. It is ready for ad spend, and the chances of getting flagged for verification are minimal.
Passing checkpoints. If Facebook requires identity verification, the account owner can pass the check.
Chance of receiving a large spend. Each account has its limit, but in some cases, it is much higher than 100 dollars.
Disadvantages:
Loss of access at any moment. If the profile owner discovers any suspicious activity, they will change the password and can set up two-factor authentication.
Account efficiency is not 100%. About 6 out of 10 accounts are suitable for traffic generation.
Many low-quality accounts. It will be necessary to spend time searching for a reliable seller.
The main problem with cookie accounts is that they can be sold in several hands, and the risk of getting banned increases. Therefore, buying such accounts for $50 or $100 is not worth it because there is a risk of wasting money. However, verified sellers usually don't engage in such scams.
If you read the previous section of the article carefully, you probably understood that working with cookie accounts requires caution. The account is not under full control, and if there is no email included, any checkpoint can result in losing the account.
Even the greenest newcomers understand that to work with Facebook cookie accounts, you will need several components:
a quality antidetect tool;
top proxies under the user's GEO;
automation tools.
Antidetect is needed to recreate the original device fingerprint of the account owner, proxies with relevant GEO protect against the disclosure of the real IP, and automation tools increase the efficiency of advertising campaigns.
For example, the popular FBTOOL tool quickly cleans comments under advertising posts, makes auto-floods, and sends notifications in Telegram about important events in advertising campaigns.
Step-by-step instructions for working with Facebook logs:
Check the contents of the archive. If it lacks a cookies file, contact the seller.
Create a profile in antidetect for a new account.
Configure the fingerprint according to the technical information.
Add proxies.
Import cookies from the file.
Log in to the account and analyze its quality.
Create a Fan Page to set up an advertising campaign.
Disable notifications about events in the advertising account. This helps increase the life span of the cookie account.
Launch a white test campaign to warm up the advertising profile.
Launch the main campaign, monitor the situation, and increase the budget if necessary.
Working with cookie accounts on Facebook is convenient because if a high-quality account is found, you can attach 5-6 advertising accounts of auto-registrated accoubts to it and drive traffic from each, using the trusted profile. If the auto-registrated account fails over time, it can be easily removed and a new one attached.
The combination of auto-registrated accounts and cookie accounts allows for quick scaling and increasing the value of the cookie account. When setting up the connection in advertising accounts, the trust of the cookie account is transferred to the auto-registrated one, and advertising can be run from it.
The answer to this question depends on a variety of factors, so it cannot be answered definitively. With high-quality cookie accounts, you can spend $200-300 or $10-15 if the account owner detects any unauthorized access and blocks access to the account.
Another factor that affects the effectiveness of advertising campaigns is the quality of Facebook cookie accounts. If a seller sells Facebook cookie accounts to multiple people without verifying the quality of the account before selling it, you will have to spend time checking it manually and asking for a replacement if necessary.
The lifespan of Facebook cookie accounts also depends on the approach to warming up the advertising account. If an affiliate launches a 'black' campaign immediately after authorization and does not follow basic security rules, the account will not last long, and the process will have to be restarted.
Some affiliates manage to generate $1000 worth of traffic from a single cookie account without spreading it across 10 accounts. However, the effectiveness of work depends on the actions of the moneymaker. For example, if they use proxies with an incorrect GEO, this is already an unnecessary signal for the social network's algorithms.
Many affiliates want to know the answer to this question, but it is not that simple. The trick of sellers is that they can disappear at any time. Yesterday there were high-quality accounts in the shop, and tomorrow, 9 out of 10 purchased profiles will be blocked by Facebook.
Therefore, we will not recommend specific shops or sellers to avoid attracting negative experiences from moneymakers. To succeed in the affiliate market, it is necessary to gain valuable experience independently, including in purchasing accounts.
But we will not leave you without useful information. Here are some tips:
Monitor reviews in the affiliate marketing community. There are many Telegram chats where affiliates share their experiences. A search by store name or seller login can yield a wealth of useful information.
Ask questions in the community. If a search by name yields nothing, ask affiliates about high-quality Facebook cookie accounts shops.
Pay attention to payment methods. If the seller only accepts payment in Bitcoin, it is a reason to question their reliability. It is understandable that many sell "black" products, but having traditional payment methods increases trust.
Take accounts for a test. If 3 out of 5 profiles are of good quality, you can buy a larger batch.
Pay attention to content. Many affiliates only buy accounts with a Fan Page and completed advertising restriction check.
Facebook cookie accounts are perfect for quickly launching advertising campaigns and sending traffic to gray offers. If you follow basic security rules, the accounts will last long enough to fully recoup your investment.
What are Facebook cookie accounts?
They are accounts of real people that are distinguished by authorization through browser cookies.
Where to buy Facebook cookie accounts?
In almost any shop or from sellers directly. The quality of accounts can deteriorate over time, so it is not advisable to recommend specific sellers.
How much can you make from a Facebook cookie account?
From a few dollars to several thousand.
How to extend the life of a Facebook cookie accounts?
Use an anti-detect browser with a device fingerprint of the account owner, attach proxies under the user's GEO, and disable notifications about events in the advertising account.