How to Create an Earning Bot on Telegram in 2023 – a Step-by-Step Guide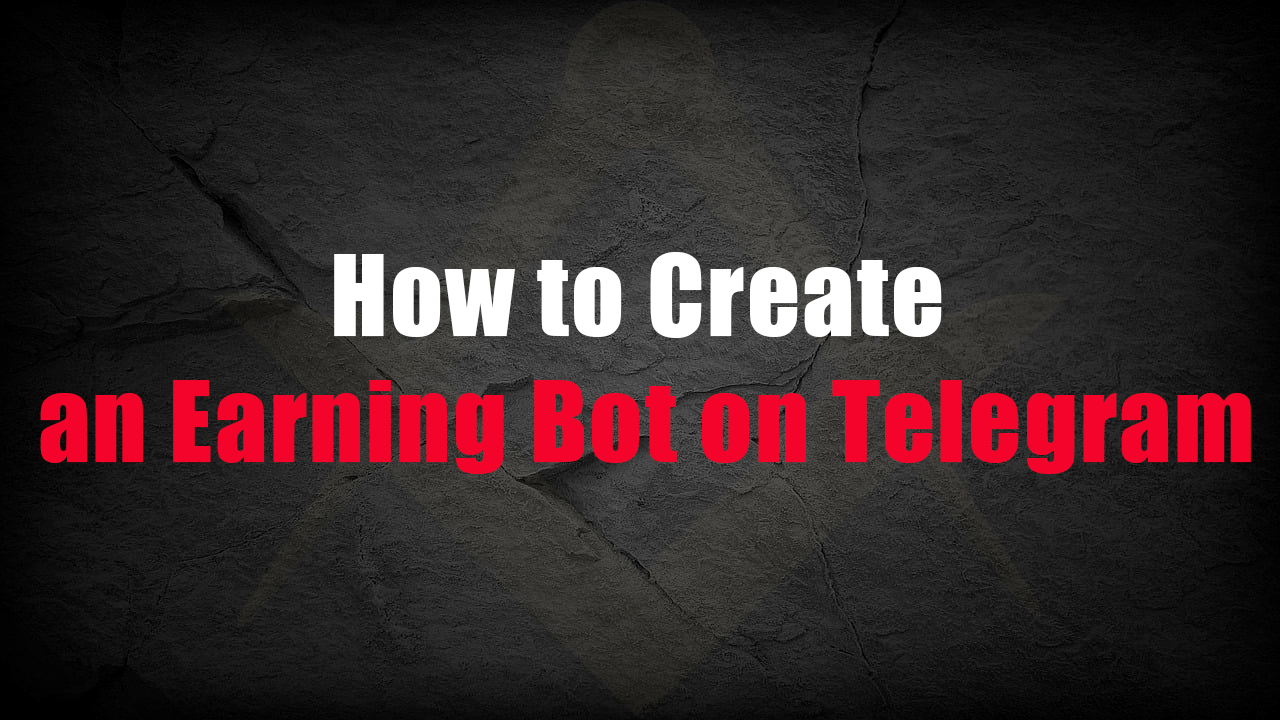 As of 2023, Telegram has emerged as a prominent social media platform, and it would be unwise to overlook the potential of earning money through it. By leveraging the power of a Telegram bot and channel, one can reap numerous benefits. In this particular piece, we'll delve into the realm of Telegram earning bots and explore the various ways they can prove to be lucrative.
What are Telegram Earning Bots?
To put it simply, Telegram earning bots are designed to enable users to earn money by referring others. In some cases, the referral process may require the user to join certain channels owned by the bot creator or channels being promoted in exchange for monetary compensation.
Once users have subscribed to your channel(s), there are several ways to earn money, such as by offering paid promotions or subscriptions.
Another potential avenue for earning money through creating such bots is by selling them later on. With these bots, you essentially let others do the work for you, similar to affiliate marketing, where you promote other people's products while users help you gather a larger audience. The potential for earning through Telegram earning bots is considerable, making them a promising investment for those looking to make money online.
How to Make an Earning Bot on Telegram
Creating a Telegram bot may seem daunting to many, as it involves a fair amount of coding. However, it is possible to achieve the same results without any coding knowledge. Thanks to Telegram's advancements over the years, there are now numerous resources and tools available to help you build your bot with ease.
In this article, we'll guide you through the process of creating a Telegram earning bot without the need for coding. Before we begin, ensure that you have a Telegram account, some ideas for your earning bot, and once you're ready, proceed with the following steps. With our step-by-step guide, you'll be able to create your very own earning bot in no time, even if you don't have any coding experience.
Step 1: Create Your Bot
In this tutorial, we'll create a bot from scratch together. First, open Telegram and type "BotFather" into the search bar. BotFather is the primary bot that enables you to create other bots on Telegram. Once you click on "Start", you'll receive a message from BotFather, and within that message, you'll find the option to type "/newbot."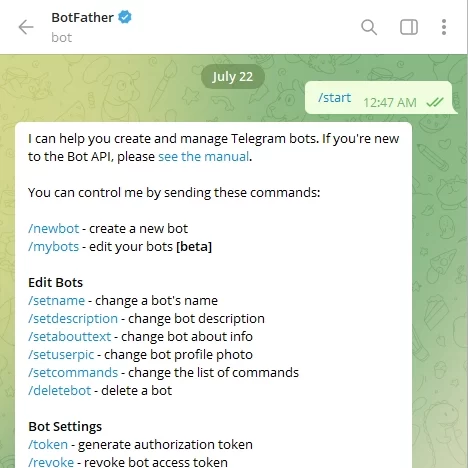 Click on the "/newbot" option and create a bot with your preferred name and username. BotFather will then send you a token, which you must keep secure for the next steps in the bot-building process. It's essential to note that you should not show this token to anyone else. Keep it confidential to ensure the security of your bot.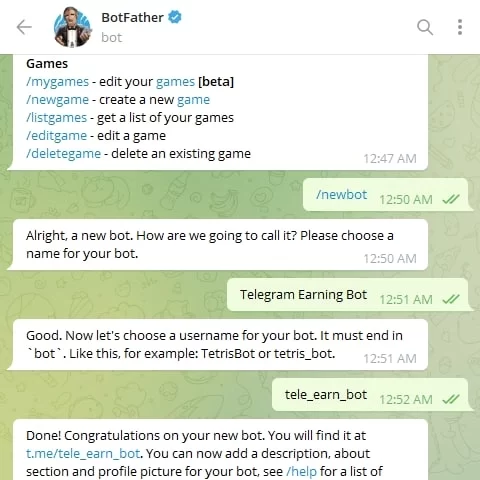 Once you have received the token, you have successfully created your bot. You can now begin customizing it by adding a picture, description, and more. However, for the purposes of this tutorial, let's continue building the bot. You can click on the link that BotFather sent you with your chosen username to view your bot. From there, we can proceed with the next steps in creating your Telegram earning bot.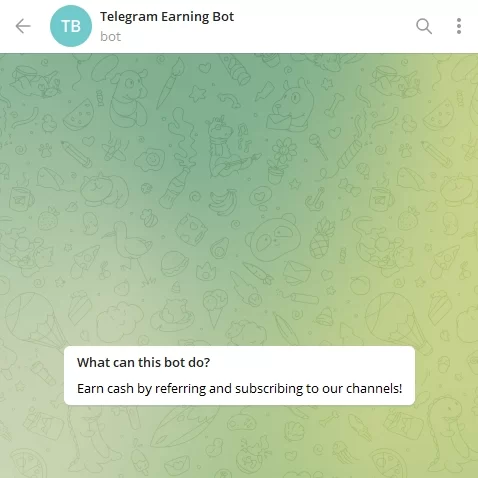 Step 2: Create a Menu Bot
To create the bot to function as we desire, specifically in terms of activating accounts and verifying referrals, we'll need a bot called "Menu Builder Bot". You can quickly find this bot by searching for it on Telegram. Once you've found the Menu Builder Bot, start it and select "Manage bots." Next, you'll be prompted to click on the option labeled "Add Menu Bot". Click on it to proceed.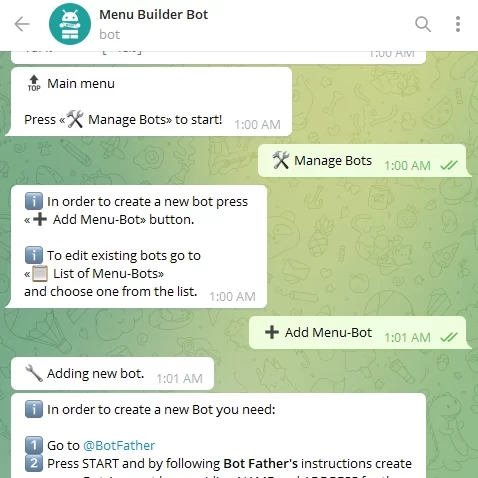 Next, we'll need to go back to BotFather and copy the API token. Then, send the token to the Menu Builder Bot. After a few seconds, you should see a success message indicating that your bot has been added. The remaining steps will be completed inside the bot you created. Click on your bot's username and navigate back to your bot to continue the process.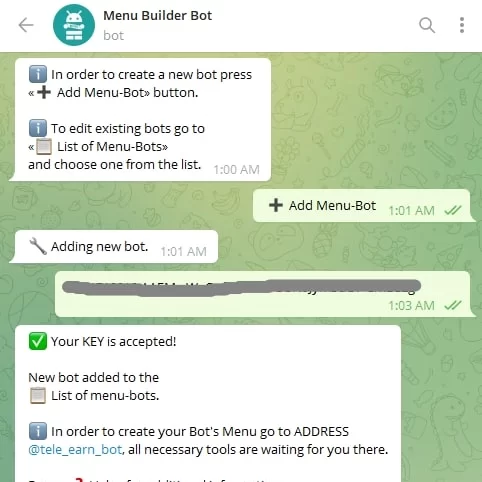 Step 3: Add Options to Menu
Now that you're in your bot, click on the "Start" button to proceed to the next steps. Once you're in, you'll see a menu with four buttons. Click on "Admin" to add a start message to your bot. This message will appear when a user first clicks on "Start".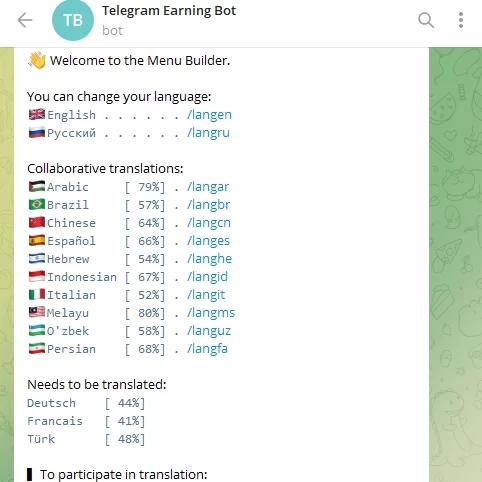 After clicking on "Admin", find and select "Message for START." From there, you'll need to add a message. Remember that you can use commands between two %s to address somebody or something. In this case, we will use %firstname% to address the user's first name.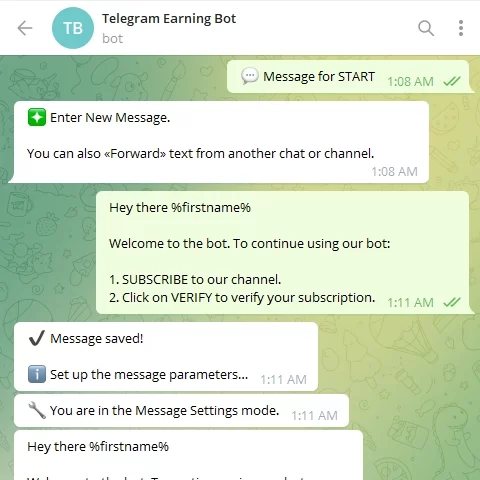 After adding the message for START, click on "Inline Button" to add the corresponding buttons for SUBSCRIBE and VERIFY, as explained in the initial bot message. The first thing you want to do is share the channel name and channel address so users can join them. If you haven't already created a test channel, you can do so now.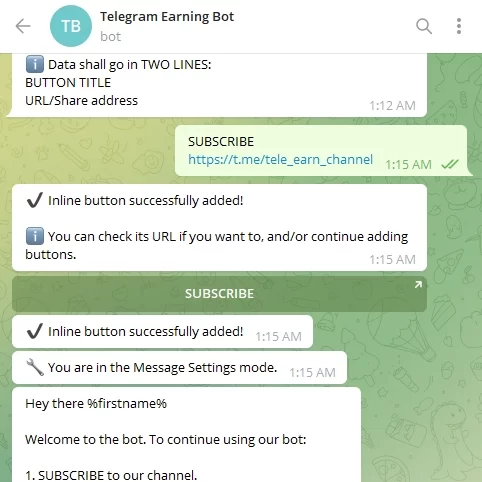 After adding the subscribe button, the next step is to ensure that users have actually subscribed. To do this, click on the "Inline Button" option again, but this time select "Button Mode: URL or Share" before typing your message. Once you've clicked on it, you can create a custom message that will be displayed in a pop-up window to users who have successfully subscribed to your bot. This will help you to verify that your subscribers are genuine and engaged with your content.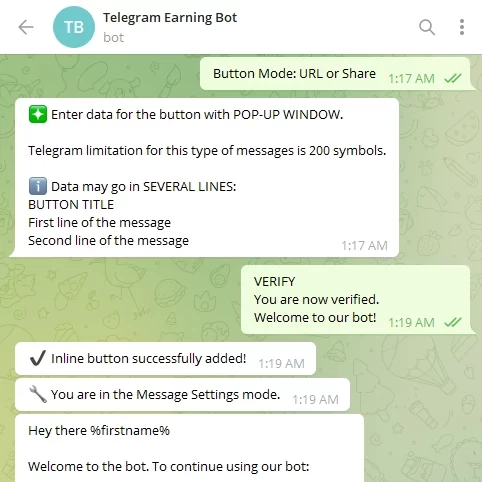 To save your message, simply click on the "Save Message" button. The next step is to create a profile for your users, so that they can easily check their balance and referrals. To do this, exit the Admin menu and return to the main menu. Click on "Buttons Editor" and select "Add a Button" to create a new button called "My Profile". Once you've created the button, navigate to "Posts Editor" and select "My Profile" as the button you created. Now, send a message to the bot with the following text, so that every time a user clicks on "My Profile", they can see their stats. This will make it easy for your users to keep track of their activity and stay engaged with your bot.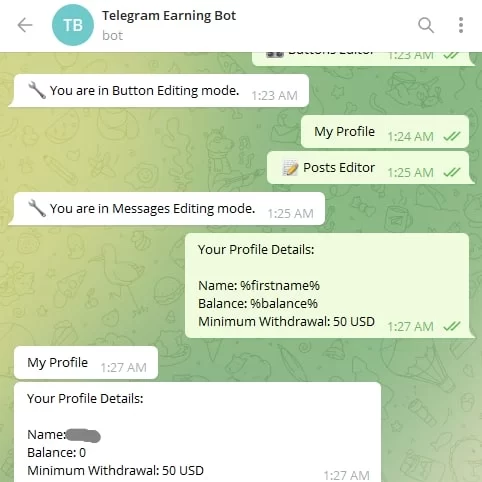 To incentivize your users to refer others to your bot, it's important to set up a referral system. To do this, go back to the Buttons Editor and create a new button called "Refer and Earn". Then, navigate to Posts Editor and select the "Refer and Earn" button. Here, you can craft a message that includes the user's referral link, making it easy for them to share with their friends and earn rewards for bringing in new users. By implementing a referral system, you can increase engagement and grow your user base organically.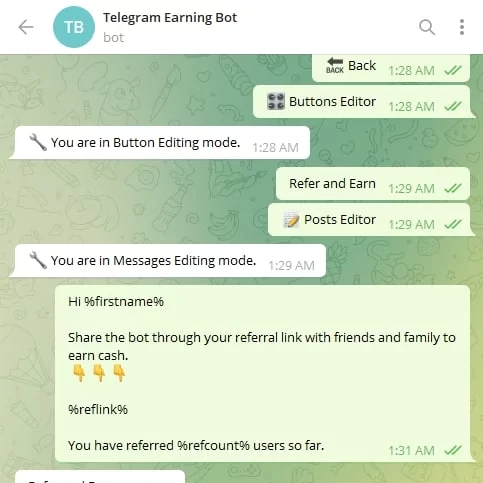 To create a unique referral link for each user and track how many people they have referred, use the commands %reflink% and %refcount%. This will allow you to easily report back to users on their referral status and encourage them to keep sharing your bot with others.
Finally, it's important to give your users the ability to withdraw their funds. While there are many payment methods to choose from, we'll focus on adding a crypto payment option for now. To do this, add a button called "Withdraw" to your bot and include a question with a message like the following: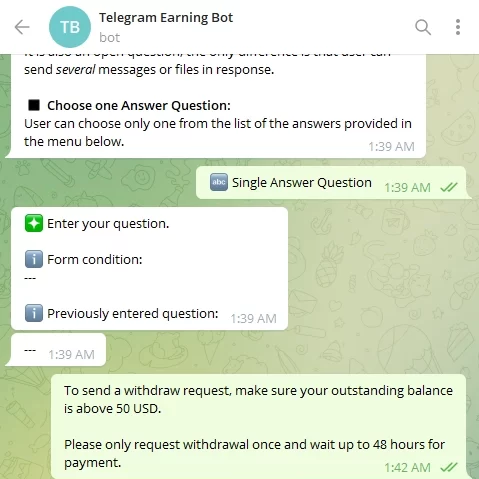 After a user submits a withdrawal request, it's important to send them a confirmation message to let them know that their request has been received. Additionally, you'll want to add a "Balance" option to your main menu. Within this menu, you can set the value of each referral by selecting the "Referral Bonus" option and specifying the amount you want to pay for each referral. For example, you might choose to set the value at 0.01 USD for testing purposes. With this set up, you can use the Balance menu to deduct the appropriate amount from a user's account whenever you pay them for a successful referral.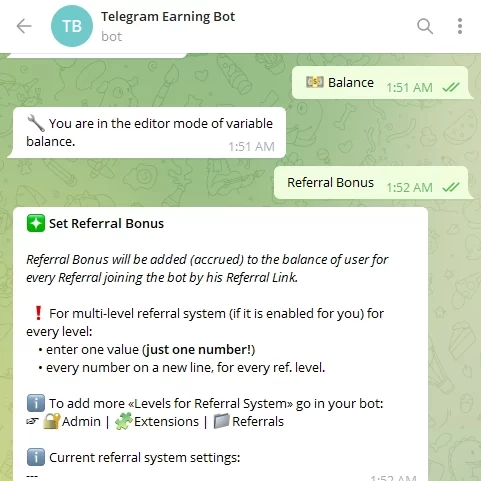 Now it's time to put our bot to the ultimate test. We can also give it a trial run on Telegram by searching for @tele_earn_bot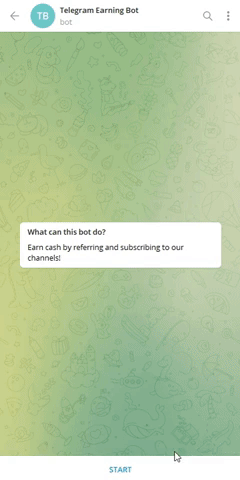 Successful Cases of Earning Bots
If you're not familiar with the most popular methods of gaining subscribers on Telegram, there's one channel that's been successful in both areas: attracting subscribers and incentivizing referrals. That channel is the Free Apecoin Arena bot. Users of this bot can earn 0.0015 APE per referral, making it an attractive option for those looking to make some extra money. To get started, simply subscribe to the three channels that the bot is promoting and begin referring others to join in on the action.
Upon checking out these promoted channels, you'll likely notice that they boast an impressive number of members, with each having more than 50,000 followers. That's a substantial audience that you can drive traffic from and monetize. If you have a channel of your own, you can earn over $150 per paid promotion message, and even offer package deals to your clients. The best part? Once you have a substantial audience, you'll continue to receive passive income over time. And if you ever need to start fresh, you can always create a new channel. The success of the Free Apecoin Arena bot is a testament to just how lucrative this approach can be.
Conclusion
Telegram is a social media platform that often gets overlooked, but it's time for that to change. If you're looking to expand your reach and engage with a larger audience, then it's time to give Telegram bots and channels a shot. With over 700 million active monthly users, the potential for growth and visibility is immense. The key is to remain transparent and avoid being labeled a scammer. Be upfront and honest about your intentions, and don't try to cheat or pay users for actions that are not genuine. By doing so, you'll be able to build a loyal followers and establish yourself as a trusted member of the Telegram community.
What are Telegram Earning Bots?
Telegram Earning Bots are automated software programs designed to earn money for users on the Telegram messaging platform. These bots are created using programming languages and Telegram API, and they perform various tasks such as completing surveys, clicking ads, or trading cryptocurrencies to generate income for users.
How to Make an Earning Bot on Telegram?
To create an earning bot on Telegram, you can create your bot using the instructions provided on the Telegram website. Then, create a menu bot that provides options for users to choose from. Finally, add options to the menu that will allow users to earn money using the bot. For example, you can add options such as completing surveys, watching ads, or trading cryptocurrencies.
What are some Successful Cases of Earning Bots?
Some successful cases of earning bots on Telegram include bots that offer cryptocurrency trading services, bots that allow users to earn rewards for completing surveys, and bots that pay users for clicking on ads. These bots have become popular among users who are looking to earn money on the platform.
Are Telegram Earning Bots Legal?
The legality of Telegram earning bots depends on the specific country's laws and regulations. Some countries may consider earning bots to be illegal or fraudulent, while others may allow them. It is important to research the laws and regulations of your country before using earning bots on Telegram.
Are Telegram Earning Bots Safe to Use?
Telegram earning bots can be safe to use if they are developed and managed by reputable developers. However, some bots may be scams or fraudulent, so it is important to be cautious when using them. Users should only use bots from trusted sources and avoid bots that require personal information or payment before providing services.