How to Delete a Facebook Ad Account in 2023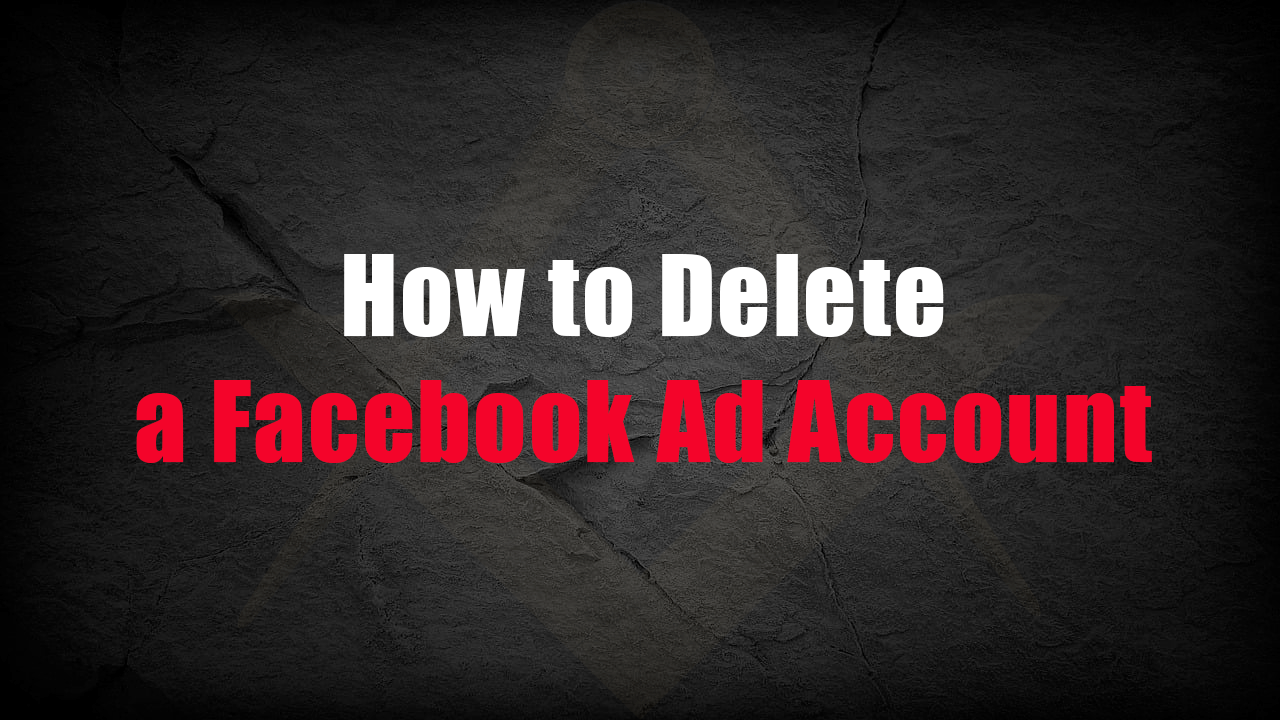 Learn how to delete an ad account on Facebook. Any process on Facebook, including deactivating an ad account, can sometimes be torture for inexperienced users due to the confusing interface. We'll help explain what the significant reasons for blocking are, and when less decisive actions can be taken. AFFDAYS explains how to delete an ad account on Facebook and why you might want to do it.
Why Delete a Facebook Ad Account?
Mostly, people may want to delete their ad accounts for two reasons:
Users don't want to do advertising on Facebook at all, but need to keep their account for personal messaging: in this case, it's easier to delete an ad account on Facebook, and it won't affect their profile at all.
Users have bought a profile for affiliate marketing with an already prepared business manager, and there are unwanted and strange accounts added to it: in this case, they delete them to start warming up from scratch.
In all other cases, deleting an ad account on Facebook is an extreme or ineffective measure.
For example, users may try to escape a possible account or business manager block if they have violated Facebook's rules more than once. However, this is useless – if the account is deleted and then restored, the algorithms will still "remember" you and will monitor everything you do more closely. Just a slightest violation – and your restored account will be banned.
And sometimes an ad account is deleted to avoid limits. The conditional limit of $10 on Facebook is not only annoying – it also doesn't allow normal launch of ad campaigns. Deletion won't help here either.
How to Delete a Facebook Ad Account: guide
The methods for deleting an advertising account differ only in the user path. We will show you how to delete both a personal advertising account and one linked in Facebook Manager. Deactivating the account will require just three steps.
Access the settings
After the addition of Facebook Business Suite, it was merged with Facebook Business and Facebook Ads, making account management even more confusing. To access the settings, you need to go to Facebook Business Suite, select "All Tools" → "Advertising Account Settings".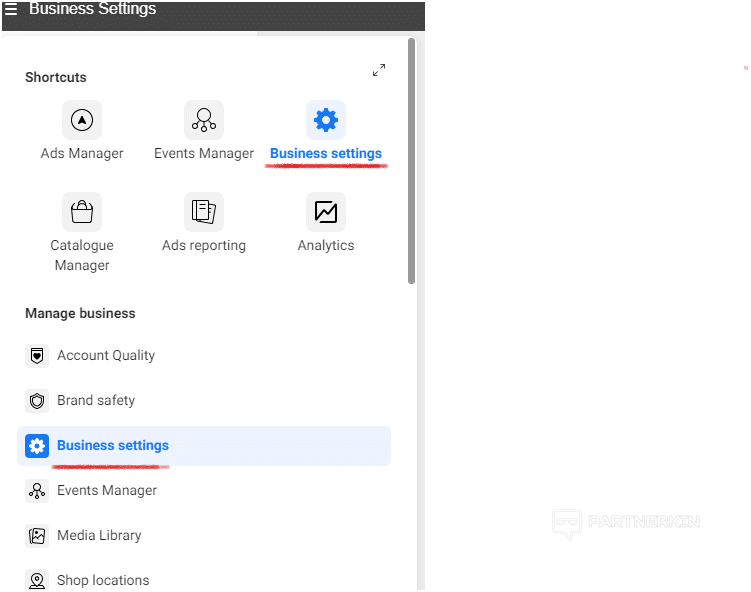 We recommend accessing them via a direct link, which is provided in the deactivation instructions from Facebook itself. If authentication is required, log in with the personal profile that created the advertising account or the company with linked accounts and pages.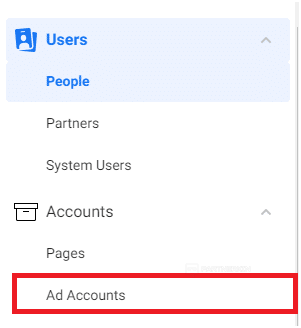 "Ad Accounts" section where you can delete your ad account
If you have accessed the settings for an account that is still needed, simply switch to another account. Click on the avatar on the left panel and select the desired profile.
Submitting a deactivation request
Right on the settings page, there will be a link to deactivate the advertising account. Click on it.

You will be asked to select a reason for deleting the account from a list of standard options – lack of support, low return on investment, constant rejection of ads. You can choose any reason or write something of your own in the "Other" field.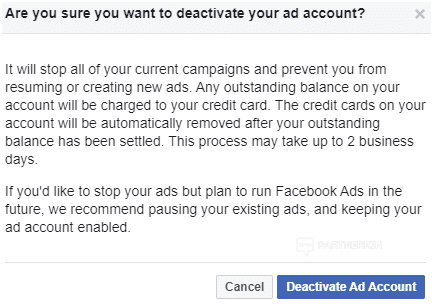 Waiting for deactivation
Usually, deactivation happens instantly. The settings are updated, and there will no longer be an option to delete an ad account.
However, the account may still be accessible in Ads Manager. You will no longer be able to run ads from it. If you try to access it, a banner will appear with a message that you need to reactivate the account.
There is another way to get rid of advertising accounts – by completely deleting the companies and pages they are associated with. How to do this depends on where the advertising account is being used: on a personal profile or in Business Manager.
If it's on a personal profile, you need to click on the arrow in the top right corner of the screen. Then the path looks like this: "Settings & Privacy" → "Your Facebook Information" → "Deactivation and Deletion". Click "View" and agree to deactivate the account.
To delete a company, which means deleting everything associated with it, go to Facebook Business Suite, select "All Tools" → "Company Settings". In the window that opens, on the left panel, select "Company Info", then at the top click "Permanently Delete Company".
Issues with deactivating an advertising account
Delayed deactivation. This can occur if post-payment is used and there is an outstanding balance on the account for previously run advertising campaigns. In this case, the debt will be debited from the linked payment method, which usually takes up to two days.
If there is no money on the card or wallet, Facebook will not allow deactivating the advertising account. First, you will need to link a new payment method to it, pay off the debt, and then submit a request for deactivation.
Learn more about Facebook Affiliate Marketing.
Prohibition on deactivation. It occurs when trying to delete a company if advertising accounts are attached to it, and other people have access to them, or it is linked to an Instagram profile.
To avoid this, you need to prepare for deletion in advance. Pay off all possible debts, unlink the used payment methods, remove all advertising accounts from Business Manager that have access, and only then submit a request for deactivation.
Technical issues. Errors may occur during deletion, and the account may remain accessible even after 2-3 days. In this case, you should contact Facebook technical support.
How to create a new Facebook ad account after deleting the previous one
If you need to run ads again, you can either reactivate the deactivated advertising account or create a new one.
If you need a personal advertising account for affiliate marketing in "grey" verticals, the only option is to create or buy a new profile. In it, you can create an advertising account in Ads Manager and run ads.
You need to create a new advertising account within a company? Go to Facebook Business Suite, navigate to campaign settings, and then to the advertising account section and add a new one.
This action may not be possible if there is a limit. You can check the limits in the company information. The limit can be increased through active advertising activity or by making a request to technical support.
If you want to drive traffic to profitable offers in affiliate networks, prepare your account carefully for advertising, otherwise, it may get banned. If the profile is already noticed for suspicious activity, you can try to pass the Business Verification process, and if it doesn't work out, delete it following our instructions.
FAQ
Why was my Facebook advertising account deactivated?
If you did not deactivate it yourself, the problem may be due to a violation of Facebook's advertising policies. In this case, you can only reactivate it if you eliminate the violations and pass the account quality check.
What should I do if Facebook disables my advertising account?
Find out why it was disabled: the reason is specified in the advertising account quality section. You can access it from the advertising account by clicking on the popup with the blocking information. Once you have fixed the issue, you can request a re-review to regain access.
How can I avoid my Facebook advertising account being blocked?
To avoid having your advertising account blocked, you should comply with Facebook's advertising policies and avoid engaging in suspicious activities that could trigger Facebook's algorithms. For example, don't link previously blocked cards or log in from different IP addresses.
How do I delete a deactivated Facebook advertising account?
Delete the profile to which it is linked. Deactivating does not mean permanent deletion: the account can be reactivated. To completely delete an ad account on Facebook, delete the personal profile or the company to which it is linked in the business manager.
How do I delete a disabled advertising account on Facebook?
Completely delete the profiles or pages to which they are linked. Disabled accounts remain in the manager and can be reactivated if necessary.
How do I remove unnecessary advertising accounts?
If you have unnecessary advertising accounts in the business manager, simply go to the account settings and disable the ones you don't need. You must be an administrator of the business manager to do this. In the case of unnecessary accounts on personal profiles, you can deactivate them.