How to Fix "This Page Isn't Allowed to Advertise in Facebook"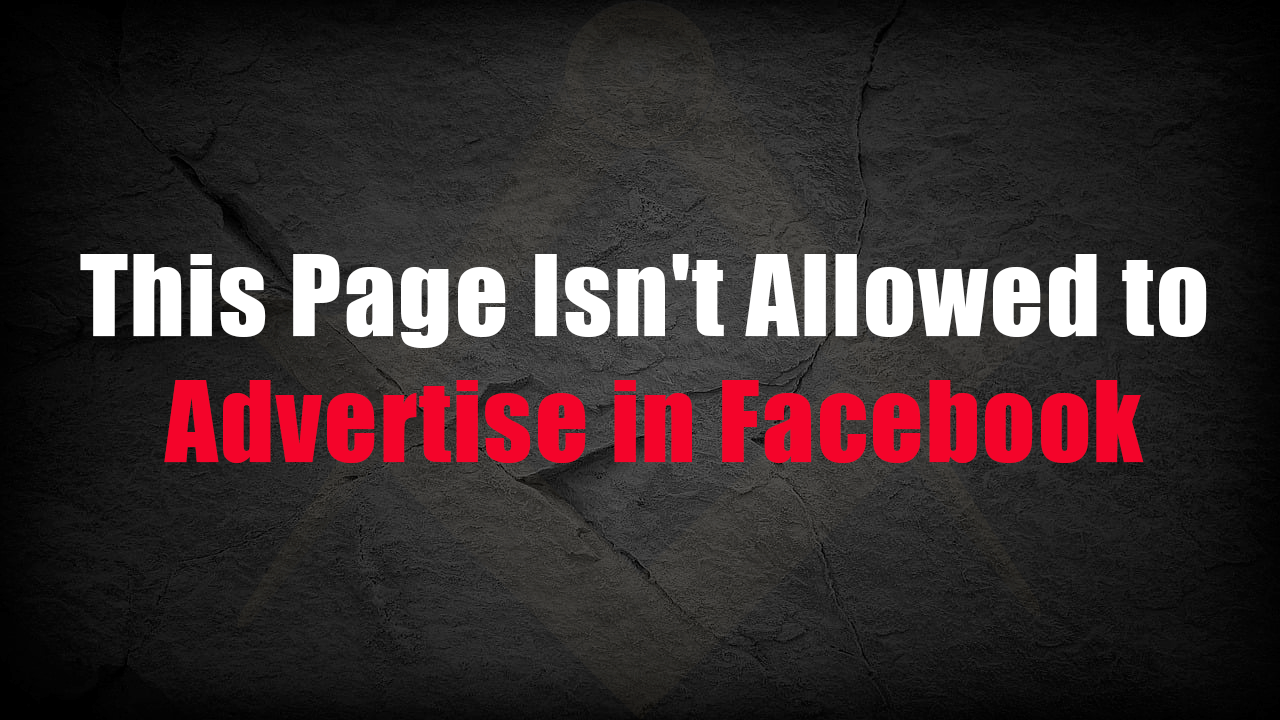 It is possible that you may receive an error message "This Page Isn't Allowed to Advertise in Facebook" indicating that your Facebook Ad Account has been banned. This is due to a new feature that Facebook has implemented in their Ad policy, which has become increasingly common this year. The negative aspect of this issue is that it has the potential to impact all of your Facebook pages simultaneously, regardless of whether you use them for advertising purposes or not.
When you encounter this warning, Facebook will provide you with a link that allows you to request a review of your Advertising access. It is important to take advantage of this option, as it may be the only way to restore your Ad Account and regain access to Facebook's advertising platform. In the meantime, it may be worth reviewing your advertising practices to ensure that they are in compliance with Facebook's policies, in order to prevent future issues from arising.
But before we proceed, take a look at our article on the words that are banned on Facebook. This may come in handy!
Check What You Did Wrong
To address the issue of "This Page Isn't Allowed to Show Ads on Facebook", the first step is to identify the root cause of the error. Unfortunately, there are numerous potential reasons that could be contributing to the problem, making it a more complex issue to resolve.
To help narrow down the possible causes, we have compiled a list of the most common reasons that may be preventing your page from displaying ads on Facebook. It is important to review this list carefully and consider each of the factors that may be contributing to the issue. By doing so, you may be able to pinpoint the specific problem and take steps to rectify the situation, which could ultimately help to restore your page's ability to display ads on Facebook.
There are numerous potential reasons why you may be encountering the error "This Page Isn't Allowed to Show Ads on Facebook." Some of the most common factors that may be contributing to the issue include:
Issues with your Facebook payment method
An significant debt on your Facebook Ads account
Failure to adhere to Facebook's advertising policies
Wrongful disabling of your ad account by Facebook
Use of copyrighted material without permission
Using more than 20% of text in an image
Incorrect capitalization of "Facebook" in captions or elsewhere
Inactivity on your ad account leading to a ban
Discrepancies between your ad and the landing page
Promotion of prohibited or restricted products on Facebook (it is important to review Facebook's list of prohibited and restricted content to ensure compliance)
By considering each of these potential causes and reviewing your account accordingly, you may be able to identify the issue and take steps to resolve it, ultimately restoring your page's ability to display ads on Facebook.
Contact a Support Center
If you have reviewed all of the potential causes of the "This Page Isn't Allowed to Show Ads on Facebook" issue and have been unable to resolve the problem on your own, the next step is to reach out to the Facebook Support Team for assistance.
One option for contacting Facebook Support is through the Live Chat feature. If your country is eligible for Live Chat support, this may be the quickest and most efficient way to get your page's Ad functionality restored. However, note that Live Chat support is only available in a limited number of countries. If your country is not eligible for Live Chat, you may want to consider using a VPN to access the service from an eligible country.

In addition to Live Chat support, Facebook offers a wide range of resources and guidelines to help users address various issues that they may encounter on the platform. By referring to Facebook's official guideline page and reviewing their instructions, you may be able to find additional tips and strategies for resolving the specific issue that you are facing. This can be a valuable resource for troubleshooting and resolving issues related to advertising on Facebook, as well as other aspects of the platform.
If you have received a notice at the top of your Facebook Page indicating that your page is not allowed to show ads on Facebook, you may be able to request a review of your account to restore your advertising functionality. The "Request a Review" button can typically be found within the notice itself.
When submitting a review request, it is important to provide as much detail as possible and to explain why you believe your page should be allowed to advertise on Facebook. Make sure to use a personal and polite tone in your request, as the appeal will ultimately be reviewed by a person and not just Facebook's algorithms. Avoid simply copying and pasting generic text, as this may not be sufficient to convince the reviewer that your page is compliant with Facebook's advertising policies.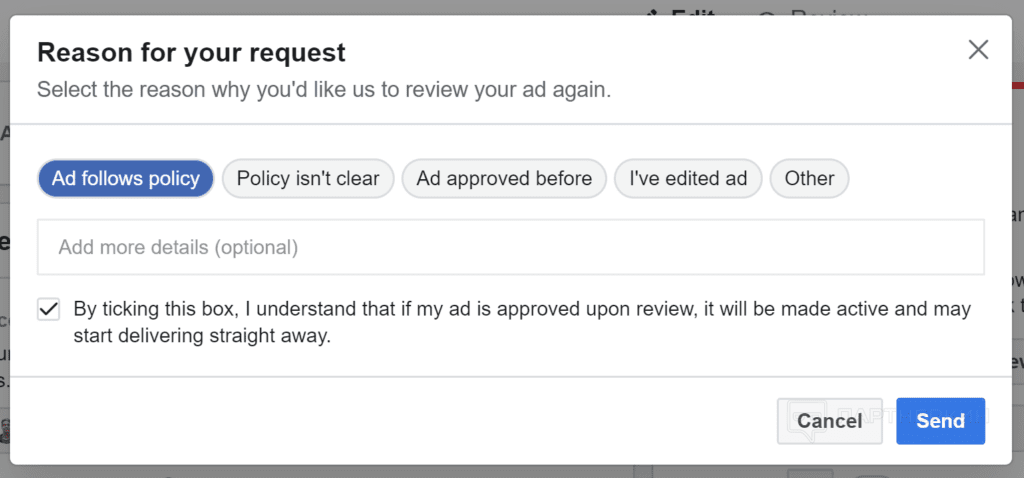 If you have been notified that your Facebook ad account has been permanently banned, don't give up! While it may be frustrating, it is possible to appeal the decision and work towards having your account reinstated. However, be aware that you may receive multiple emails indicating that your account has been permanently banned, even after submitting an appeal.
In order to maximize your chances of successfully appealing the decision, respond to all messages from Facebook and ask for guidance on how to resolve the issue. You may also want to consider messaging the Facebook support team regularly until you receive a response.
Note that if your account has been banned, you will not be able to delete it. However, with persistence and patience, it may be possible to recover your account and resume advertising on Facebook. Keep in mind that this process may take some time, but it is worth pursuing if you rely on Facebook advertising for your business or other endeavors.
Conclusion
By implementing the tips outlined above, you can help protect your ad campaigns from being banned on Facebook. However, if you do find yourself in a situation where your account has been banned or your ads are not being approved, do not hesitate to contact Facebook's customer support center for assistance.
The support team can provide you with detailed information on the reasons for the ban and offer guidance on how to avoid similar issues in the future. Don't be afraid to ask questions or seek clarification on Facebook's advertising policies, as this can help you stay in compliance and avoid future disruptions to your ad campaigns.