How to make images unique: 8 methods
Unique images is an essential tool when working online. For bloggers and targetologists, it's a must. Otherwise, search traffic will be reduced – for bloggers, and creatives will be blocked, and ads stopped – for targetologists..
Ideally, you should work with visuals independently: taking high-quality photos for physical products and creating illustrations in graphic editors for everything else.
But if that's not an option, and images are needed right here and now, you'll have to put in some effort. This article will tell you how to make unique images using online services and software.
Checking image uniqueness
You can use familiar search engines like Google, or other. To do this, find the "Search by image" function in each search engine.
But you can also use other services that check uniqueness. One such service is TinEye. Let's quickly go over all the methods.
Using Google
Click on the link, then press the camera icon. When the window appears, choose how you want to add the image – by link or by uploading a file.
Next, the system will analyze and provide search results. Pay attention to the "All sizes" button. If it's there – it means the image is not unique.
If we click on "All sizes", we'll be directed to a page with similar images. For example, we took a frame from a popular movie, so there are more than many copies.
Using Yandex
The actions are similar to the previous option: click, find the "Search by image" button, and insert the image.
The system will start searching by image and notify you if it finds copies in other sizes.
Using TinEye
This is where it gets interesting: TinEye provides more detailed information about the image. When you upload a picture, the system displays the number of copies roaming the internet.
This simplifies the uniquelization process – you can track your progress as you edit, reducing matches to zero.
In the following article, we will use TinEye, and we recommend you do the same – it's convenient.
How to make an image unique
Now to the main point. There are countless ways to unique images. However, the problem is that their number is decreasing. Systems are getting smarter, and if before it was enough to insert a semi-transparent watermark, now it won't work.
It is unknown by what parameters the system determines uniqueness. Therefore, if you're working on an image, apply several approaches simultaneously. We tell about them below, but first, let's sort out non-working methods.
Methods that no longer work
Changing the name or extension of the image. The system looks at the content of the image and determines uniqueness based on that. So don't worry about the name and don't change .jpg to .png – it's pointless.
Frames. A frame doesn't change the overall composition of the image – the main elements remain in the field of view for verification.
Watermarks. In comparison to frames, a watermark has even less influence. The system can't distinguish it against the background of the image, so it doesn't help.
Cropping part of the image. Look at the example with the picture above – it shows the sizes of the copies available in the search results. So if you crop the image but leave the main objects – the system will understand it.
Stretching and compression. It's the same as with cropping – if the main effects remained in the field of view, it won't help.
And it's getting worse. By the time you read this article, some of the working points may be added to the list of non-working methods. But as long as they work, use them.
Methods that still work
We use Photoshop for uniquelization but online services will also work. Read about them in the next section.
First, let's check once again how many copies of the image are on the internet. We upload the photo to TinEye and look at the result: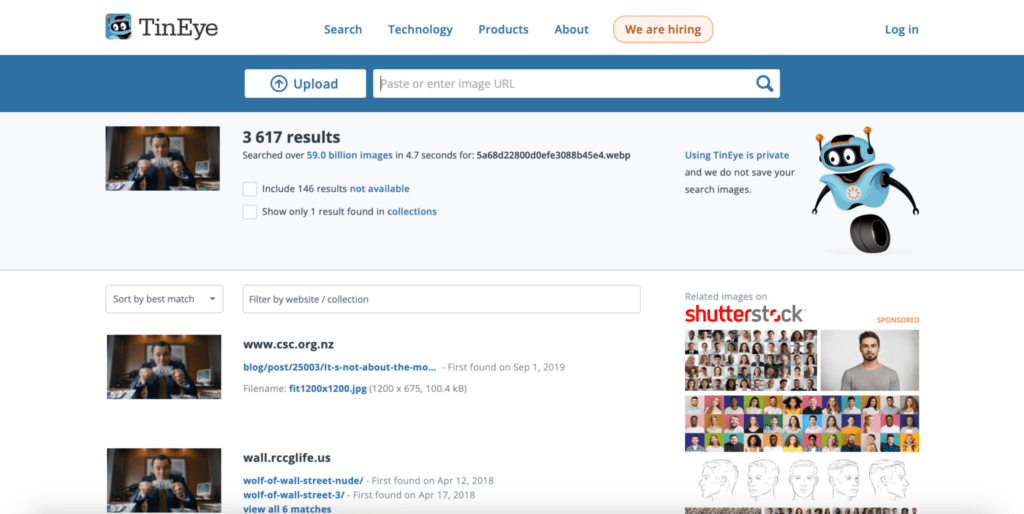 Remember: without making any changes, the image has more than three thousand copies. Now let's proceed to editing.
Method 1: Flipping
For this, we mirror the image horizontally. The result looks like this: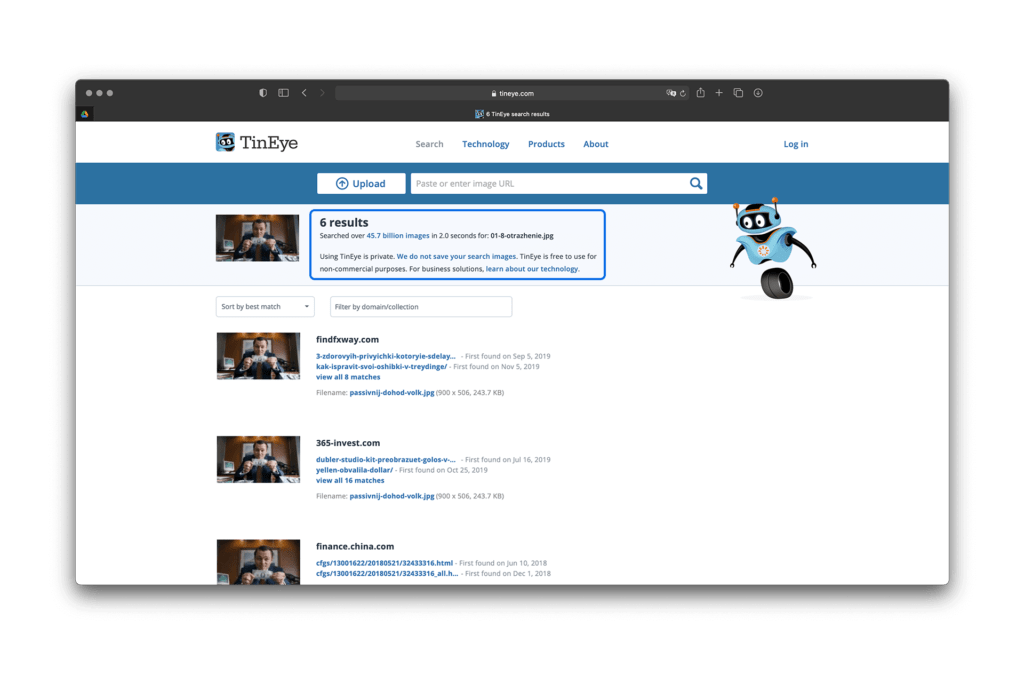 Visually, the image doesn't suffer, and the method shows results. Let's check the flipped image.
We've reduced the number of copies from over three thousand to just six. Not bad, huh?
Note: for images with text, this method won't work – the text will become unreadable.
Method 2: Changing proportions
For this, we edit the image's perspective – visually stretching it into the distance.
Use the .png format. Otherwise, a white field will remain in the background of the image, which can only be removed by cropping, and this worsens the quality.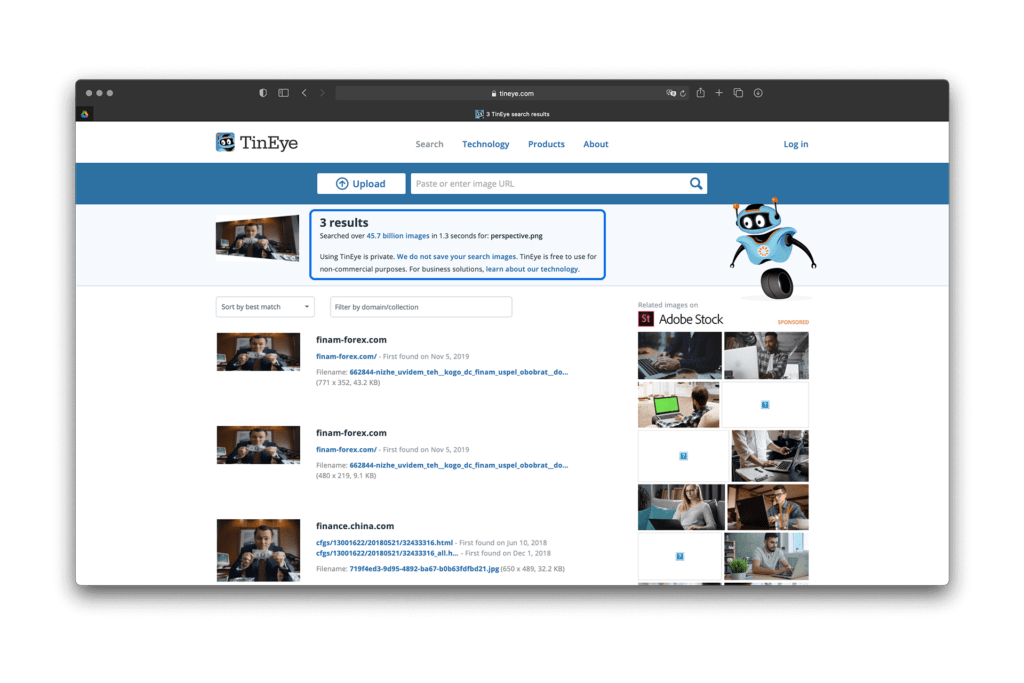 In total: three copies across the entire internet. To achieve 100% uniqueness, combine this method with the previous one.
Method 3: Stretching individual points
The method works, but the problem is that it can be applied in very few cases. Look at what happens to the image – DiCaprio in it looks as if he's been distorted.
But at the end, we get some results – eight hundred copies.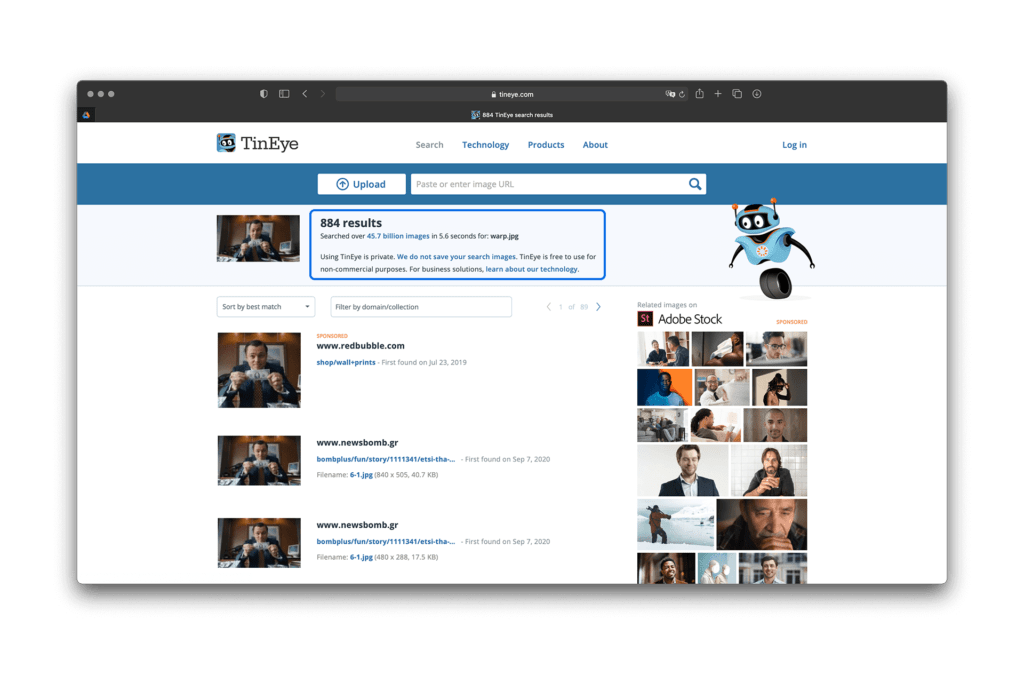 Tip: Combine with previous methods and do not use this method for photographs. It works better with drawings.
Other methods
Above are the basic and effective methods, but they are not the only ones. In addition to these, you can use other adjustments, but their effectiveness remains questionable.
Nevertheless, let's briefly go through some other available methods:
Changing the quality.
Strong image processing. Various filters, black and white, masks, and so on.
Splitting a large image into smaller ones. This is when you cut an image, for example, into 9 parts, and then glue it back together on a web page.
Redrawing contours. In theory, it might also help, but whether it's worth it is debatable.
Adding objects. Such as emojis, icons, or even other images. In the context of some images, this is acceptable, but overall – not great.
Alternative search engines without restrictions and censorship: 21 Google alternatives
If you can't make the image unique in any way – consider another option, or, what's really better, create it yourself.
What is "batch image uniquelization"?
Batch means the same thing as mass. It's when you set a list of parameters, upload a bunch of images, and the service applies the settings to all the images one by one.
In this case, you don't need to edit each image manually.
Image uniquelization online: 3 programs and services
Now let's talk about the tools. There aren't many, so we've written about the main ones.
Adobe Photoshop
If you know how to use Photoshop – great. This editor has enough features to apply all the methods we've written about above.
Read about how to use the "Actions" function. With it, you can set a sequence of actions and repeat them on other images with a single button.
Xnview
This is an image editing program. In terms of functions, it has everything you need: mirroring, resizing, tilting, color management, and more.
The software also supports batch uniquelization. To download, visit the official website.
Imgfactory.ru
An online uniquelization service with a Russian interface. To work with the photo editor, set the parameters, upload the photos – and you're done.
Tips for unique images
There are just a few:
Think twice before using a photo. It's rare to find a shot that won't distort during editing. So prioritize drawings;
Combine approaches to achieve 100% uniqueness;
Don't choose overly popular images: movie scenes, popular personalities, etc. They will initially have a lot of copies, making uniquelization more difficult;
The larger the image size, the better. If you crop, flip, or distort it – the objects won't blur.
Conclusion
Now you know how to make images unique. This skill will come in handy when you launch advertising campaigns or decide to run a blog.
Allow us to repeat: ideally, you should create images yourself.
Is it necessary to make creatives unique in affiliate marketing?
If we're talking about working with Facebook Ads – yes, definitely. You can also include any service whose algorithms monitor unique image, for example Google Ads, Yandex.Dzen, Avito, etc.
What free services can be used for unique image?
All the ones we've mentioned above, except for Photoshop. But there are workarounds if you know what we mean.
What to do if an image doesn't become unique?
It's unlikely to happen if you apply all the methods from the article. However, the question is what will remain of the image after such changes. So, if you've gone through all the steps and there are still duplicates, consider changing the image.
Will a screenshot be considered unique?
It depends on what you're screenshotting. If it's a screenshot of a website page or program, then yes – the screenshot will be considered a unique image. However, if you take a photo and make a screenshot of it, it won't add uniqueness.
Are there bots for unique image?
In the article, we wrote about online uniquelization tools. Use them, and you won't need bots.