Leonardo AI Tool for Image Generation: Detailed Review
Leonardo AI tool – a new service in 2023 that has already gained popularity among users. It has at least three advantages compared to popular alternatives like MidJourney and Stable Diffusion. It operates online, not through Discord, doesn't require a powerful graphics card, and has a user-friendly and straightforward interface. Let's get to know this AI tool better.
What is Leonardo AI?
Leonardo AI is a modern and conditionally free alternative to Midjourney, operating on its model. With this AI tool, you can generate images from text. You are given 150 tokens for creating images per day. Every 24 hours, this amount resets, and free tokens are credited again, allowing you to generate new illustrations.
Leonardo specializes in visualizing characters for games or concepts of various objects.
What functions are available in the Leonardo AI tool?
Leonardo offers users several functions:
Image creation based on descriptions with a wide range of settings;
Image editor. Helps expand the boundaries of a photo or remove the background;
Texture generator. Simply upload an object here, and the AI will create a texture map for that object.
The primary task of this AI tool is image generation. Let's delve into each function in more detail.
How to register on Leonardo AI
Open the website https://leonardo.ai/
Click the "Create an account" button.
Enter your name and email. Then click on "Count me in".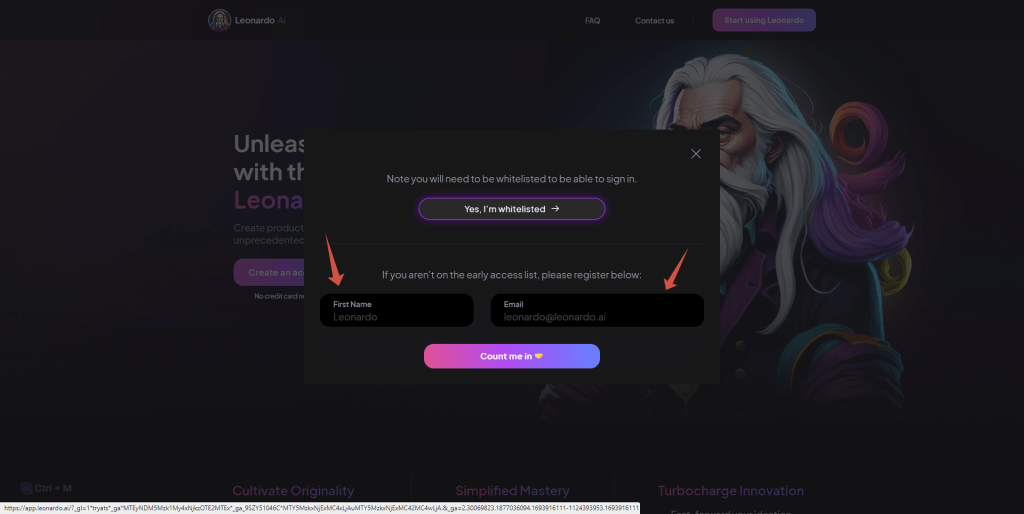 You will receive an email. Open it and click on the "Launch Leonardo.Ai" button.
On the opened page, select "Google".
Come up with a nickname for yourself. Choose the purpose for which you need the AI tool and check the box to confirm that you are over 18 years old.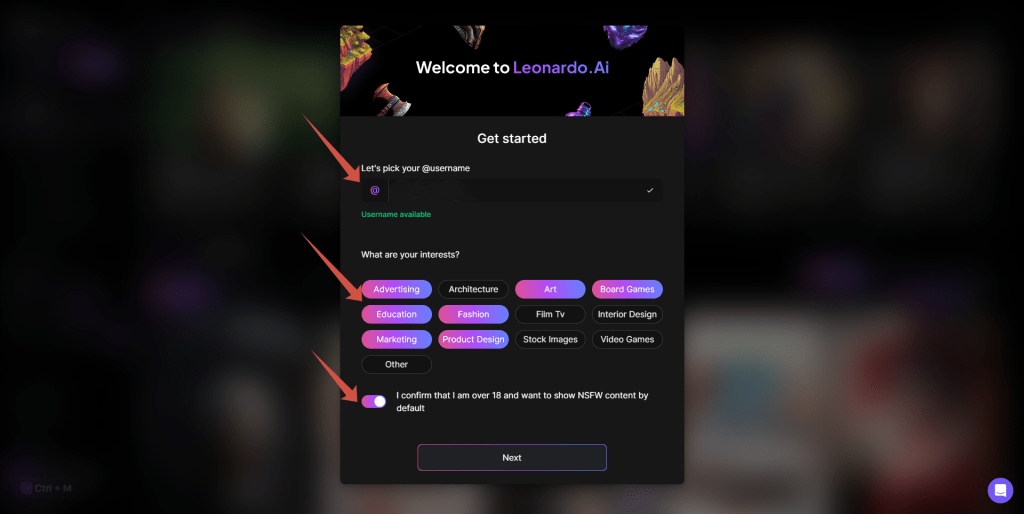 Choose your role.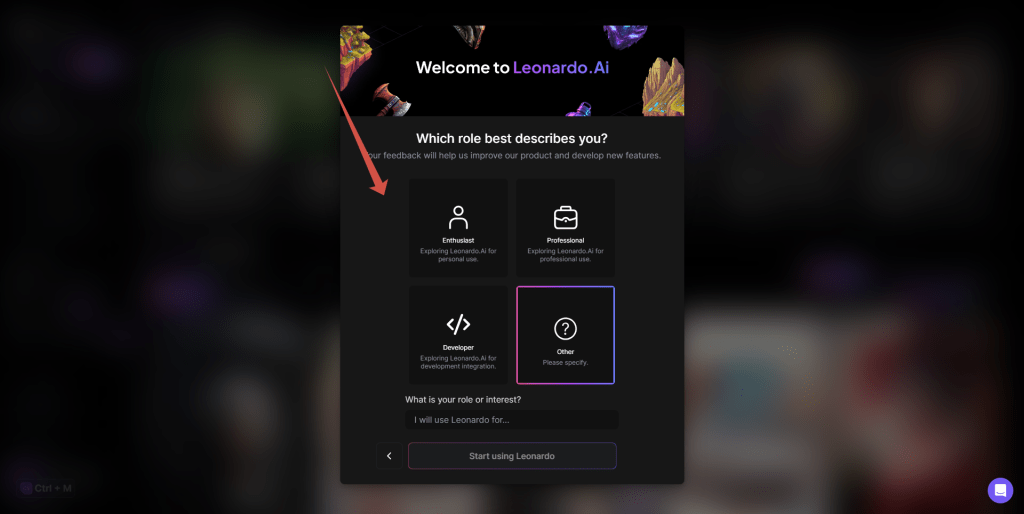 Done! You are registered in Leonardo.
How to use the Leonardo AI tool
Click on "AI Image Generation".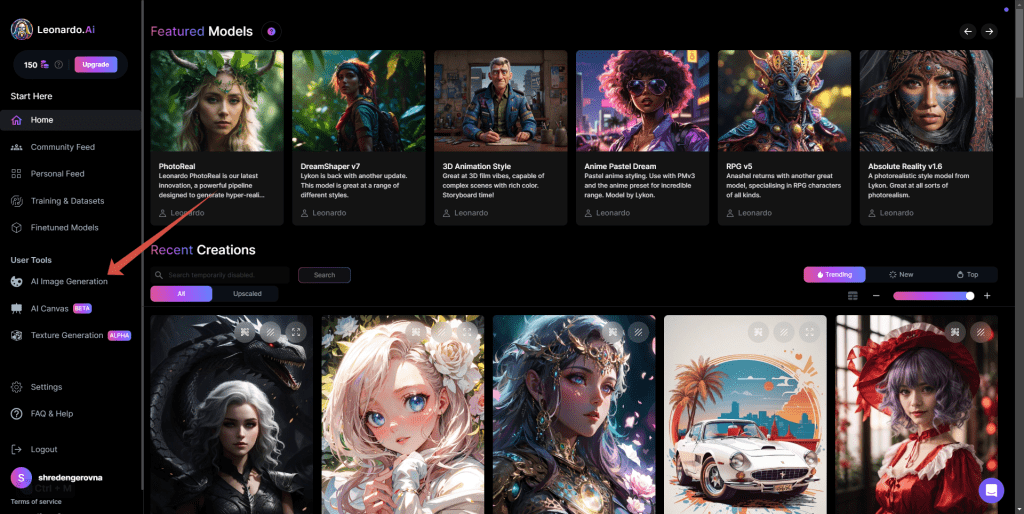 Now we need text describing what we will be generating (a prompt). Note that the service operates with English only.
Write a prompt and click "Generate".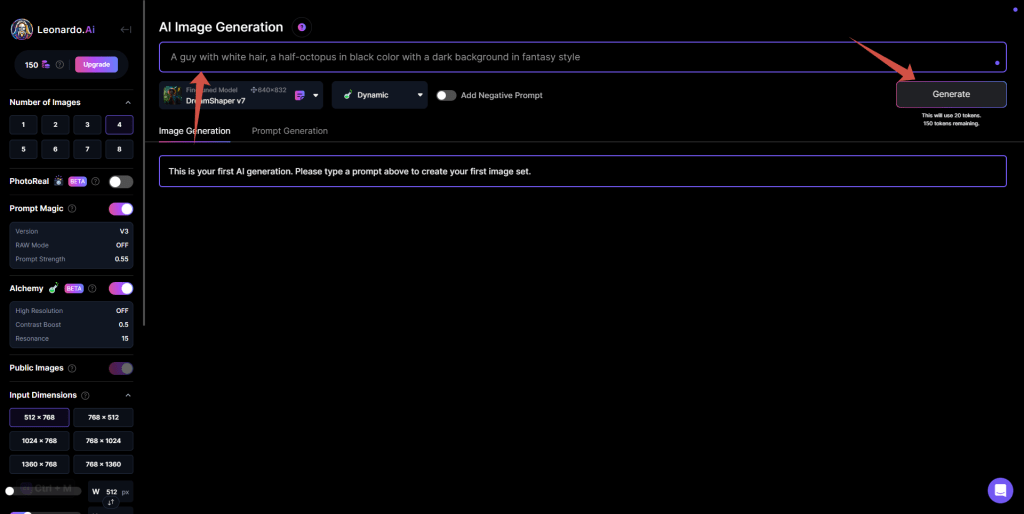 Done. Now you can select any image or edit the request if you didn't like anything.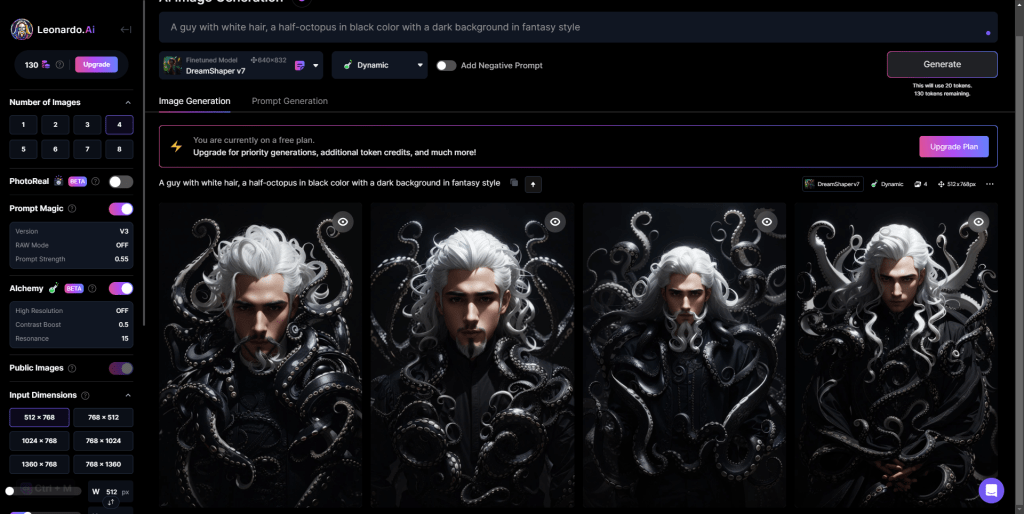 Done! Your first image in Leonardo has been created!
In Leonardo, there are many other settings besides the ones we used now. You can create more image variations, try the Photorealism filter, change its size, and find these settings in the left column.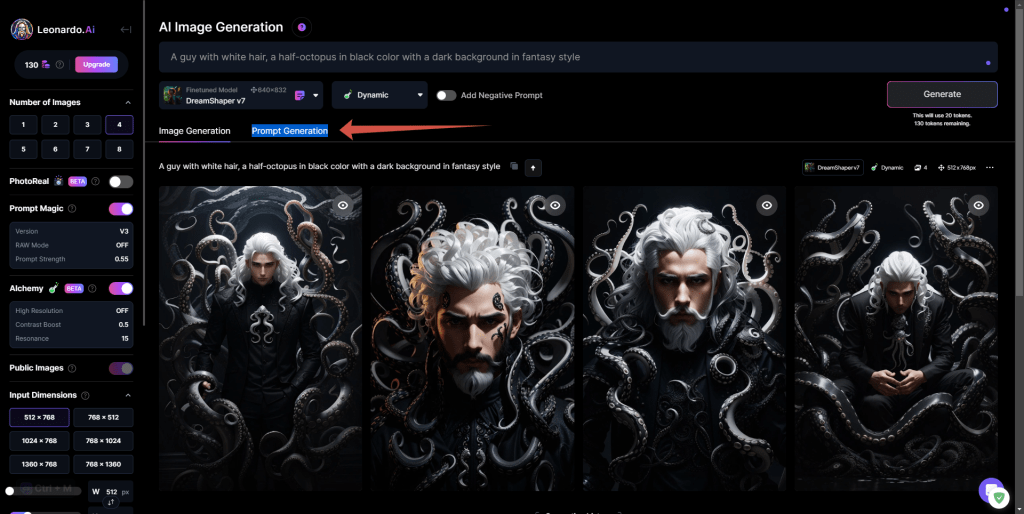 In addition to basic settings, you can also apply extensive prompt settings to create an image. What are they and how to use them, we will explain further.
Prompts for the Leonardo AI tool
A prompt is a hint to the AI tool about what the future image should look like.
Often, when working with AI tools, we cannot immediately come up with a complete and accurate description on the first try. The generated image may turn out absurd, have unnecessary elements, or deviate far from the vibe of the so-called source. How do we deal with this?
Prompts come to the rescue!
In Leonardo, there is a whole additional section for writing prompts. The AI tool generates additional prompts for generation, you just need to write the main idea in the corresponding field.
For example, with our previous request, the AI tool generated a bunch of elderly men with mustaches, but we need a younger character for our game. We will provide additional prompts to the AI tool.
Click on "Prompt Generation".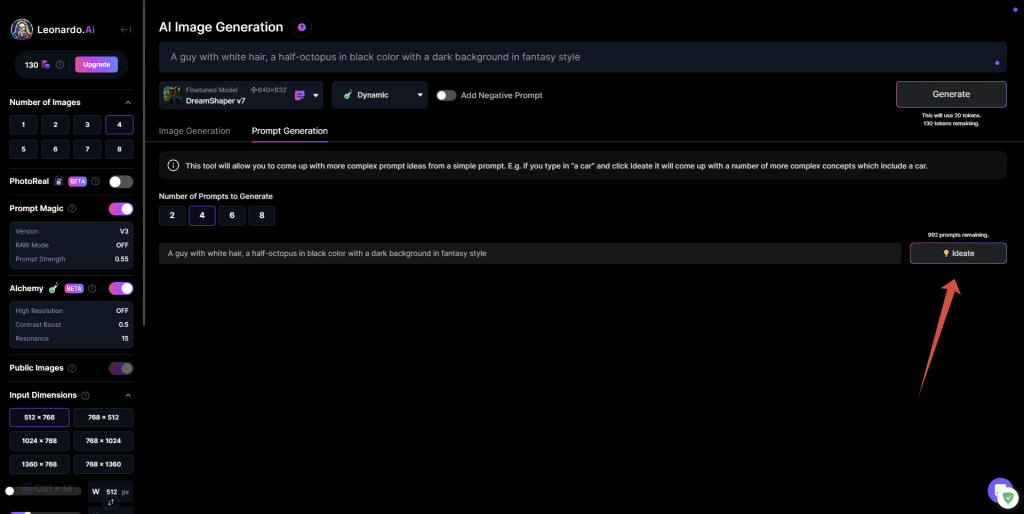 Copy your idea and paste it into the appropriate field. Choose the number of prompts. We have set it to 4.
Click on "Edit".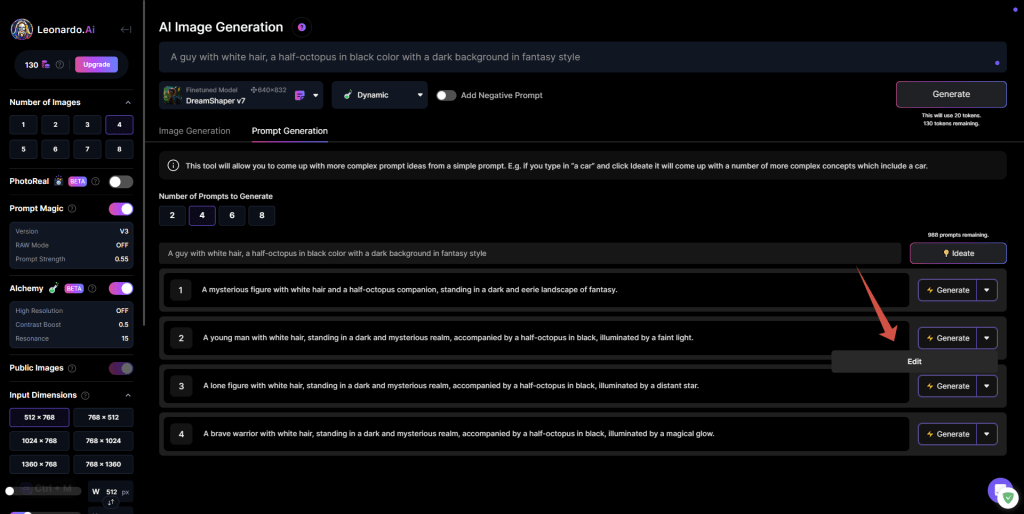 Here are your prompts.
We choose the second prompt because we need a young man. By the way, here you can also add a style to the image.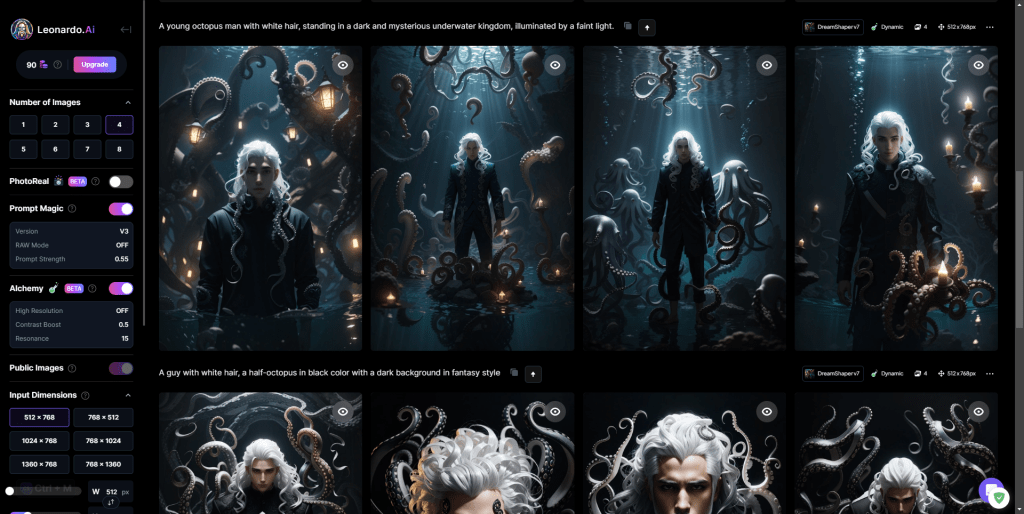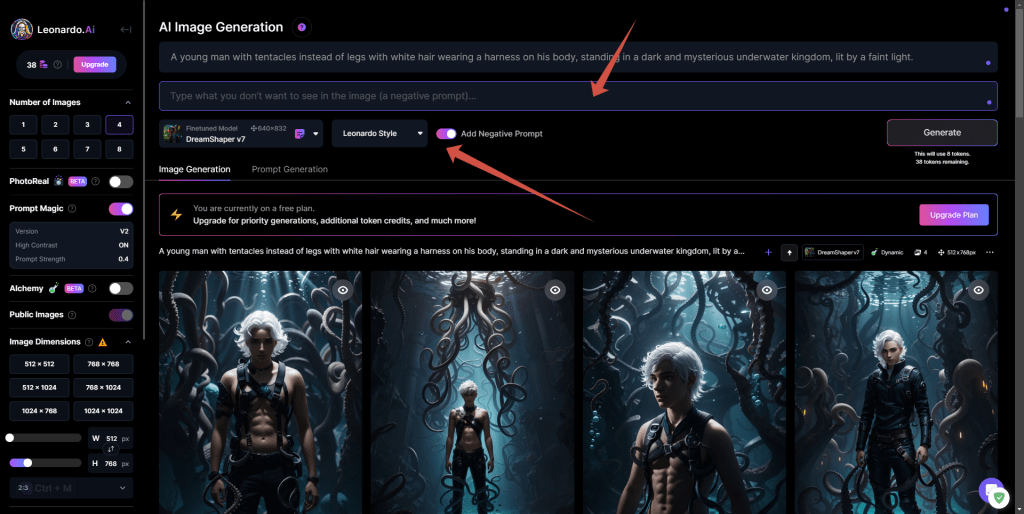 So, we need to revise the description again. Click on "Edit".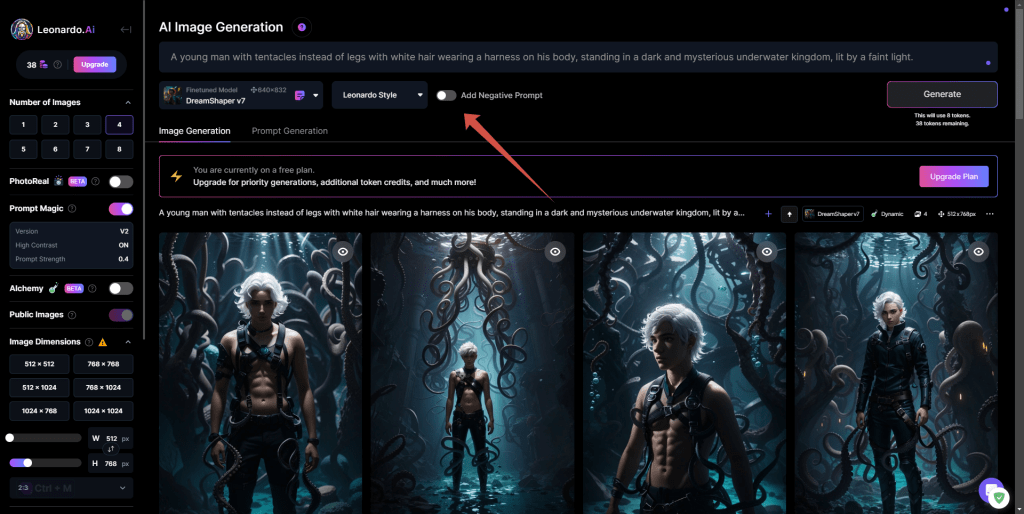 And after the revision, click on "Generate" again. Wait for the result.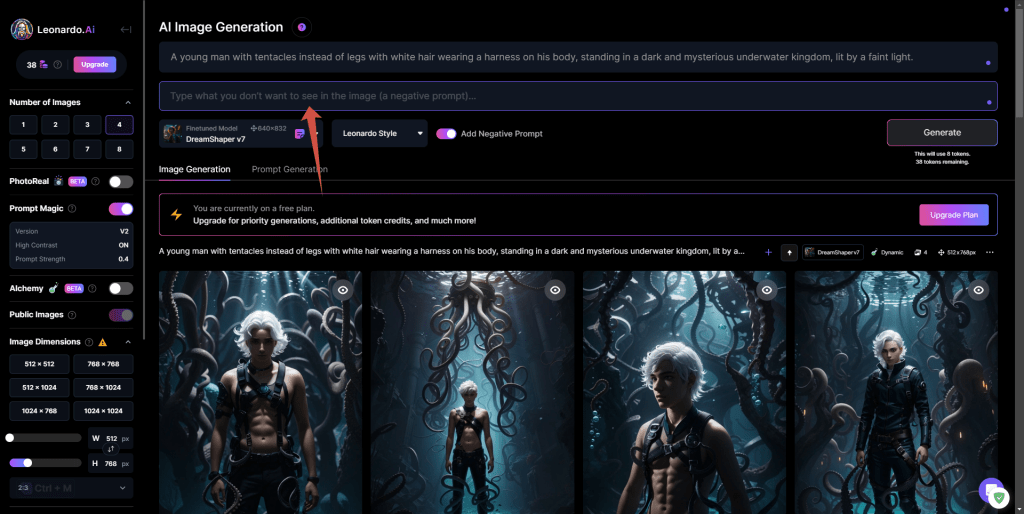 Done! Now all the guys in the images are young. And no mustache.
In addition to prompts, you can also generate anti-prompts — that is, what should definitely not be in the images. To write and activate them, click on the "Add Negative Prompt" marker.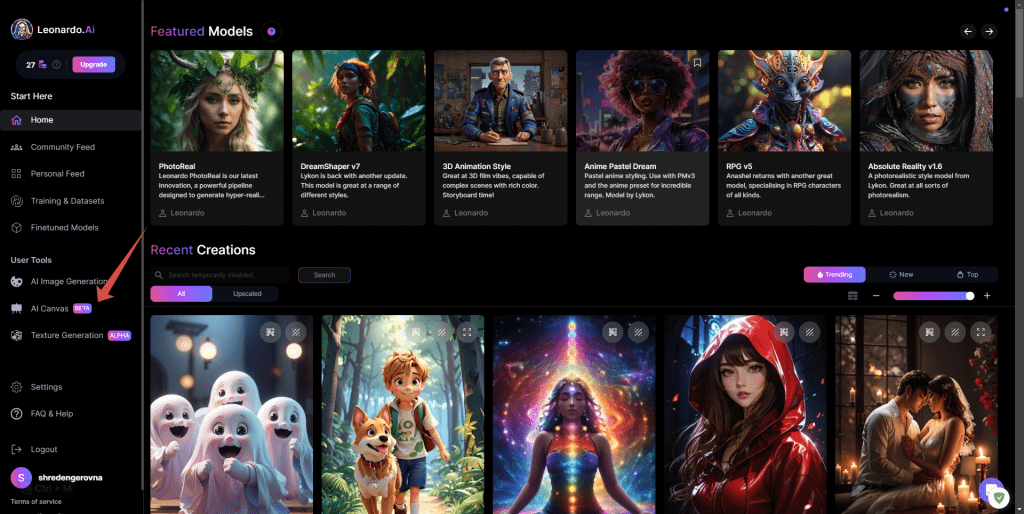 Enter your prompt for the AI tool in English. Then run the generation again.
How to process your photo in Leonardo AI
In addition to the image generation function, Leonardo also offers a photo editor for enhancing images called AI Canvas. With it, you can edit your photos.
Let's take a look at it: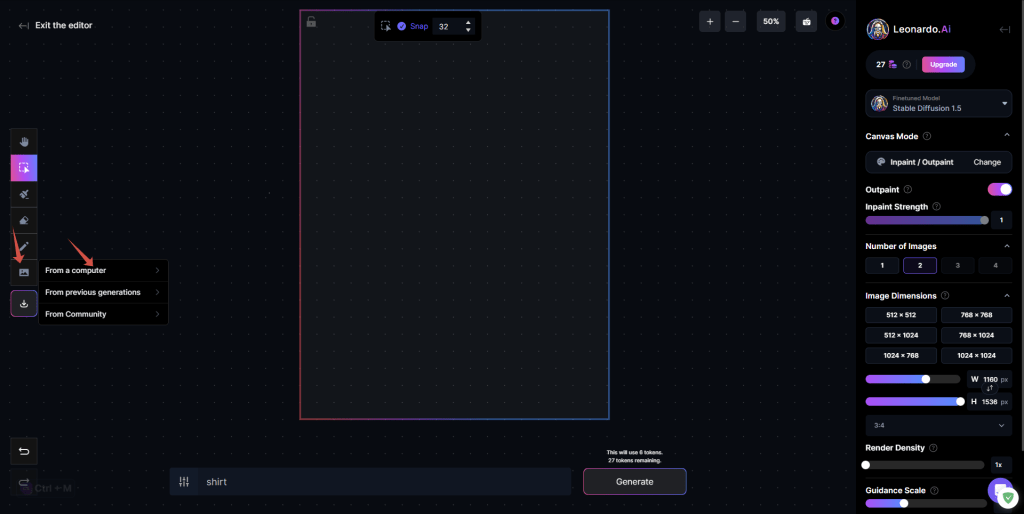 To start editing a photo, you need to upload it. Click on the photo icon and select the desired image from your device.
Here we have a photo of a random girl. Let's remove her pimples using the eraser tool.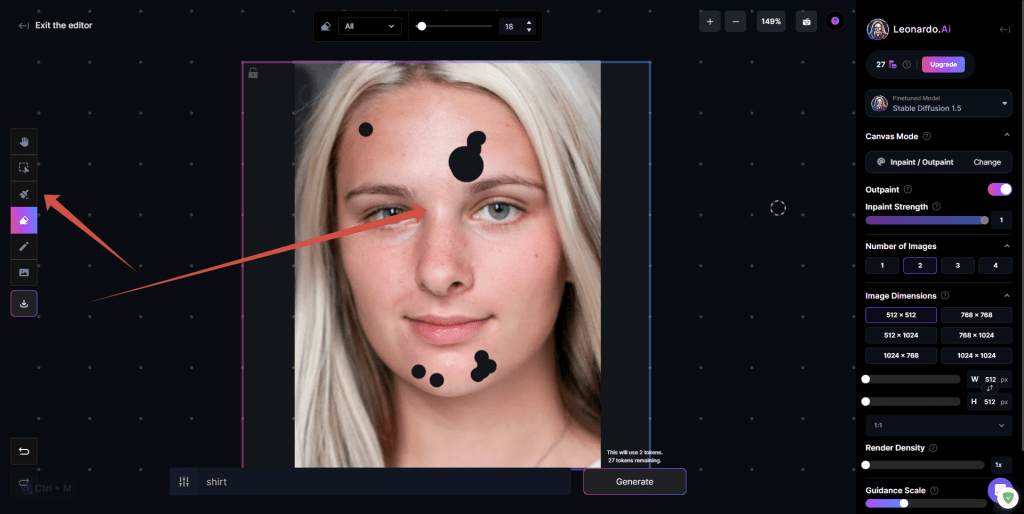 Now, use the healing brush from the top to fill in the areas where skin needs to be restored.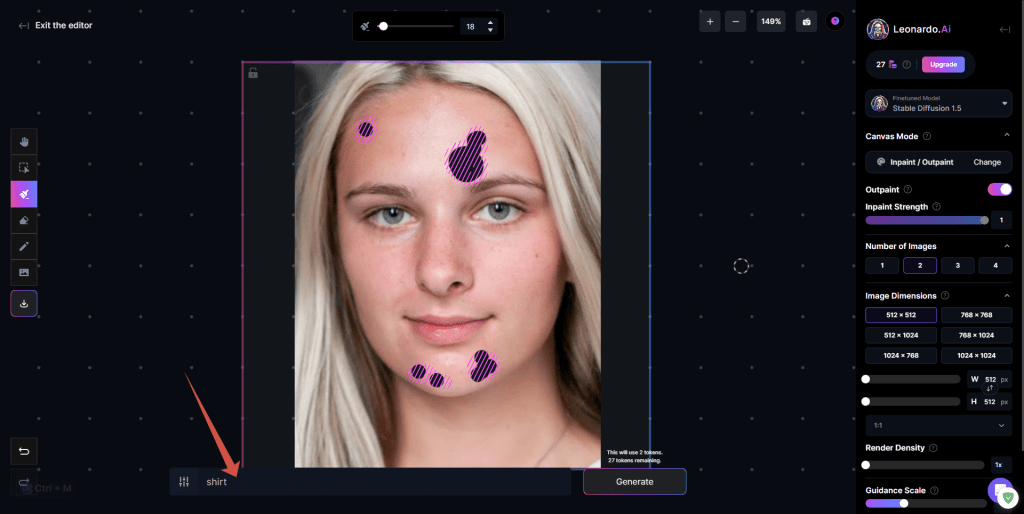 In the bottom row, indicate that you need to generate in empty areas. Click "Generate". Wait for it to finish.
Done! No pimples on the face now.
This way, you can do minimal retouching on photos even if you are not skilled in using Photoshop.
Pricing and Plans
There is a free plan and several paid plans.
In the free plan, for a month, you get the following daily:
150 tokens for image generation;
Up to 30 scalings or downsizings per day;
Up to 75 background removals per day.
Paid plans, of course, offer a wider range of features. You can find more details on payment terms in the screenshot: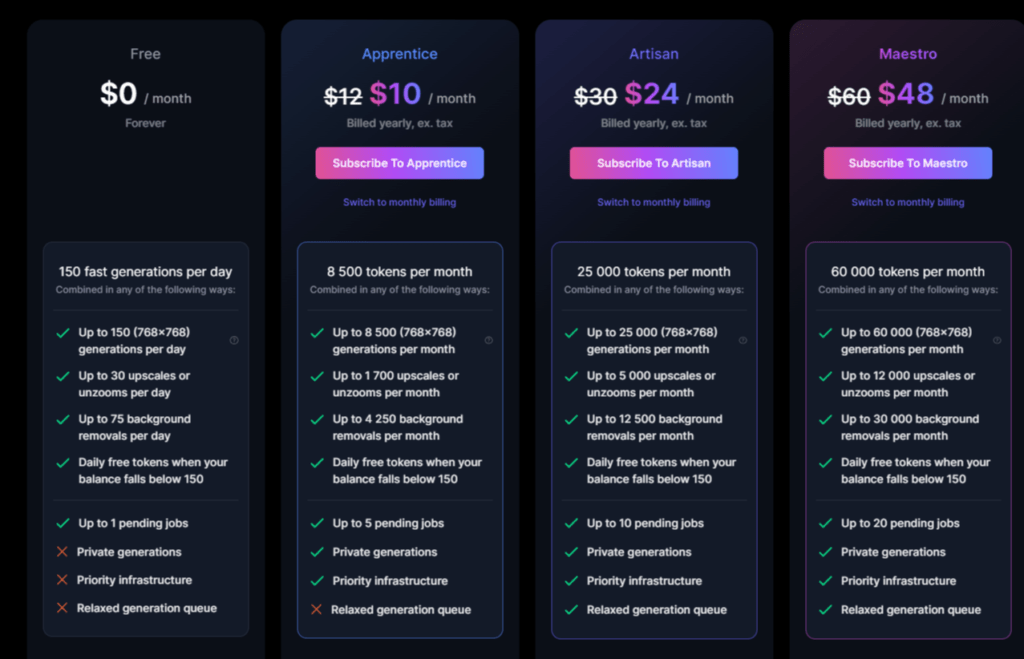 While writing this article, the author of the text had the opportunity to try various image generations and even "applied makeup" to the default girl in the photo. 150 tokens per day are quite sufficient if you don't need to generate images on an industrial scale. The photo editing tool will be an excellent assistant for an arbitrator when quick changes are needed in creatives. Leonardo AI, in this regard, is a very cool and modern service.
FAQ
What are the alternatives to Leonardo AI?
MidJourney and Stable Diffusion are the largest and most similar in functionality.
Stable Diffusion is a completely free open-source AI tool for image generation. You can easily install it on your computer or integrate it into your software.
Can you download Leonardo AI on a smartphone or PC?
Currently, the AI tool only has an app optimized for iPhone. If you have an iPhone, you can install it on your smartphone.
How does the "Image to image" mode work in Leonardo AI?
This mode helps generate a new image based on an existing image.
How to generate prompts for Leonardo AI?
The easiest way is to write the idea yourself and then use the "Prompt Generation" function. The AI tool will do the rest for you.
How does Leonardo AI differ from Midjourney?
Leonardo is a free service. It is not tied to any messengers, intuitive and easy to understand. Thanks to this, even a beginner can master it in about thirty minutes, unlike Midjourney and its cumbersome structure.
Simply desire to say your article is as surprising. The clearness in your post is simply excellent and i could assume you are an expert on this subject. Fine with your permission let me to grab your feed to keep up to date with forthcoming post. Thanks a million and please carry on the gratifying work.