What Is Link Cloaking, Why It Matters + Plugins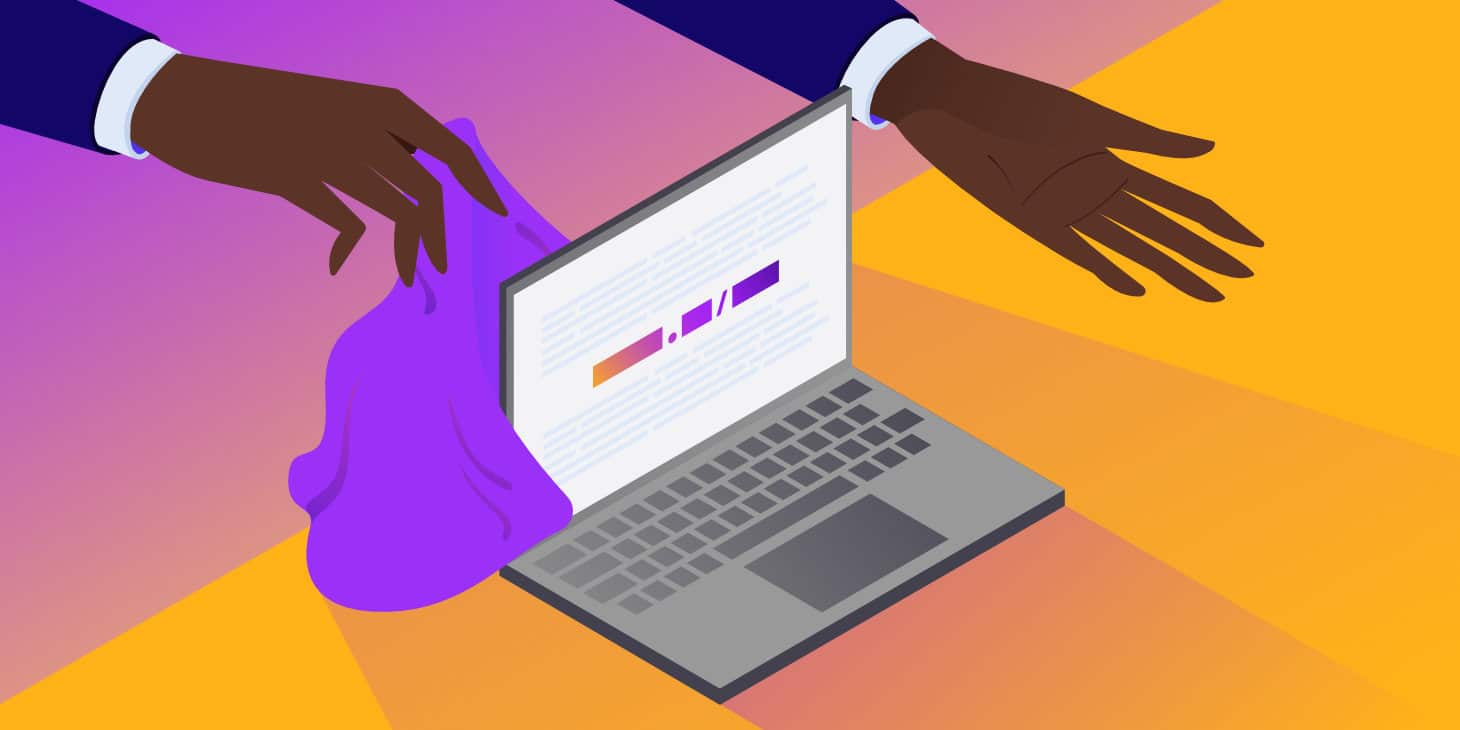 The affiliate marketing industry has grown significantly, and as a result, many affiliates have adopted the practice of turning long and complex URLs into shorter, simpler ones. This process is called link cloaking, and it helps to protect affiliate's URLs from data theft and enables them to analyze their links more effectively.
Cloaking your URL is crucial for the success of your affiliate program because it makes your link more user-friendly, simple, and memorable. Failing to cloak your links can make them appear suspicious and potentially harmful to visitors, which can negatively impact your affiliate program.
To help you understand link cloaking better, this article will provide an in-depth overview of the process. Additionally, we will share the top three plugins to use for your affiliate URL and explain how to cloak your links using an FTP client.
What Is Link Cloaking?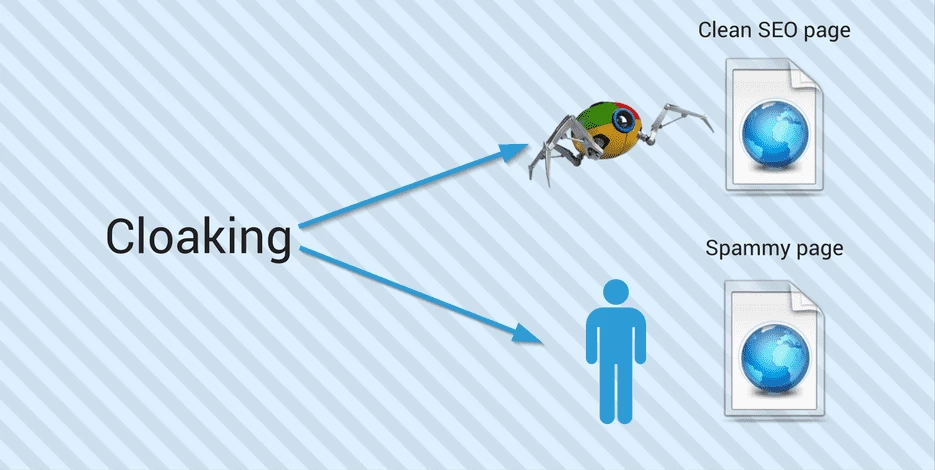 Link cloaking, which is also referred to as URL masking, is a technique used to conceal a website's destination URL by redirecting it to a different web page. This practice is often used in affiliate marketing to monitor commissions and obscure the affiliate ID. Additionally, cloaking links enables affiliates to create more trustworthy and attractive links for visitors.
How Does Link Cloaking Work?
In simple terms, link cloaking is the process of simplifying and replacing complex and difficult-to-remember symbols in a URL to make it more memorable. For instance, a long and complex URL like "www.example.com/products/?product_id=B764giHfjeu8jshdf5euhr" can be converted into a simpler and more specific link like "www.example.com/product-name" using link cloaking.
This technique is commonly used by affiliates as part of their linking strategy because it can create the impression of a custom domain name when using an affiliate URL. By doing so, link cloaking helps to make the link more user-friendly and appealing to visitors.
Link Cloaking vs Link Shortening
While link cloaking and link shortening are often used interchangeably, there are some key differences between them in terms of their appearance and purpose.
Link shortening services, such as Bitly or TinyURL, redirect a link to their domain instead of the original one. They also convert the permalink into a series of numbers and letters, resulting in a shorter URL like "bit.ly/2AERJK9". Link shortening is primarily intended to create a shorter link that is easier to share but not necessarily more memorable.
In contrast, link cloaking is specifically designed to produce more professional and memorable URLs for affiliate marketing purposes. This technique involves simplifying and customizing the link to make it more user-friendly and credible, while still redirecting it to the original destination website.
Why You Should Cloak Affiliate Links
In addition to creating personalized and trustworthy links for visitors, using cloaked links for affiliate URLs can benefit your business in several other ways:
Protect your affiliate links: Cloaking your links can help protect them from being stolen or tampered with by third parties. This can help prevent commission theft and ensure that you receive credit for any sales generated through your affiliate link.
Improve click-through rates: Cloaked links are often more visually appealing and easier to remember than long, complex URLs. This can lead to higher click-through rates and more conversions for your business.
Enhance brand recognition: By using a custom domain name in your cloaked links, you can enhance brand recognition and establish a more professional image for your business.
Analyze link performance: Many cloaking plugins come with built-in tracking and analysis features, allowing you to monitor the performance of your links and make data-driven decisions to optimize your affiliate marketing strategy.
Boost Link Trust
In today's digital landscape, visitors are increasingly cautious of long links that contain random numbers and letters, as they are often associated with security threats like malware and phishing. This can make it challenging for businesses to build trust with their audience and encourage them to click on their links.
However, by using a cloaking technique, businesses can create links that include their own domain name and product at the end of their URL slug. This approach makes the link clean and appealing, giving users a clear idea of what to expect when they click on it. By providing this transparency, businesses can help their audience feel more secure and confident in clicking on their links.
For instance, if the cloaked link is "example.com/go/brandname-shopping-bag", visitors will know that the link will lead them to a shopping bag product from your store. This can help to build trust with your audience and encourage them to click on your link.
Enhance Affiliate Link Management
When you have many affiliate links to manage and track, organizing them can be a challenging task. This is where a link cloaker with a management tool can be helpful. This tool enables you to organize all your links in a single dashboard by categorizing them based on your affiliate program or campaign.
In addition to organizing your links, link cloaking provides access to data such as click tracking and conversion tracking. These insights can help you to optimize your link management and improve your workflow.
Moreover, link cloaking allows you to use various URL redirect types, such as a 301 redirect for permanently moved pages. You can also apply the "nofollow" tag to these links, which tells search engines not to index them. This can help to prevent the links from negatively affecting your search engine rankings.
Track Click Data
Cloaking your links not only makes them more user-friendly and appealing to visitors, but it also enables you to track the performance of your affiliate URLs. By analyzing the data from these links, you can gain insights into what aspects of your affiliate marketing strategy need improvement and identify which links are performing the best.
For instance, if you have two links that redirect to shopping bag web pages, using link cloaking will help you to determine which one is more effective in engaging your target audience. By tracking these links, you can learn which product generates more traffic and use that information to develop a more effective marketing strategy.
Reach a Larger Audience
Cloaking your links enables you to create clean and memorable URLs that are more visually appealing and easier to remember, often containing a brand name or product. This can make your links more shareable on social media platforms, as visitors are more likely to share a clean and professional-looking link than a long and complicated one.
By making your links more shareable, you can increase your reach and attract a larger audience to your affiliate program. This can help to generate more clicks and conversions, ultimately leading to greater success for your business.
Three Best WordPress Link Cloaking Plugins
WordPress offers a wide selection of plugins that can enhance your website's functionality for a variety of purposes.
Pretty Links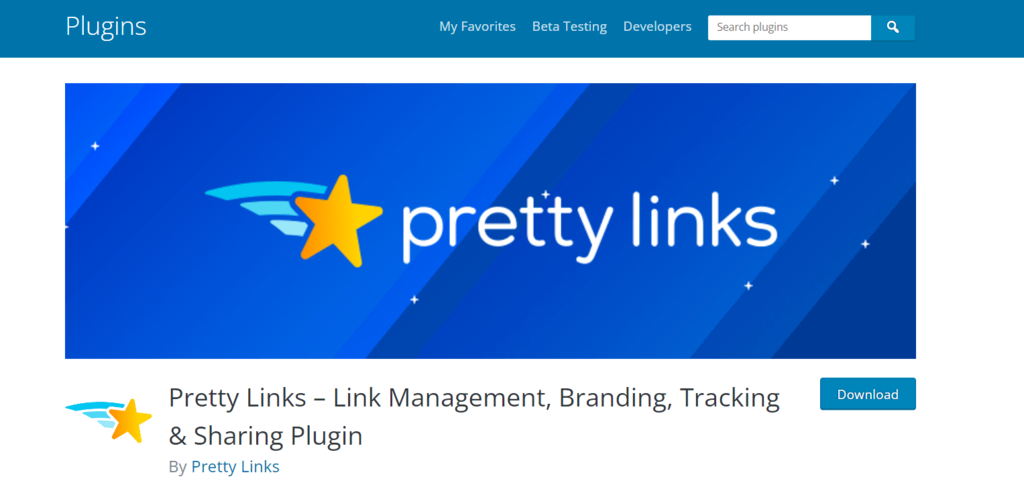 Pretty Links is a WordPress plugin that enables you to shorten and cloak your affiliate links. This tool is ideal for tracking and redirecting affiliate URLs and offers a user-friendly interface for efficient affiliate link management.
With Pretty Links, you can create more appealing links and easily share affiliate links on podcasts, videos, and email. This plugin offers various features, such as link redirection and affiliate link management. Additionally, you can group your affiliate links and measure their performance, including affiliate conversion tracking, to optimize your linking strategy.
To use Pretty Links, install and activate the plugin on your WordPress site. Then, click "Add New" in Pretty Links and select a redirection type. You'll need to enter your target URL and the link's title. If you want more advanced features, consider purchasing the premium plan, starting from $79/year.
Some of the key features of Pretty Links include URL redirection, link management, a link tracking system, and link automation tools. However, the free version has limited redirection types and no link automation feature. Additionally, there is no automated link health checker to help identify any issues and ensure proper website system functionality.
ThirstyAffiliates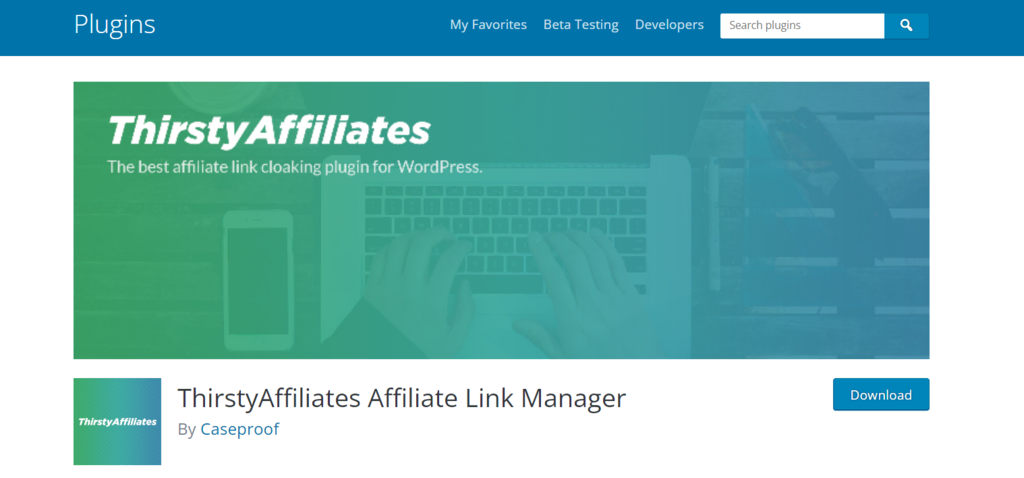 ThirstyAffiliates is a popular WordPress plugin for link cloaking that helps you add, manage, and track affiliate links from your admin dashboard. This tool is ideal for monetizing your site with affiliate marketing and offers various features to create a branded affiliate link for your products.
With ThirstyAffiliates, you can seamlessly use a visual editor, as it appears as a TA button in the toolbar, and insert affiliate links more easily. You can also create cloaked affiliate links using the Quick Add button. Additionally, their premium plans starting at $49 for one site allow you to attach images to your affiliate URL, making your links more appealing and potentially increasing visitor clicks.
Some of the key features of ThirstyAffiliates include Amazon API importing, link scheduling, an automatic link health checker, Google analytic events, and CSV import or export. However, the plugin has limited integration with popular eCommerce plugin WooCommerce, and support requires license renewal.
Overall, ThirstyAffiliates is a reliable plugin for affiliate marketing and offers a range of useful features for link cloaking and management.
Easy Affiliate Links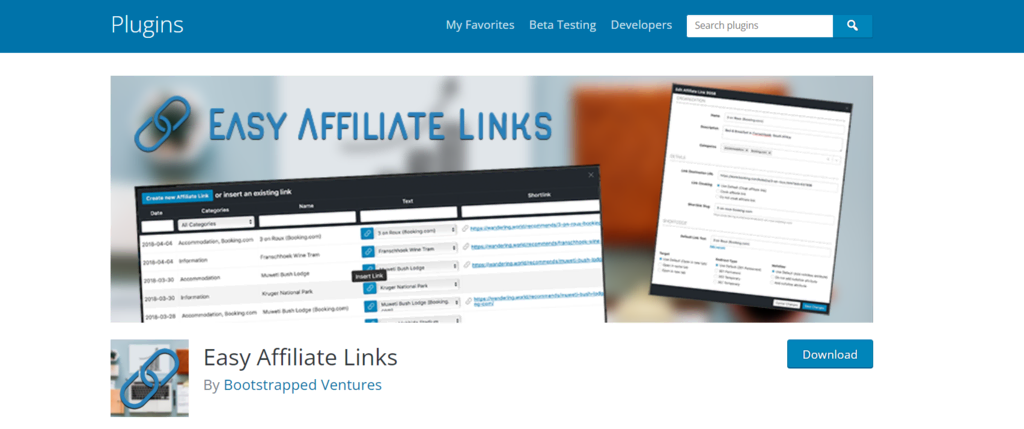 Easy Affiliate Links is a user-friendly WordPress plugin that allows you to manage all your affiliate links, from cloaked to regular links, in one central location. This plugin is compatible with various editors, including the Classic Editor, Gutenberg Block Editor, and Elementor, and provides valuable insights such as monthly and lifetime clicks on the link.
Easy Affiliate Links is an excellent choice for managing affiliate links, and its free version offers more beneficial features than other plugins. However, the premium plan for $29/year provides advanced features such as A/B testing and a shorten link service.
Some of the key features of Easy Affiliate Links include A/B testing, a shorten link service, and support for user-generated content (UGC) and sponsored attributes. However, some users have reported issues with the link disappearing after new updates and link errors in auto-published emails.
Overall, Easy Affiliate Links is a reliable and user-friendly plugin for managing affiliate links, making it a suitable choice for those who prioritize ease of use and essential features.
How to Cloak Links Without a Plugin
If you have few affiliate links to manage and want to hide them without a WordPress plugin, you can use your FTP account. Follow these steps to cloak links manually: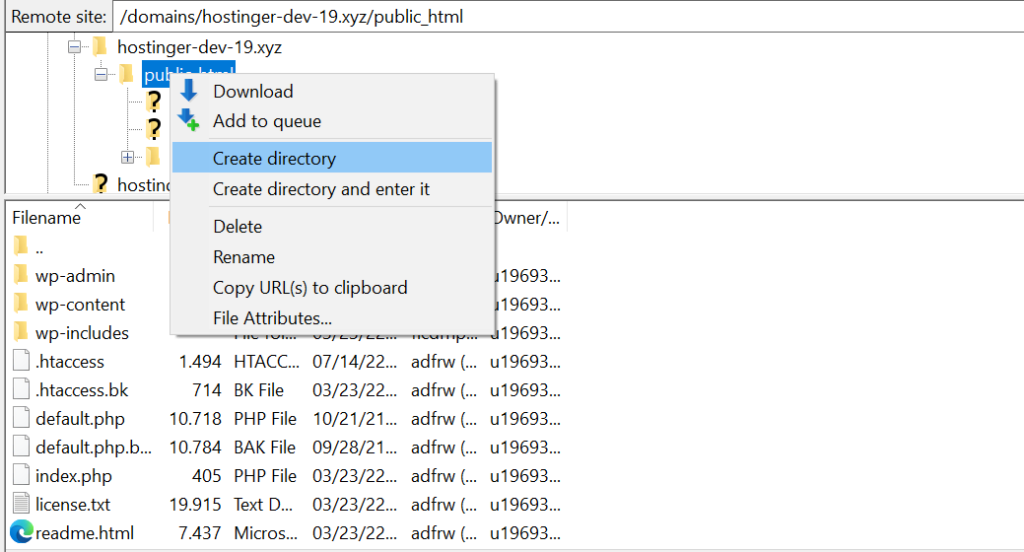 Connect to your site via an FTP client such as FileZilla and create a new folder in the website's root directory (public_html). The folder's name will be your URL slug, which can be /go/, /recommend/, or /out/.
Create a new file in the same folder named index.php and add the code from Yoast's GitHub repository.
After adding the code, create a redirects.txt file for your affiliate link cloaking. In this file, add the destination URL and its slug using the following format: Website-slug, https://example.com/affiliateid=123
Prevent search engines from indexing your cloaked affiliate link by adding Disallow: /folder-name/ to your robots.txt file.
Conclusion
Cloaking your links can make your URLs more appealing and trustworthy, and can help you avoid making common affiliate marketing mistakes. By using this technique, you can boost link trust, organize affiliate links, track link clicks, and reach wider audiences, which can result in generating more income from affiliate links.
If you want to mask your URL, we recommend using one of the top three affiliate link cloaking plugins for WordPress: Pretty Links for tracking, ThirstyAffiliates for monetization, and Easy Affiliate Links for beginners. Alternatively, you can cloak your affiliate link without a plugin using an FTP client, but this method is only suitable for beginners managing a few links.
We hope this article has helped you understand link cloaking and choose the best method for your affiliate marketing strategy. If you have any questions, please leave a comment below.
Does Link Cloaking Affect SEO?
No, link cloaking does not have a negative effect on search engine optimization (SEO) efforts. Even though some people may perceive it as spam, link cloaking can actually help drive traffic to your website. However, it's important to note that link cloaking is not considered a backlink for Google, which means it won't improve your page rank.
Can You Cloak Affiliate Links Without a Website?
Yes, it is possible to cloak affiliate links without a website by using a link shortening service like Bitly. However, these services have certain limitations, such as uncustomized links, unchangeable URL destinations, and difficult-to-manage links. To use these links in your content, you will need to visit the service and find the link you want to copy.
Can You Cloak Amazon Affiliate Links?
No, it is against the Amazon Operating Agreement to cloak Amazon affiliate links in your content. This is because it makes it difficult to track where the customer clicks come from. Instead, you should use a direct link from Amazon. If you violate the terms and conditions of an affiliate program, you risk being banned from the platform. Therefore, it is crucial to read and understand all the terms and conditions of each affiliate program.