How to Make Money on OnlyFans: Ways & Reviews
There are many stories on the Internet about how much money people make on OnlyFans. For example, there's a story about a model who earned enough for a new house in just a couple of months. Or how a girl made a million dollars in a day as a bet. Today, we will find out if these stories are true and explore how both guys and girls can make money on OnlyFans. We will also discuss the earnings from affiliate marketing with OnlyFans.
Can you make money on OnlyFans?
Of course you can make money on OnlyFans. After all, OnlyFans was created as a platform for content monetization and supporting creators. In simpler terms, it's a paid social media platform, somewhat similar to Instagram, where users pay for access to their favorite pages. This is how access to photos and videos is monetized. Anyone can create their own profile on the platform, upload content, and make money by selling access to it.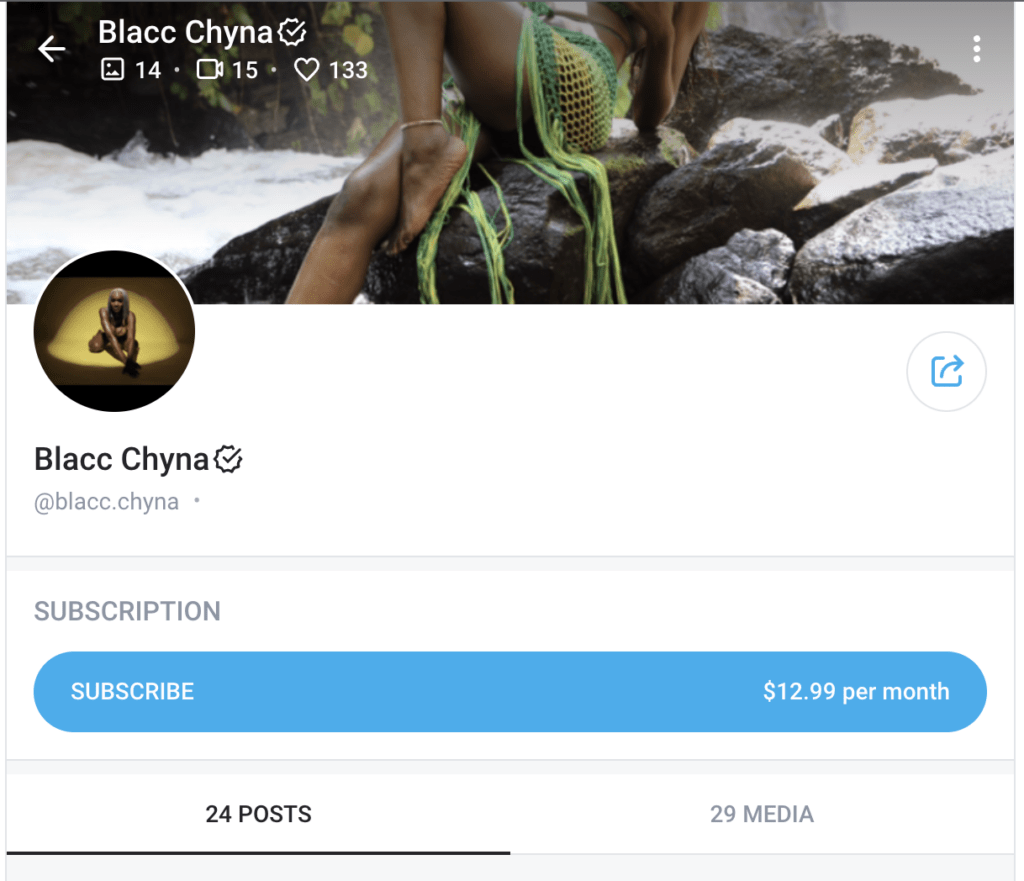 The platform was launched back in 2016 by a British entrepreneur, Timothy Stokely. However, it started to gain significant traction after 2018 when a majority stake was acquired by Leonid Radvinsky, the owner of the webcam service MyFreeCams.
Today, a large portion of the content on OnlyFans revolves around webcam shows, access to explicit photos, and even pornography. The platform has a very lenient policy in this regard, as adult content is not blocked. There is a belief that the platform was initially created to support webcam and porn models, enabling them to promote themselves without intermediaries.
By the way, in the summer of 2021, there was news that OnlyFans would ban pornographic content. Some banks ceased their collaboration with the platform due to legal issues. However, in October, OnlyFans confirmed that adult content would continue to be posted without restrictions.
But besides explicit content, there are many other interesting things on this platform – lifestyle blogs, pages of psychologists, musicians, chefs, and more. We will continue to explore how much can be earned in these areas and discuss other ways to make money on OnlyFans.
How much do people make on OnlyFans? On OnlyFans, there are several ways to earn money:
Paid content: This involves offering access to individual posts or media. Sometimes, the text of the posts is visible, but payment is required for access to photos or videos.
Paid subscriptions: Selling access to a page on a monthly basis. Some creators also offer access for three months, six months, or a year.
Private messages: Communication with the page owner through private messages.
Tips or donations: Users can voluntarily contribute to support the account owner. This feature is available to those who have posted more than 10 times on their page.
Referral program: Earn 5% of the income of referred creators.
The main advantage of OnlyFans is that there are no limitations on the price of access. While there are minimum prices, there is no maximum limit. This means you can set the price for access to your content, keeping in mind common sense and reasonable pricing.
It's important to note that the earning potential on OnlyFans varies greatly depending on factors such as the creator's content quality, engagement with their audience, marketing strategies, and the demand for their niche.
How much money can a beginner earn on OnlyFans?
Let's start by looking at how much beginners can earn on OnlyFans. According to the platform's rules, users receive 80% of their earnings, while the remaining 20% goes towards service fees. However, don't be discouraged by the commission rate. As we will see, it's possible to earn substantial amounts on OnlyFans, regardless of whether you're a female or male creator.
There are no strict limits on pricing on OnlyFans. Let's take the minimum subscription price as an example, which is $4.99 for a month of access that needs to be renewed. Let's imagine you have a relatively small following, with an average of 100 visitors per month. Even with a modest conversion rate of 10%, you would have 10 subscribers. Multiplying 10 subscribers by $4.99 would result in approximately $50 per month. While it may seem modest, it can still be a helpful starting point.
It's important to note that these calculations are based on hypothetical numbers and that actual earnings can vary significantly depending on various factors, such as the creator's content, engagement with their audience, marketing efforts, and the demand for their niche. With dedication, quality content, and effective promotion, earnings can increase over time.

Selling access to exclusive posts is even more profitable. The minimum price for it is $3. But in reality, even beginners set higher prices. The key is to engage page visitors and pique their interest.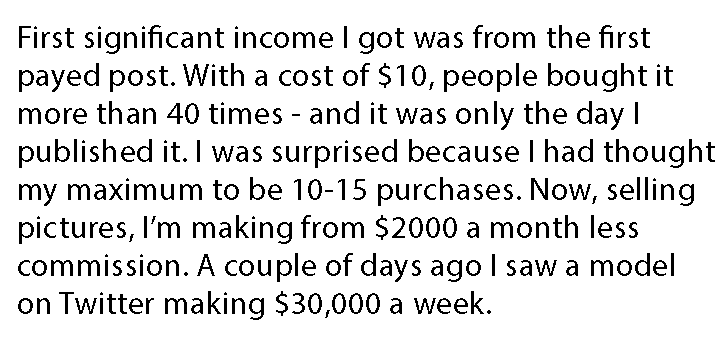 If you manage to promote your account, the earnings can increase significantly. You can raise the price for paid subscriptions. For example, with a rate of $7 per month and 40 subscribers (which is considered low on OnlyFans), you would already earn $280. It's not necessary to sell your own personal photos or videos. On OnlyFans, people can earn even by posting other people's photos.
How much money do girls earn on OnlyFans?
It is easier for women to earn on OnlyFans. Significant amounts of money can be made not only from adult content but also from more subtle erotic content. There are numerous stories online about women earning millions of dollars in a single day or how a racing driver earned money for her races through OnlyFans. Let's take a look at real income figures.
On average, an OnlyFans user earns around $180. For example, there is a story of a girl who made just $250 in a couple of months.
However, there are stories with a happy ending as well. For example:

In the next screenshot, we have an account of a model from Australia. She doesn't post explicit content, and her photos are not much different from a regular Instagram feed. Pay attention to the subscription price. The regular cost is $20 per month. The six-month package is cheaper at $96. She may not be in the top rankings, but her account is quite popular.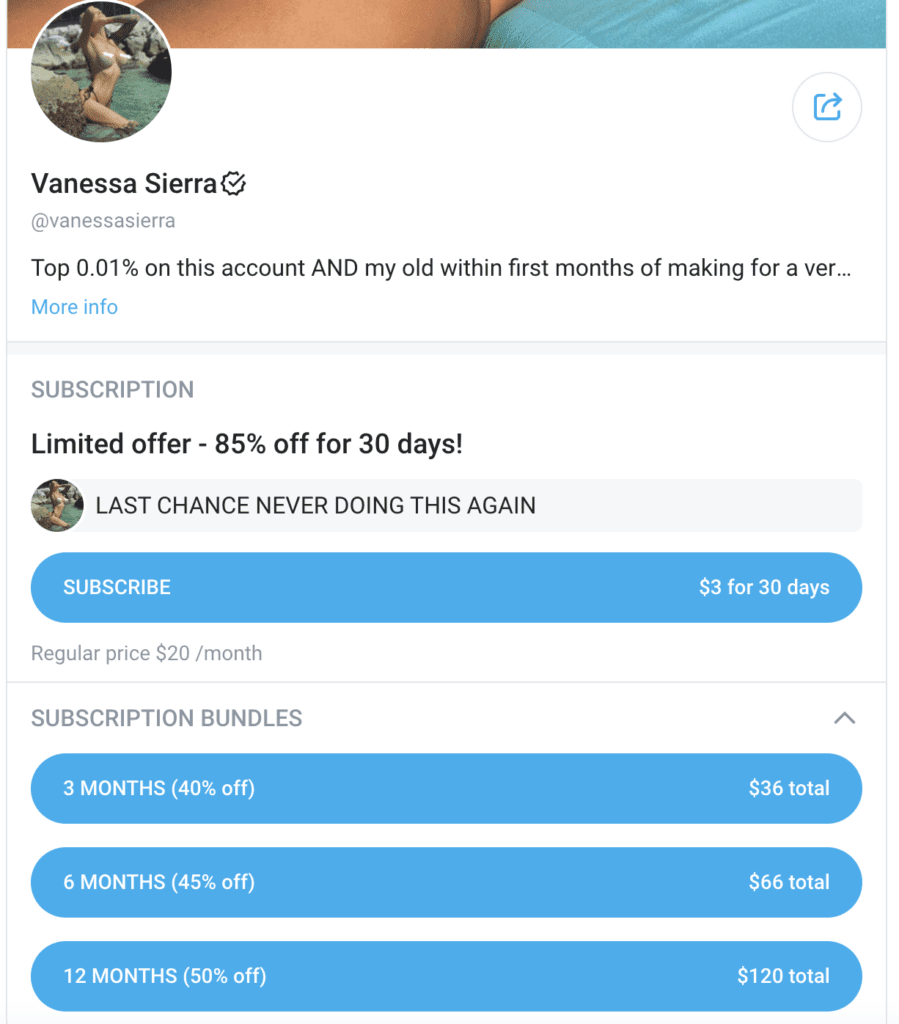 And this is the page of adult performer Dannii Harwood. The subscription fee is relatively low, but the account owner knows the value of explicit content and earns an average of around $50,000 per month.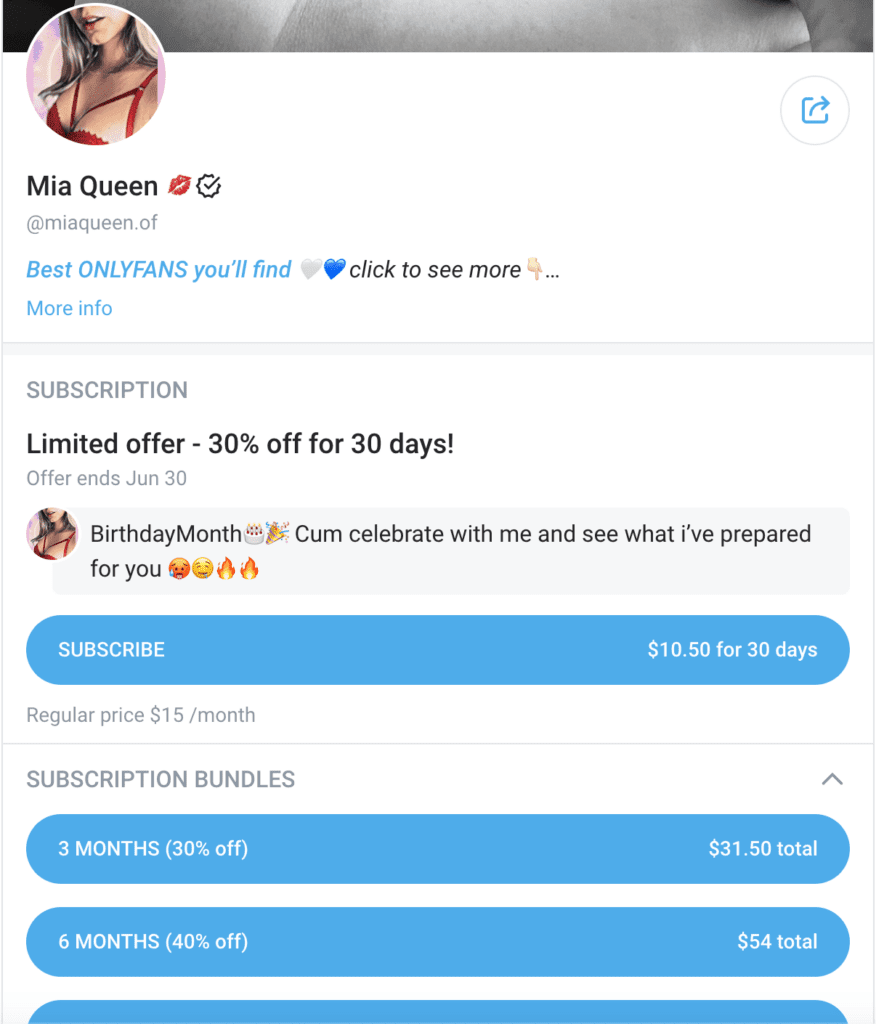 Girls from Russia also earn quite well on Onlyfans. The owner of the next page is a photo model named Daria Kuvardina. The subscription fee is $25 per month, and the account has gathered 56,000 likes.
How much money do men make on OnlyFans?
Earnings on OnlyFans are possible for guys as well. Male webcam content is also popular, but not as much as female content. Therefore, the top-earning accounts for men belong to different categories. One of the leaders in earnings on OnlyFans is rapper Casanova. It is estimated that he earns around $1 million per month.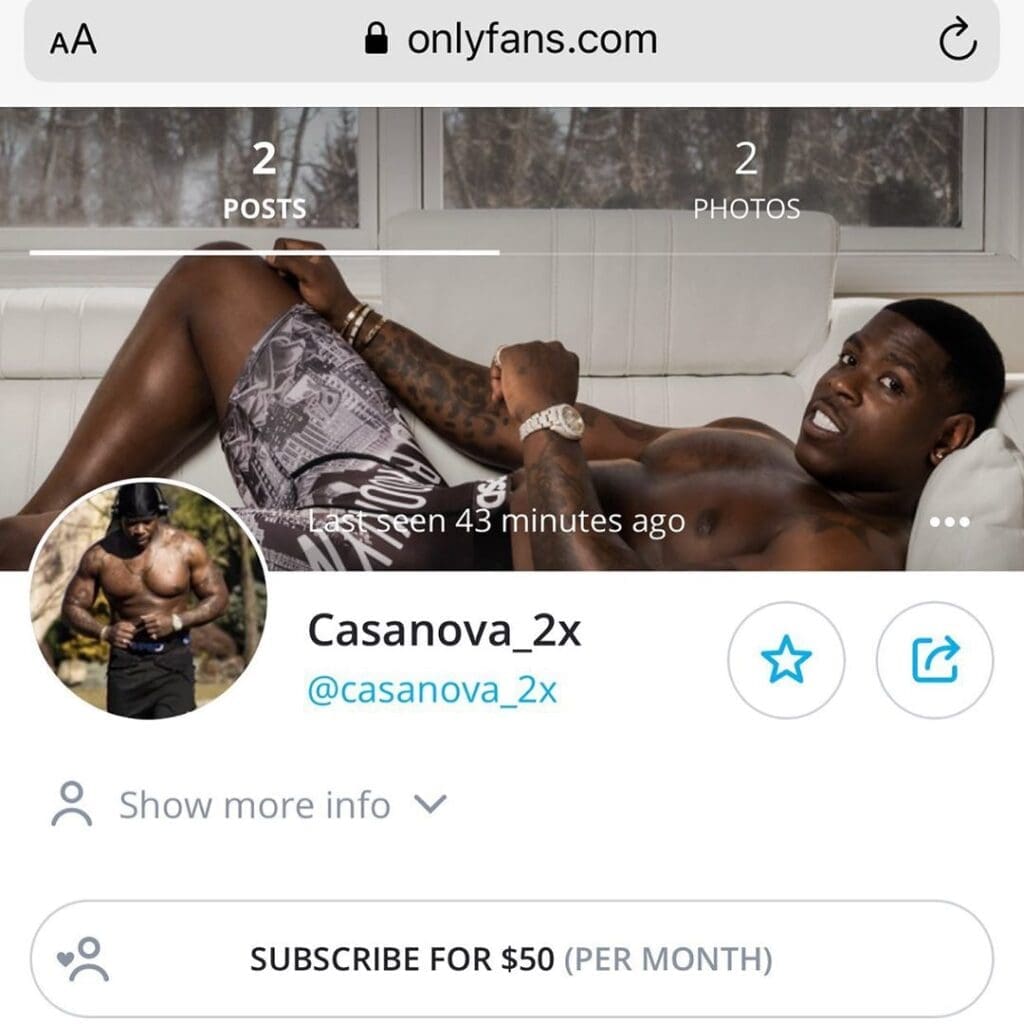 Another rapper with successful earnings on OnlyFans is Tyga. In early 2021, his monthly earnings were $7.69 million. By the way, Tyga recently deleted his account, but the internet remembers everything.
Men can make money even on less popular accounts. For example, Swiss composer and host of the show "The Voice," Bastian Baker, charges a lower subscription fee of $9.99. This provides access to fresh tracks and interaction with fans. The page also includes free posts.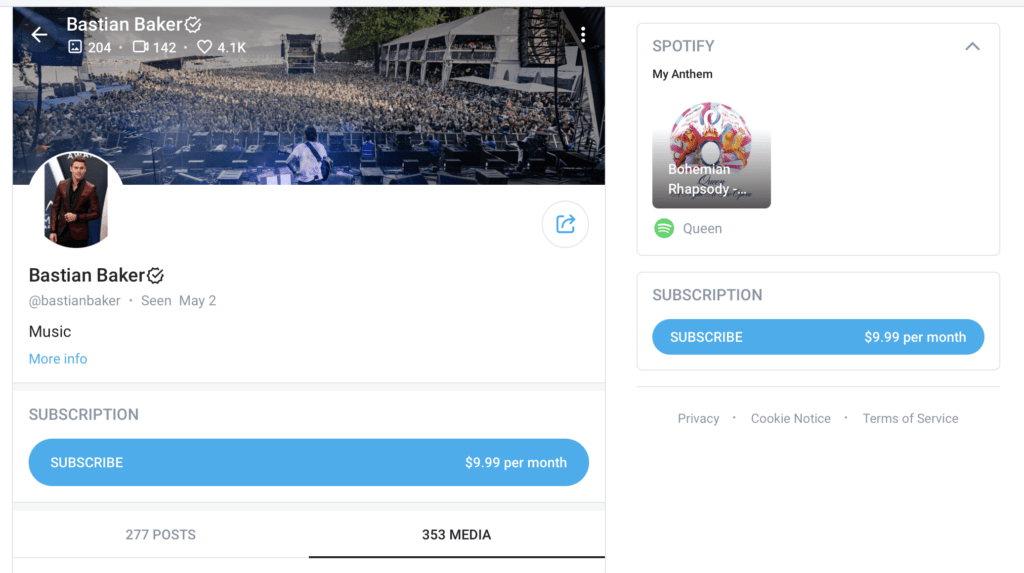 But even if you're not a rapper or a well-known media personality, you can still monetize your account. Although the earnings may not be as fantastic, there are other ways for a guy to earn on OnlyFans. Let's delve into them further.
How to make money on OnlyFans: Strategies
We have compiled several primary money-making strategies on OnlyFans. These are not the only possible options, as bloggers have boundless imagination. Perhaps you will come up with your own way to monetize this platform. But first, familiarize yourself with the key techniques and rules for managing accounts.
Getting Started with Earning on OnlyFans Here's a small checklist – a guide to earning on OnlyFans for beginners. It doesn't matter if you are a girl or a guy, but you can only earn on OnlyFans if you are 18 or older. So, you will need to verify your age. But before that:
Choose the account language – a significant portion of the audience is English-speaking. So, most likely, you will need to manage your account in English.
Decide on a theme – you can earn not only through webcam and erotic content. If you have genuinely exclusive content that can engage users, it will work just like on YouTube and other blogging platforms.
Set up your account – create an eye-catching avatar and add a blog header. By the way, you can borrow ready-made headers from services like Crello or Canva.
Enter your payment details – this form is inactive without a completed profile. OnlyFans works with international bank cards, but there is also the option to withdraw funds to a bank account.
Verify your identity – the platform requests document scans. Without completing this step, you won't be able to earn or withdraw money.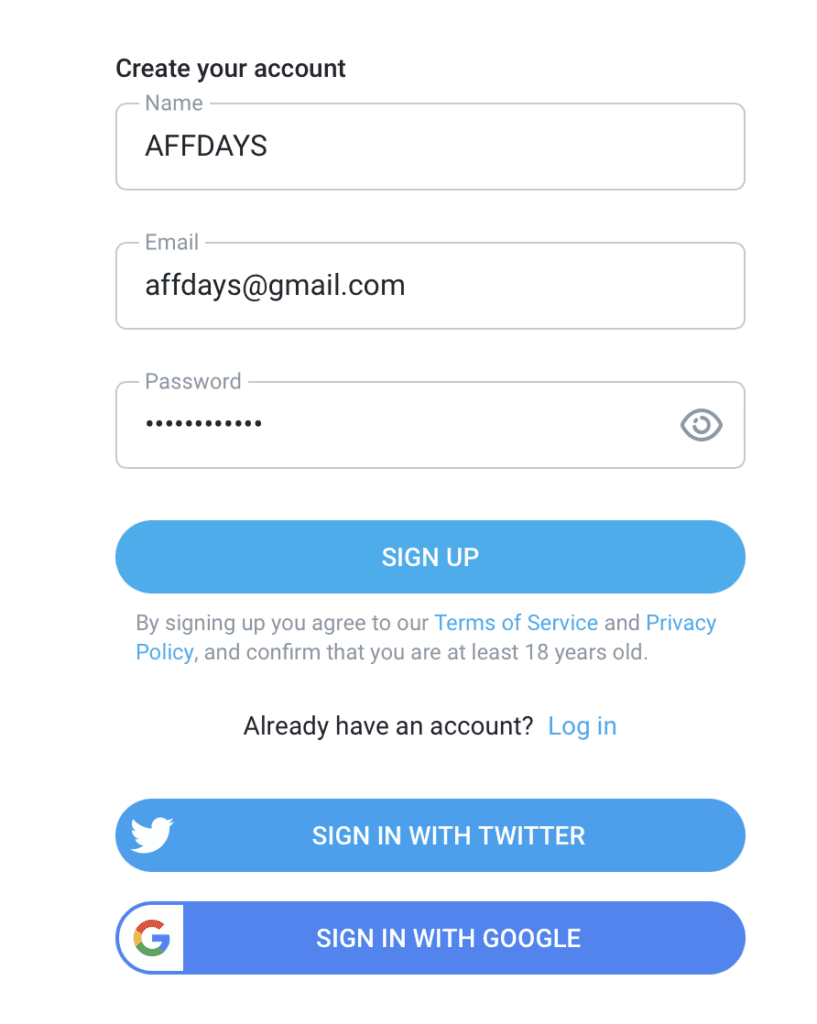 The promotion scheme on OnlyFans is similar to promoting any other account, but with one particularity – if you post 18+ content, choose platforms that are tolerant towards adult content for promotion. For example, Twitter and Telegram.
A significant amount of traffic is driven to OnlyFans from Instagram. On Instagram, people post photos to grab attention and attract users.

You can promote your profile through mutual promotion with other bloggers and even through paid advertising. In the beginning, you'll have to post frequently and consistently to get noticed quickly.
Please note: The optimal solution is to create two accounts. One free account where you can upload videos to attract users, and one paid account with content for sale. It's unlikely that you'll gather subscribers right away unless you're an Instagram star or a media personality. The free account will serve as a promotional page to help you gain traction.
Money-making Opportunities for Men
There is a misconception that Onlyfans is only about webcam shows and pornography. But that's not entirely true. Here are just a few ideas for men to earn on this platform:
Travel blogging: If you travel a lot, you will have plenty of content. Even if your travels are limited to trips from one small town to another, try telling foreigners about the rural life of your country. Amidst the sea of similar explicit content, you will at least stand out.
Info courses: Yes, you read that right. Although people don't necessarily come to Onlyfans for this type of content, the key is to engage and captivate them. You can sell courses on dating, teach languages, share culinary tricks and life hacks, or even offer guidance on how to grow on Onlyfans itself.
Online fitness coaching: You can sell access to exclusive workouts or create personalized weight loss programs.
Real success on Onlyfans depends on your originality, ability to attract an audience, and offer something unique.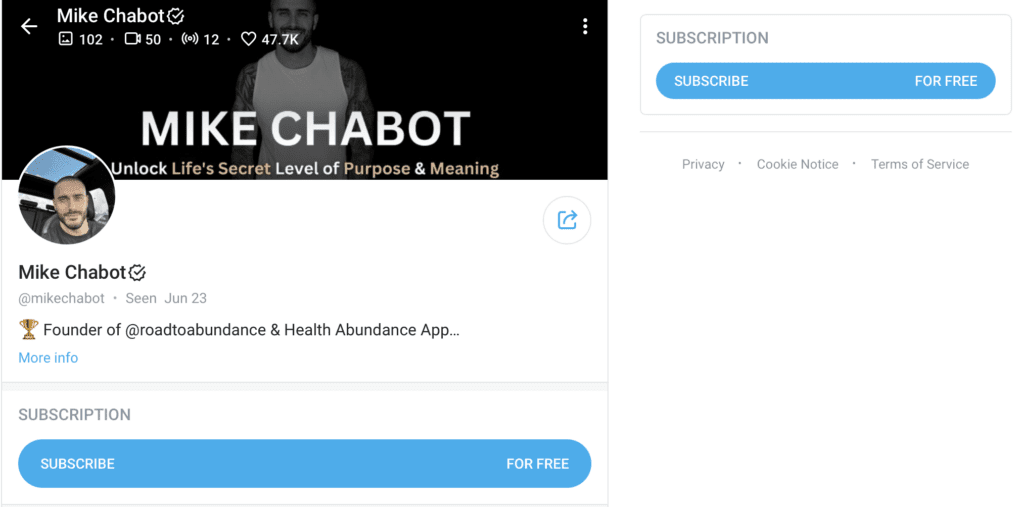 This is by no means an exhaustive list of possible topics. It all depends on your creativity and ability to present yourself, as well as a well-designed sales funnel. For example, like this one: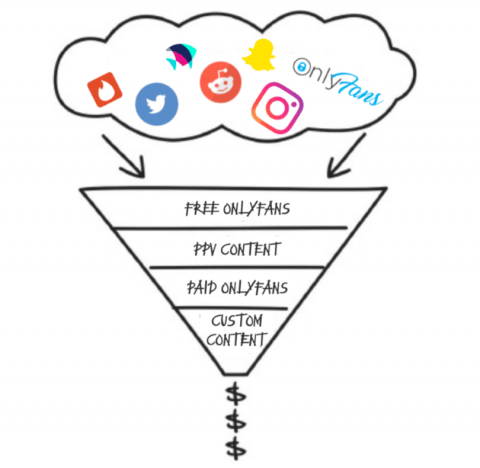 Money-making opportunities for girls
Once again, we want to emphasize that you don't have to undress to make money on Onlyfans. Many are willing to pay just for a smile on your face and warm communication, just like on webcam sites. And once you have built a subscriber base, you set the rules – after all, you already have fans. It doesn't matter what you do on camera.
If earning money through private photos and videos is not for you, try out all the options we listed above for men. Here are a few more earning ideas for women on Onlyfans:
Fashion and Style – clothing selection, stylish looks, makeup tutorials, trendy hairstyles, hair coloring, etc.
Cooking – almost everyone knows how to cook, but not everyone can present it in a way that makes people want to watch and purchase paid access. Find something unique and original. Even a format like "Surviving on a small budget" can work if you engage your audience.
Lifestyle Blog – many people are interested in simply watching how a beautiful woman lives: shopping, cooking, strolling in the park, etc.
Musician's Blog – this is a versatile earning option for both women and men.
Gaming Streams – this is also a universal method, regardless of gender. However, female gamers have always attracted increased interest. For example, French streamer Chelxie earns through online game streaming.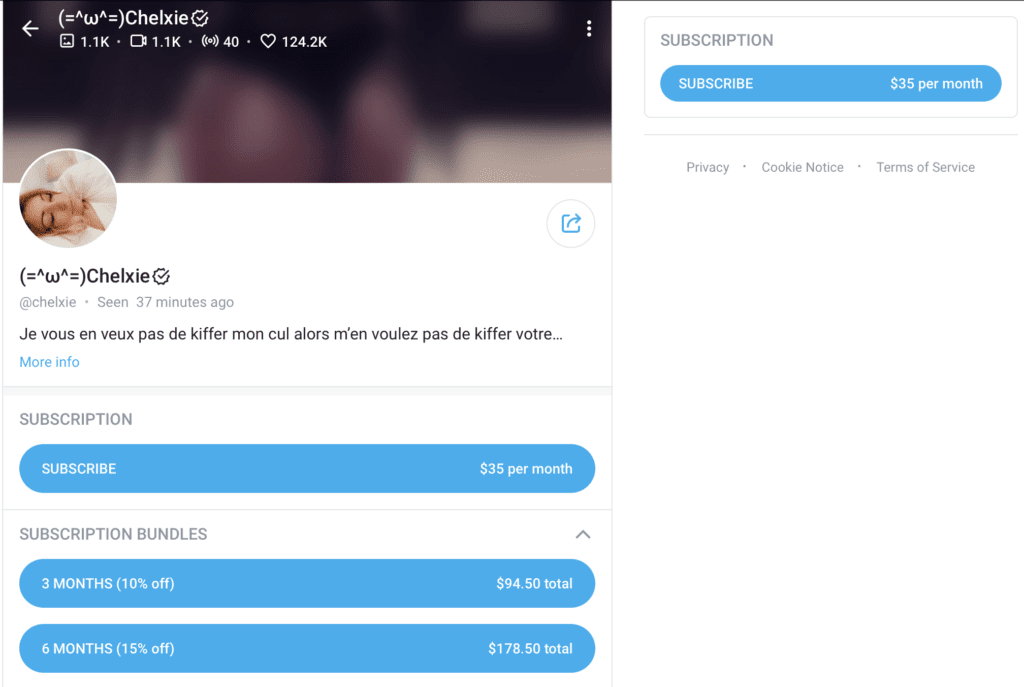 It is not necessary for the photos or videos to be of professional quality. Many people enjoy "homemade" shots because they feel cozier. Moreover, Onlyfans compresses the content upon upload, so there's no need to chase after high resolution. Just make sure to meet the minimum quality requirements.
Please note: Take care of your anonymity, especially when earning from personal photos. It is sufficient to follow standard online safety rules: avoid revealing personal information, location, and address. Make sure that neighboring houses are not visible from your windows and avoid showing car license plates. However, this is crucial only if anonymity is important to you.
Money-making for Everyone: Affiliate Marketing
As you may have already noticed, OnlyFans is a goldmine for earning through affiliate marketing, primarily in the dating and adult niches. Here are just a few advantages of this platform for affiliates:
No strict moderation; you can even upload adult content, making it perfect for promoting adult offers.
OnlyFans' audience is mainly from the USA and Western Europe, where the rates for Tier-1 traffic in affiliate marketing are the highest.
The source is still relatively untapped, with an audience that is receptive and willing to follow a beautiful girl's link to anywhere.
You can earn additional income through content monetization.
Links can be shared in private chats, and earnings can be generated from granting access to those links. This approach is safer from a moderation perspective. Imagine how pleasing it is when a girl from a private chat invites you to visit a place where all the "hot photos exclusively for her followers" are posted, such as a dating site profile.
In addition to adult and dating offers, there are a few other verticals that can be suitable for OnlyFans affiliate marketing:
Nutra – if you create a blog from the perspective of a fitness trainer or model, it can be a goldmine for weight loss offers. You can also promote adult nutra. Moreover, the payouts for Tier-1 countries in the nutra vertical are among the highest.
E-commerce – native recommendations for online stores are not prohibited on the platform.
Gambling and betting – take note of the large target audience on this platform. A significant portion of OnlyFans users are men of all ages.
Perhaps OnlyFans is still an undiscovered opportunity for affiliate marketing due to the difficulties in growing an account and the specific nature of the content. However, the promotion strategies are not significantly different from those used on Instagram. It's not even necessary to share your own photos.
Furthermore, there are comprehensive affiliate programs available for earning on OnlyFans.
Earning from Other People's Photos on OnlyFans
If you're eager to start earning on OnlyFans but don't want to show your own photos, there is still a way. You can earn from other people's photos.
There are plenty of pictures and even photoshoots of models available online that can easily attract attention. You can upload the hottest photos to a private subscription, while leaving a couple of photos open to attract attention. OnlyFans does not require content to be 100% unique, so you can find photoshoots and videos anywhere, such as Telegram channels or themed VKontakte groups. However, it's still advisable to take some precautions:
It's better to choose photos of lesser-known models, preferably from the CIS region. If you use a well-established model, especially with their own fan base, it will be challenging to earn money. You may easily encounter copyright infringement claims.
Look for content in closed sources. VKontakte groups are perfect for this purpose. It's unlikely that someone in the US will actively search in the Russian segment of the internet to find where the photo came from. And if the images are not indexed by Google, even better.
In the beginning, don't ask for too much money for access. $5-10 is not much. However, excessively high prices can deter potential subscribers.
You can also hire someone to take care of your account. For example, you can make a post on a related resource that you're looking for a manager to work with OnlyFans.

But be sure to clarify all the conditions to avoid any problems in the future. This way, you will always have unique content for earning on OnlyFans. Additionally, you will solve the verification issue.
Important! Since 2019, OnlyFans has introduced mandatory identity verification through a selfie with a document. If you want to earn from using someone else's photos, you can try to solve the problem using Photoshop. There are Telegram channels with databases of such selfies. However, the most optimal (and legal) option is to upload photos of a real model with their genuine documents.
If you have found the content, you can create a page and start uploading your own photos. On the first day, upload a couple of pictures. Then take a break and post several more. The key is to do it regularly.
At the same time, run a promotional campaign for your page and gradually lead your subscribers to consider purchasing access. From there, you can monetize your account using standard methods or earn through affiliate marketing.
OnlyFans is a platform where anyone can earn money. It all depends on your creativity and how you present yourself. You can make money on this platform with someone else's photos or through affiliate marketing. We wish you good luck in your money-making endeavors and substantial earnings!
FAQ
What is OnlyFans?
OnlyFans is a platform designed to support content creators. Its main purpose is to monetize content without intermediaries. Anyone can sell access to exclusive content and earn money from it. There are options to sell paid subscriptions for a month or longer, sell access to posts, and earn from private messages. Additionally, subscribers can provide tips as voluntary contributions.
How much does a subscription to OnlyFans cost?
The minimum price for a subscription to an OnlyFans page is $4.99. The minimum price for access to paid posts is $2.99. There are no upper limits set. Users can set their own prices for access to their posts and media.
How to earn money on OnlyFans without using your own photos?
To earn money on OnlyFans using other people's photos, you can find content in private social networks groups or Telegram channels. Complete photosets are often posted there. However, the optimal solution is to find your own model and establish a contract with them. This way, you will also solve the issue of account verification.
Where to get content for OnlyFans?
Ideally, you should create your own content because users pay for unique content that can't be found elsewhere. However, you can also earn money using other people's photos.
How much can you earn on OnlyFans?
There are no limits to earnings on OnlyFans. Many popular creators earn millions. It is often women who dominate the top earners, but there are also men among the platform's top earners. Even if you post irregularly, you can still earn around $150-180 per month. However, actual earnings figures are usually higher.
Can OnlyFans be used for affiliate marketing?
Yes, it is possible to earn money on OnlyFans through affiliate marketing. The platform provides all the necessary conditions for earning from dating and adult offers. It is especially suitable for English-speaking audiences from Tier-1 countries. Additionally, OnlyFans can be used for promoting nutra, e-commerce, gambling, and betting offers.