7 Neural Networks That Separate Vocals from Music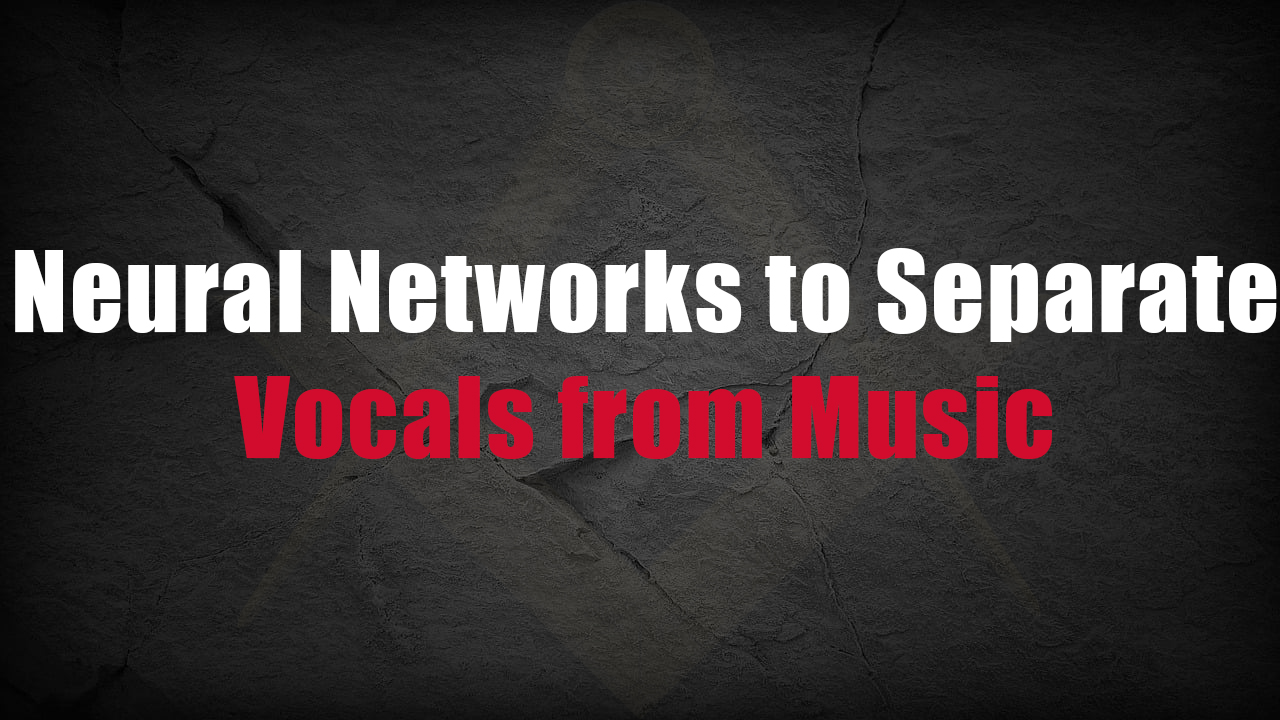 AI technologies are increasingly influencing various fields of application. Gradually, society is accepting computer-generated images, text, or videos as a new reality. People are learning to use technology for creating or editing creatives, and this extends to sound as well. In production, neural networks are increasingly used to separate vocals from music, edit out background noise to enhance sound quality, or use samples from existing recordings to create new tracks.
Actually, this field is rapidly gaining momentum, and some services like LALAL are already emerging as favorites, as well as free alternatives to them.
How to separate vocals from music using a neural network?
You need to upload the base track, after which the neural network automatically separates vocals from music. The vocal and instrumental versions will be available as two different files. The processing speed depends on the service's load or subscription status. A paid service package provides premium access to all features and prioritizes processing requests. The resulting files are used for personal projects, allowing experimentation with vocals or music separately.
7 neural networks to separate vocals from music
To make the most of modern technology, it's worth choosing the appropriate neural network for separating vocals from music from the available options. Each tool offers its own set of useful features and payment levels for premium access. Take your time in choosing and pay attention to the product's quality.
Remember, AI is just a tool to achieve your goal. The service itself can create a foundation, which sound engineers or performers will further work on for their music projects. If the platform implies the immediate separation of vocals or music for commercial purposes, the user will need to purchase rights for selling through a paid subscription first.
The most popular neural network for music separation on the internet is the LALAL algorithm, which is built on deep learning methods. It is considered a standard choice for processing music tracks and is even known beyond its field.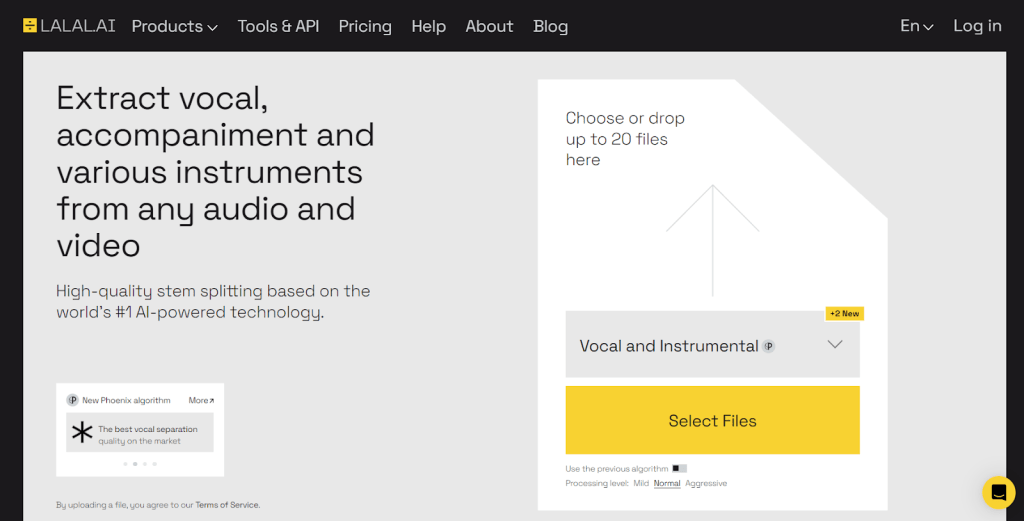 It separates tracks into vocal and instrumental parts with high accuracy;
Supports a wide range of popular formats, from MP3 to AC3 or WEBA;
When using premium features, it can isolate individual instrument parts, such as bass or strings;
Processes large files, even those that are several gigabytes in size, quickly.
Note. On a free basis, you can process files with a total duration of only ten minutes. After that, the user can purchase a tariff that suits them, which unlocks additional minutes.
For this neural network, separating vocals and music is not a difficult task. The service primarily positions itself as a tool for DJs who frequently experiment with well-known hits by overlaying tracks with different instruments for a single composition.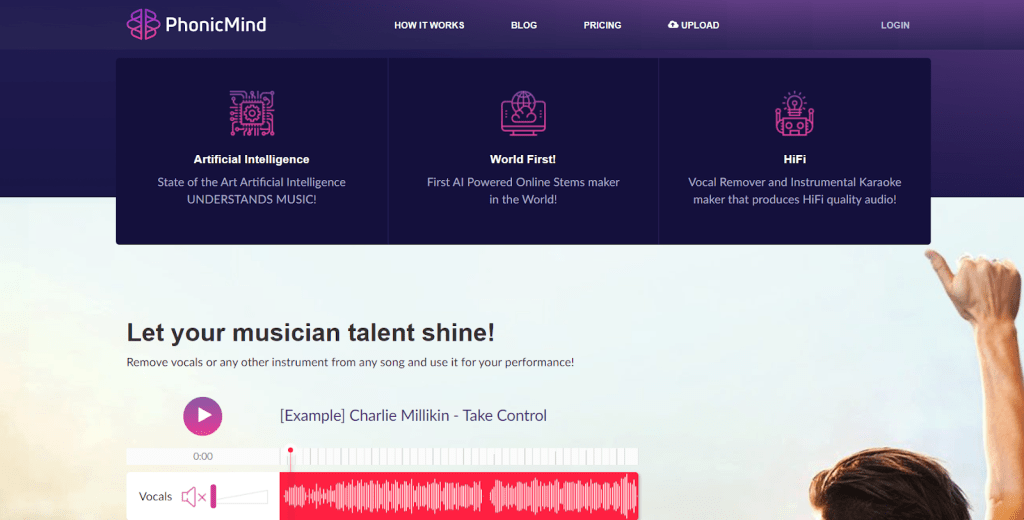 Available on various platforms, including as a mobile application;
Allows downloading a single file, which will automatically split into the necessary sections in the editor;
Supports popular file codecs and eliminates the need for conversion.
Please note that after the trial period, you will need to choose a standard or professional tariff plan, which significantly affects the processing speed of tracks using the program.
Adobe's Creative Cloud suite of applications extends not only to images but also to voice and sound processing. With this neural network, separating vocals from music is just a few clicks away, as Adobe products have long been developing their own AI algorithms.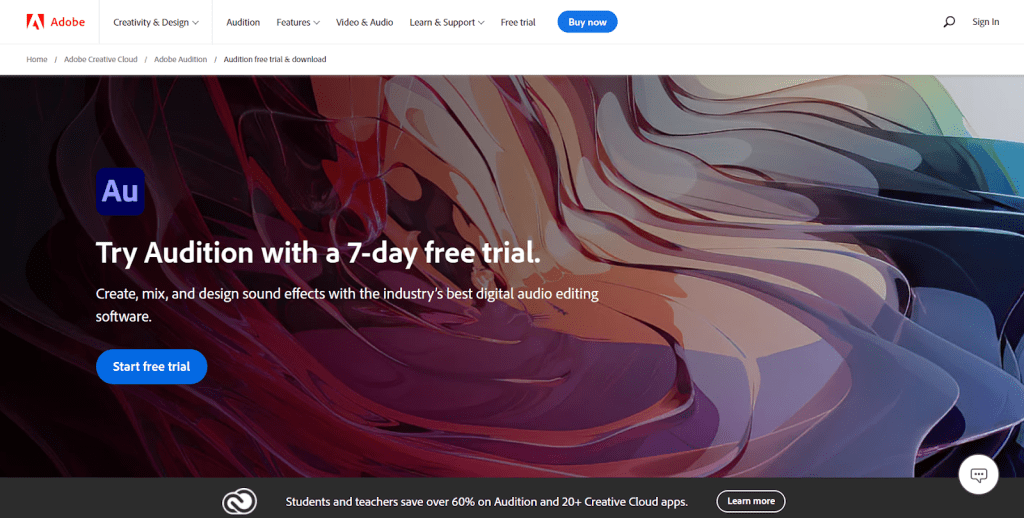 Keeps all projects in one workspace and doesn't require third-party services for various tasks;
Works in multiple formats. Choose between the old style or the new window layout;
Immediately offers the full range of available features for evaluating the service.
Important. Despite all the advantages of the service, the price of the product becomes significant for many. If you don't plan to use the full range of features and intend to use the program solely for removing vocals from music, consider alternative offers.
Filmora service is a convenient application for those who plan to use tracks in videos or reduce unwanted noise in them. The neural network for music separation is already integrated into the package of services offered, allowing you to work on audio within the same workspace.
Maintains the service's intuitiveness. Use the tool with just a few clicks;
Provides access to its own library of sound effects to enhance tracks;
Allows you to immediately preview the resulting outcome accompanied by video.
Note. After the trial period expires, the platform offers several paid tariff options. There are offerings for individual users as well as for entrepreneurs.
If you only need basic functions for personal use, there are also simplified free alternatives. Vocali.se is a neural network that separates vocals from music, making it perfect for the most straightforward tasks.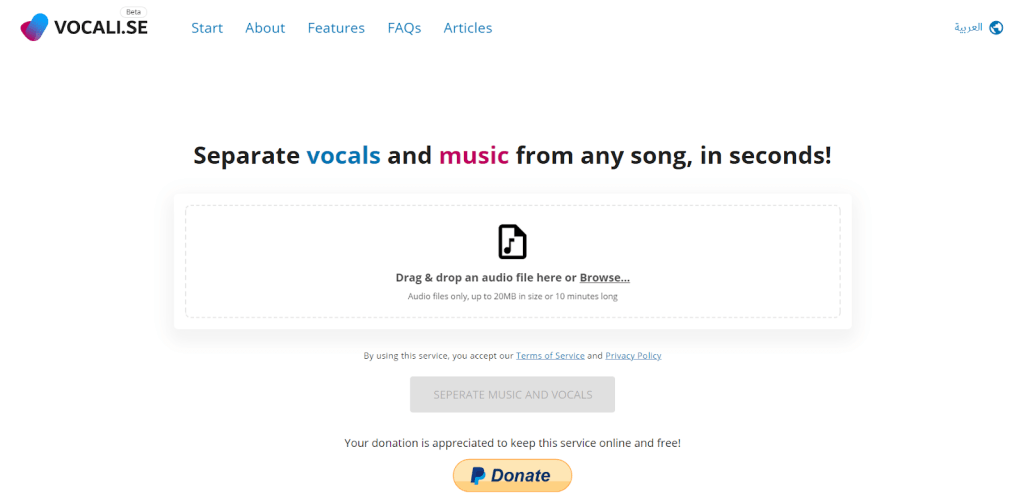 Supports the most common file formats without the need for conversion;
Delivers the result in a ZIP file containing the audio accompaniment with vocals;
Has limitations on the size of uploaded files, which are ideal for casual users: 20MB or 10 minutes.
Tip. While the neural network is free, consider showing appreciation to the creator by clicking the "Donate" button below. Even a minimal amount will suffice to keep such projects afloat.
Among the most versatile services, Splitter.ai holds a prominent position. This neural network can separate vocals and music through any device in just a few minutes.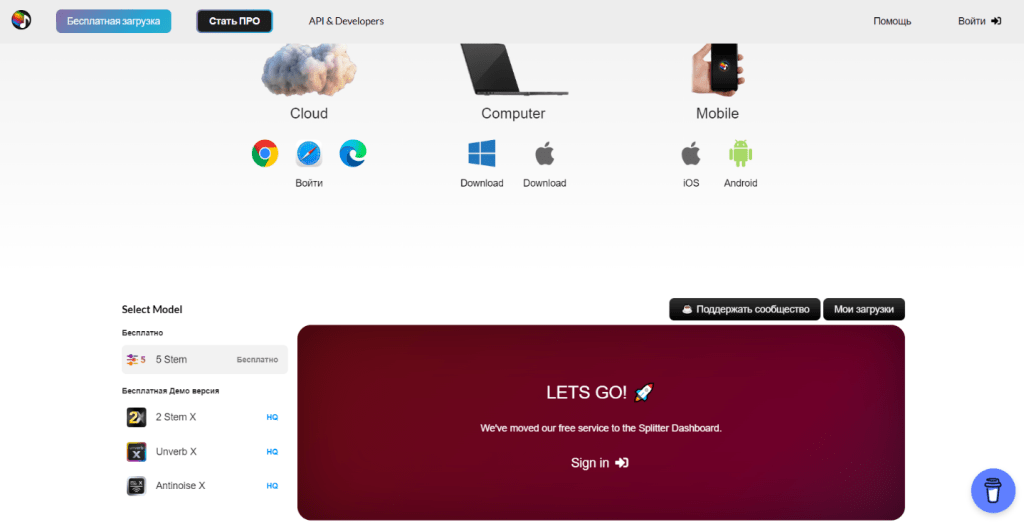 Offers cloud-based or desktop and mobile app options;
Handles basic tasks for free;
Allows you to view the download history after creating an account.
Note. For the most part, the service is free to use on any of the selected platforms. However, for those who require higher quality results or a specific file format, we recommend subscribing.
Among neural networks aimed at assisting musicians and performers, Moises stands out as a prominent representative. Its functionality is tailored to work with music specifically from an artist's perspective.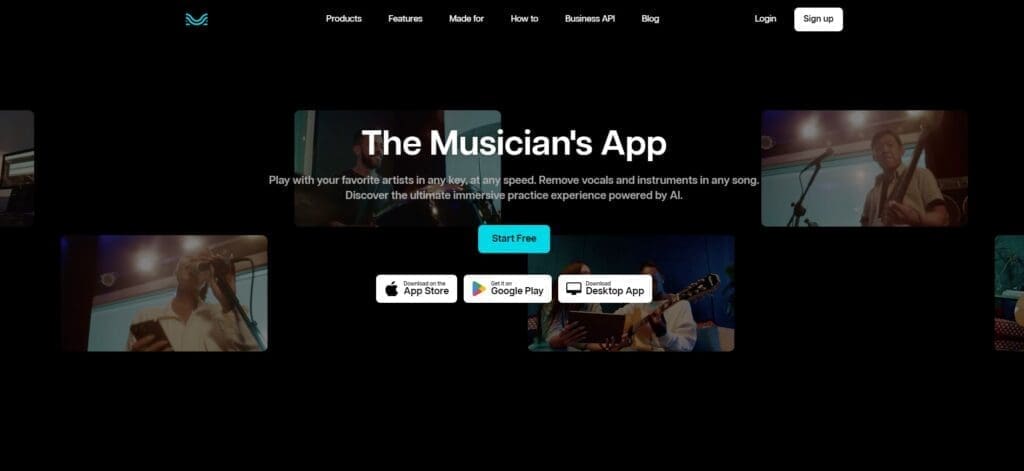 Adapts the sound to any key or playback speed;
Easily fine-tunes each component of the melody, from vocals to percussion or keys;
Synchronizes soundtracks across all platforms, preserving progress.
Note. There are certain limitations on service usage in the account, which are lifted after upgrading to premium. After choosing an annual or monthly plan, an algorithm for assistance with performance or mixing becomes available.
Thanks to these services, everyone can choose the perfect neural network for separating vocals from music based on their preferences. Choose the best option for working with music according to your own preferences. On our website, there are other useful materials about neural networks that will simplify the work for affiliates and webmasters.
FAQ
Can you separate vocals and music on a phone?
Some services offer their applications for Android or iOS to use their services offline. However, you can also use the mobile version of the chosen website to separate vocals from the melody.
How does a neural network separate vocals from music?
Many neural networks are built using deep learning methods. The more examples are fed into the system for analysis, the clearer the model becomes in modeling the difference between human vocals and music, as well as different instruments among themselves.
Can you separate music into individual instruments?
There are services designed to dissect a melody into separate components, but they typically fall into the paid category. To find them, you should look for neural networks aimed at assisting musicians and DJs.
How to remove vocals from a video and keep the music?
To remove vocals from a video, you either need a video editor with this feature or convert it to an audio format for processing by a neural network. The most commonly used formats include OGG, FLAC, WAV, AAC, M4P, MP3, or others.
What neural networks can compose music?
Among the services that have a similar function, Soundful, WavTool, Melobytes, Soundraw, Mubert, Riffusion, and others are particularly well-known. However, it's important to note that many neural networks perceive audio creation and editing as two different things, so it's crucial to first define the main task before searching for the preferred service.