Online Passport Generators for Affiliate Marketing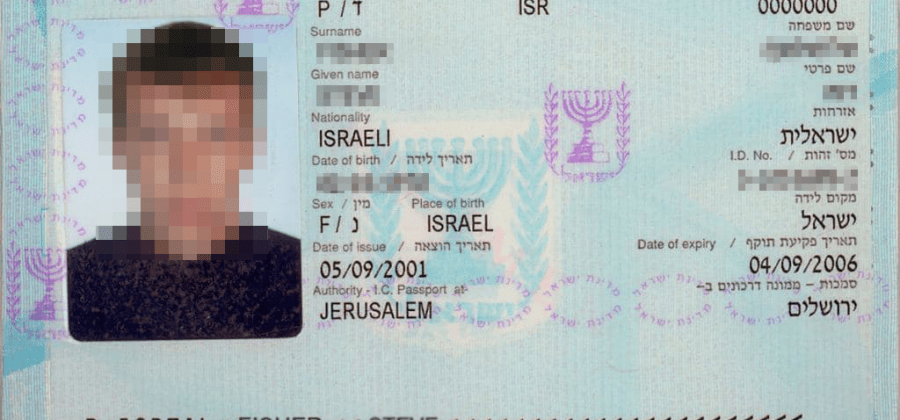 Pasport generators greatly simplify affiliate marketing by automating many routine processes. For example, online passport generators allow you to pass document verification in various services – easily bypassing Facebook ad prohibition. Of course, we do not encourage creating fake passports. Our article is strictly for informational purposes. NOTE: creating counterfeit documents carries a real prison sentence.
Why do affiliates create fake passports?
First and foremost, purchasing supplies is necessary to pass identity verification in Facebook. Practically every affiliate manager who advertises on Facebook has encountered this restriction. By the beginning of 2020, Zucker's network began imposing bans for even the slightest violation of posting rules, reposting creatives – and, to be honest, on all users of this social network with a geolocation of Russia and the CIS countries who are trying to make money on affiliate programs and opening a new advertising account.
Facebook requires passing verification through one of these options:
Via SMS. A rarely used method, but it is very easy to pass. It is enough to receive the code on your phone and confirm your rights. Affiliates use "fake" SIM cards in this case so as not to give their main profile away. In this case, we recommend buying logs right away, although they are more expensive than regular accounts.
By email. This is also relatively easy to overcome since today buying a batch of email addresses for pennies is not difficult.
By documents. This is the most commonly used FB method. Many beginners get caught on this – they just do not know how to pass verification. This is exactly why passport generators and other documents are needed.
Naturally, these are fake passports with fake data. But this does not prevent passing verification at all. The main thing is that these documents have not been uploaded to FB before, otherwise, their algorithms will immediately detect them. Therefore, it is better not to use docs from Google images but to generate them from scratch in special services.
Attention! Fake or drawn passports are also used to pass verification in various services where verification is required.
Affiliates also use fake or humorous documents to pass risk payment. This is a block on a user's payment funds after they are linked. For example, you have linked a bank card but cannot transfer funds from it to your advertising account. Apparently, they aroused suspicion among Zucker's algorithms. You will have to write to the ticket and verify yourself.
Online passport generators
Generators also need to be chosen carefully. Today, there are many scammers who use a complex but established plan to deceive people. They sell low-quality supplies to affiliates, such as documents that have been resold several times. We have compiled a list of reliable services where you can safely generate passports online.

Here you can create high-quality fake documents without any Photoshop skills. The service adds handwritten signatures and barcodes to the passports, which can be easily fed to bots and algorithms of various services.
How to use:
Register without entering your phone number or email. You only need to come up with a login and password.
Select the country you need from the left menu, for example, a passport for a US citizen.
Fill in all the fields in the format suggested by the prompts.
Upload any PNG/JPG photo. You can also use a default photo, but it is better to use unique images created in a random face generator pasports service. Here is one such service.
Complete the captcha.
Click "Create" and voila – in 20 seconds, you can add the newly created passport to your cart.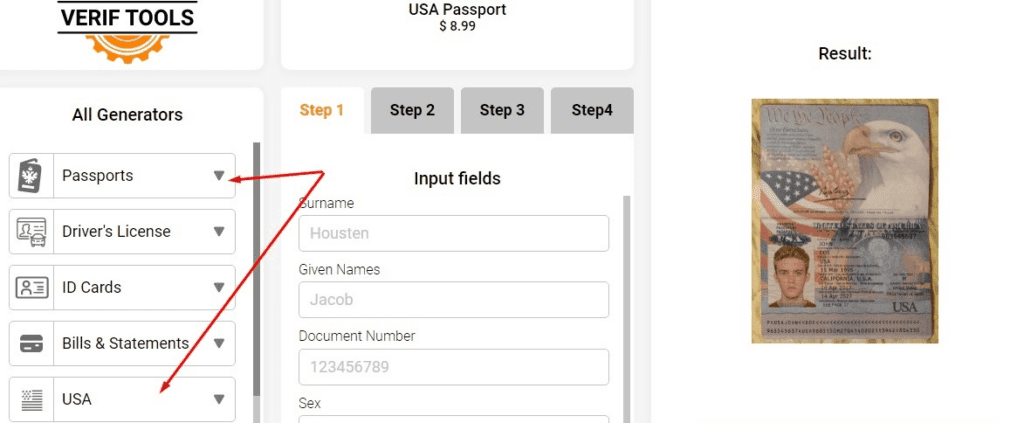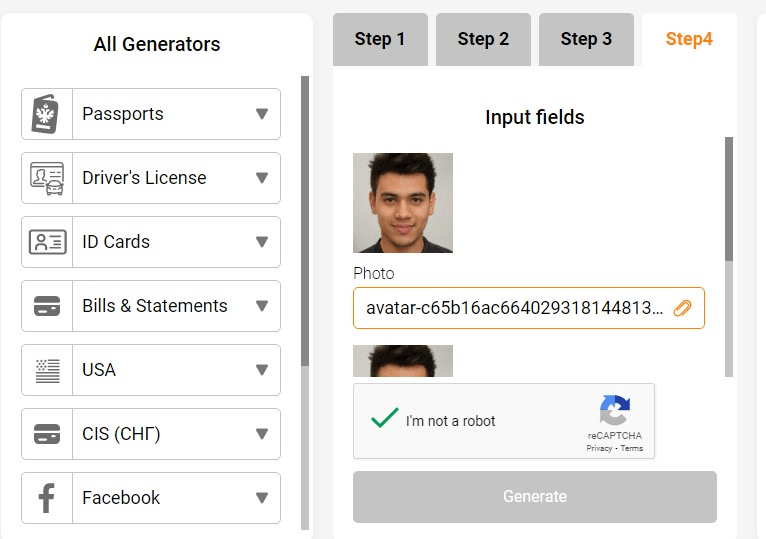 This Armenian passport was created in just a few seconds.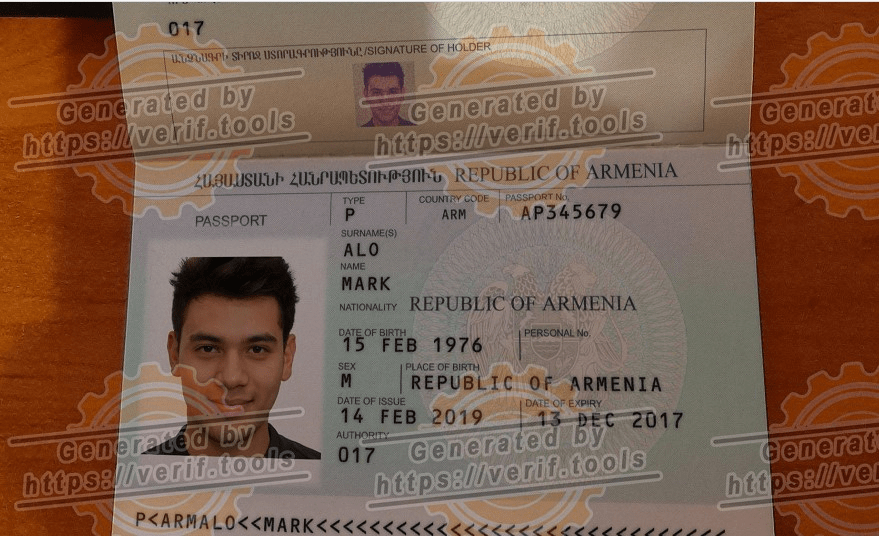 Enter the data only in the format suggested by the prompts that appear in each field. If you fill everything out correctly, the document will be generated with the service watermark. To remove the watermark, you need to buy the passport – top up your balance with cryptocurrency, pay, and become the owner of a unique document without a watermark.
At the moment, Verif Tools allows you to generate passports for most countries in the world. In addition to passports, there is an opportunity to create driver's licenses, bills and reports, ID cards, and more. Prices range from $2-8, depending on the type of document and country.
Positioning itself as a passport generator free of joke cards, Docgen warns that these are not real documents and cannot be used in real life. However, they are suitable for passing Facebook's system or online verification on other services. On the main page, there is a form to fill out – name, date of birth, country, language, etc. You can also upload your own photos with a resolution of up to 500×500 px.
This is the quality of the document produced by this service.
The service is completely free, although there is an option to support the developers by sending them any amount from a card, bitcoin, or other payment systems.
A simpler service for generating documents. You can enter your name, date of birth, country, and photo. You can also add a random flag, title, and fonts. Here's what came out.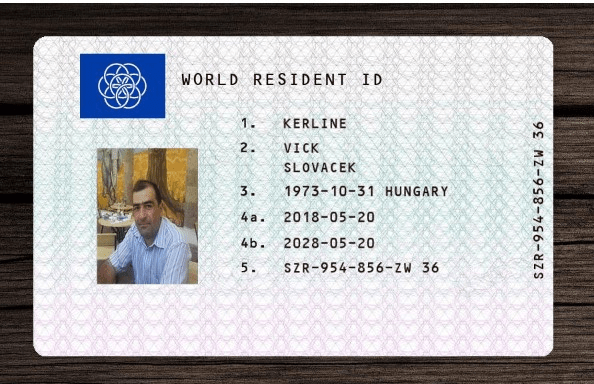 In addition to online services, it is also possible to create fake documents using desktop programs.
RF SCreator. This software allows you to generate a scanned copy of any passport and save it in various graphic formats. There are many useful features for editing. Everything is straightforward and easy to understand.
Photoshop. A detailed scan can be made in Photoshop if you have some skills in the editor. This psd has everything designed, you just need to fill in the fields as you see fit and add the necessary photo.
What happens if the ad network detects a fake passport?
On the one hand, no one can sue a person on the internet for using a fake name. Therefore, having a fake document in itself does not pose any legal problems. Even if passport details are used, it is important that they are not real, otherwise that could be a crime – unauthorized data processing. That's clear.
On the other hand, attempting to deceive the ad network is another matter. For example, if you get caught with a fake document while bypassing the ad review process on Facebook. In this case, you will automatically face a permanent ban of your advertising account.
Ad networks are well aware that people try to circumvent the rules. Therefore, all documents are carefully reviewed. If algorithms handle the initial check in many cases, at the slightest doubt, the documents are sent for manual verification, and there is no way out from this.
What can cause suspicion:
an expired registration date for licenses, certificates, and other documents;
mismatched data – serial number with country code;
low-quality scan;
incorrect background;
mismatch between the legal and actual address of the account, and much more.
Conclusion
Successful lead generation on Facebook and other advertising networks depends heavily on the ability to use consumables. You need to be prepared in advance for the fact that ad networks are constantly tightening the screws and trying to detect fake accounts. Having a couple of fake documents in reserve, you can partially guarantee circumvention of account blocks.
Why do affiliates need fake passport scans?
To bypass account, advertising campaign, or payment verification blocks. Documents also allow you to register in various services that require identity verification.
What happens if Facebook detects a fake passport?
Nothing good – a permanent ban on the account and all related profiles.
How to minimize the risks of an advertising account ban?
There are many ways, starting with warming up the account and ending with two-factor authentication. It is also not worth aggressively increasing the advertising budget, not using duplicate data, and being consistent in your actions.