3SNET
Review on the 3SNET Affiliate Network: 1,000+ Offers and Exclusive GEO Analytics from experts
iGaming is a vertical that grows annually. And these are not just words but reliable facts supported by statistical data.
According to the Online Gambling Global Market Report 2023, the global revenue from online gambling in 2022 amounted to $81.08 billion. It is expected that by the end of 2023, this figure will grow to $88.65 billion, and in the next 4 years, the revenue will reach $125.6 billion.
According to Grand View Research, by the end of 2030, it is expected that the revenue of the iGaming industry will grow to $583.69 billion.
Here is a breakdown of the revenue by region up to 2030: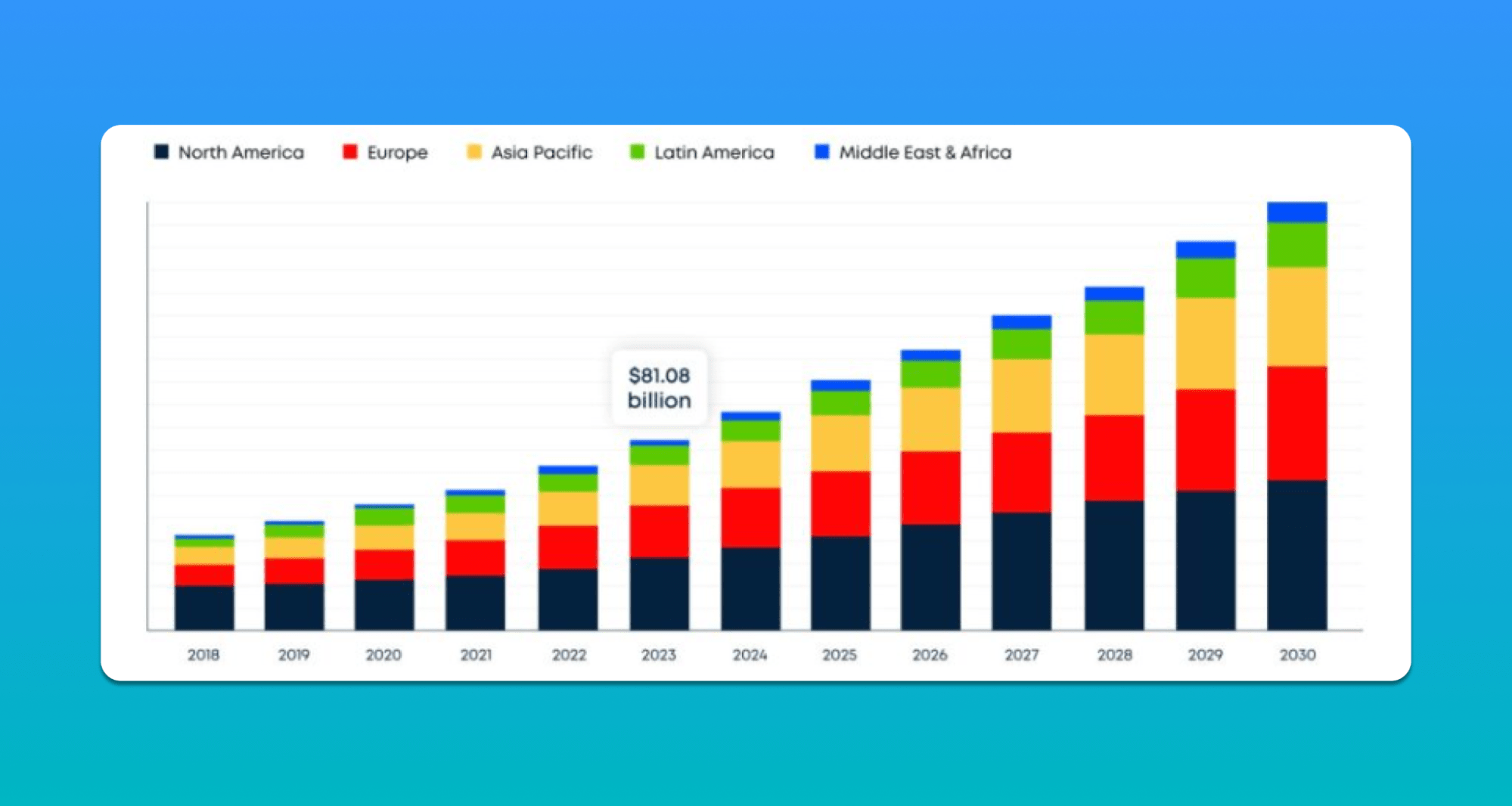 The industry is seeing an increasing number of products: poker rooms, casinos, sports betting shops, lotteries. Along with these new products comes the need for traffic, which means more affiliate networks and programs are emerging.
Today, we want to tell you about the 3SNET affiliate network, which can help you find an offer for any traffic source. These professionals have over 1,000 offers available for experienced webmasters.
What do you need to know about the 3SNET affiliate network?
3SNET is an affiliate network primarily focused on the gambling and betting verticals. They offer opportunities to promote casinos, lotteries, sports betting shops, poker rooms, e-sports, and dating services. They accept traffic from all over the world and from various sources, except for fraudulent, incentivized, and capper traffic. Moreover, the network negotiates nothing with webmasters who were caught frauding; such webmasters are banned with no payouts and explanations whatsoever.
They collaborate with webmasters on CPA, RevShare, and Hybrid models. In many cases, their payouts are higher than those of other affiliate networks. Representatives from 3SNET share their expertise with webmasters, maintain their own blog with professional GEO analytics, and provide assistance and advice to affiliates in their campaigns.
They offer access to more than 1,000 direct advertiser offers. Here, you can find both popular and local brands operating within specific geographical regions.
Advantages of working with 3SNET
3SNET, being a veteran of the iGaming industry, has been operating since 2016. They know exactly what they want from webmasters and what webmasters need from an affiliate program. Thanks to this approach, they build long-term partnerships with affiliates and have a strong reputation in the industry.
3SNET offers:
More than 1,000 offers from direct advertisers with conditions often better than many competitors, and access to these offers is nearly instant.

Expertise in the iGaming niche. They not only run an affiliate program but truly understand the industry. They share their expertise through their blog, and personal managers are always ready to assist and answer webmasters' questions.

Quick registration process, typically taking from three to eight hours from application to access to your personal account. Approvals often take just a few hours.

Prompt responses from 3SNET representatives, ensuring you don't have to wait for hours to hear back from your manager.

A referral program that rewards you with a percentage of your referred partners' earnings.

Also, there's an increased referral program of 5% for affiliate marketing websites.

Original articles for webmasters. The affiliate network actively maintains its blog, covering industry trends, analyzing geographies and verticals, and sharing forecasts.

3SNET is ready to work with experienced teams generating substantial volumes of quality traffic, and they are willing to accommodate such teams.
3SNET is ready to work with experienced teams generating substantial volumes of high-quality traffic. It is precisely these kinds of teams that the affiliate network is willing to make concessions.
How to register in the 3SNET affiliate network
To start working with the 3SNET affiliate network, you need to visit their official website and press "Sign Up" in the upper right-hand corner: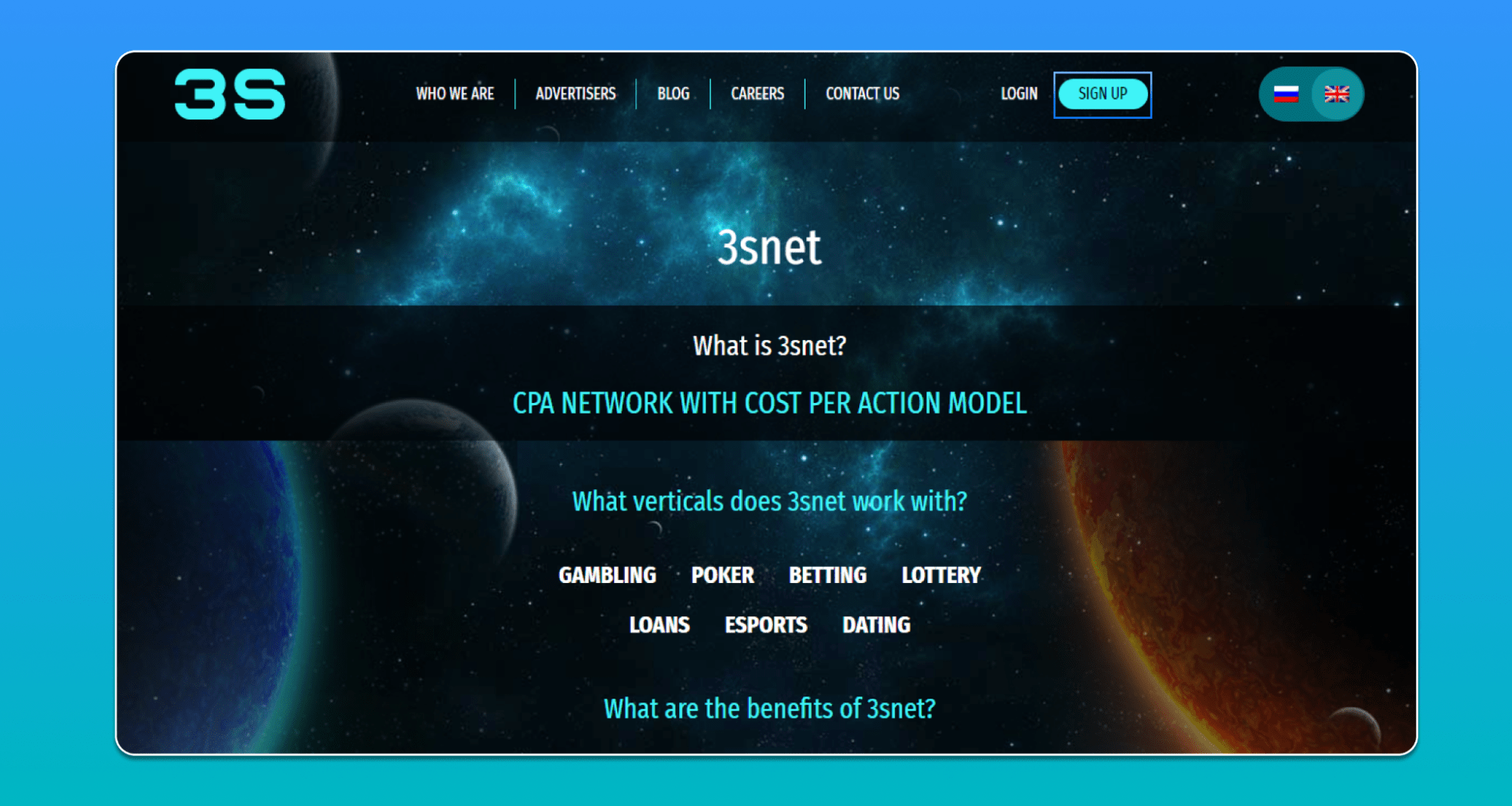 You will be presented with a form in which you need to provide information about yourself, your verticals, traffic sources, and GEOs: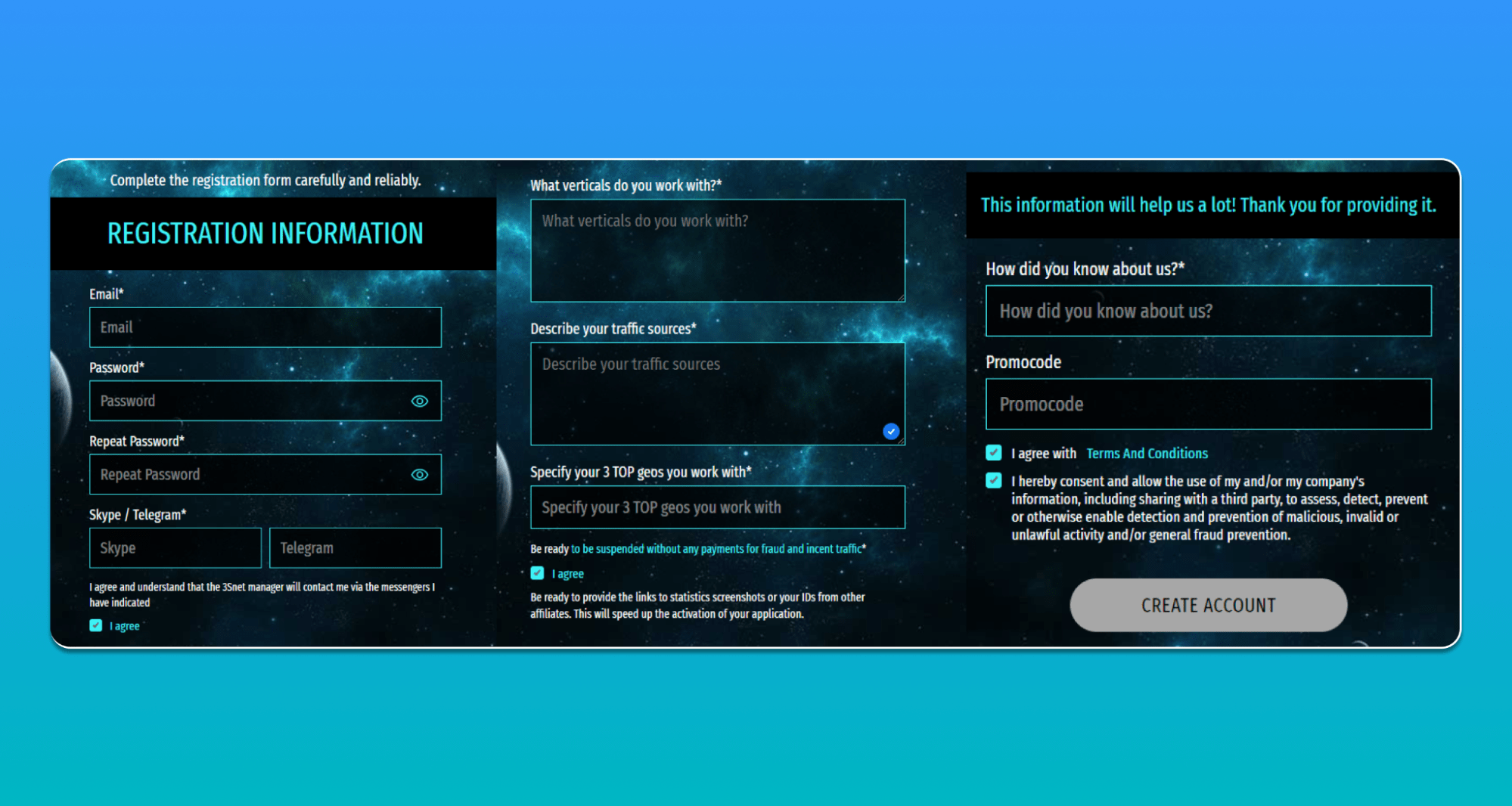 After registering, you will need to wait for a manager to contact you to ask additional questions. In some cases, the manager may request statistics from you.
3SNET personal account review
To access your personal account on 3SNET, you will use your email address and password. 3SNET is based on Affise, so if you are familiar with Affise, the interface will be similar to you. The main page of your account is the dashboard, where you can view a brief daily statistics summary, your balance, contact information for your manager, and statistics for the last 10 days: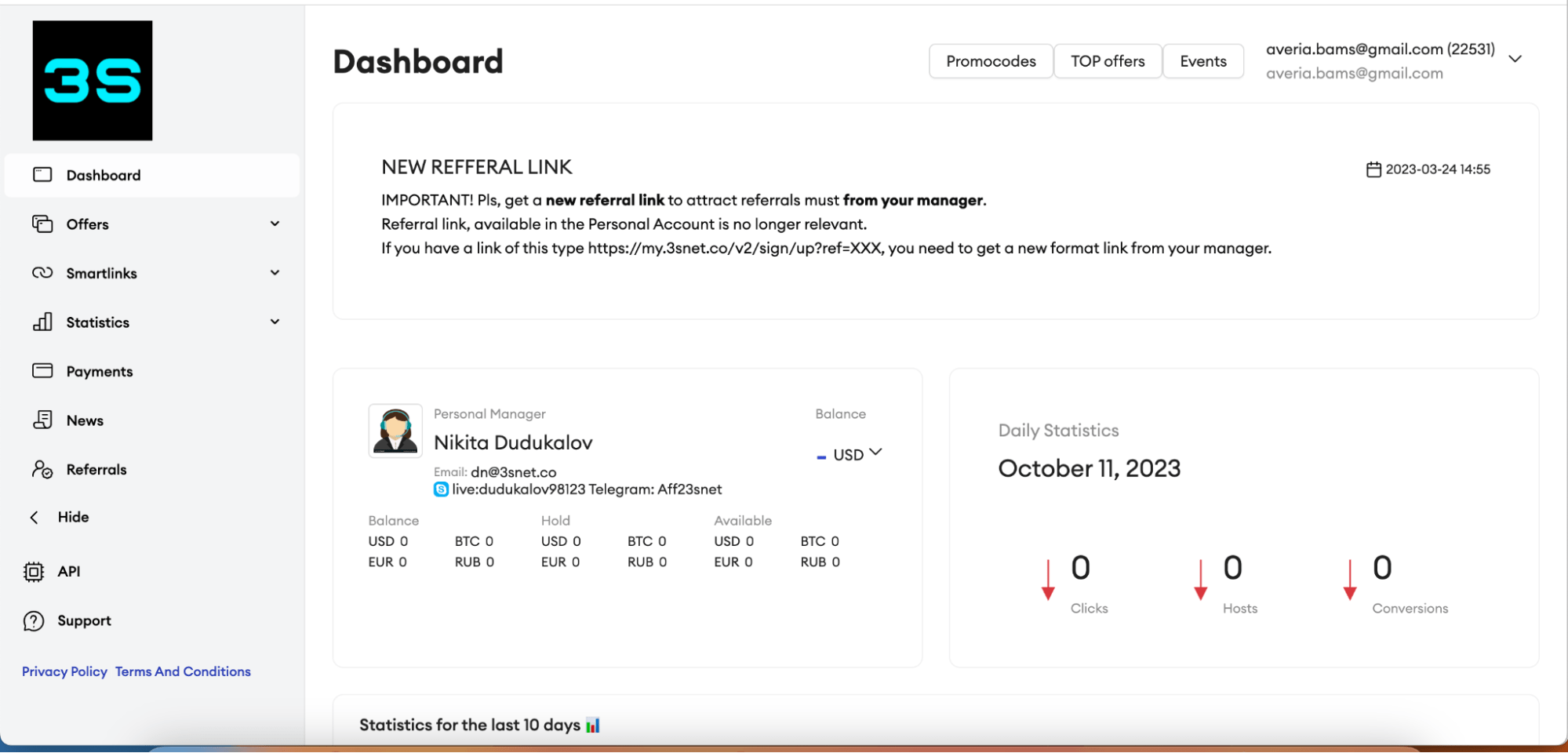 Below, you'll find top offers, contacts, social media, and other useful information for affiliates: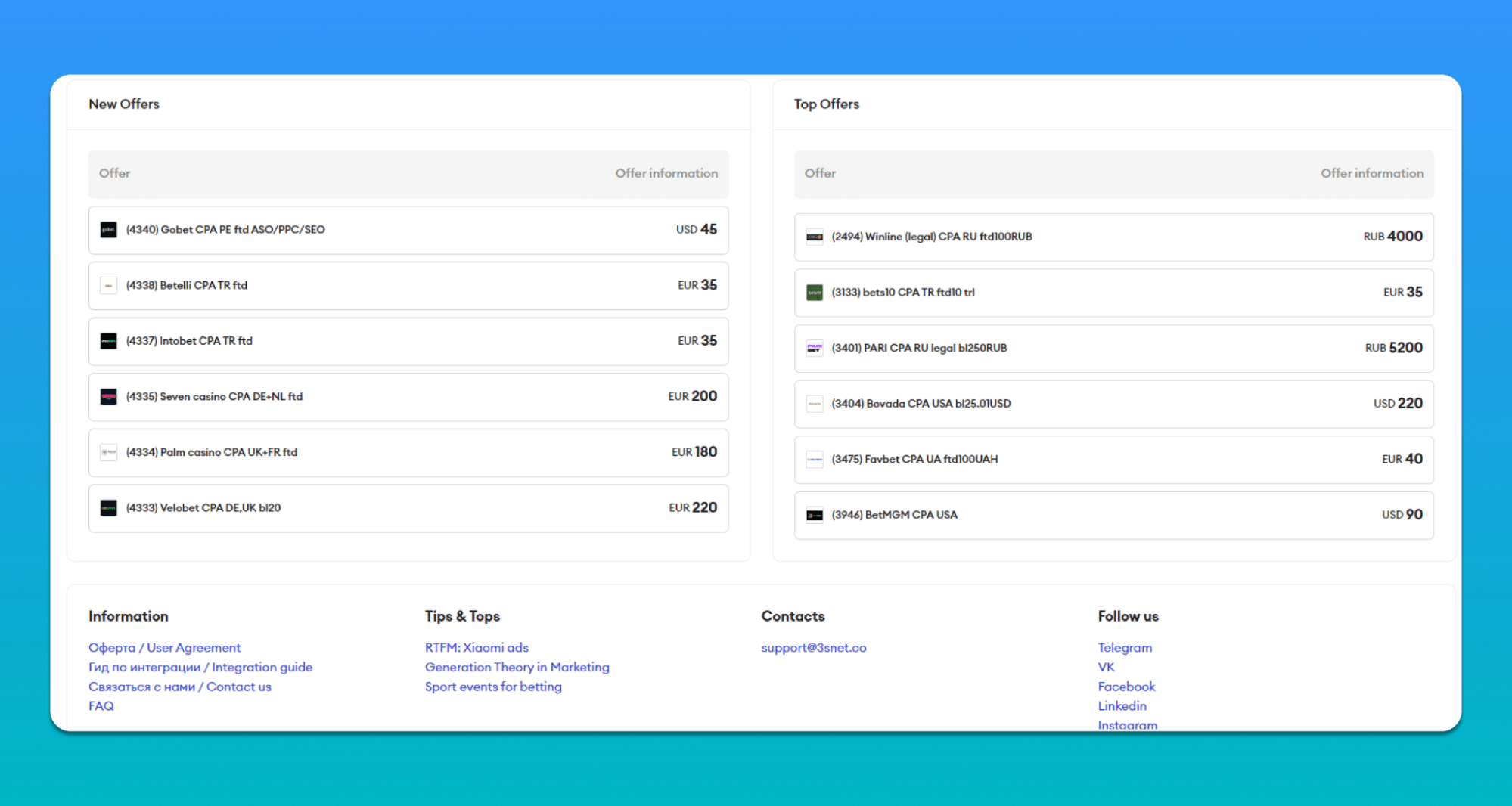 For navigation, you can use the menu located on the left. In the 'Offers' tab, there are three subsections:
'All' – here are all the offers available in the 3SNET affiliate network.

'Available' – shows offers available specifically to you.

'Live' – displays offers that are currently receiving traffic.
In the offer listings, you'll find:
Product name.

Vertical (category).

EPC (Earnings Per Click) for the past week.

Payout rate.

Geographical targeting.

A button to request access.
There are also filters available for categories and geographies, and you can locate a specific offer by its ID.
In the offer details card, you'll find comprehensive information about the offer, including advertiser requirements, allowed traffic sources, details about the hold, payout rate, cap, and more.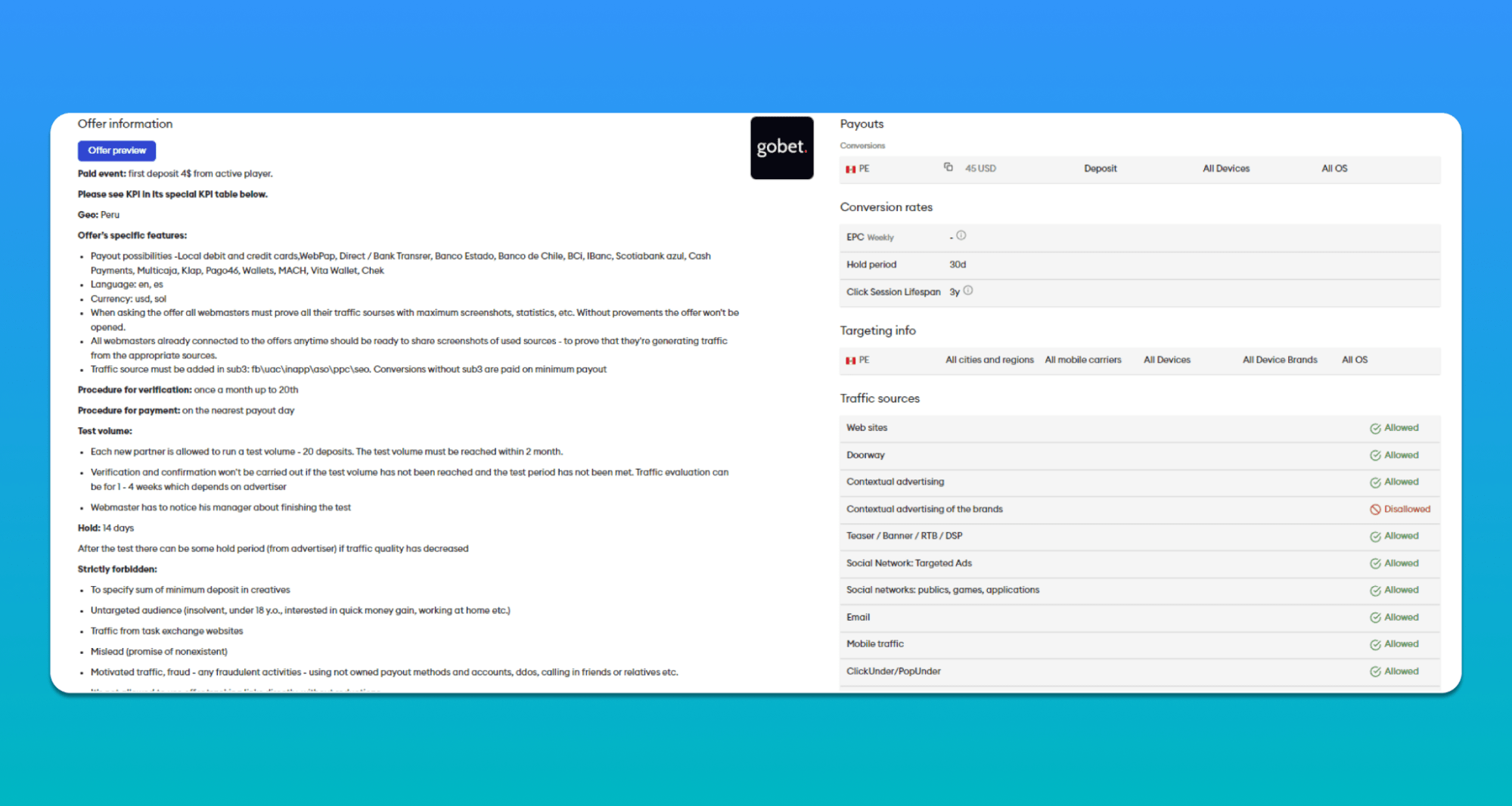 In the "Smartlinks" section, you can choose a smartlink if you're directing mixed traffic. A smartlink allows you to direct traffic to the most suitable offers and maximize your earnings from that traffic: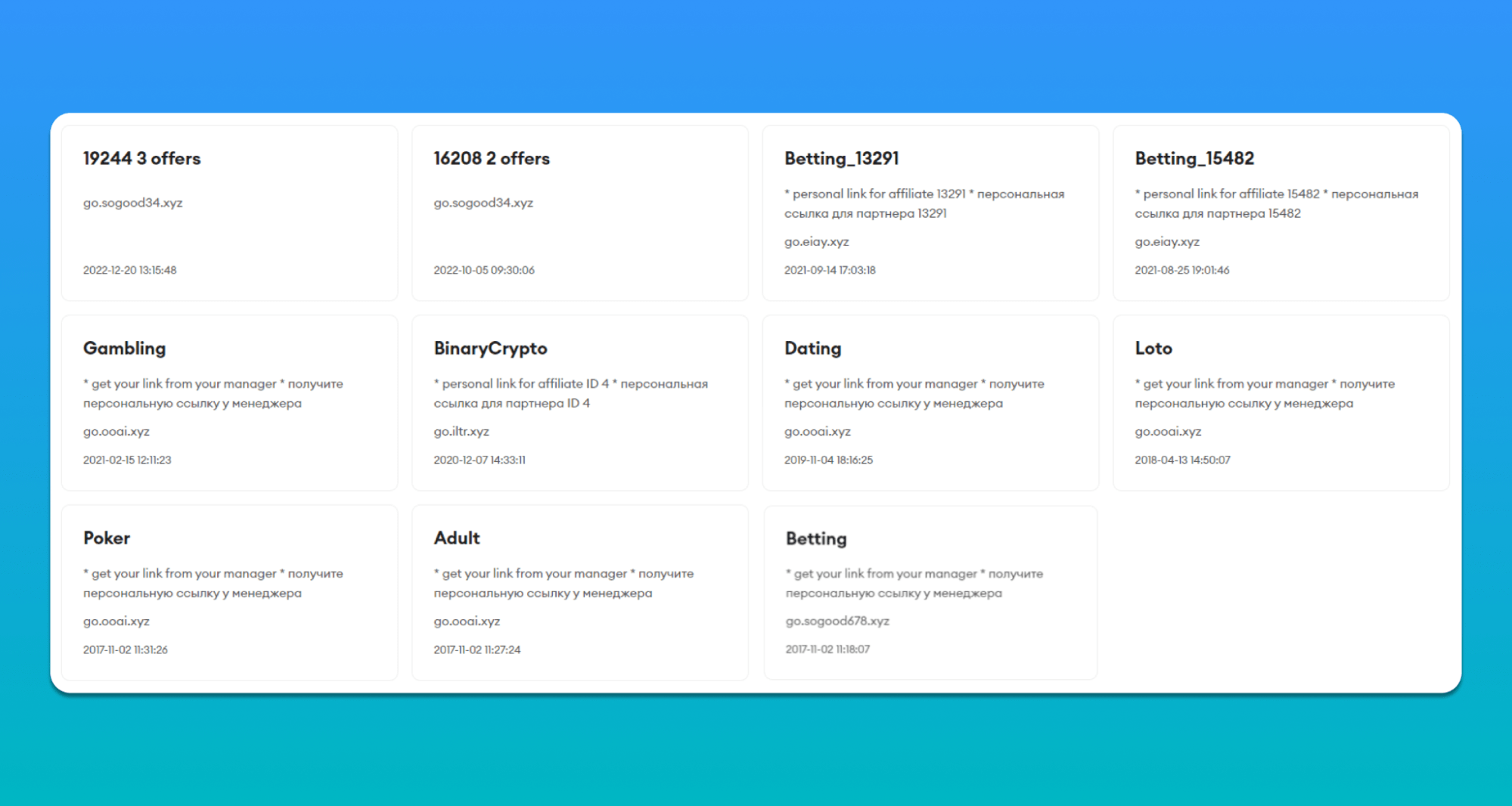 In 'Statistics,' you can view your statistics for campaigns. There are filters available for:
Date.

Timezone.

Country.

Offer.

Operating System (OS).

Device.

Smartlink.
You can also export the statistics in CSV format. 3SNET allows you to track statistics for up to 8 sub-accounts."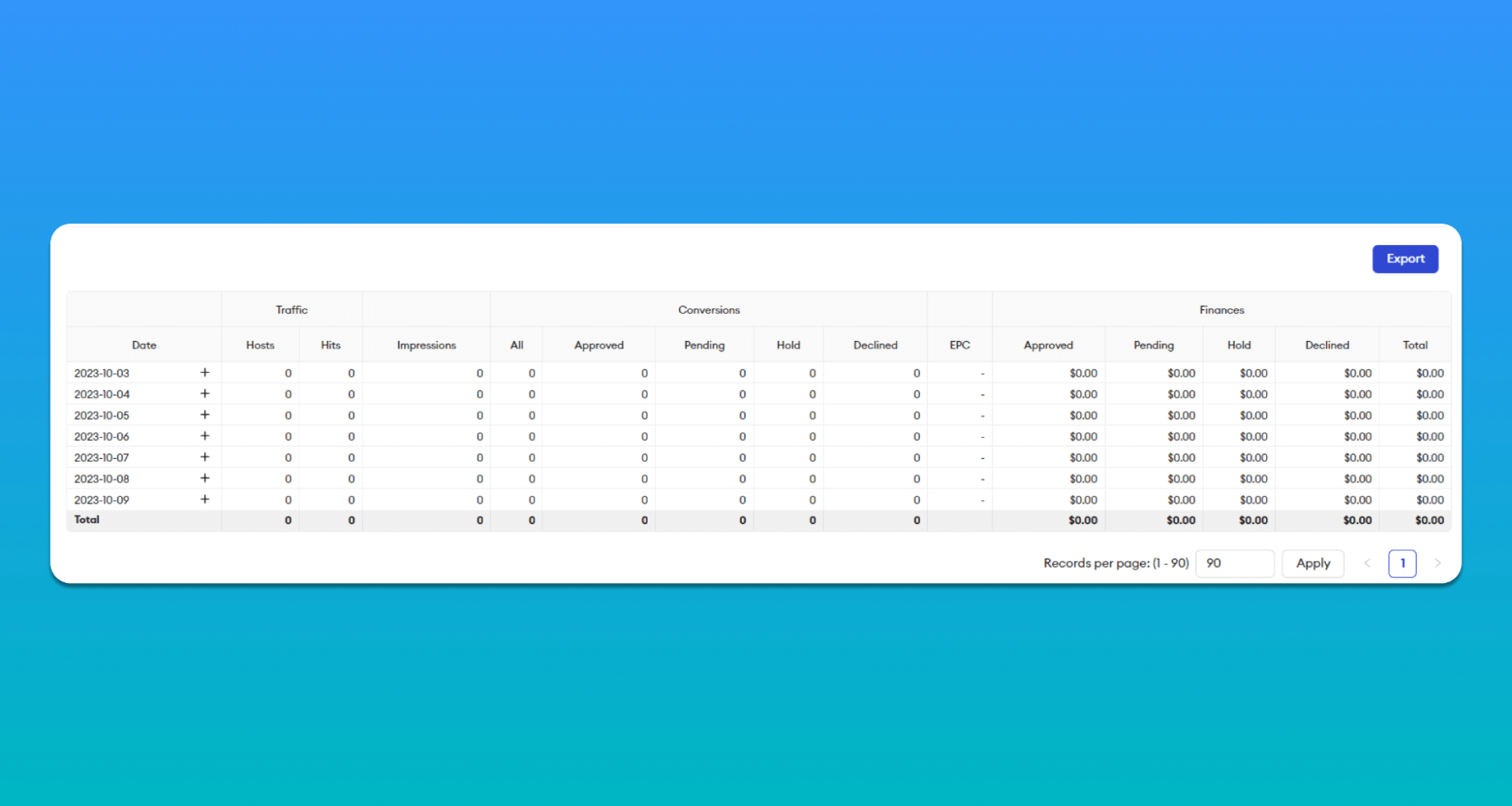 In 'Payments,' you can review your payout history. In 'News,' you'll find important updates related to the affiliate network and offers. In 'Referrals,' you can access your referral link and view statistics for the webmasters you've referred.
To set up postbacks, click on the email address on the right-hand side, select 'Settings,' and then 'Global Postbacks.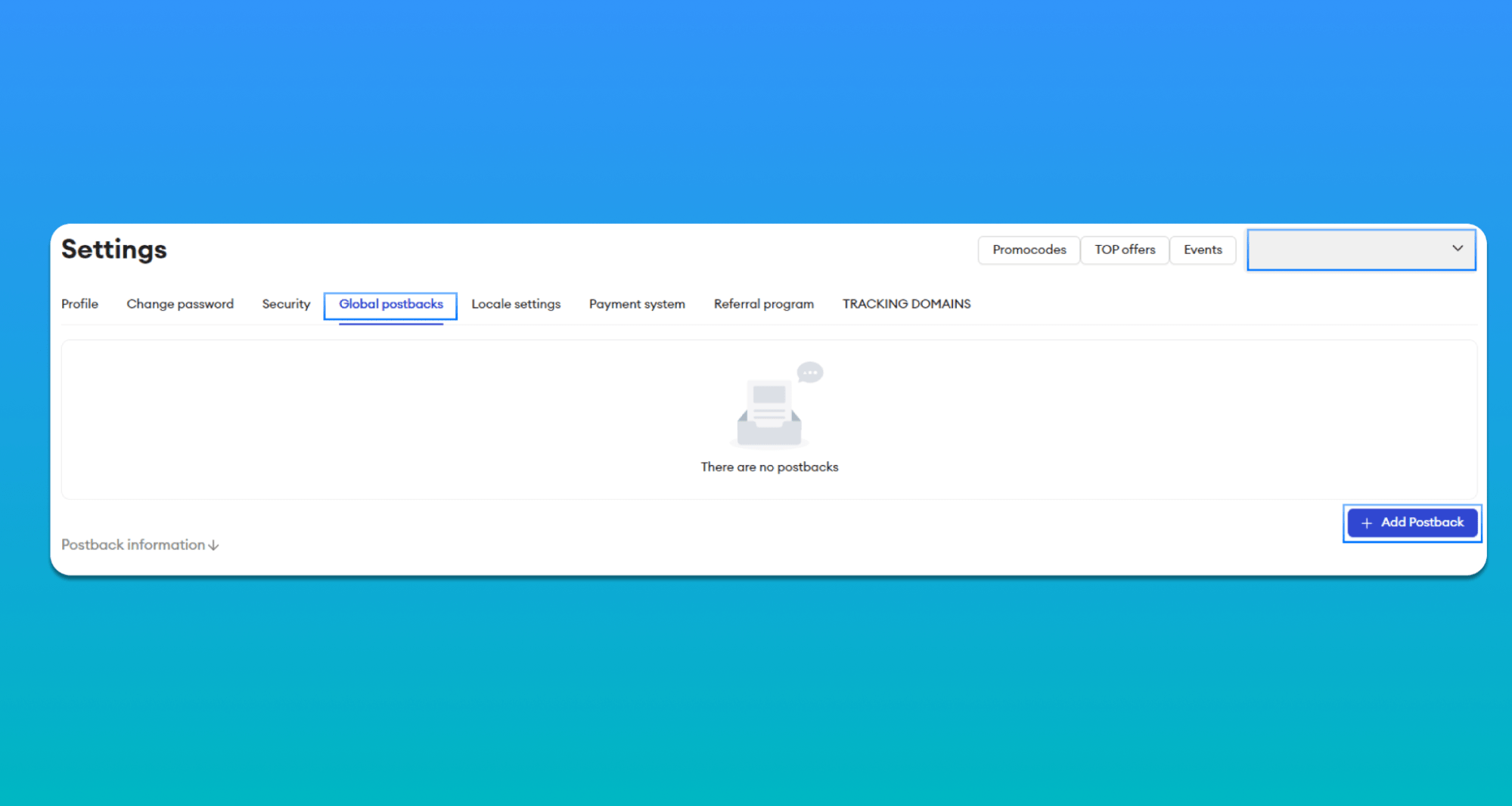 What offers you should drive traffic to in 3SNET
The managers of the 3SNET affiliate network told us about three best offers that you should pay attention to. Two of them are for Turkey: 
Intobet CPA [TR]

Betelli CPA [TR]
Payout – 35 euros per deposit. Minimum deposit amount – 10 TRL. Test cap – 20 FTD, to be achieved within 2 months. Hold – 14 days.
Traffic is accepted from all sources except for brand context, incentive, capers, and brand SEO.
There is also an offer for Brazil – Joiabet CPA [BR] with a payout of 30 euros per deposit and a baseline of 5 euros. Test cap – 30 FTDs, hold 14 days, and test conversions are checked for up to 4 weeks.
How to withdraw money
3SNET processes payouts twice a week. There is no minimum withdrawal amount, but each offer has a test cap that must be met before you can withdraw earnings.
Payouts are automatic on Wednesdays and Fridays. You can request withdrawals via Webmoney, Skrill, Capitalist, Wire, USDT TRC, and USDT ERC.
Users' reviews on 3SNET affiliate network
3SNET is an affiliate network that has been working with a large pool of affiliates for a long time. Affiliates appreciate 3SNET for its stability, honesty, expertise, and a wide range of offers that allow traffic from all over the world.
You can leave your review about 3SNET on this page in the comments.
Conclusion
If you work with gambling and betting, know how to drive quality traffic, and want to collaborate with professionals, we recommend registering with 3SNET. These folks know exactly what partners expect from a CPA network and understand which webmasters they are willing to work with.