AMarkets
AMarkets is an international financial broker that has been offering highly profitable trading and investment services since 2007. According to representatives, you can receive up to 80% of the company's income by choosing one of the two most popular cooperation models – Revenue Share (RevShare) or Cost Per Action (CPA). The company has already paid out more than $30,000,000 to 3,000 partners in 60 countries. Want to know more? Read our review!
Features of AMarkets
Two partnership models: CPA and RevShare;
Broker has been on the market since 2007;
Loyalty program for traders;
Contests and promotions for affiliates;
Payouts every day;
Affiliate rebate service — increase the profit of the referred traders and multiply your own. More details below;
10+ withdrawal options;
Full compensation of payment processing fees when withdrawing from $500 to crypto and EPS up to 4 times a month;
Support is available 7 days a week, 24 hours a day.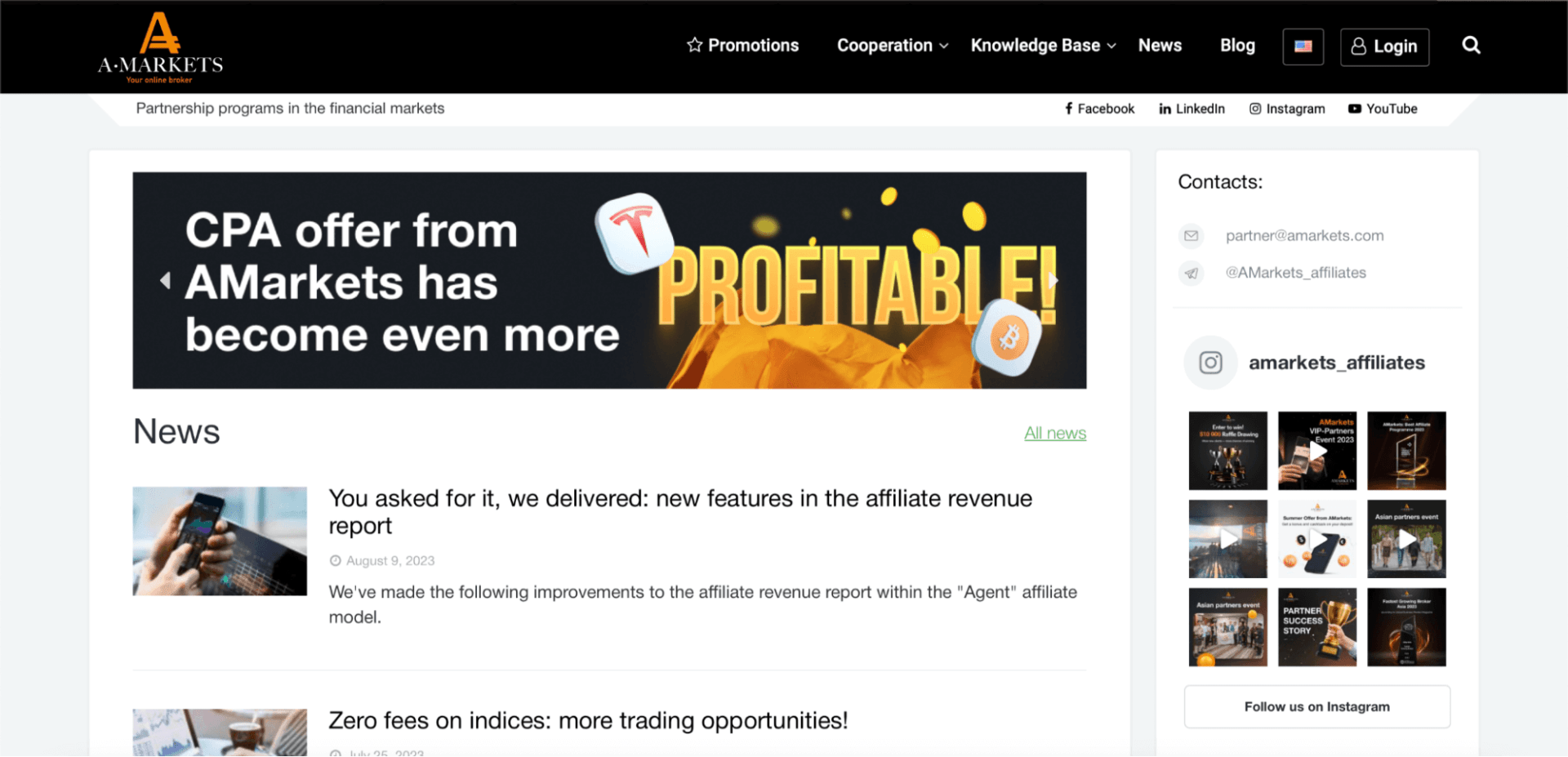 Product Overview + Partnership Models
AMarkets is an international online broker that has been operating since 2007. It's very popular in the CIS countries. The broker offers trading on two trading platforms: MetaTrader 4 and MetaTrader 5.
Minimum initial deposit — $100. Copy trading is possible on the platform.
There is a cashback for regular customers – a part of the spread is returned to them every day. In November 2022, the broker permanently raised the cashback rates. Also, some bonuses are granted under certain conditions.
AMarkets offers an arsenal of tools for traders: trading plan, trade analyzer, VPN and others. Among the tools we will find "Advisors" – these are AIs that analyze market parameters and develop a strategy for successful trading.
According to customers, the service quickly withdraws money, the account can be replenished without any commission, and technical support is fast and responsive. Downside – low spreads.
There's a special emphasis on training for beginners.
Ruslan Aleksandrov:
I registered with AMarkets by recommendation. What I noticed first is the tutorial and analytics- for me, a novice, that was very useful. After a year of work, I can say that the network offers one of the best conditions for trading. Fund withdrawal to card is on time.
Speaking of downsides, some traders note high withdrawal fees.
I worked with a couple of brokers at ZuluTrade but honestly I like working with AMarkets directly. The mark-up is lower, therefore the spread is narrower. Nothing to reproach the admins for. Also, there are a lot of upsides. The downside, in my opinion, is that withdrawal fees at AMarkets are way too big. Some brokers reimburse their traders for the withdrawal fees.
Registration and payment models
Registration in the affiliate program is open – the guys are happy with both professionals and beginners. When registering, you can choose a preferable revenue model: Agent or Webmaster.
Agent – get up to 60% of the income of the referred trader. In other words, revshare.
Webmaster – get up to $10 for installing the application and up to $500 for the deposit. Also known as CPA / CPL.
Next, provide basic information about yourself, and just in a minute you will be registered as an AMarkets partner. But in order to withdraw money, you need to verify your phone number and payment method. Money is withdrawn to a card, crypto, electronic payment systems and via a bank transfer. To withdraw money to a bank card, you will need to verify your identity.
Right after the registration you will find a set of marketing tools: banners, a sentiment indicator widget and videos.
The guys are advised to drive traffic from the following countries:
South Africa;
Nigeria;
Turkey;
UAE;
Russia;
Uzbekistan;
Kyrgyzstan;
Kazakhstan;
Tajikistan;
Malaysia;
Indonesia.
See GEO restrictions here.
AMarkets does not accept traffic from the following sources:
Brand advertising;
clickunder/popunder;
Doorway;
Email/SMS on behalf of the company.
Adult traffic and motivated traffic are not accepted.
The affiliate program highlights the absence of risks:
You have nothing to lose if you suddenly realize that the broker's affiliate program is not for you.
Rebate service — multiply the profit of traders and yours
The affiliate program has a rebate service. Here is how the creators of AMarkets explain its essence:
An affiliate rebates a percentage of their income to the referred traders. Their loyalty increases, they start trading more. As a result, the affiliate generates more income.
More information on the AMarkets website: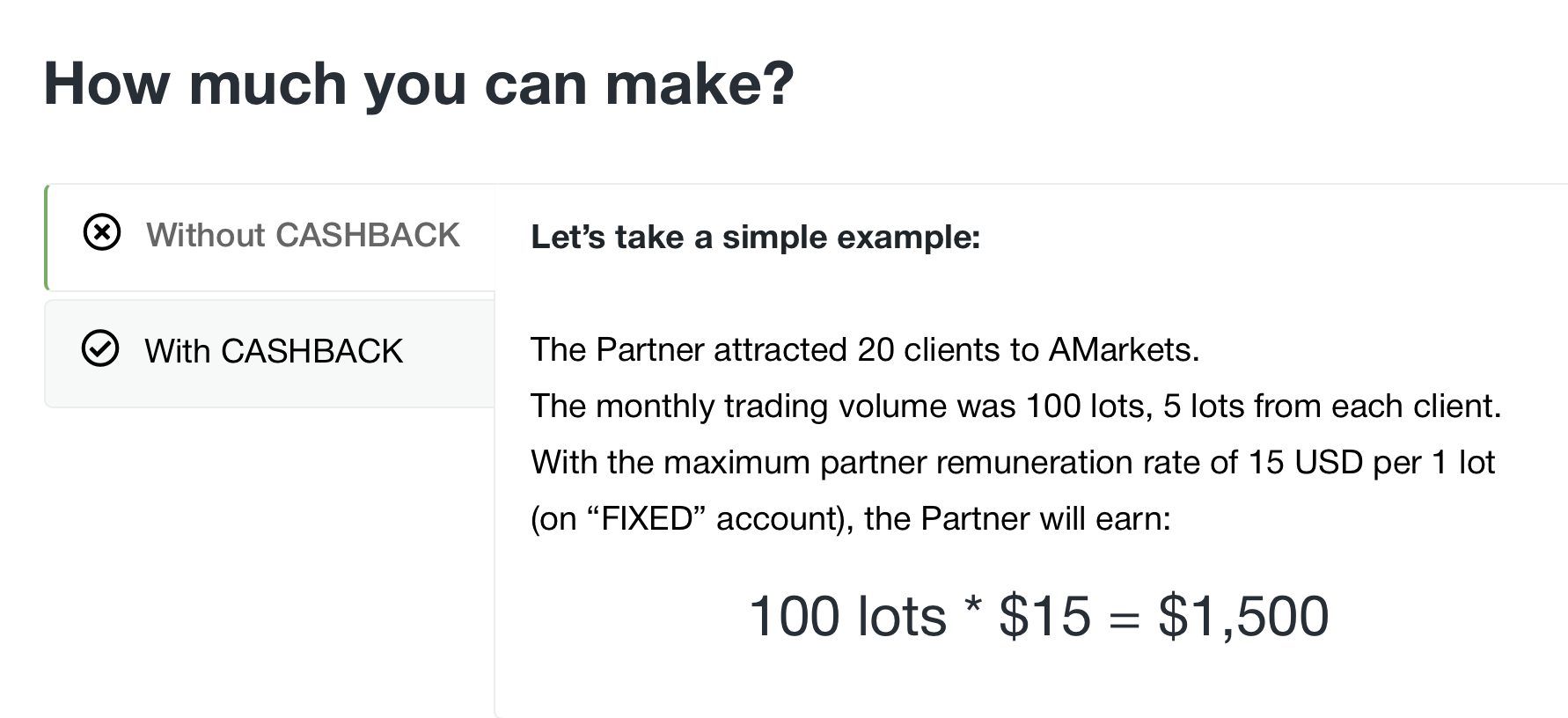 You can pay a percentage of your affiliate income to all your traders or to a specific client. You set the rebate percentage yourself. With this flexibility, you will determine which traders really increase your profits when you rebate, and who simply drains the donated money.
The rebate service is available only when working with RevShare ("Agent").
Payouts
Withdrawals can be made though the following payment methods:
wire transfer;
Visa / MasterCard / MIR / UzCard cards;
USDT trc-20 and erc-20;
ETH;
LTC;
BTC
Advcash;
Skrill
Neteller;
perfect money;
QIWI.
All payments are made on request – you can withdraw your affiliate rewards every day.
Each payment method has its own minimum and maximum withdrawal limits. For example, for USDT TRC-20, the minimum withdrawal is $20, the maximum is $20,000.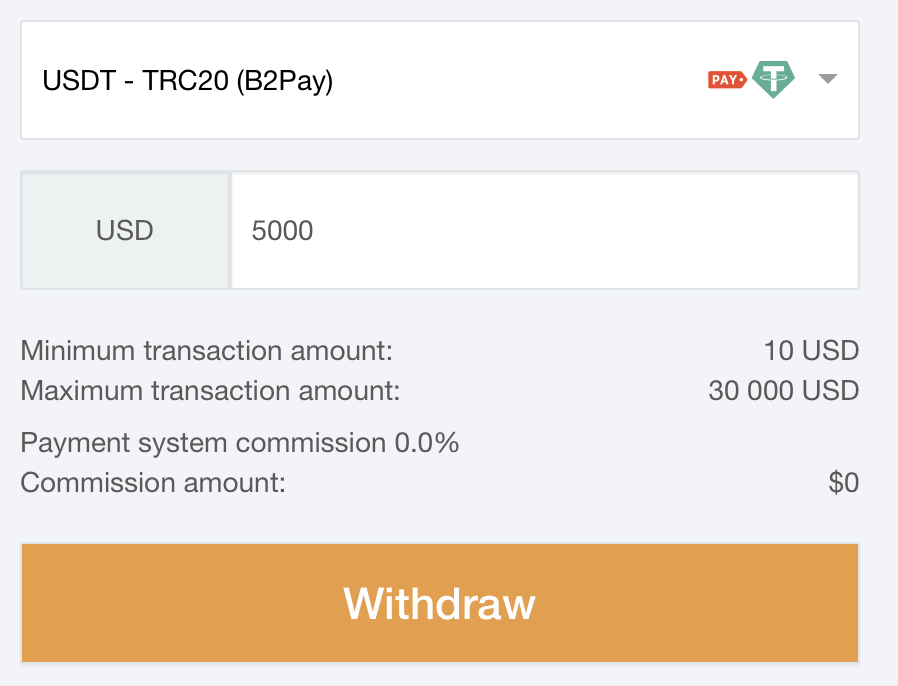 Each payment method has its own transaction fees. The affiliate program itself does not charge commissions. AMarkets compensates the commission of payment systems in full when withdrawing from $500 up to 4 times a month to electronic payment systems and cryptocurrency.
For traffic according to CPL, the hold is 30 days, according to CPS it is from 15 to 90.
Support
The support team works 24 hours a day, 7 days a week. Contact the AMarkets support via Telegram – they will be happy to answer any of your questions.
Bonuses for partners
In addition, there is a permanent promotion for affiliate network's partners: transfer money from a partner account to a trader account and get +20% of the amount to your trading account. For example, if you transfer $1,000 from your affiliate account to a trading platform, you will receive +$200 to your balance. Read the full terms and conditions here.
One of the advantages of AMarkets' affiliate program is passive income. Even if you terminate your partnership with the company, the reward will continue to flow as long as your referrals are active.
And one more advantage of the broker is a multi-level affiliate program:
Level 1 partner is the affiliate themselves.
They receive 100% commission from the referred clients + 15% commission from the partner of the 2nd level + 5% of the commission from the partner of the 3rd level.
Level 2 partner – referred referral.
They receive 100% of the commission from the referred clients + 15% of the commission from the 3rd level partner.
Level 3 partner – referral's referral.
They receive 100% commission from the transactions of the referred clients.
The referred clients are AMarkets traders.
AMarkets affiliate program reviews
PP shared with us the following feedback (published without any editorial changes):
Roman Ankudinov:
I am the owner of the resource https://www.cmetrader.ru, YouTube channel for 3 thousand subscribers "Roman A. Option analysis. СOT reports", telegram group of 1600 people "FX|CME|TRADER| Blog of Roman Ankudinov". I have been cooperating with AMarkets for more than 4 years and during this time there have never been interruptions in payments. Emerging issues are very quickly resolved by a personal manager, and the presence of permanent shares in the company allows you to motivate existing customers and attract new ones. An additional plus is a two-level affiliate program system that allows you to earn additional commission from second-level clients.
Skoromnaya Ekaterina:
My name is Skoromnaya Ekaterina, I am a financial expert and blogger (my social media accounts are profinance_marafon) I have been cooperating with AMarkets as a partner for 2 years already, I trade by myself and promote it among my students. Regular promotions and events, such as joint live broadcasts, trader contests, bonuses, motivate clients to register in AMarkets and actively trade, which allows me to receive regular remuneration as a partner. The technical side and service are also at the highest level – all issues are resolved with a personal manager, a convenient mobile application and a huge number of financial instruments for trading.
Alexander Lipunov:
My name is Alexander, I am the owner of the site – Forexareal.ru We have been in partnership with AMarkets for five years now. We would like to express our gratitude to the company for the quality service, excellent operation of the terminal, employees, and support. We have an absolutely positive opinion about the company! We recommend cooperation to everyone, from beginners to professionals!
Subscribe to AMarkets' Instagram and don't miss important news from the affiliate network! And in the blog, you will find useful tips for working with the Forex vertical.
Register in the affiliate program and make money with it!