CPA.HOUSE
CPA.House is an affiliate network from the advertising platform Push.House. It offers over 3255 offers in CPA, CPS, CPL, COD, and CPI. The main vertical is nutra and beauty and health products, targeting the CIS, Europe, and Asia. However, they also accept gambling, dating, IVR, sweeps, and storefront offers.
Alongside expanding their assortment, the affiliate network is developing its own call center network for each represented GEO and constantly working on improving approval rates. On some top offers, the conversion rate can reach up to 50%. They welcome beginners and offer the best rates on the market for verified webmasters.
To become a partner of CPA.House, you don't need to provide screenshots of your stats or prove that they are yours. Simply fill out the registration form, and you will automatically gain access to the dashboard.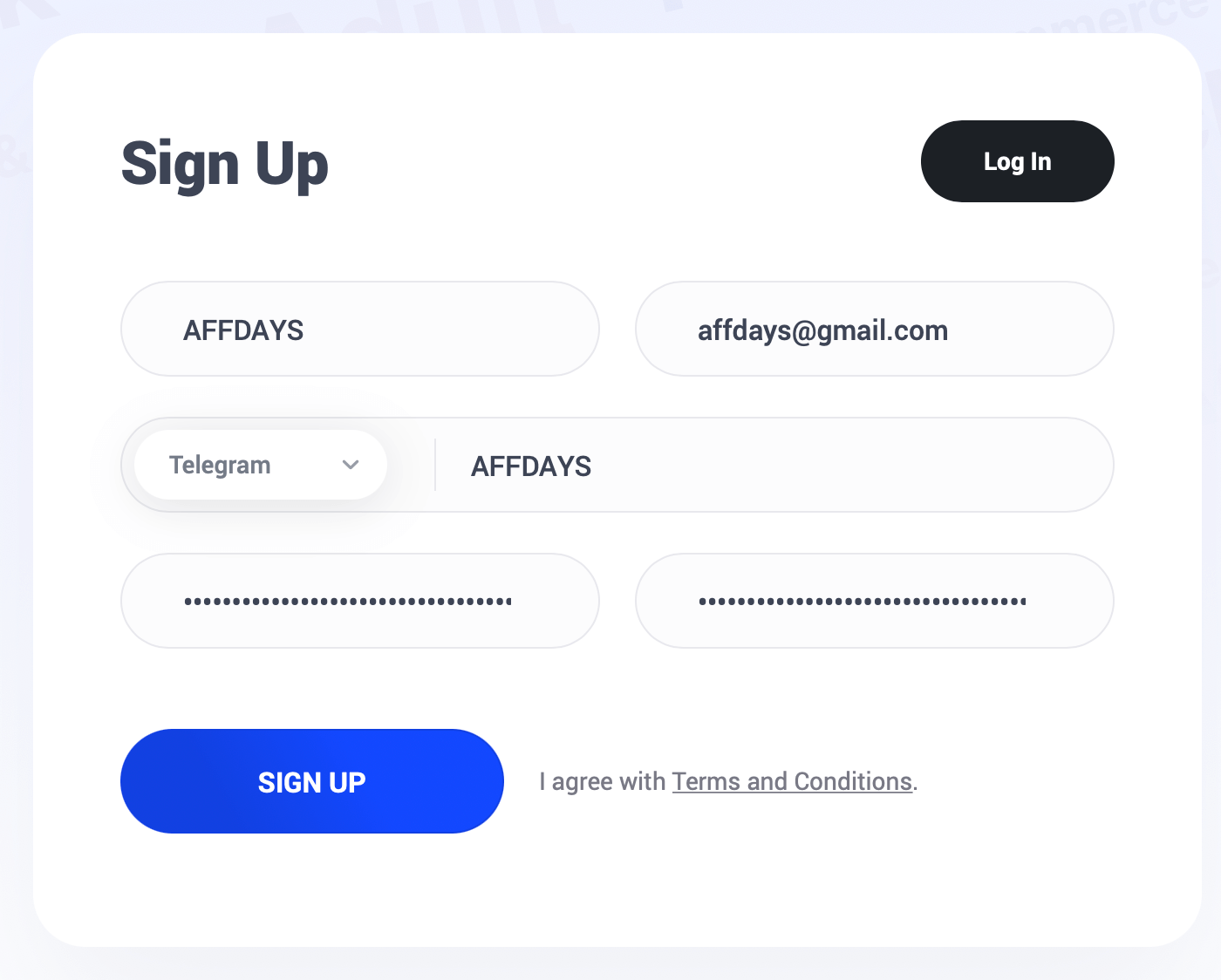 Overview of offers in the CPA.House affiliate program
Given the extensive range of offers, the affiliate program provides a convenient filter by objective, status, category, traffic sources, GEO, payout currency, date of addition to the system, and more. For example, let's open a top-list of offers and see what they have in CPA.House: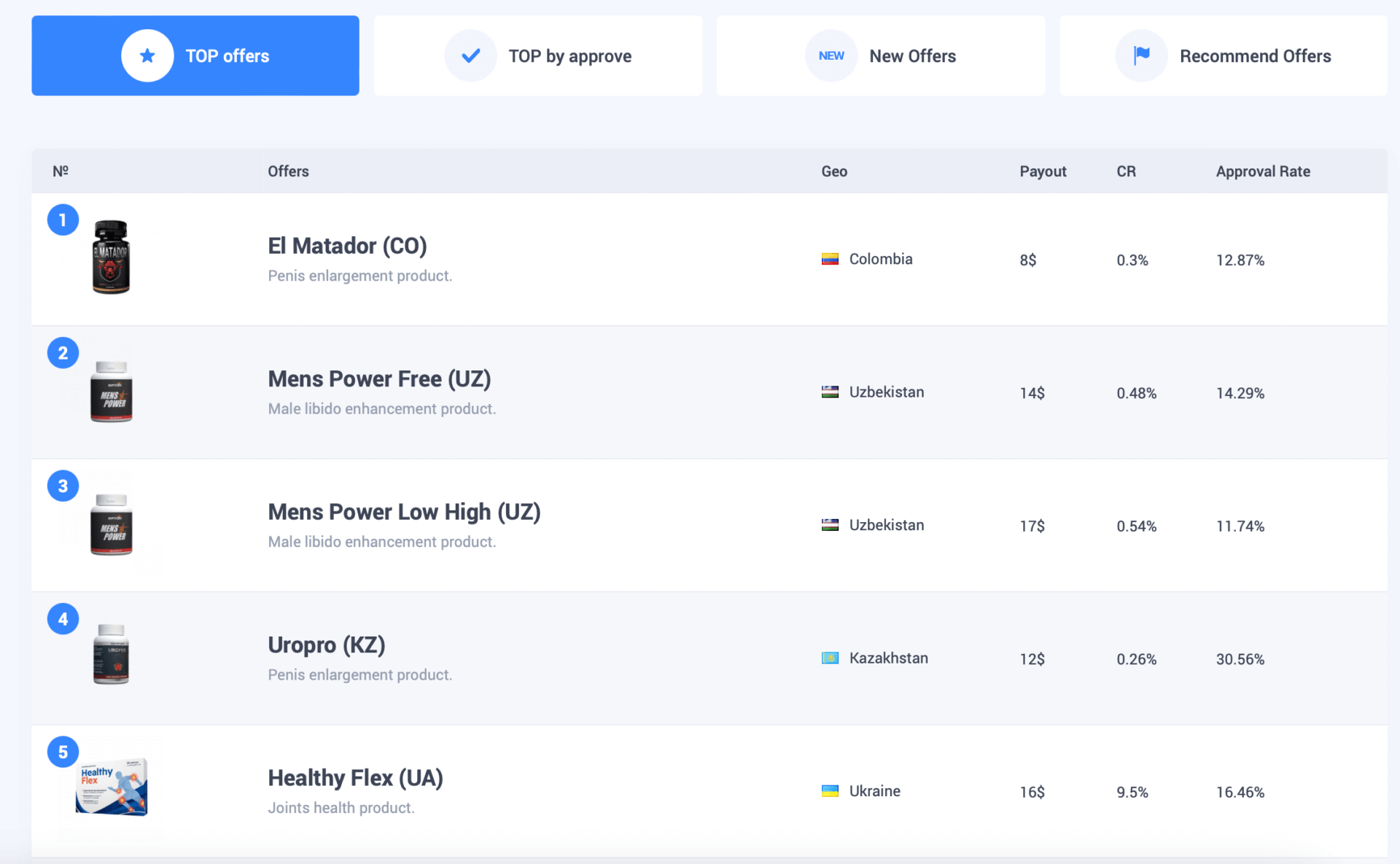 The date of addition and the latest news about the offer are published at the end of the product description. Multiple landing pages, transit pages, and promo materials are developed for each product to ensure successful conversions on both mobile and desktop platforms.
Key features of CPA.House affiliate network
Direct advertisers in the nutra vertical with their own call centers.
Wide selection of additional verticals: gambling, betting, dating, IVR, storefronts, and sweeps.
Extensive range of offers. Currently, there are 610+ products of various themes on the website.
GEO targeting options for various regions, including the CIS, Asia, Europe, and other countries.
Multiple payment models available: CPA, CPS, CPL, COD, and CPI. It is possible to start with a small budget.
In-house tracking platform and AI-based anti-bot system to detect undesirable traffic.
Referral system offering a 3% commission on the earnings of referred webmasters.
Support sections available, including an FAQ section with answers to frequently asked questions and a 24/7 ticket support service.
CPA.House gladly shares knowledge and experience with beginners. Even if you don't have any prior experience, feel free to reach out to your personal manager for advice on your campaigns and start generating profits.
Additionally, CPA.House provides a user-friendly and easily readable dashboard for their affiliates.
Here's how to drive traffic to CPA.House
Once you have successfully registered, click on the "Sources" section and add your traffic source from which you plan to drive traffic.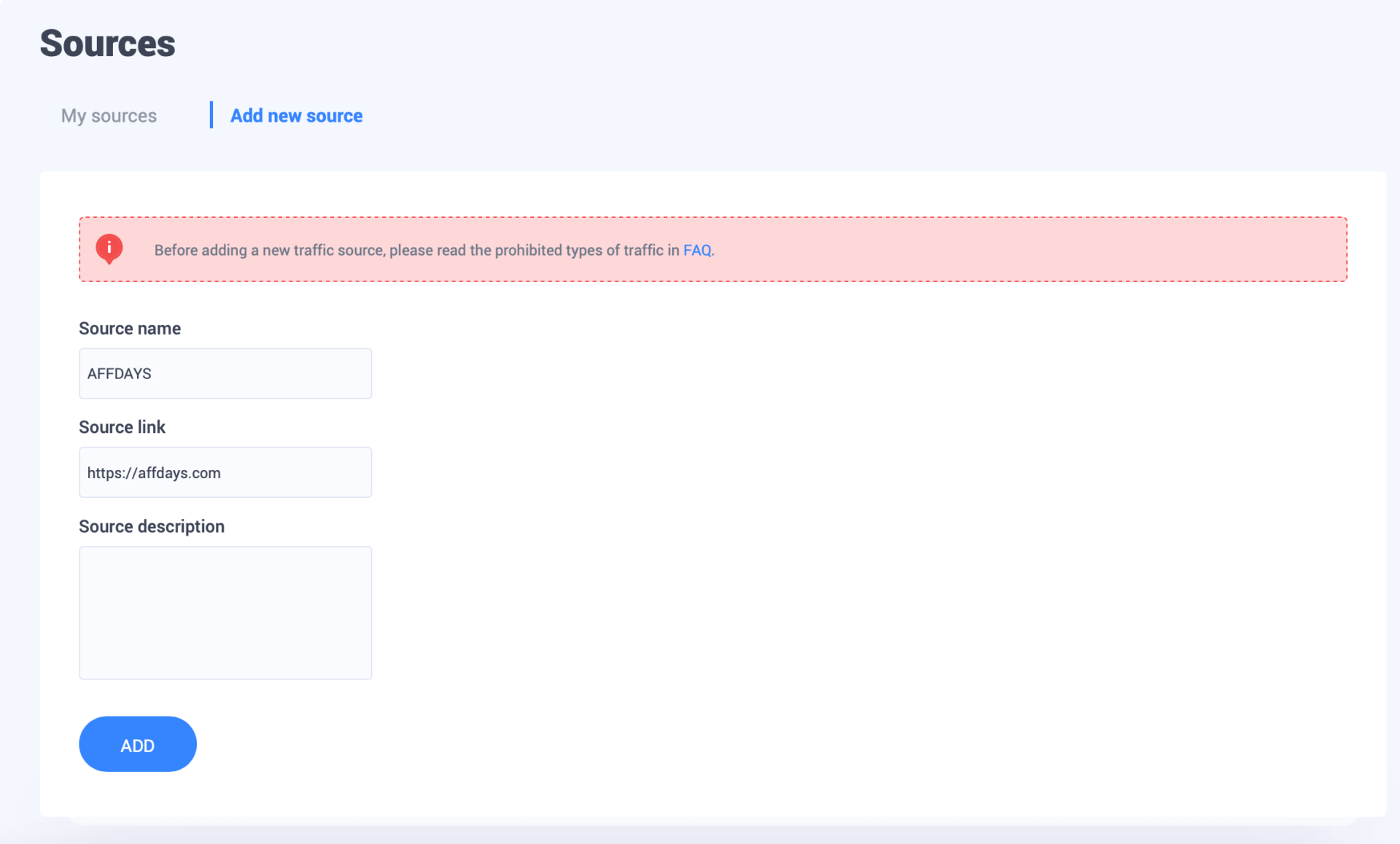 After adding the source, it will go through the moderation process. If everything is fine and the moderators have no questions, you will see a similar status in the sources section.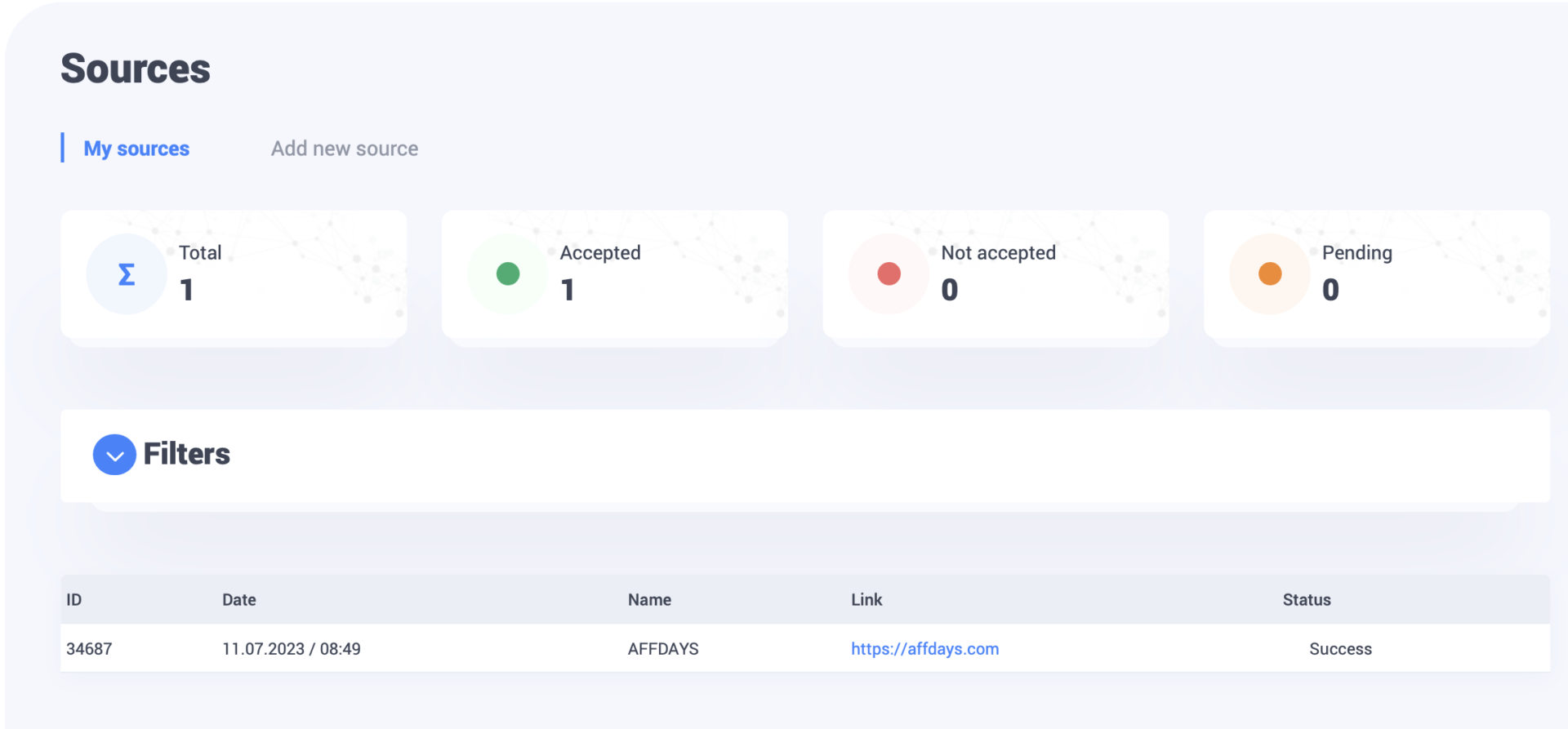 Next, select the offer that interests you. If you are a beginner affiliate, it is recommended to choose an offer with a simple action, such as a confirmed application or a payout for a phone call. You can use the corresponding filter to find such offers.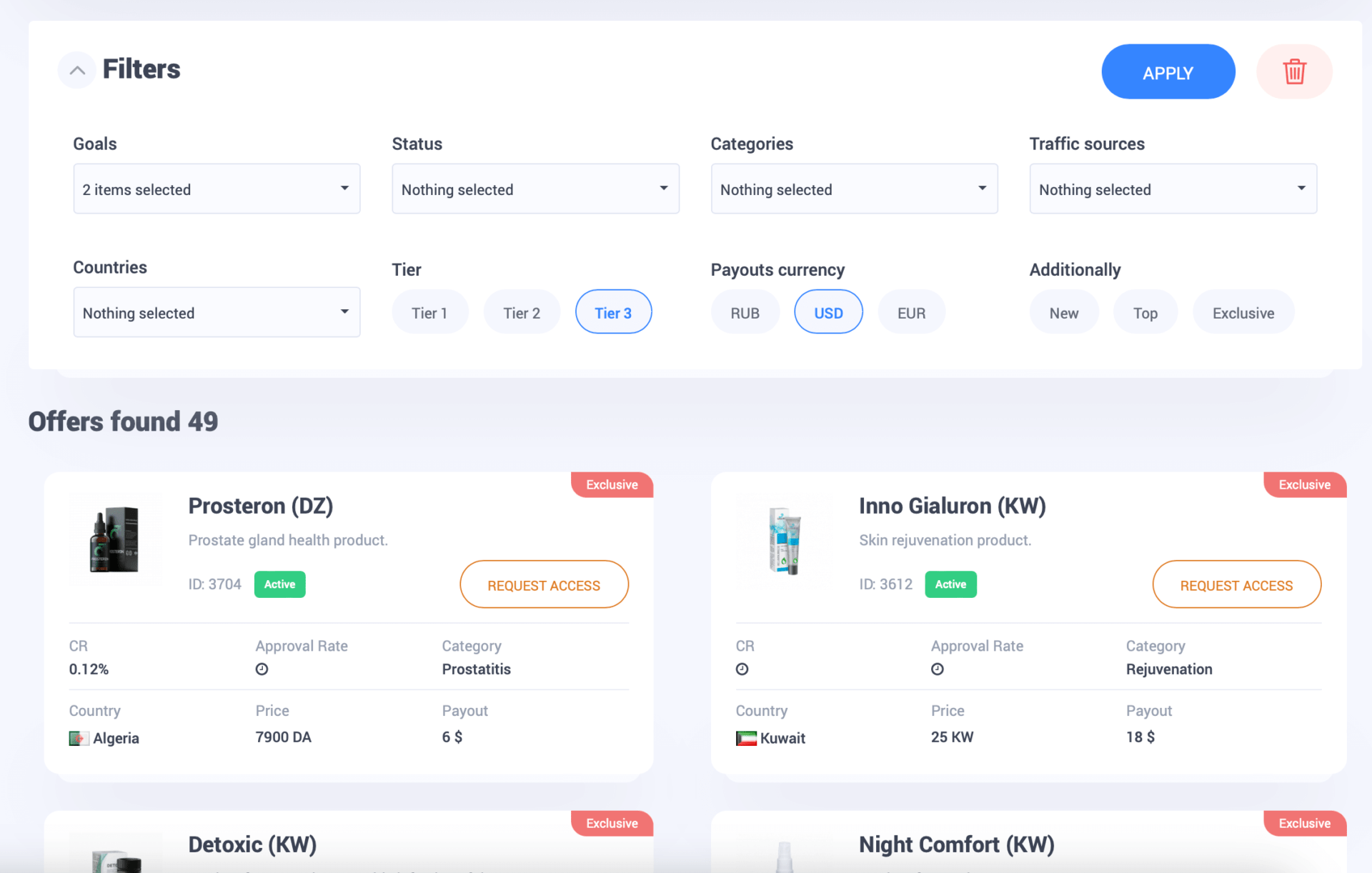 Pay attention to offers that have special rules mentioned in their descriptions. Make sure to study them before requesting access. Alternatively, you can contact your personal manager and discuss individual conditions with them. Otherwise, you assume full responsibility for your work and its results.
Once the moderator reviews and approves your application, you will receive a corresponding notification.
It's important to follow these steps and guidelines to ensure a smooth process of driving traffic to CPA.House and maintain a good working relationship with the network.
Now let's move on to creating a flow: open the chosen offer and click on "Create flow". Give it a name and select your traffic source.

Next, choose the offer language, responsiveness type, landing page, and transit page. You can create multiple campaigns for a single offer, which is convenient if you want to test the effectiveness of different pages on your website. Simply create a new link for each page and test them.
Configure additional parameters such as postback, metrics, traffic back, and more. Click "Save" and you will receive your advertising link.
Please note that the affiliate network does not accept traffic from bulletin boards, spam mailings, click exchange services, or traffic generated through cashback programs.
How to withdraw funds from the CPA.House affiliate program
For withdrawals, partners can use WebMoney, Yandex.Money, Qiwi, Capitalist, USDT (TRC-20) and To Push.House balance. Payments are made daily once the minimum threshold of 3000 rubles, 50€, or $50 is reached. There is a 7-day hold period. Verified partners with high-quality traffic may be eligible for early payments.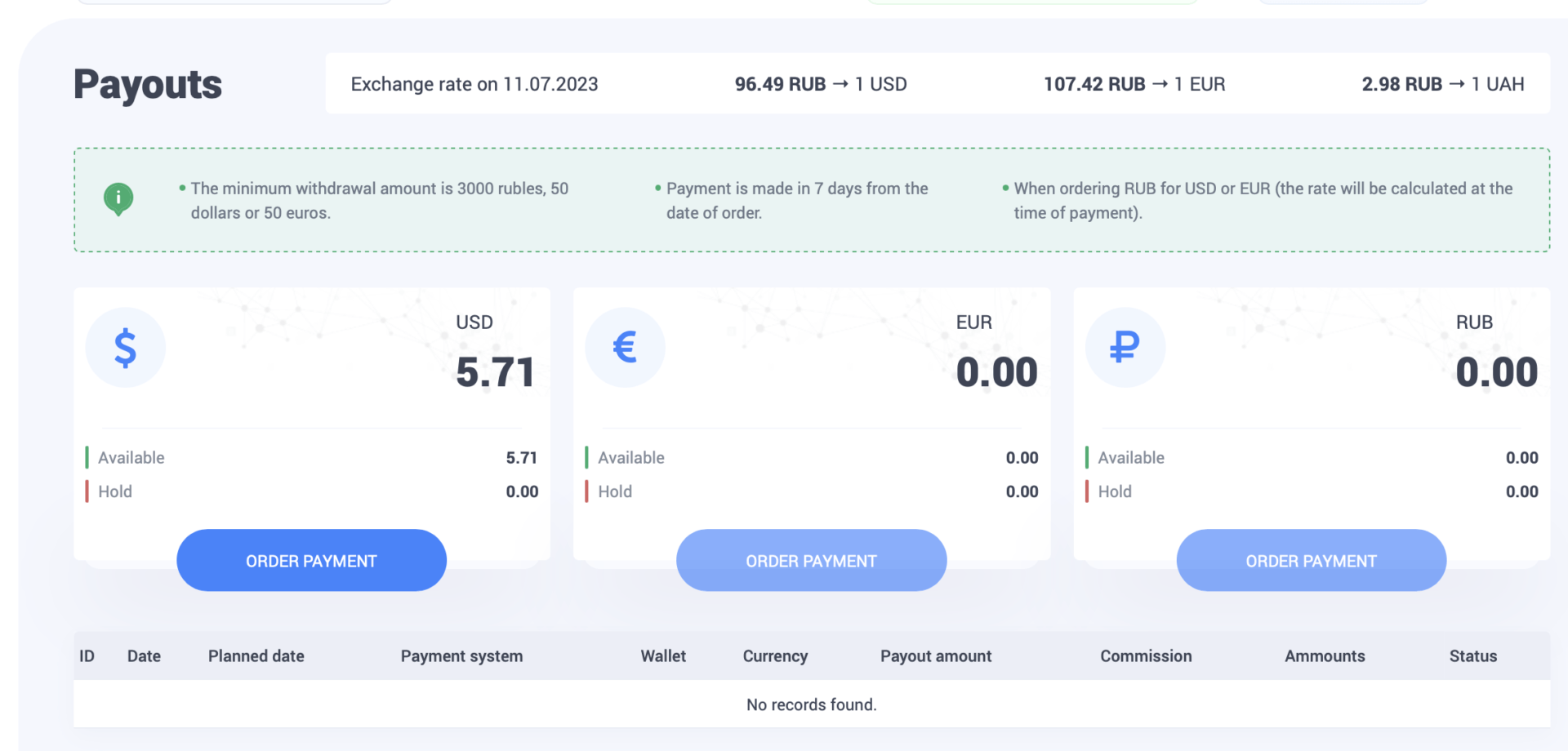 Reviews about the CPA.House affiliate program
As usual, we encourage everyone involved to share their feedback in the comments below and talk about which offers have shown good conversion rates, how the approval process and payments are going, and the professionalism of the support in this affiliate network. Case studies are welcome.
For those who are interested, here are the links to CPA.House media resources:
Support: 8 Technologies: 10 Quality of offers: 6 Reliability: 7
I've tried various affiliate programs but this one stands out. brand is wellknown and that makes it easy to attract players… conversion rates are impressive, no shaves, only profits 🙂