JBO Marketing
JBO Marketing is a modern affiliate program that can be used for making money by both experienced webmasters and beginners. The managers are welcoming to everyone and provide assistance at all stages for those running campaigns on social media, SEO, Adwords, push notifications, and much more. It's evident that the creators keep up with trends and value audience feedback — there's a user-friendly interface, cryptocurrency payments, and cool merchandise. Read the review to discover all the unique features of this affiliate program!
JBO Marketing — What's Important to Know Before Getting Started
JBO Marketing is an affiliate program that allows you to work with over 50 countries and 100+ offers. The program specializes in crypto and forex, offering open registration and three-level statistics.
Managers regularly provide advice on offers worth paying attention to. According to their opinions, the top 3 currently include Immediate Connect, Immediate Edge, and AI Trader. These are worth considering for both newcomers and professionals.
JBO works with a variety of traffic sources, including:
Social media — TikTok, Facebook, Telegram, Instagram, and others.

Google Adwords — banners or advertising posts.

SEO — website optimization and inclusion of low-frequency keywords.

Push — pop-up advertising notifications on news websites.

Email — offers in email campaigns.

Native — organic integrations in posts or on websites.
Registration with JBO
Registration is open to everyone on their website and can be completed in a few minutes. Visit the homepage and click the "Get Started" button.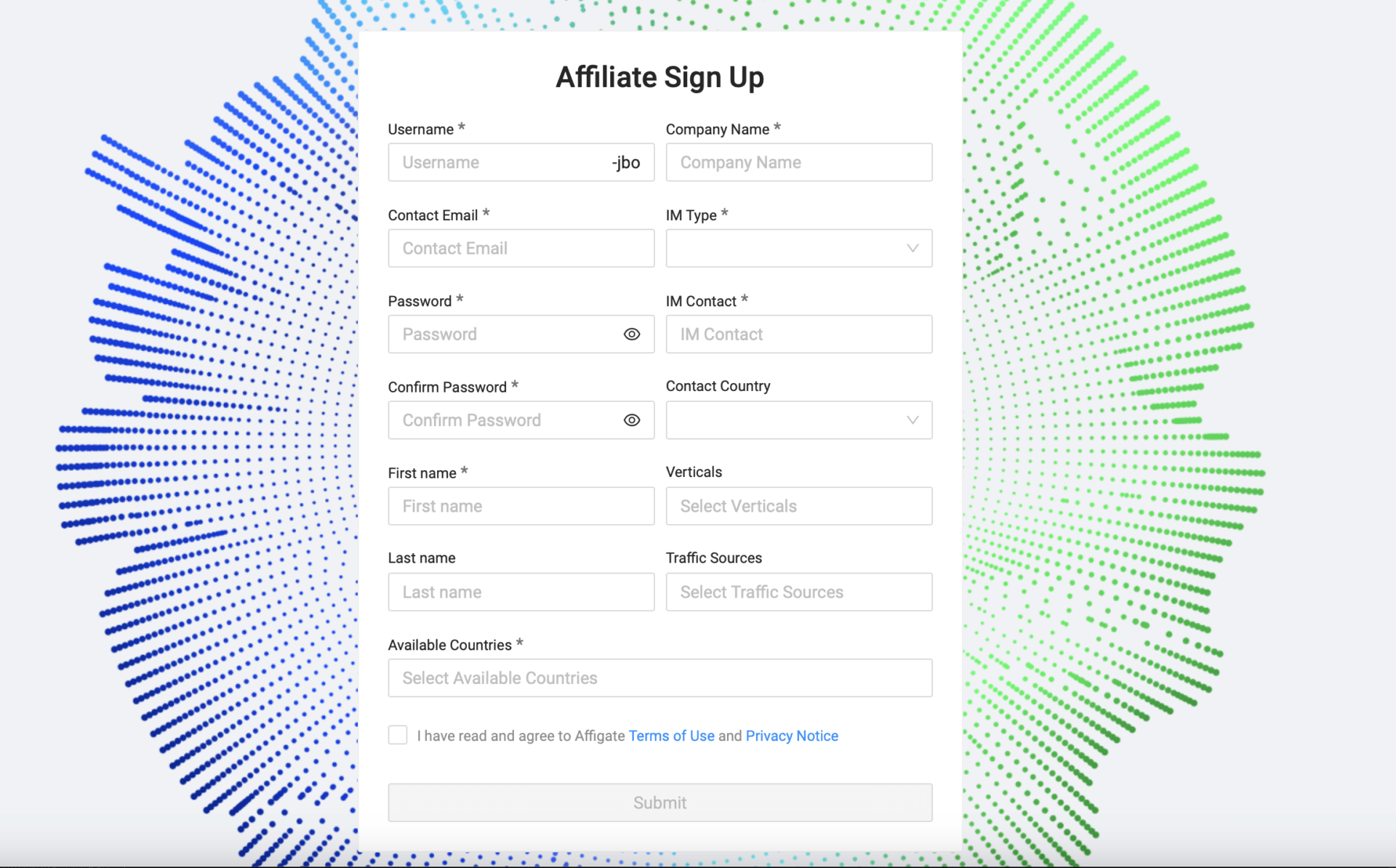 Then fill in the fields in the opened form:
Username

Email

Password

Personal details

Company name

Messenger

Personal contact

Verticals

Traffic source

Countries you plan to work with
Agree to the partner agreement and user terms, then click "Submit." After that, your application is considered submitted.
Wait until you receive an email like this:
This means that your account is under moderation. After this process, you can log in to your personal account using your username and password to start working.
JBO Marketing — What's in the Dashboard?
The affiliate program's dashboard is very user-friendly and intuitive. It's easy to navigate because the functionality is similar to other affiliate programs.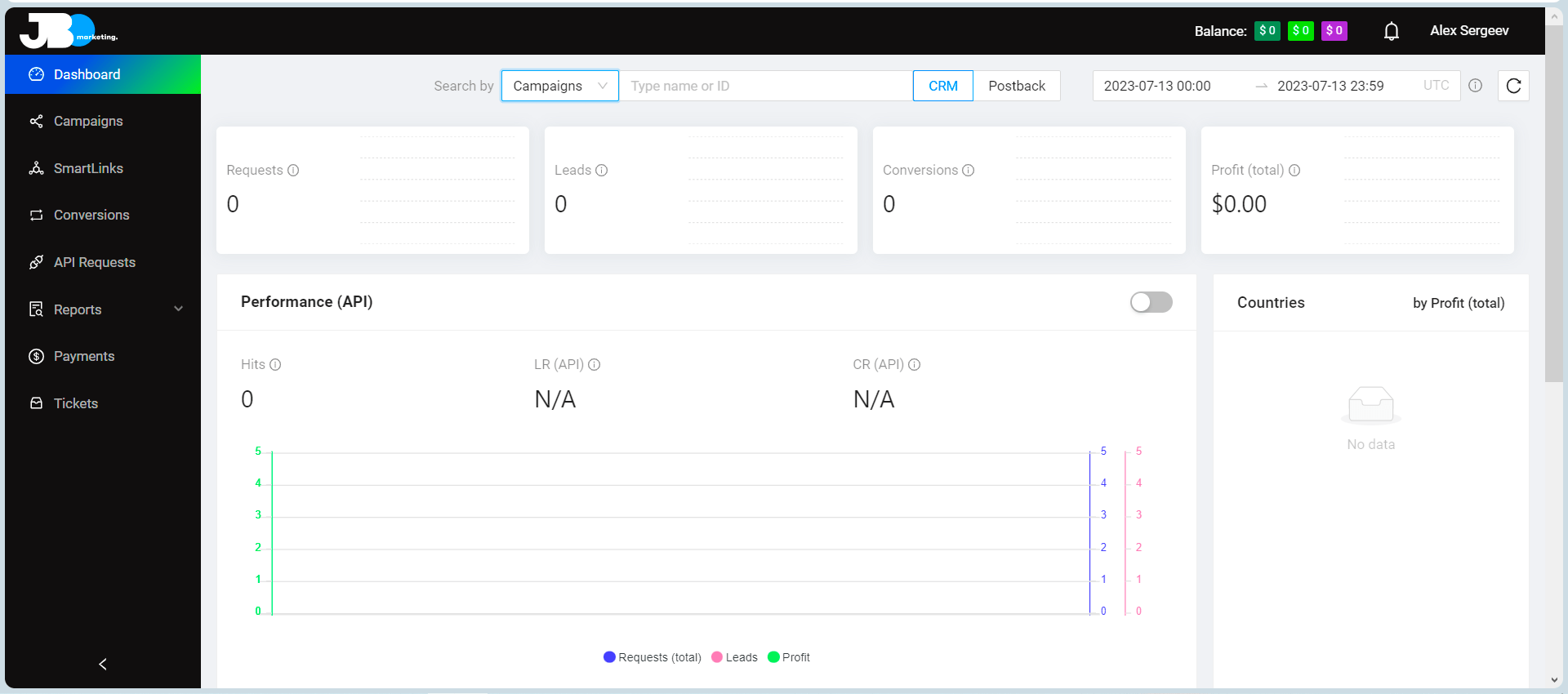 Inside, you'll find everything you need:
Campaigns

Smartlinks

Conversions

Reports

Payouts

Tickets
Webmasters immediately gain access to 13 crypto offers with detailed statistics: flows, landing pages, and data.
You can manually customize statistics by various metrics in a dedicated menu.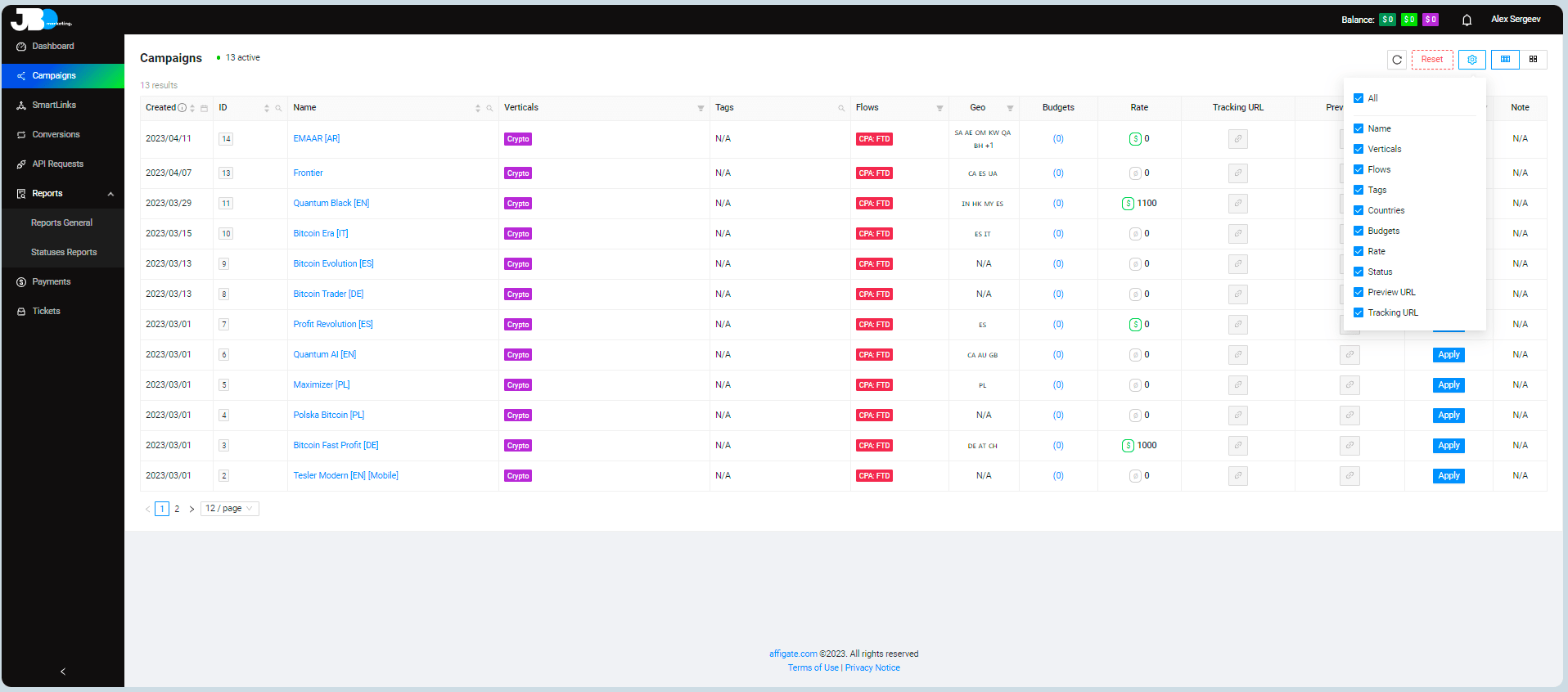 Let's take a closer look at the data you can highlight:
Overview — data by GEO, campaigns, smartlinks, devices, or OS.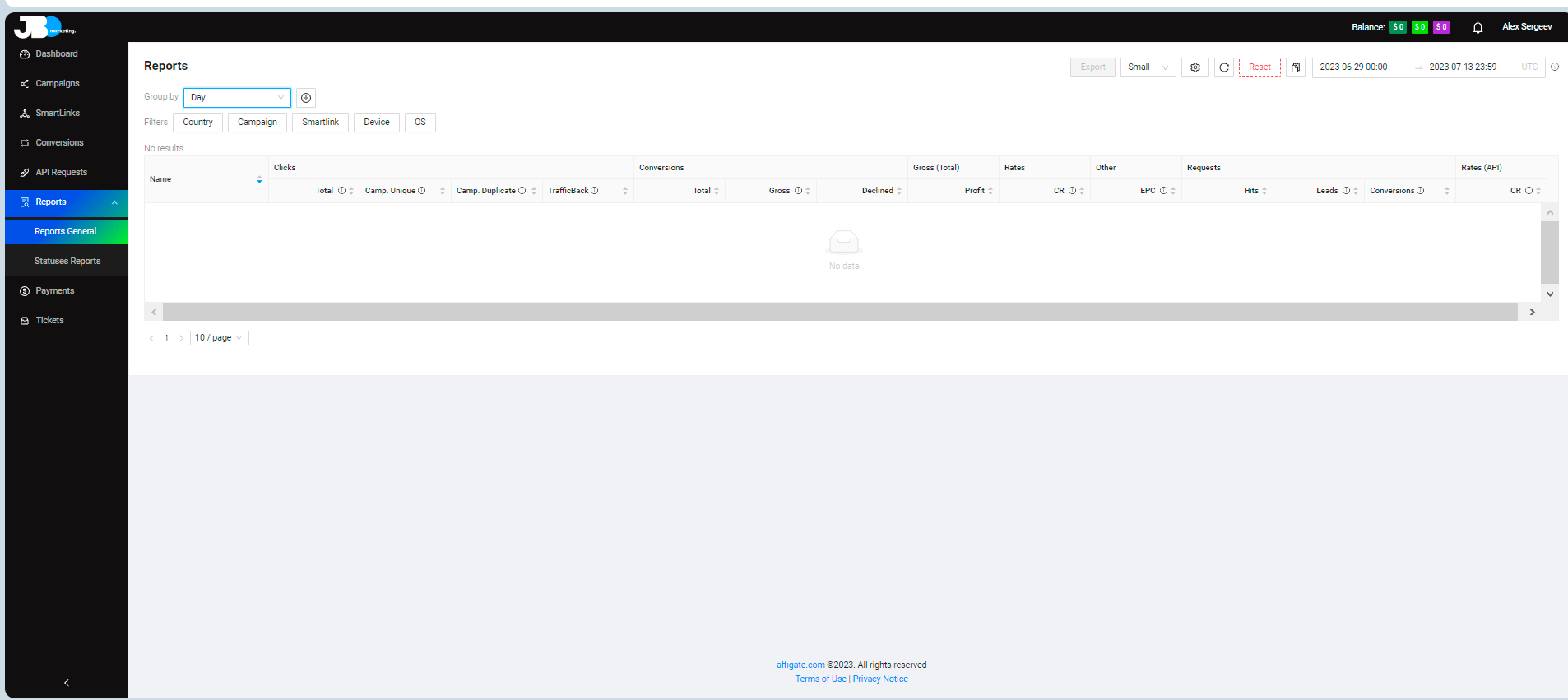 "Status Reports" — a filter by country and type.
In a separate section, you can find account owner information — details provided during registration, postbacks, contact details of your personal affiliate manager, and statistics.
Money-making with JBO Marketing
To start making money with the affiliate program, follow these steps:
Register.

Choose a suitable crypto or forex offer.

Read the terms.

Request access from a manager.

Receive confirmation within an hour.

Start a campaign.
Both newcomers and professionals can confidently seek advice and ask questions from their personal manager. They will guide you on the best campaign strategies, creative selection, funnel enhancement, or offer alignment with traffic types.
Why Webmasters Choose JBO Marketing
JBO Marketing is worth considering due to its numerous objective advantages. Here are just a few of them, making working with this program even more rewarding:
Wide selection of powerful crypto and forex offers.

Opportunity to work with 50+ countries.

New webmasters receive +10% on their first 10 FTD.

A bonus system, such as an extra $100 added to payouts. The terms change regularly, so it's best to clarify exact bonuses with a manager.

Many convenient tools for work.

Weekly payouts without delays.

Offers are paid without hold.

Bright creatives for various target audiences.

Managers with strong expertise in the vertical, providing advice and assistance.

Integration with JBO is possible through API or reverse tracking.

Up to 9 subaccounts can be linked to the program.

Comprehensive statistics across multiple parameters, including three-level statistics.

2% referral program.

Stylish JBO Marketing merchandise for affiliates.

Discounts available for Keitaro.
Technical support and communication with affiliates
Support managers respond within minutes.

Approval speed for offers requiring access is within an hour.

Support operates even on weekends.

You can contact them via Telegram or email, and for marketing proposals, reach out on LinkedIn.

Support managers help webmasters choose private payment systems that work with Facebook, Google, and TikTok.
Withdrawal and Payment in JBO Marketing
Payment and withdrawal terms are comfortable and suitable for most affiliates:
Payments via USDT.

Withdrawals every Monday.

No hold period.

Minimum withdrawal amount is $100.

ERC, TRC, BTC are available; additional payment methods can be discussed with a manager and added upon request.
An emergency payout feature is available; if you need urgent payment, you can request it from a manager and receive money on any day. Two payment models: CPA — payment for action, CPL — payment for lead.
JBO Marketing Affiliate Program — Reviews
Share your reviews about working with JBO Marketing in the comments of this article! Share your case, the benefits of working with the program, and your experience with the managers. Attach screenshots of statistics to make your experience more helpful for other webmasters.
Create an account with JBO Marketing and start campaigns with top offers at maximum rates. Don't forget to share your earnings and follow the affiliate program's news on their LinkedIn page.