LemonAD
LemonAD is an affiliate network and direct advertiser in the nutra, adult, and e-commerce (whitehat) verticals. They have been in the market as an advertiser for over 9 years and as an affiliate network for over 2 years, previously working exclusively in private access. They offer over 500 different offers to affiliates with the most profitable GEOs among Tier-2 countries.
As an affiliate network that also functions as a direct advertiser with its own call centers worldwide, LemonAD boasts average payouts from $18 and an approval rate of 35%.
If an affiliate encounters any problems during the registration or uploading of an advertising campaign, professional managers (former webmasters) are always ready to help.
Advantages of LemonAD:
They have their own unique products.

500+ different offers (beauty, health, goods), 90% of which belong to the affiliate network.

Private offers for the Emirates and Saudi Arabia, a large selection of offers for Egypt. More than 20 offers for Malaysia with a starting rate of $15.

Rare GEOs: Myanmar, Laos, Saudi Arabia. The affiliate network covers 65 countries on 5 continents.

Own call centers around the world.

Daily payouts.

Professionally trained personal managers that are available 24/7.

Technical support operates in 4 languages (Russian, Ukrainian, English,

Lithuanian and Estonian

)

). The response time is instant, and there is a

 

Telegram chat

where they will answer any questions.

A large number of pre-landers and landing pages that are updated every 2 weeks, plus the availability of promo materials for each offer.

LemonAD always goes the extra mile for affiliates: if you need individual conditions, want to add a new product, or need to update offer materials, the affiliate network provides all the conditions for success.

A convenient "Help" section, where an affiliate can find answers to relevant questions: "How to connect the API", "Set up integration with trackers", etc.
Also, the affiliate network offers a simple and fast registration process. Use your Telegram account and log in to your account in 1 click. LemonAD has reduced the path from registration to traffic monetization to a minimum. Webmasters don't need to talk about past achievements and prove it with screenshots – you come here to earn money, and they help you do that.
The dashboard stands out for its convenience and intuitive interface both on desktop and mobile. All elements are distributed concisely and are in their proper place. Upon entering the dashboard, the affiliate will immediately see the overall statistics for the day, just above – earnings with the "Request a payout" button, and to the right is a list of the best offers.
The statistics display detailed information on the traffic, which can be filtered by GEO, offer, combination, region, UTM-tags, and dates. There is also a convenient grouping of clicks/leads by any metric.
At the same time, in the personal account, you can view information on each lead and even call, find out the reason for the hold or refusal — a cool feature, now you can not guess why customers hang for a week and are not approved. Each webmaster can find out how many times their clients were called, why they refused, and what comment the operator left.
Review of offers in the LemonAD affiliate program
Now let's take a look at what specific offers LemonAD has and on what terms:
Ketolipozin IQ. Classic weight loss product – helps to lose weight and control appetite. Payouts – $9 per lead, GEO – Iraq. For successful promotion, the internal team provides tested pre-landers, over 6 landing pages with before/after results and promos with detailed description and real product photos.

Flexibility PH. A joint cream for the Singapore market. The advertiser offers 3 pre-landers and 3 landing pages (2 of which are in the native language of the Singapore and 1 in English, which is the second native language of Singapores). Note that each offer has its own rules and prohibited traffic sources.

Maxup caps. Vegetarian tablets to maintain male potency. Payout – $12 per lead, GEO – Malaysia. The affiliate program offers a choice of 3 prelandings, 5 landing pages and promos in the local language. When creating a flow for this offer, don't forget to pay attention to prohibited traffic sources.

LemonAD also has many private access offers. If none of the available products interest you, feel free to contact your manager – they will find an offer that fits your needs.
Features of LemonAD affiliate network
Let's take a look at the main features of LemonAD that every affiliate should pay attention to when choosing an affiliate network:
Direct advertising with perfect fulfillment (own production, trademark, logistics).

500+ in-house offers with a wide selection of GEOs – 35+ countries on 5 continents.

Stable approval. Thanks to its own call centers in each GEO, affiliates can count on a minimum of 35% approval.

Professional approach to creatives. Each offer card has at least 2-3 warming up pre-landers, landing pages, and promos with detailed descriptions and live footage of the product in the target language. The affiliate program can also help with translating your creatives.

Payments on the day of request and bumps for verified affiliates. The affiliate network is always ready to discuss individual cooperation conditions with corresponding volumes.

Current technological solutions – postback, API, landing page rotation.

They also introduced

additional monetization

– for each approve from it you'll receive 70% of the offer's rate. The additional monetization is available for India, Columbia, Mexico, Peru, and Guatemala, but soon they are going to cover all GEOs. If you want to connect to the additional monetization and get more information about it, contact your manager.

The network also has a referral program. Bring referrals and get 5% referral deductions for 180 days, then 1% forever!
In addition to a personal manager who is ready to answer any of your questions, the affiliate program also provides training for newcomers. In your personal account, you will find short guides on setting up a flow, postback configuration, and API integration.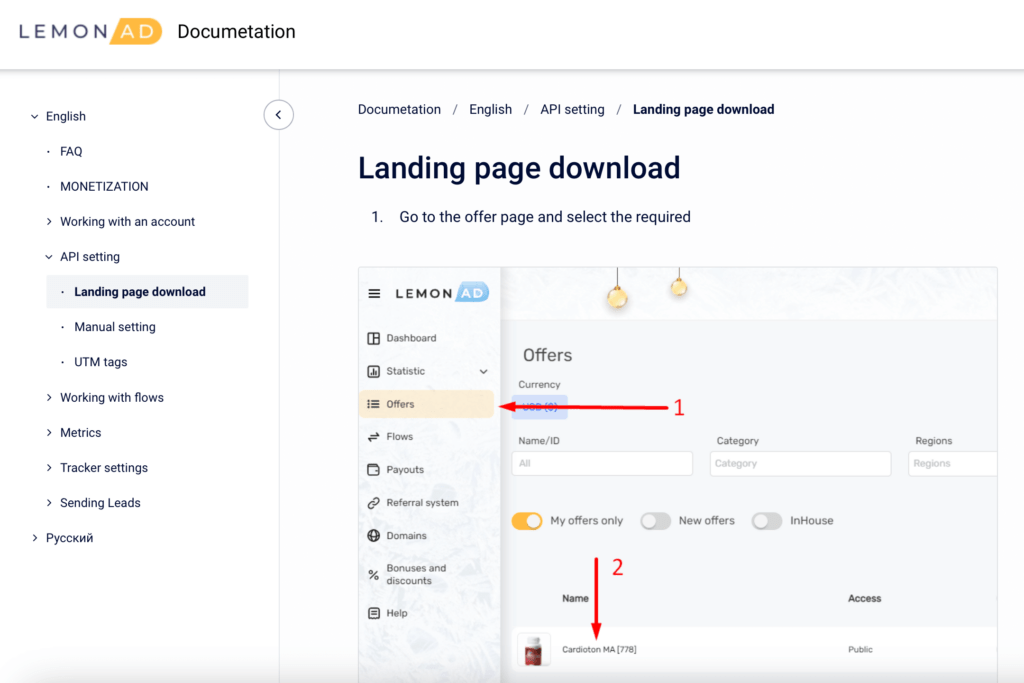 Withdrawals in LemonAD are processed on the same day upon request from the webmaster. Funds can be withdrawn to:
WebMoney. A 3% bonus is provided when withdrawing to WMZ.

Wire transfer (to cards).

Bank account of a legal entity.

Withdrawal to USDT (e.g. to Trust Wallet).
How to drive traffic to LemonAD
LemonAD accepts all types of traffic, except for push notifications, clickunders, popunders, messengers, email newsletters, and spam. To get started, simply create a flow for any of the offered offers by following these steps:

In your personal account, go to the "Offers" section, choose a product you like, check out the creatives, and click on "Create flow".
In the form that appears, give the flow a name and check the boxes next to the pre-landing pages and landing pages that you want to participate in the rotation (or select one creative). You can also set up a traffic tracking counter. Yandex Metrica, Google Analytics, and Facebook Pixel are available for selection.

Then click "Save". After that, the flow will be displayed in the description of the selected offer. Here you can also grab your generated link.

If you want to get more information about your traffic, we recommend setting up a postback. In your profile settings, click "Add postback", add subs, and check the boxes next to the required statuses.
Reviews of LemonAD from affiliates
"These guys have a number of exclusive GEOs with top offers that you couldn't even dream of, where clicks cost 0.01 and leads are 30 cents! Just contact your managers! In short, I recommend it"

"Pleasant affiliate program with a good range of offers. Caps are given, rates are raised, managers Svetlana and Sergey are always keeping in touch with me, promptly help to solve problems and help with the selection of combinations. I've been driving traffic to Lemonad for a quite while and will do more :)"

"Stable affiliate program with good rates and pleasant approval. We promote to Indonesia with them, offers are of best quiality. Special thanks to the managers, you are the best!"

"We've been working with LemonaAD for a long time. Lisa is our manager, we've known each other for a long time, we're satisfied! We plan to continue driving traffic to them, they make payments on time, always in touch. Lemonad one love"

"It's the best affiliate program for teaser-makers! The coolest thing is that there are rare GEOs where you can buy cheap traffic in teasers. There are many interesting offers that take off the first time. In general, the guys are good, they know their business. It's pleasing that everything is clear with payouts, they pay on the day of request."
Conclusion
In just a couple of years in the market, LemonAD has established itself as a high-quality and unique affiliate network. Plenty of offers on the most unusual GEOs, a variety of pre-landers and landing pages for each offer, technically competent managers who understand affiliate marketing – this is what LemonAD is all about. An affiliate only needs to register and drive traffic, and the affiliate network will take care of the rest.