LuxeProfit
Have you heard of an affiliate network that not only accepts push traffic but also prioritizes it, raises bids, and offers better conditions? We have not come across such networks.
It is common to give preference to ASO, SEO, and PPC traffic, and less often to Facebook, while teasers, pops, and pushes usually remain a last resort, and advertisers are not willing to accept a lot of traffic from these sources. It is believed that players with little money come from such sources and they are unable to generate income for advertisers.
However, the guys from LuxeProfit believe that this is a big mistake. They offer good conditions and high rates to affiliates who drive push traffic. Our task is to see what the LuxeProfit affiliate network is and what advantages it has over other networks.
What you need to know about the LuxeProfit affiliate network
LuxeProfit is an affiliate network that came out of private access in 2019 and now offers over 1,000 offers for affiliates for any GEO. The creator of LuxeProfit is Evgeny Ovchinnikov, an affiliate who has been working with gambling, betting, and nutra offers for 18 years.
They accept traffic from any source but focus specifically on push traffic. Moreover, the LuxeProfit team considers push traffic to be much better and of higher quality than that from Facebook. They are also willing to teach affiliates how to generate similar traffic.
The Media-buying experts are ready to share secrets and insights. These experts provide the affiliate managers with good combinations, and the managers are happy to share them with affiliates. Each affiliate is assigned a personal manager who is available to help 24/7, regardless of volumes.
They offer cooperation on the CPA basis and fairly high rates for many offers. There are also exclusives that are not available in other affiliate networks. Before an offer is listed, it is first tested by media-buying experts. Individual cooperation terms are possible for affiliates who proved their expertise.
Advantages of working with the LuxeProfit affiliate network
LuxeProfit is not just another affiliate network, but a team that knows exactly what needs to be done to ensure that everyone makes money. Therefore, working with LuxeProfit has a number of advantages:
Over 1,000 offers

– the focus is on the gambling vertical, but there are also adult, crypto, nutra, dating, mobile, installs, sweepstakes, and others;

Minimal threshold

– some offers even have no threshold at all, so you can request payment immediately;

Individual terms

– proven affiliates can count on rates increase, early payments, and access to private offers;

Excellent media-buying experts share their working insights

– not only do they test offers but also share combinations which often show good results;

Affiliate managers who understand affiliate marketing

– they will help you and provide the necessary assistance day and night. Your manager's answers will not leave you with the feeling that they don't understand affiliate marketing;

Detailed statistics

– you can find out about your traffic and leads literally everything since the personal account is based on Affise, which is known to many affiliates;

Contests and promotions

– LuxeProfit regularly organizes contests and promotions for affiliates. By the way, the team mentioned that they plan to have even more promotions for their affiliates this year;

Discounts on services and tools, help with payments, agency accounts

. If you want a discount, contact your personal manager;

Stable cryptocurrency payments from $200

– there is also a possibility of early payments.
And that's just part of the advantages of working with LuxeProfit. It should be noted that judging by the service, the team is truly "luxe" and has good expertise. This is always reliable cooperation with good conditions.
Registration in LuxeProfit and personal account review
To start working with offers from LuxeProfit, you need to register. To do this, go to the official website and click the "Start Now" or "Sign Up" button:
A login form will appear, and you need to click "Create Account":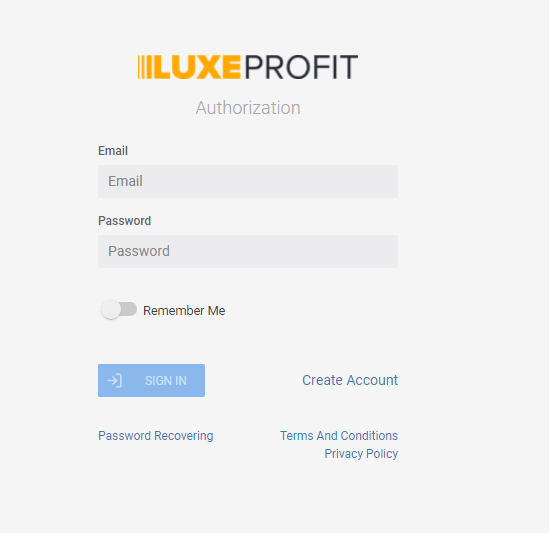 Now fill in your details:
email address;

password;

Telegram username.
You also need to agree to the rules and the processing of personal data. And an email will be sent to confirm your account:

Registration in LuxeProfit is closed – after you create an account, a manager will contact you and ask a few questions. You will need to show your statistics, and then the interview itself will take just a little time.
As we noted above, the personal account is based on Affise, which means you will find a familiar interface that is simply impossible to get lost in, even though the interface is entirely in English.
The main page is the dashboard. Here you will find your manager's contacts, your daily statistics, statistics for the last 10 days, and new offers. On the top right are the settings, logout, and the switch from the day theme to the night theme. On the left is the navigation menu.
The "Offers" section has three subsections:
"All" – all offers;

"Available" – available offers;

"Live" – offers that are currently receiving traffic.
The offers have filters by category and GEO, as well as a search by name. Not all products that you can drive traffic to are listed in the listing. More than half of them are in private access and are connected through a manager.
In the general list of offers, you will find the product name, vertical, rate, and GEO, as well as CR and EPC.

If you delve into the offer itself, you can find all the information about the ad, creatives, set up sub-accounts, study permissible sources of traffic, set up postbacks and pixels.
"Statistics" – all your statistics. It is very detailed, you can track statistics by days, conversions, offers, browsers, OS, devices, countries, cities, sub-accounts, and referrals.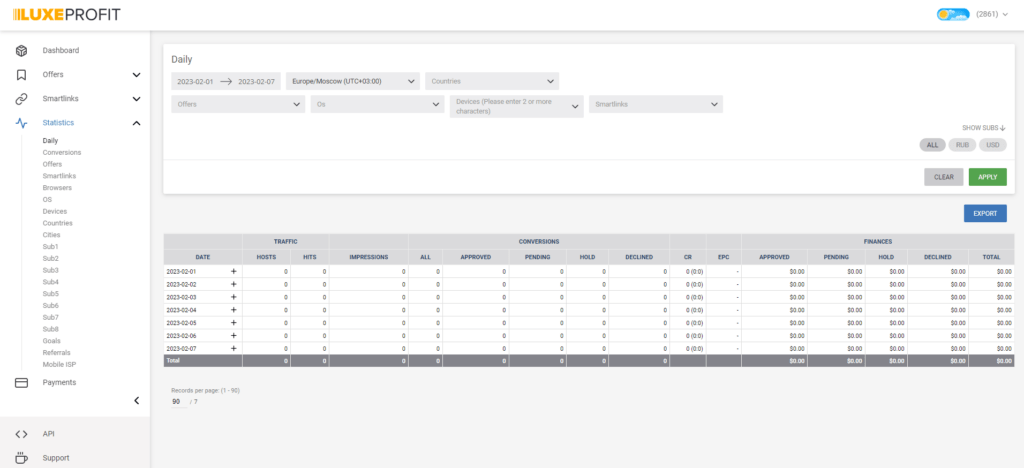 There are filters for generating reports, as well as the ability to export statistics for a specific period.
"Payments" – payment history, and in "News" – all important news from the LuxeProfit affiliate network.
How to make money with LuxeProfit's offers?
To start earning on LuxeProfit, you need to choose an offer. After registering, go to the "Offers" section → "All" and choose the one you like.
Then click on the offer name and go to the flow configuration card. In the "Domain" line, choose a domain. Below, set up sub-accounts, choose a landing page.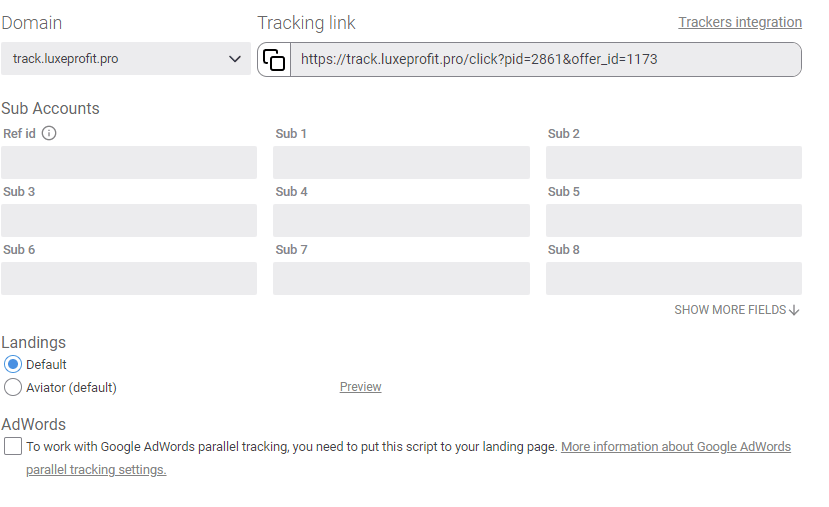 Further down, we click on "Global postback" to set up a global postback and "Add Postback" to set up a postback only for this offer. Click "Add Pixel" to add a pixel to the landing page.
After that, we copy the link from the Tracking Link and start setting up advertising.
Best offer to promote in LuxeProfit
The guys shared with us their best-performing offers that currently provide great ROI to affiliates, and we are sharing this information with you.
Pin Up [BR]
Payout – $20; 

GEO – Brazil. 
A well-known brand worldwide, with top-notch slots and good conversion. Pin Up offers always perform well. The team works hard on player retention, provides good welcome bonuses, and adapts the site to the features of GEO.
Pin Up [KZ]
Payout – $20; 

GEO – Kazakhstan. 
Pin Up again, but this time for players from Kazakhstan. The brand is well-known in this GEO and has a good reputation. The promotions and bonuses are specially designed for KZ players. By the way, people in Kazakhstan are quite fond of gambling, so we recommend taking a closer look at this offer.
How to withdraw money from LuxeProfit?
Money is paid weekly in USDT and Capitalist. The minimum payout amount is $200. It is possible to agree on a payment upon request – you need to discuss it with your personal manager.
You can also ask to add a payment method if you find it inconvenient to receive money in USDT. To add payment details:
Click on the account ID in the upper right corner of the screen;

Select "Settings" and then "Payment systems";

Click on "Add payment systems";

Choose the payment method, enter the details, and click "Add payment systems" again.
If you have any problems or questions, don't hesitate to contact the LuxeProfit manager.
Summary
LuxeProfit is a reliable affiliate network founded by true professionals in the industry. It is more than just another affiliate network, but a strong product that can provide affiliates with expertise, help with traffic sources, and increase their budget by advising on profitable offers. If you want to work with people who understand that partnership is not just about providing access to offers but about constant collaboration, LuxeProfit is what we recommend.
Support: 10 Technologies: 10 Quality of offers: 8 Reliability: 9
High commission rates and user-friendliness of the platform were a game-changer for me. It's a win-win for both me and my referrals.