RevenueLab
Today, we will tell you about the RevenueLab network, a gambling affiliate program that has been operating since 2011.
Gambling is a vertical in which a good combination of skills can bring huge ROI, and the ability to work with traffic will allow you to regularly find these combinations. Moreover, it is one of the verticals that allows you to earn passive income if you work on RevShare. It's enough to bring quality traffic once, and you can watch your balance increase for a long time.
The success of gambling teams largely depends not only on their ability to find combinations but also on the affiliate program they work with. After all, today's affiliate programs are not just hubs with offers, but whole ecosystems where you can find everything from expenses to recommendations made by internal media-buyers.
What you need to know about RevenueLab
RevenueLab is an affiliate network that specializes in the gambling vertical. It has been operating since 2011 and provides over 1200 offers. They accept traffic from all over the world, match offers to your GEO, and provide competitive terms. RevenueLab operates on RevShare, CPA, Hybrid, Listing Fee, and Flat Fee models. The affiliate program has its own products and exclusive offers. The rates for many offers are higher than the market rates, and there is a referral program and proprietary media buying. Moreover, the media buying shares its expertise with verified partners, as RevenueLab is interested in making sure you drive traffic profitably.
RevenueLab affiliate network conducts various contests and promotions for affiliates. For example, there is currently a contest underway, where you can win two tickets to the UEFA Champions League final in Istanbul. To participate, you need to:
Drive traffic through RevenueLab to IPL;

Bring in the most players who make their first deposit;

Wait for the results.
You can find out more details on the official website of the contest.
Advantages of the RevenueLab affiliate network
We have carefully studied the affiliate program and feedback from webmasters about working with RevenueLab, and are ready to name the advantages of working with this affiliate network:
Specialization in one vertical.

When an affiliate program focuses on one vertical, it's always a plus. This means that the team doesn't spread itself too thin, improves its expertise in this direction, and seeks various ways to develop.

Large selection of offers.

RevenueLab provides more than 1200 offers in the gambling vertical. You will find popular offers with good rates, exclusives, and in-house offers.

Various payment models.

The affiliate program operates on CPA, RS, Hybrid, Listing Fee, and Flat Fee models. Everyone can find an option that suits their traffic and source.

Accepts traffic from around the world.

RevenueLab works with Tier-1, Tier-2, and Tier-3 countries, as well as is ready to connect with any GEOs required by an affiliate (even if it is not yet available in our portfolio) and offer competitive rates for these offers.

Real SEO and PPC experts.

If you work with these sources, you can learn a lot from RevenueLab. But besides this, the affiliate program accepts traffic from any sources.

Contests and promotions with generous prizes.

RevenueLab regularly holds contests for its partners. Valuable prizes are at stake, and the conditions are always reasonable and achievable.

Expertise sharing.

There is an internal media-buying team that is willing to share its combinations or provide advice to verified partners.

Responsive account managers.

Each webmaster has an account manager who responds both on weekends and weekdays. The maximum response time is 6 hours.

Guides for newcomers on platform operation.
Detailed statistics.

Breakdown by days in the personal account, sub-accounts can be set up.

Convenient withdrawal methods.

From cryptocurrency to Capitalist, and the ability to add a payment method upon the affiliate's request.
Moreover, RevenueLab has a convenient bot through which you can contact the affiliate network support and receive answers quickly.
How to register with RevenueLab
To start working with the RevenueLab affiliate network, you need to register. Here's how:
Go to the official RevenueLab website and select "I'm an affiliate."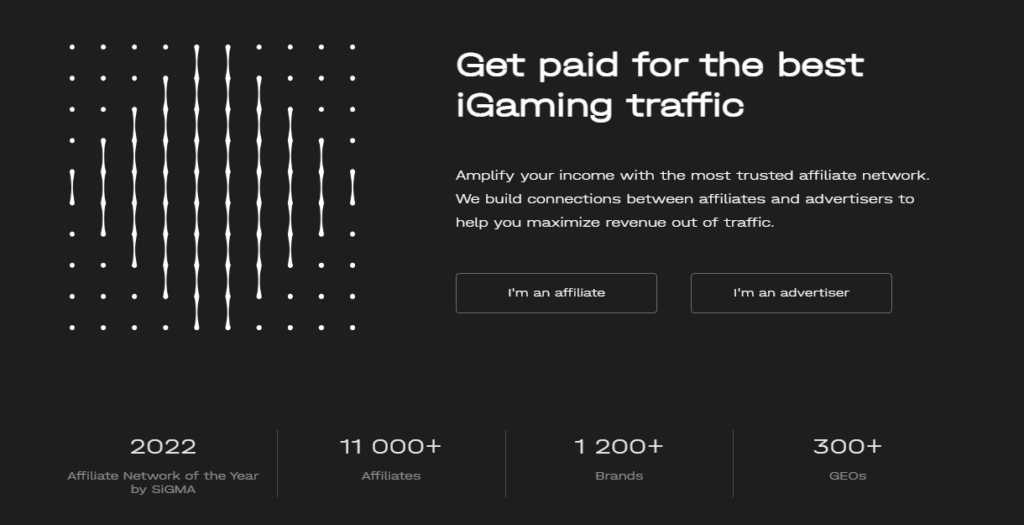 Fill in the registration form, including your login, email, password, and preferred method of communication.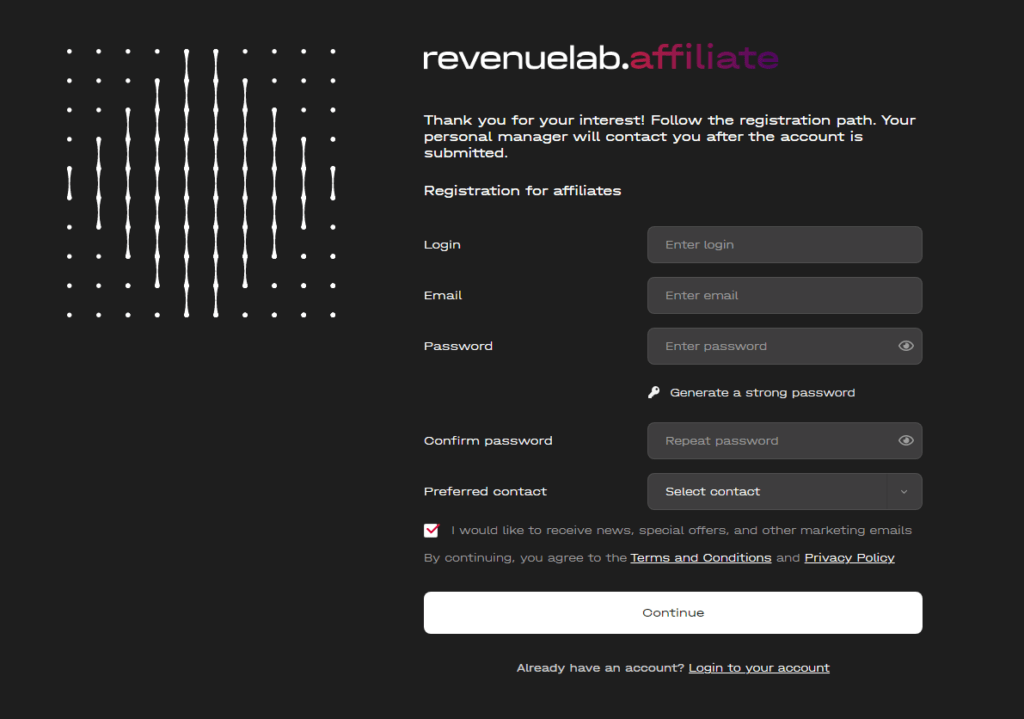 Enter the confirmation code that will be sent to your email.

Fill in additional information such as your traffic source, location, payment model, niche, how you found out about RevenueLab, your status, and experience.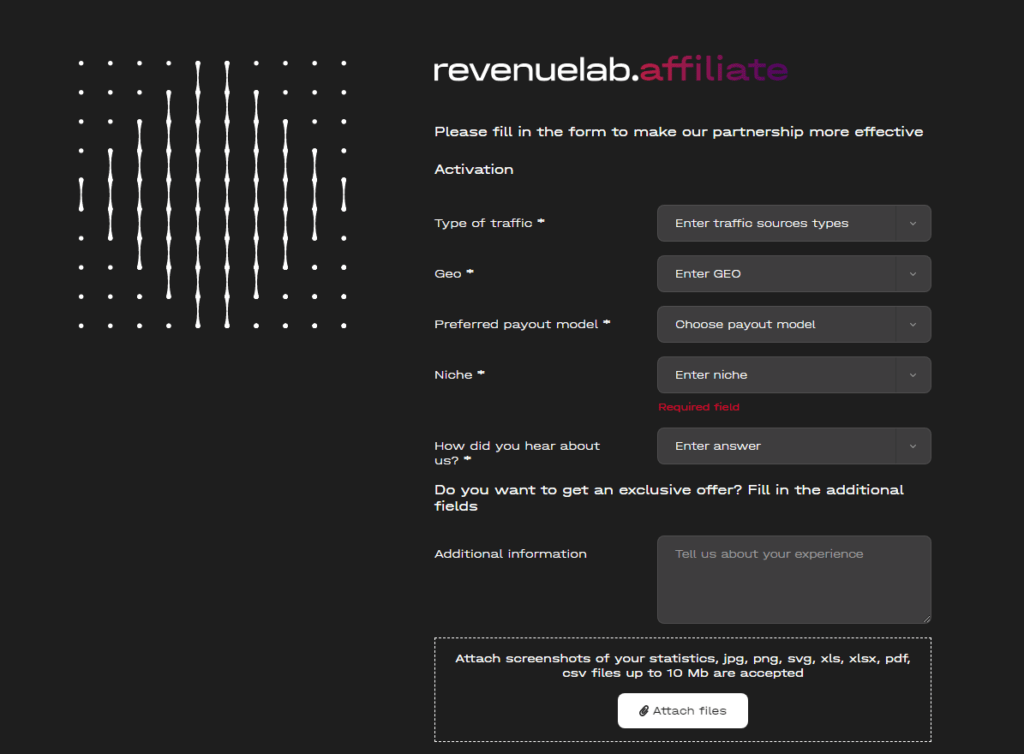 Registration is complete, and access to your personal account will be granted once managers verify your profile and contact you. This usually takes 1-3 days, but your account may be approved faster. Once your profile has been verified, you will receive an email notifying you that you can start working.
Review of the RevenueLab personal account
The first thing you notice when you log in to the RevenueLab affiliate network's personal account is its minimalism. Despite operating since 2011, the account does not have an abundance of menu items or subsections. This is refreshing, as many other affiliate networks can be overwhelming with their abundance of sections and subsections. Here, everything is clear, simple, and convenient.
On the main page, you will find:
Affiliate network subsections;

Support;

Personal account;

Banners with advertisements about contests and social networks;

A dashboard with statistics.
The dashboard can be customized to your needs. You can choose to display statistics by traffic source and for a specific period: today, yesterday, current week, or current month.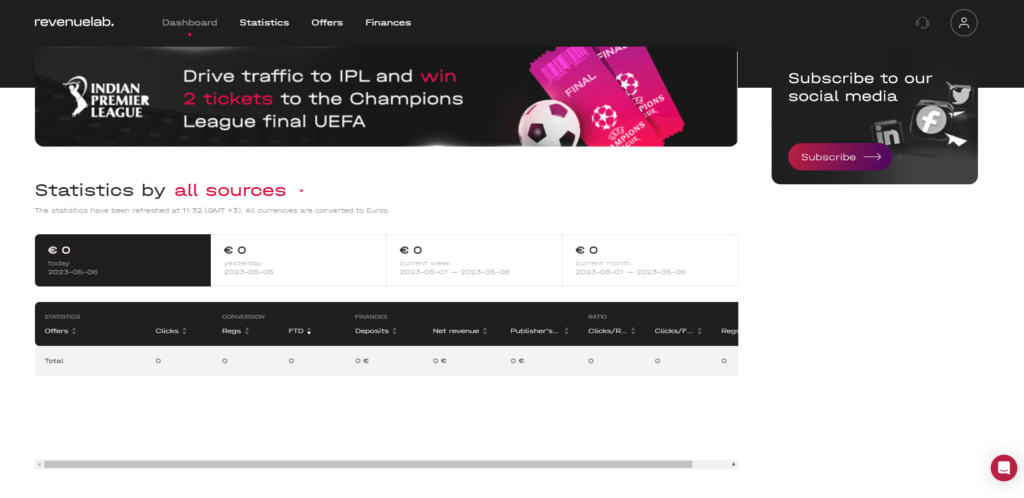 If you click on the personal account icon, you will find additional subsections of the affiliate network.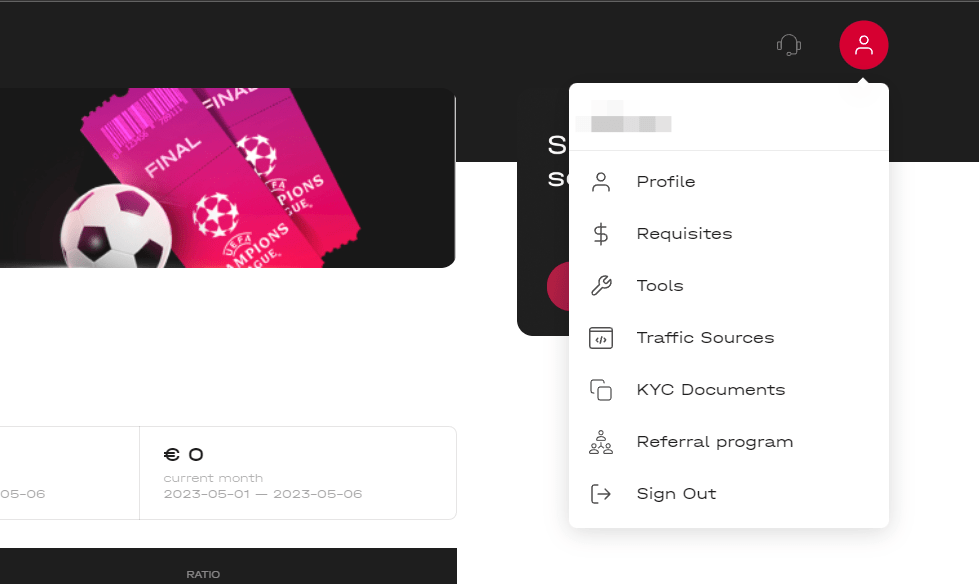 For instance, in the "Profile" section, you can change your password, contact details, system language, or provide information about yourself.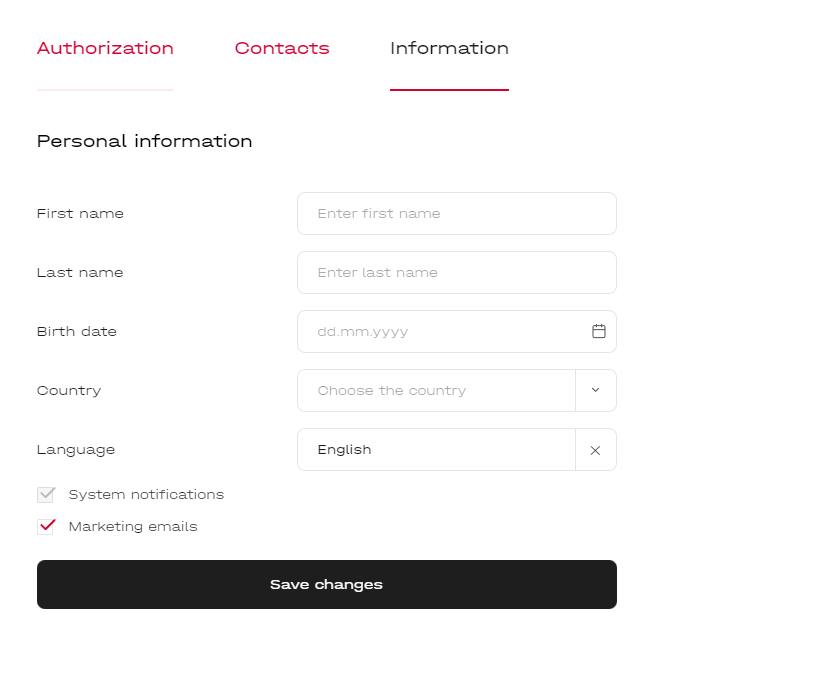 In the "Requisites" section, you can add withdrawal methods for your earnings, while in the "Tools" section, you can obtain an API, set up postbacks, and view statistics related to postbacks.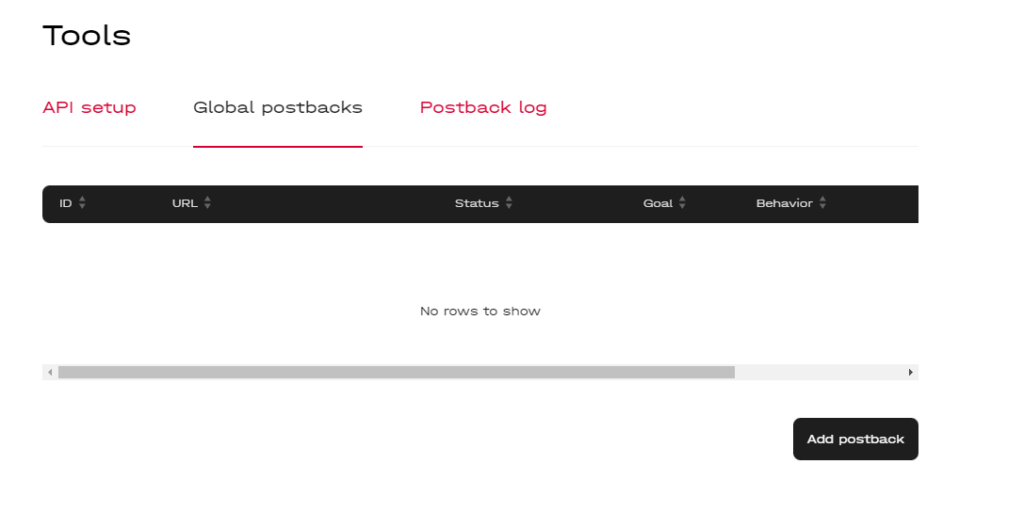 In the "Traffic Sources" section, you can view all of your traffic sources, while in the "KYC Documents" section, you can upload documents. This section also includes the referral program, where you can get a referral link and track referred users. For each affiliate who signs up and starts earning, you will receive 2% of their income.
As mentioned earlier, there are four main sections in the personal account. The "Statistics" section allows you to view detailed statistics about your advertising campaigns. You can filter the statistics by campaigns, offers, and traffic sources. There is also a filter by date, allowing you to display statistics for a specific period.
If you click on the gear icon, you can customize the displayed metrics:

In addition to overall statistics, there is also RevShare statistics and a tracker. You can track the quality of your traffic and initially do without a third-party TDS.
In the "Offers" tab, you can find offers available in the RevenueLab affiliate network. There are three subsections in this tab:
Top offers – the best offers with top conditions;

All offers – all offers available in the listing;

My offers – offers that you have connected and are working with.
Each subsection has a filter by:
name;

GEO;

license;

vertical;

payment system;

payment model.
In the general listing, you can find the offer name, rate, payment model, and a brief description.
If you dive into the offer card, you will find more detailed information.

The "Finances" section is used to track your payouts. Here you can find a convenient breakdown of:
Amount due;

Monthly income;

Hold on CPA and RS;

Referral income.
You can set up separate filters by offer, date, payment model, and status.

To earn on offers from RevenueLab, you need to:
Register on the official RevenueLab website;

Wait for your account to be approved;

Go to the "Offers" section → "All Offers";

Choose an offer that you like;

Study the terms of cooperation;

Click the "Connect" button.

The form will open where you will need to select a payment model, specify your experience and traffic source, as well as a preferred method of communication.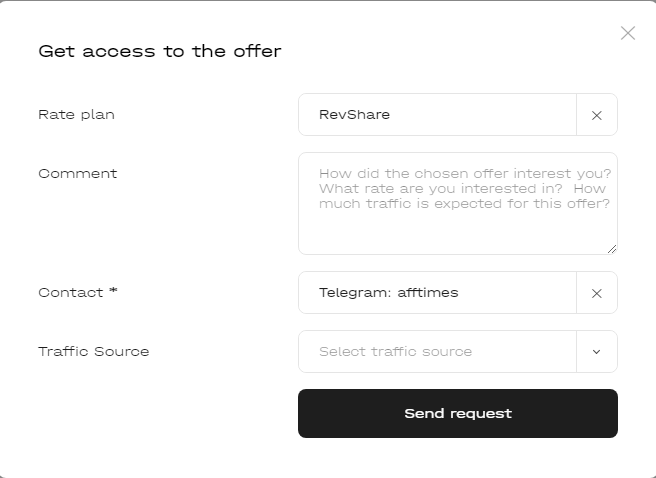 Your manager will contact you and connect the offer, and then you just need to set up your advertising campaign and track statistics.
How to receive a payout in the RevenueLab affiliate network?
To receive a payout, you need to:
Click on the profile icon and select the "Requisites" subsection;

Click "Add requisites";

Select the currency of your account and the payment method;

Specify the required details and information.
The commission depends on the payment method and ranges from 1% to 4%. You can withdraw funds to Capitalist, Bank card, Skrill, USDT, WMZ, YooMoney, and other methods. There are a total of 25 withdrawal methods, as well as the ability to request a payment from a manager.
Money is paid out once a month for those who work on RevShare and twice a month for those who collaborate on CPA. The minimum withdrawal amount is $100.
Reviews about the RevenueLab affiliate network
RevenueLab has been operating since 2011 and has received numerous positive reviews from affiliates around the world:
"I haven't been working a lot with this affiliate network but I already can remark that its Support is on a decent level, and the affiliate manager is always in touch. After a certain number of successful leads, the network easily improves the terms, which I especially respect."

"Benefits: A good affiliate network that pays honestly and quickly; also a responsive support. Comment: The network has a good payment model. There are many offers from different casinos. Last month, I've been driving traffic for Winnerama, GEO – Australia. I recommend it! After a long time of working with RevenueLab, there have been no problems with withdrawal."

"Recently, I have started working with this affiliate program, and I'm still satisfied with it. Mostly I like the responsive support and the fact that withdrawal is available in any currency."
You can leave your review about RevenueLab in the comments section of this review. How long have you been working with the affiliate program? What do you like about the cooperation? How quickly do the managers respond?
Conclusion
It can be said that RevenueLab is an example of an affiliate network that knows where it wants to go and how to get there. If you want to work with professionals who are willing to share their expertise and are interested in helping your income grow, then RevenueLab is the right choice for you.
Register with the RevenueLab affiliate program, connect gambling offers, and earn on your traffic.
Support: 9 Technologies: 9 Quality of offers: 6 Reliability: 7
been working w/ this affiliate network for months and i can say its a great one, i couldn't be happier. They offer an impresive range of tools and creatives. Thumbs up!!
Support: 9 Technologies: 9 Quality of offers: 9 Reliability: 8
quite good ! not all affiliate programs work like this