TrumpYourAds
TrumpYourAds is an international affiliate network with more than 1000 financial offers from direct licensed brokers (cryptocurrencies and investments). Partners from the start receive attractive rates starting from $1000 for all English-speaking countries, converting bundles, and relevant tools for earning.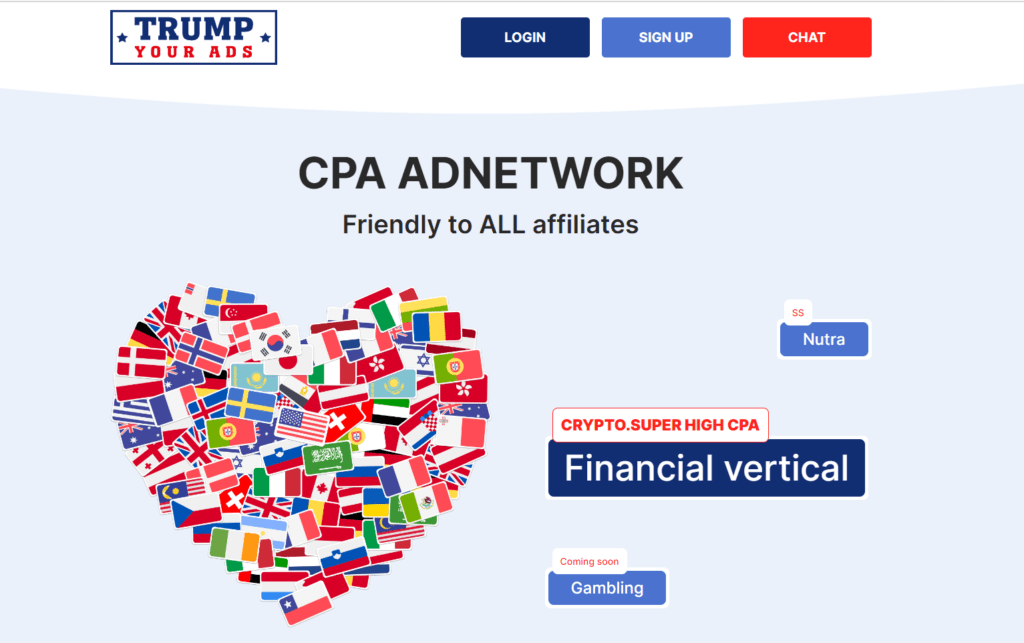 More than 1000 offers from direct advertisers and the highest rates from the start – a review of the TrumpYourAds affiliate network. This affiliate program works with traffic from all over the world using the classic CPA model because it is the most understandable and transparent option for cooperation. In 2023, they plan to add several proprietary products.
Below, we will tell you about the other advantages of the affiliate network and share a bonus of +$50 to the rate for any GEO.
Features and Advantages of TrumpYourAds
When choosing an affiliate network, few people pay attention to the team behind the creation and development of the network. However, this is a mistake, as it is the team that is responsible for the high payouts, the most up-to-date tools and a personal approach to each partner. This is the first advantage.
In TrumpYourAds, 15 people work who have years of experience in affiliate marketing. For example, the CEO of the company has 15 years of experience and has gone from an account manager to a manager and founder of 3 affiliate marketing teams.
Over 1000 offers from direct advertisers. Before adding offers and landing pages to the program, they are thoroughly tested by the internal media buying team. 100% of all offers are private.  If you need an access to any offer, just ask network's managers and they will choose and open the best one for you individually.
Maximum high payouts from the start. The network works exclusively with direct advertisers/brokers. The team has been pouring years into them through their own teams and has earned the trust and super increased payouts that are not only available to their internal affiliate marketing teams, but also to the network's partners. For example, the network is ready to pay from $1000 from the start for English-speaking Tier-1 countries (United Kingdom, Canada, New Zealand, Australia), as well as some Tier-2 countries (Germany, Sweden, Denmark, etc.).
Ready-made expertise, bundles and creatives. The internal media buying department shares its experience and best creatives with partners: pre-lands and banners.
Special approach to affiliates. The surprising thing about them was their attitude towards their partners. Managers inform their affiliates in advance about the closing of any offer and also remind them daily about the opening and closing of broker call centers.
Necessary tools. API, smartlink, rotators, builders, smart tracking system, where partners can track all the necessary metrics, including lead statuses (this is extremely important in crypto).
You can work without a tracker. The modern and convenient tool panel in the personal account will help you track the dynamics of an advertising campaign, and the manager will help with optimization.
Referral program. 5% of the Affiliate Network's profit from invited partners (available exclusively for active affiliates + media resources).
How to start earning with TrumpYourAds
Register and wait for approval from the affiliate program.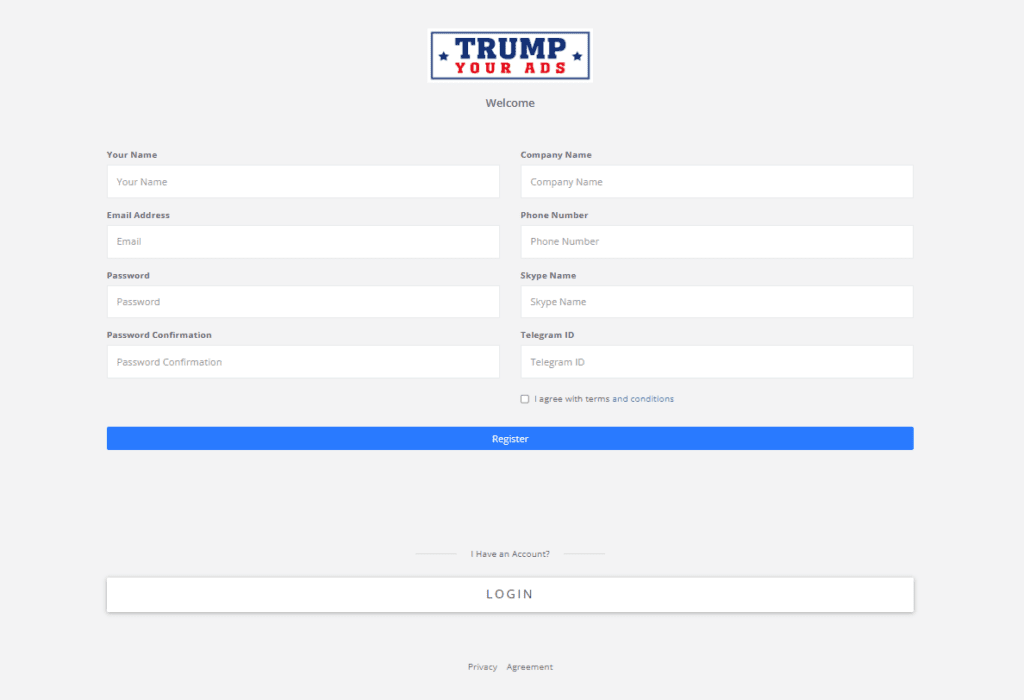 Access the dashboard with an intuitive interface.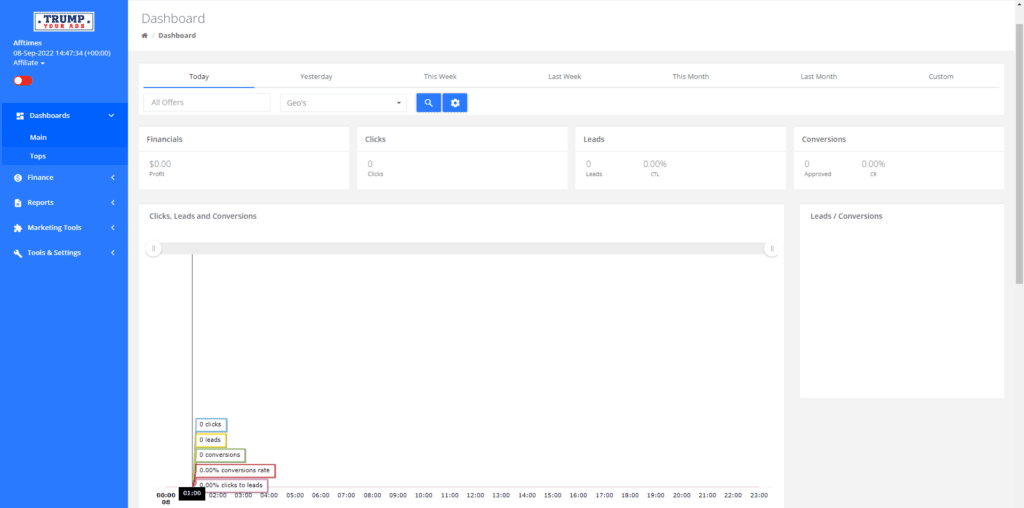 To access offers, contact your manager and then go to Marketing Tools > Network Offers.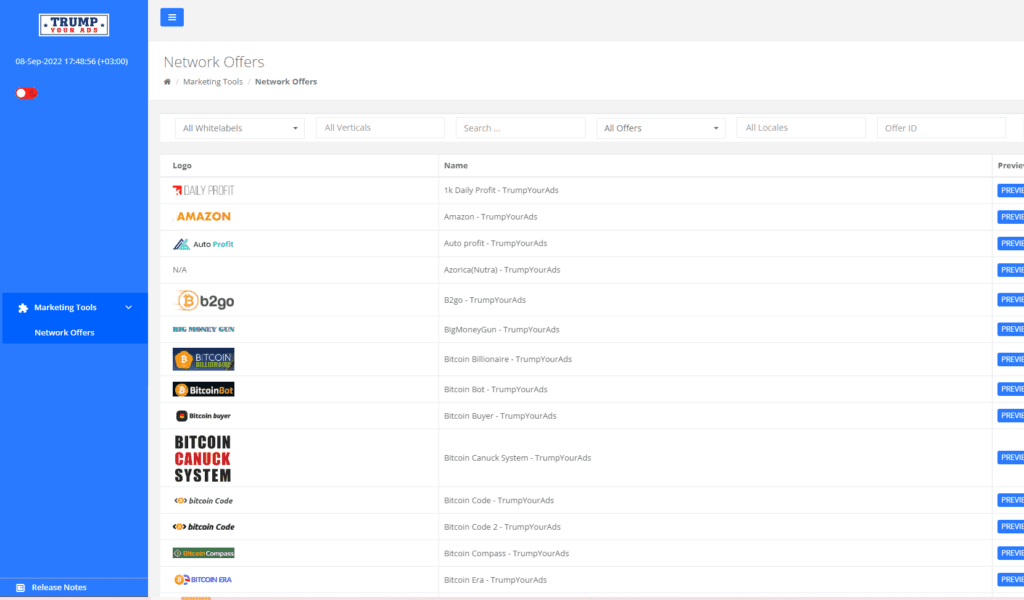 Here, you can view the offer preview, description, prohibited/allowed traffic sources, and target.
The affiliate network does not accept the following types of traffic:
Fraud/bot/dead leads
Deposits from stolen cards
Motivated traffic
ANY scheming traffic
It is recommended to launch offers with your manager at the beginning of work. After selecting an offer/landing page, your manager will prepare the flow for the affiliate in 5 minutes. All you have to do is copy the link and start the advertising campaign in the tracker or directly in the traffic source.
The affiliate network is integrated with almost all top trackers: Keitaro, Binom, Bemob, CPAtracker, Peerclick, Octotracker. This makes life much easier: you select the affiliate network from the list and immediately get all links, postbacks, and macros. The manager will make test conversions with you.
Your campaign statistics will be displayed in the Reports section. You will be able to view it by different indicators: clicks, conversions, countries, leads, etc.

To set up postback, go to Tools & Settings > Postback & Pixels.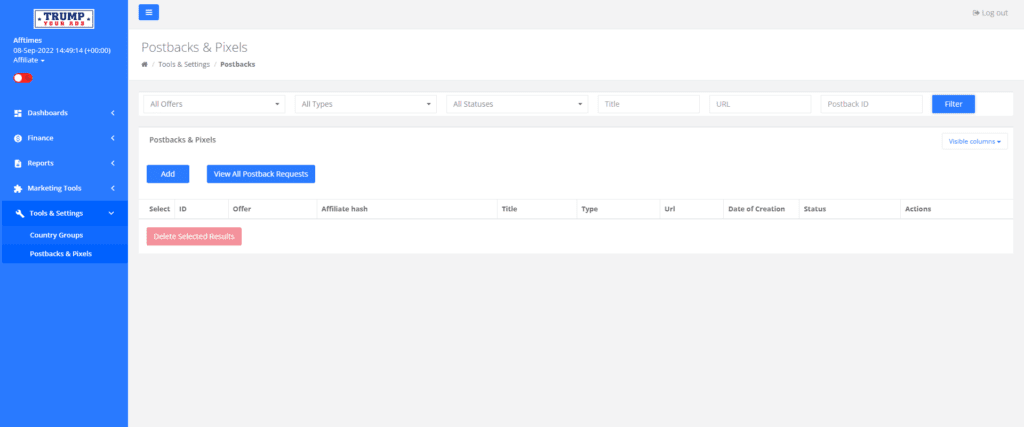 How to withdraw money from TrumpYourAds
Withdrawals are made every week on WIRE, BTC, USDT, Capitalist, Payoneer. The minimum withdrawal amount is $100.
For affiliates with large volumes, individual conditions may be offered.
To withdraw money, simply send your data to the manager once, and receive payments automatically every Wednesday. To make sure no cent is lost, each time before sending money, you will reconcile the numbers with the manager.

Reviews of TrumpYourAds
Despite its young age, the partner network has received enough detailed reviews.
Daddymoney:
This partner network is top-notch! Glad for the guys, finally went public. Promoting since May, mainly Nordics, went well from the first day! Picked everything up quickly, set up in 10 minutes, gave links, pre-ends. I was amazed at the speed, the guys are experienced! They know 100 percent what they work with, know the answer to any question and always give advice! The rate is now $200 higher than on the same land in another affiliate network. It's visible that they don't squeeze the money! This is 10 out of 10! Really without exaggeration.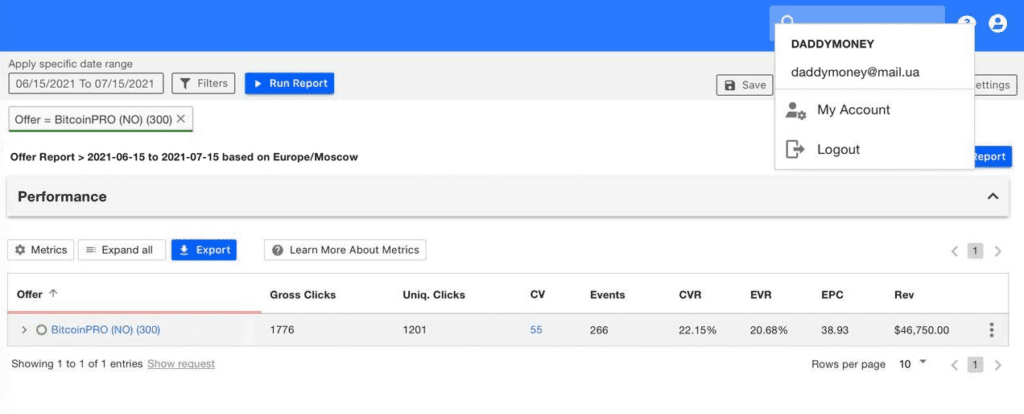 Santin:
I've been attracting traffic to this network for a couple of months. The rate is $150 higher than in another affiliate network. The conversion is of high-quality, the support is adequate and always quick to respond. I'm attracting traffic for crypto on Tier-1, withdrawals every week, once they even paid out by request. I'm satisfied with everything, working further!
Conclusion
In two years of existence, TrumpYourAds has managed to establish itself firmly in the market and gain the trust of over 500 affiliates and advertisers, thanks to its unique approach of providing affiliates with the most comfortable conditions for earning.
If you work with crypto-offers and want to earn more, you should try the offers of TrumpYourAds.
The promised promo code is TRUMPBUMP, which gives +$50 to the rate for any GEO.
Follow the news and promotions of the partnership in their social networks: