Remproxy

Remproxy
The success in affiliate marketing depends a lot on proxies. Bad proxies can lead to checks, risks, and other joys of an affiliate. That's why people are willing to pay well to reliable suppliers and keep their contacts as securely as their profitable connections.
And we are ready to share with you a service that offers high-quality and trusted proxies at reasonable prices. The guys from Remproxy promise the best proxies for solving any tasks. Let's check if this is true. Let's register in the service and test their proxies in action.
What you need to know about Remproxy
Remproxy has been in operation since 2020 and offers proxies for various tasks. By "various," we mean not only tasks related to affiliate marketing. Proxies from this service are purchased on platforms like Zelenka, Zennolab, Zismo, Antichit, and other forums dedicated to legal and not-so-legal internet earnings.
Remproxy offers over 400,000 proxies with a choice of more than 120 locations. The service provides three basic plans, the rest are their variations. You can test each basic plan for $1. You can also modify any plan for any volume and budget, resulting in 40 different plans in total. All plans (except for 1-day-plan and per-hour-plan) come with a money-back guarantee. The money-back is conducted within 24 hours after request (more often – within just several hours). 
Connection is made through a whitelist, which means you won't have to remember usernames and passwords. Additionally, the service has several advantages that set Remproxy apart from other sellers.
How much do proxies cost in Remproxy?
The cost of proxies depends on the package you choose to purchase and the duration of use. For example, the MIX-Economy Standard package with 1000 threads and 10,000 dedicated IP addresses costs $10 per day. The MIX-Economy Unlimited Test package with unlimited threads and server installation costs $1450 ($950 for the package + $500 as a one-time payment for the server installation). The MIX-MIX Standard package with 1000 threads and 15,000-18,000 IP addresses costs $15 if you pay for a day (but if you pay for a longer period, for example, six months, the cost will be considerably lower – $1,5 in this case).
The complete table is available on the homepage of the website, but we will duplicate the prices below so that you can familiarize yourself with the full pricing immediately.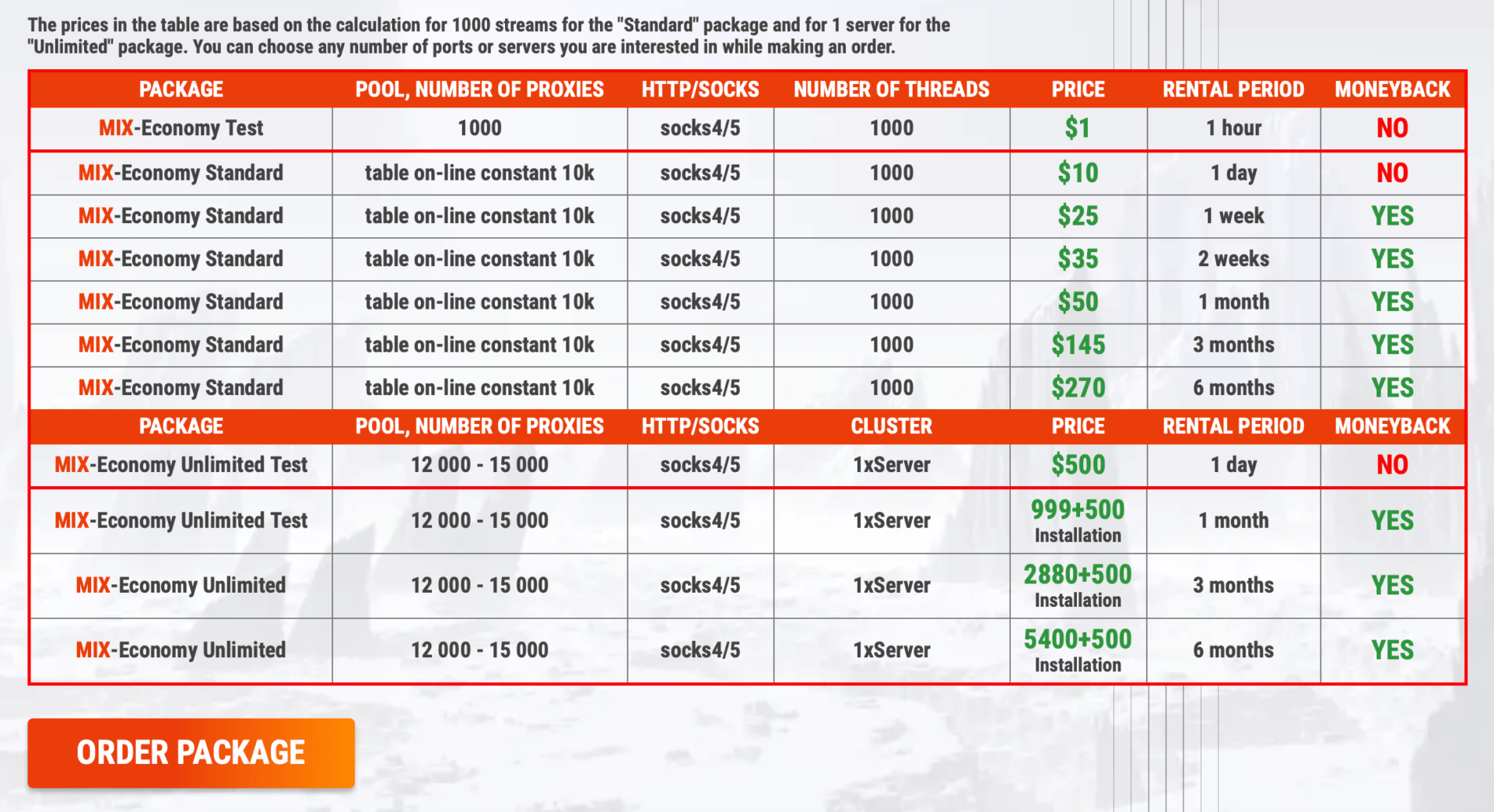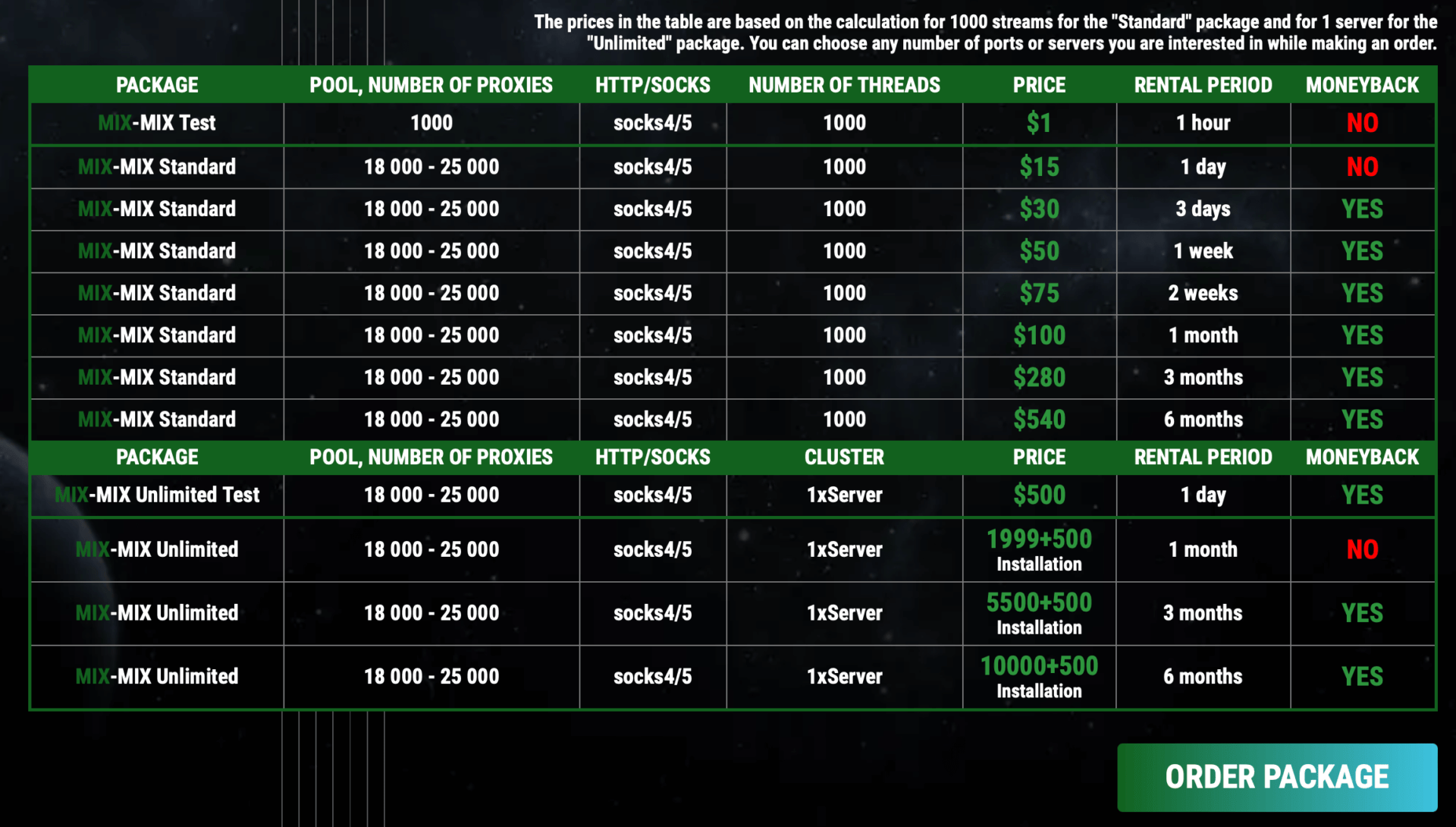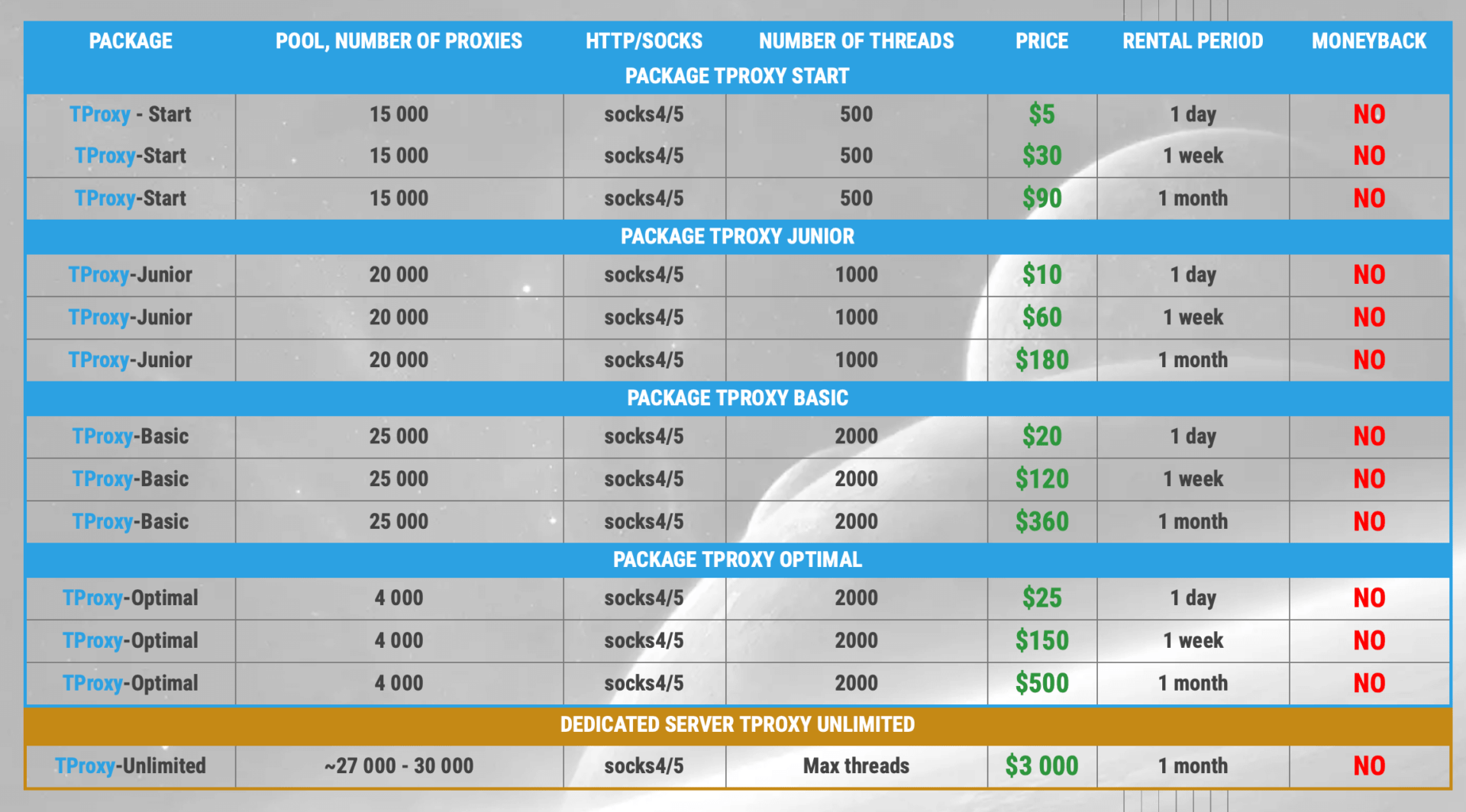 How to buy proxies in Remproxy.com
The first thing you need to do is to register. To do this, go to the official Remproxy website and click on the "Registration" button in the top right corner: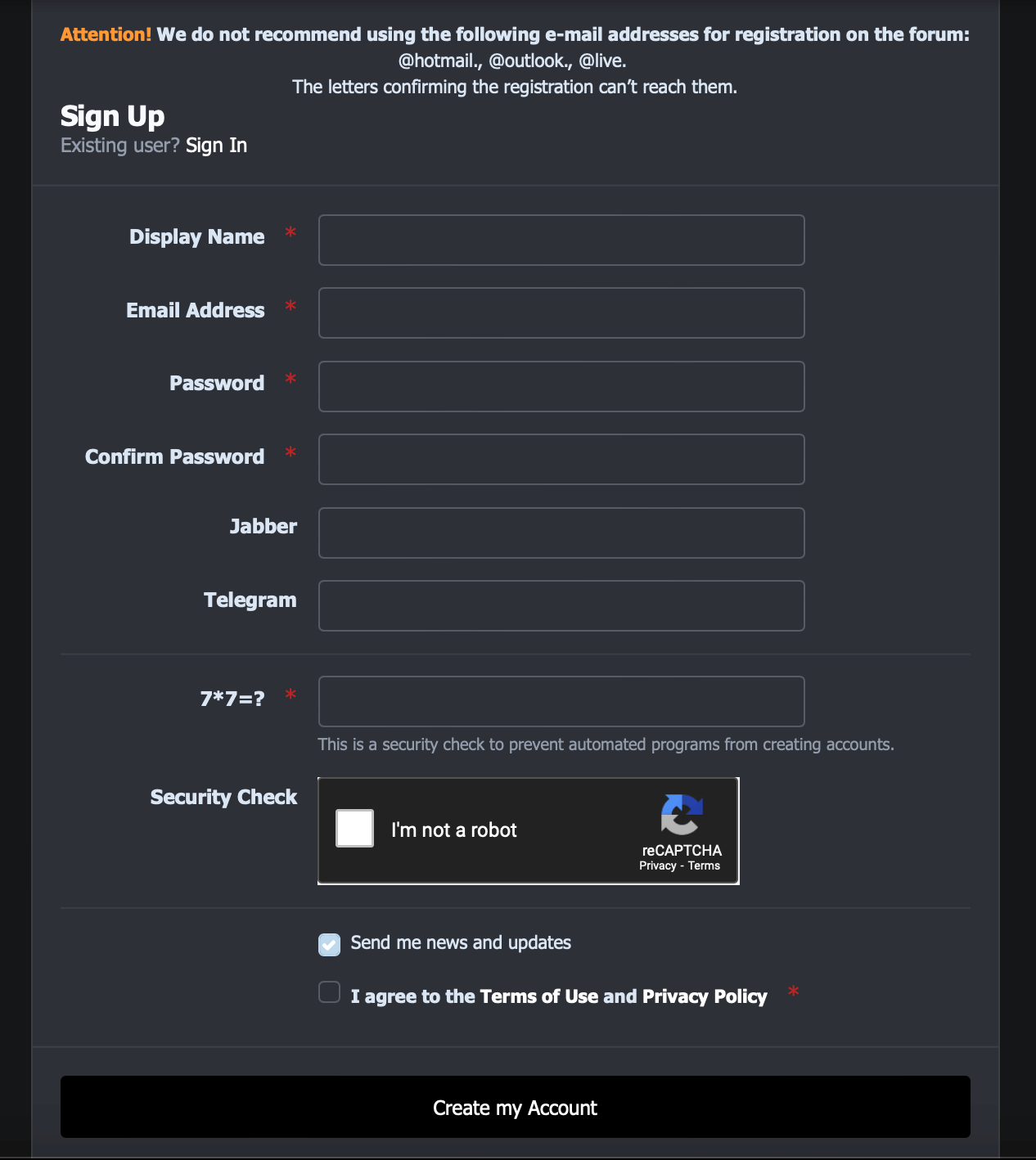 Fill in the following information about yourself:
Username

Email address

Password

Jabber or Telegram
Solve the captcha and create your account. It's better not to use @hotmail, @outlook, and @live email addresses, as confirmation emails may not be received on them.
Once your account is created, you can log in to it.
Overview of the Remproxy Personal Account
At first glance, the personal account may seem busy and overwhelming. However, within a couple of minutes, you get used to the interface and realize that all the elements are logically placed.
At the top, you will find:
Home

: the button for the main page.

Community

: here you can find rules, guarantees, forums, services, and clubs.

Help/FAQ

: answers to the most popular questions and customer support.

Marketplace

: a section for those who want to create their own store. 
Below on the main page, you will find other sellers' stores, advertisements, and the most downloaded proxies. On the right, there are categories with various services and offers. You can also find there free lists of proxies by Remproxy, free useful tools, databases and other things from different users that will definitely come in handy.
The marketplace has the forum auto-guarantor. If you buy a proxy through the admin panel, the socks-holder decides whether to return the money to you or not. That may result in a scam or you might just get an inappropriate service – and in these cases there's nothing you can do about it. But in Remproxy's version the auto-guarantor functions for all services, and this is a guarantee that any client will get their service as it is stated in the agreement (and, if necessary, they can receive money-back).
In the "My Purchases" section, you can track what you have bought and the status of your items. For example, if we purchased a proxy test package, it will be displayed there:

From this section, you can also manage your proxies and see when your subscription will expire.
Buying Proxies on the Remproxy Website
To purchase proxies, select "Remix proxy Store" on the main page. A new page will open where you will need to choose one of the following products:
Tariff Builder – you may use this tool to compare tariffs in case you can't decide what to choose

Economy Tariff

Mix Tariff

Speed Tariff

In the tariff builder, the proxy cost is listed again:

Choose the proxy type and then select a package to connect.
A description of the tariff will appear again, along with a price table. Select "Add to Cart".
A page will open where you can choose:
Rental period. Note that the rental period greatly affects the overall price.

Number of threads

Status of the 25th port. Note that this port is needed only if you want to send emails via proxies – in other cases you won't need that.
Click "Add to Cart". Don't forget to agree to the platform's rules. It is essential that you familiarize yourself with the rules because, among other things, there is a money-back formula. Also, this is a document between the platform and the user, so, in controversial cases, the arbitration of the market is guided by these rules.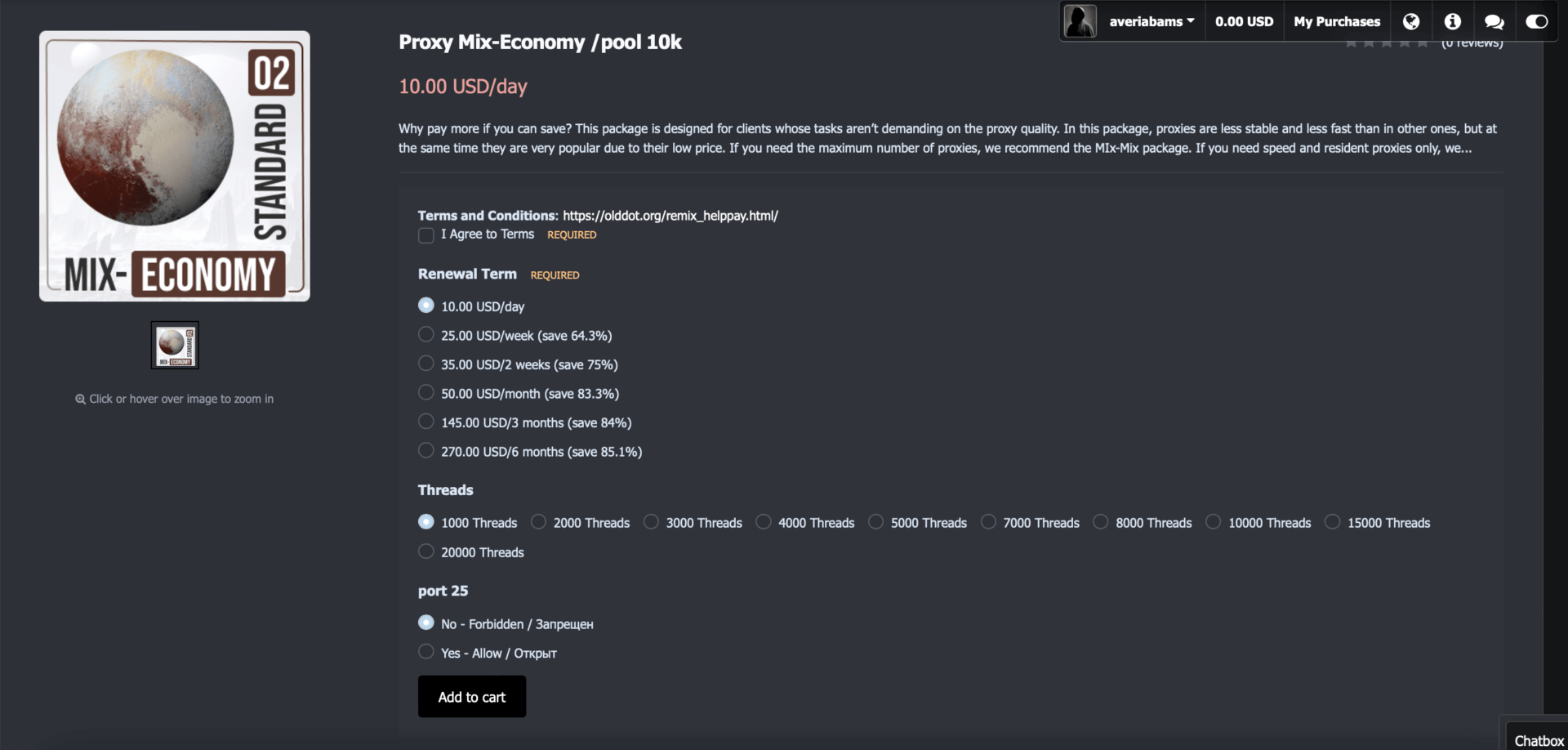 If you're done with your purchases, select "Check out":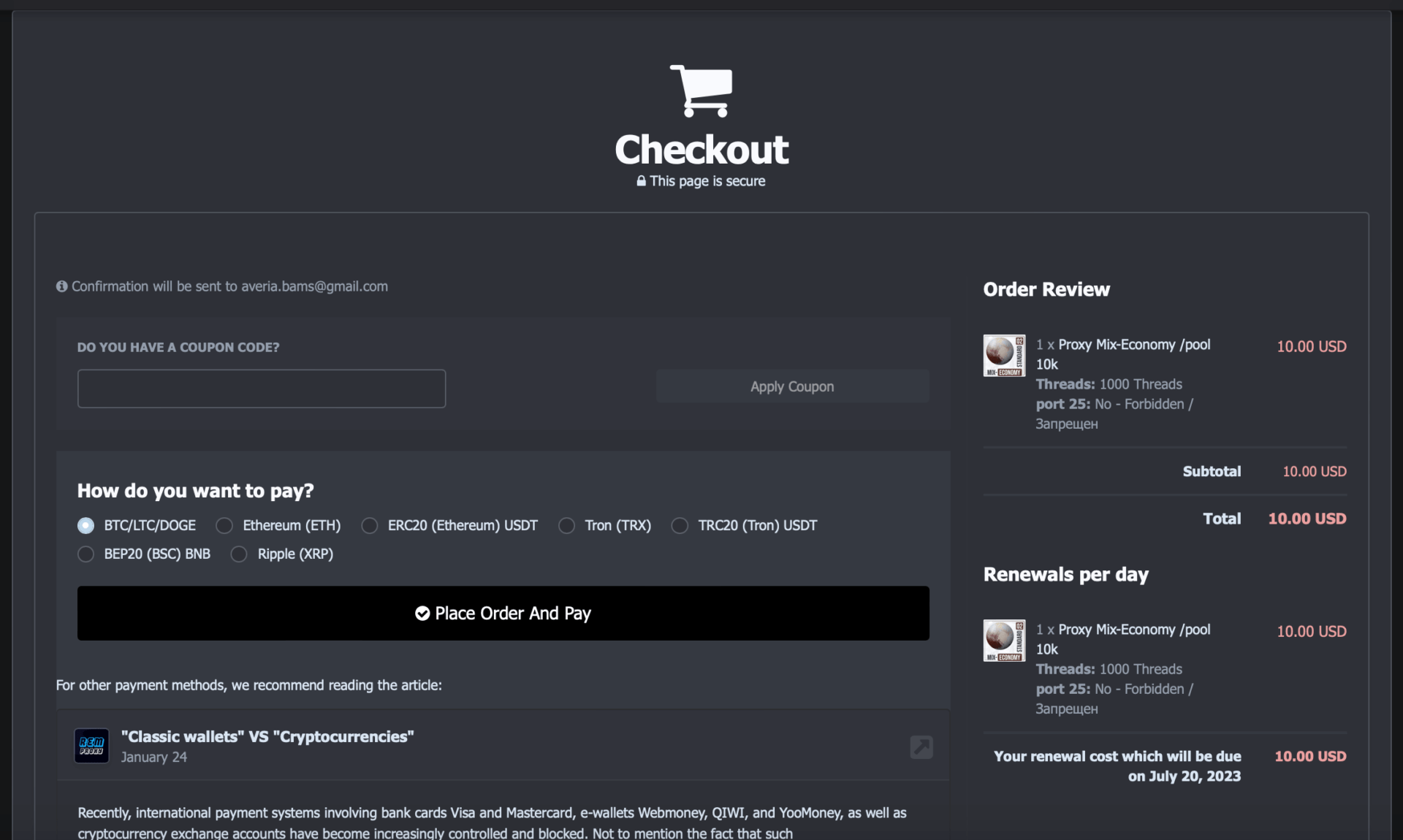 If you want to add another proxy package, click "Continue Shopping".
NOTE that in Remproxy you can pay only in cryptocurrencies. The platform accepts BTC, LTC, DOGE, ETH, USDT, TRX, BEP20, XRP. In case you want to pay using other methods, there is an article on how to do it – you'll see the link to it on the payment page. In addition to the proxy payment, a transaction fee will be deducted from you.
How to connect to proxies from Remproxy
First, you need to add your IP address to the trusted list. To do this, go to "My Purchases" → Select the purchased tariff → "Manage":

A page will open, and at the bottom, you will need to enter your trusted IP addresses:
After adding the IP to the whitelist, additional features will appear on the page:
Show the proxy list in this window

Send the proxy list to email

History
The proxy list is displayed in the format IP:port, which is accepted by all anti-cheat systems, making it convenient.
Testing the proxies from Remproxy
Let's conduct a small test of the proxies from the Remproxy team. We will use a regular connection through Proxyfier and check the IPs against blacklists:

The IP address is clean and not detected in blacklists.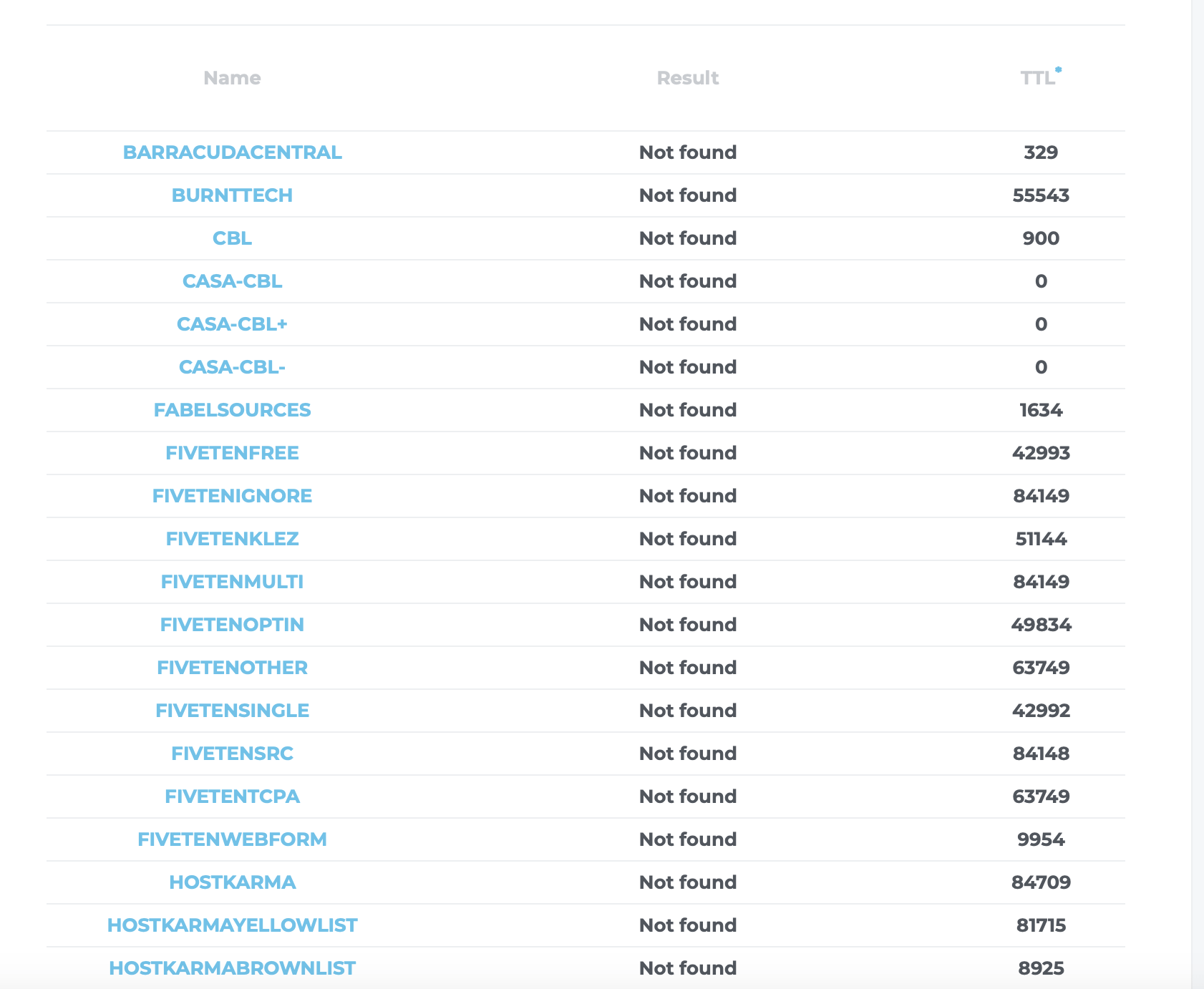 The speed is also good, pages open quickly without any issues or delays. Remember that these are the cheapest proxies. The higher the price, the better the quality. There have been no disconnections or issues during an hour of work – we can confidently say that this is an excellent option for work.
You can test all the proxies yourself. Remproxy offers a $1 one-hour trial. The service also provides a money-back guarantee for many tariffs.
Advantages of proxies from Remproxy
Remproxy offers quality proxies from a large geo pool. We have identified several advantages of this service:
Good connection speed – even on cheap proxies, there are no lags or slowdowns.

Stable connection – no disconnections or connection issues.

Clean proxies – even cheap proxies are only found in 1-2 spam databases, while expensive proxies are found in 0-1.

Trial version for everyone – you can test any proxies for $1 and verify the quality.

Money-back guarantee – many tariffs allow you to get a refund if you are not satisfied with the quality.

Professional team – they assist with setup, connection, and answer questions.

Assistance with server setup – Remproxy specialists can configure servers and connect everything you need.

Continuous proxy checking – proxies are checked for functionality every 5 minutes, so you won't encounter a situation where you purchase a package and something doesn't work.

Package activation only after adding the IP to the whitelist. You can pay for the package and activate it when needed.

Quality support – technical support responds promptly and works without weekends or breaks.
In summary, Remproxy offers good proxies for any task at an affordable price. And in this case, when we say 'good', this means that it is backed by our tests.
Reviews about the Remproxy service
Remproxy has been in the market for a long time, so you can find reviews about the service on any forum. We will share a few reviews about Remproxy below: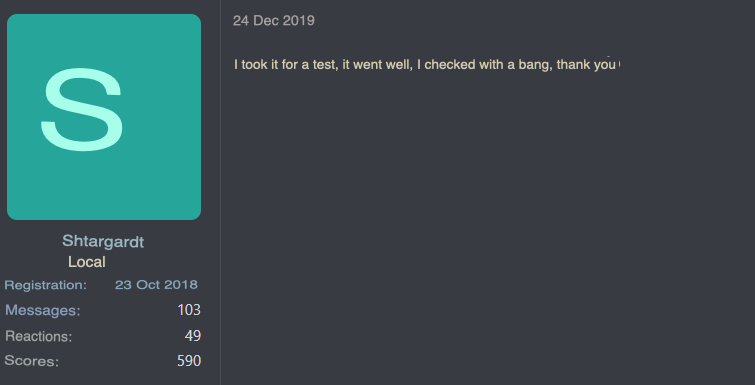 If you use the Remproxy service for your work, please leave your reviews in the comments. How well do they suit for affiliate marketing? Do they trigger verification? Do they work reliably for you?
Conclusion
Remproxy offers affordable proxies for any task. The service has different price categories, and the proxies themselves are regularly checked for functionality. To test the proxies from Remproxy, you can use the $1 trial tariff. You will receive a full-service for one hour and be able to assess the quality of performance, speed, and other important aspects.