Undetectable
Finding a good and affordable anti-detect browser can be quite a task. There are around fifty anti-detection browsers on the market, each with its own advantages, disadvantages, and pricing plans.
However, only a few of them are specifically designed to meet the needs of affiliate marketing specialists, allowing them to minimize bans, work comfortably with advertising platforms, and achieve maximum anonymity.
Today, we will tell you about the anti-detect browser Undetectable, which is not only used by thousands of affiliate marketing specialists but also by marketers, cryptocurrency traders, SMM managers, and other professionals.
What is Undetectable and what are its advantages?
Undetectable is an anti-detect browser that uses real fingerprints to allow users to achieve maximum anonymity on the internet. Undetectable is based on the Chromium framework, regularly updated, and operates swiftly on any OS.
You can install the Undetectable anti-detect browser on Windows or macOS and enjoy all its features at a low cost. With paid plans, there is also the option to work on multiple devices, making it convenient for teams to use this browser.
The advantage of the Undetectable anti-detect browser goes beyond its price:
Stable operation without bugs and freezes – you can comfortably run the anti-detect browser even on less powerful PCs.

No data leaks – Undetectable has not been observed in any hacks or data breaches regarding user information.

Real fingerprints only with 100% unique fingerprints in your browser.

100% anonymity – when using this anti-detect browser, you can be confident that the risk of getting banned on advertising platforms is minimized.

Mass uploads and proxy checker – in the Undetectable interface, you can easily add up to 100 proxies with a single click and check their validity.

Built-in scripts – the anti-detect browser comes with built-in scripts that allow you to work with Facebook.

Convenient features for work – profile grouping, cookie stuffing bot, export and import capabilities.
Additionally, Undetectable offers a free trial, allowing users to explore all the functionality and make a decision about purchasing the anti-detect browser. You can use the trial version for an unlimited time and then switch to a paid plan.
How to start using the Undetectable anti-detect browser
To begin using Undetectable, go to the main website page and click on 'Start use for free':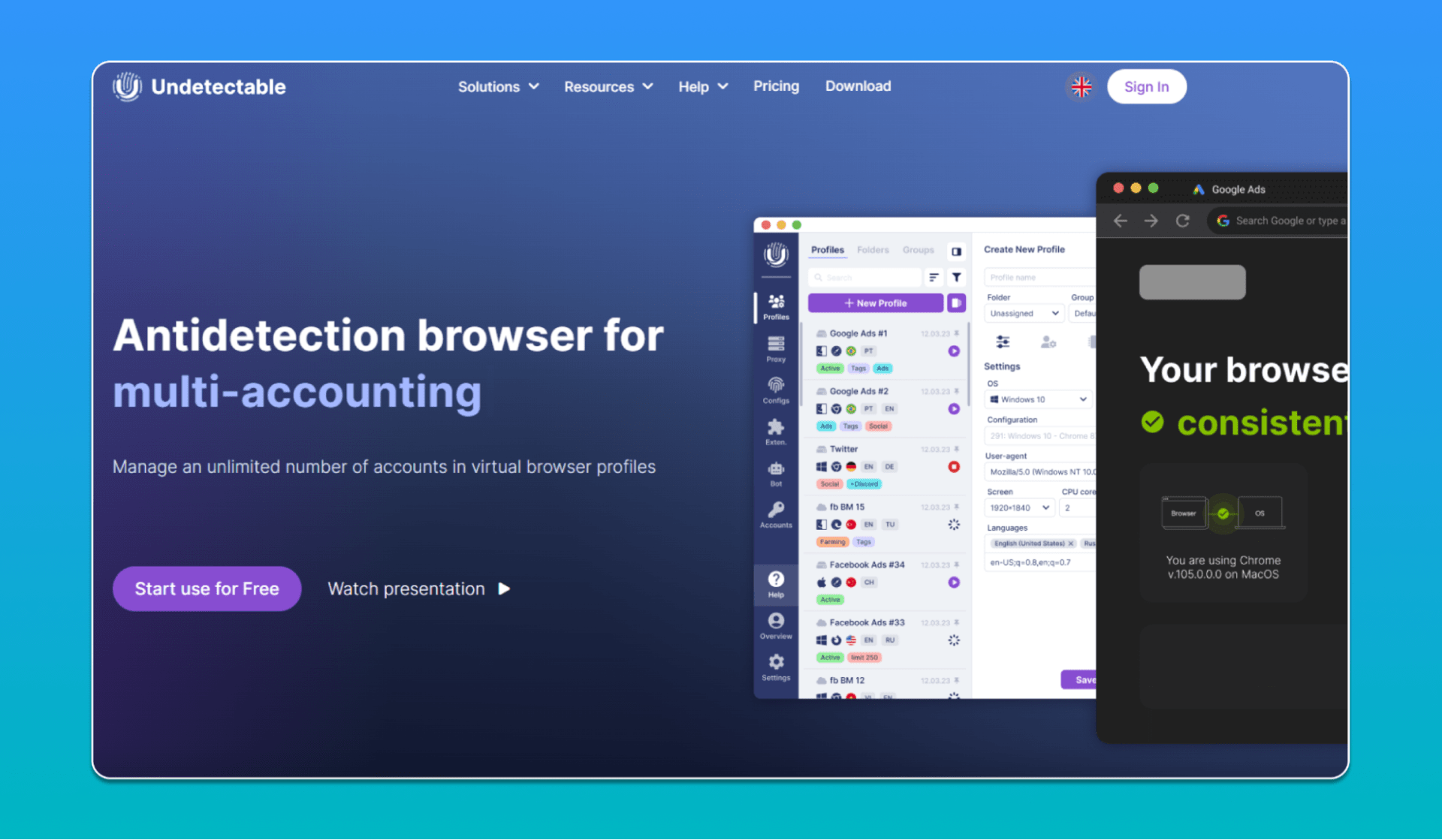 A registration form will open where you'll need to fill in your login, email, contact info, and password. Don't forget to agree to the service's terms and conditions.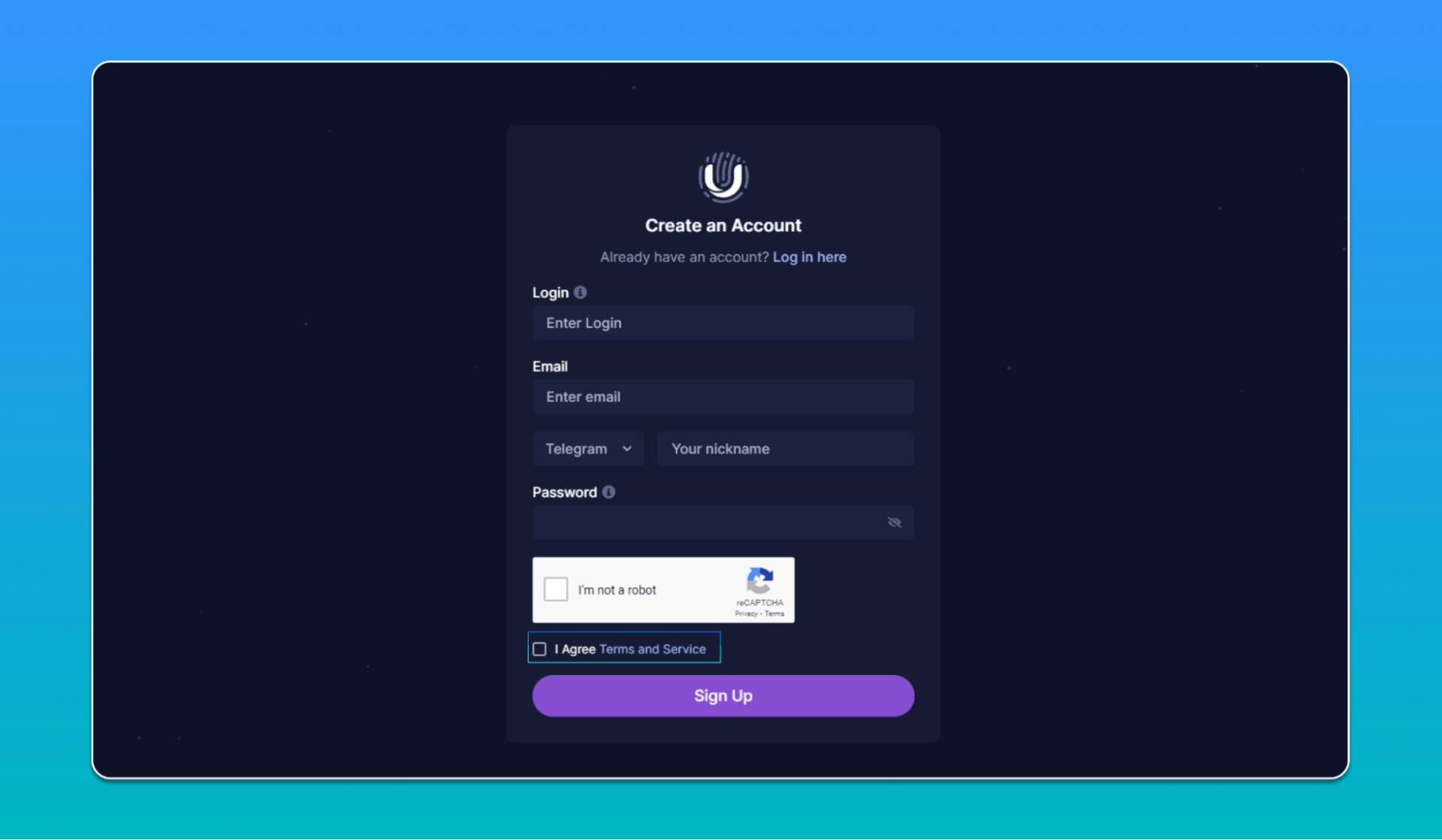 After registering, return to the main page and click the 'Download' button, select your operating system version, and download the installation file to your computer: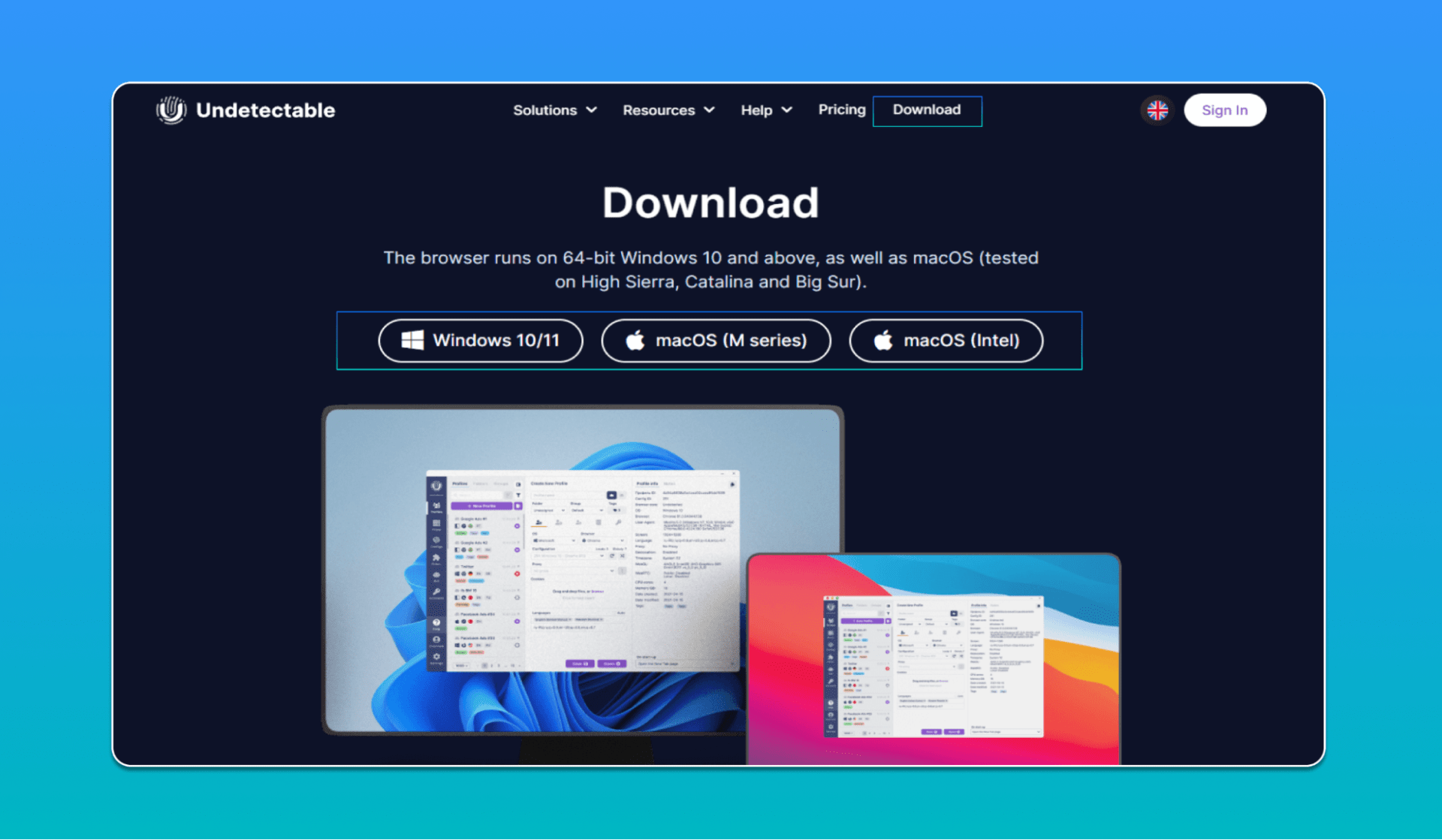 The installation will take 1-2 minutes. After that, you can launch the anti-detect browser and log in to your profile.
Overview of the browser
If you haven't registered on the website, you can do so through the login interface within the anti-detect browser itself. 
By the way, if there's an update available for the anti-detect browser, the system will automatically suggest updating first before logging into your profile. This is convenient and ensures you don't miss important updates. 
The browser window itself is quite compact, with three tabs on the main page: 
'Profiles' – here is a list of all your profiles and a button to create new ones; 

'Folders' – folders containing profiles; 

'Groups' – user groups for team access.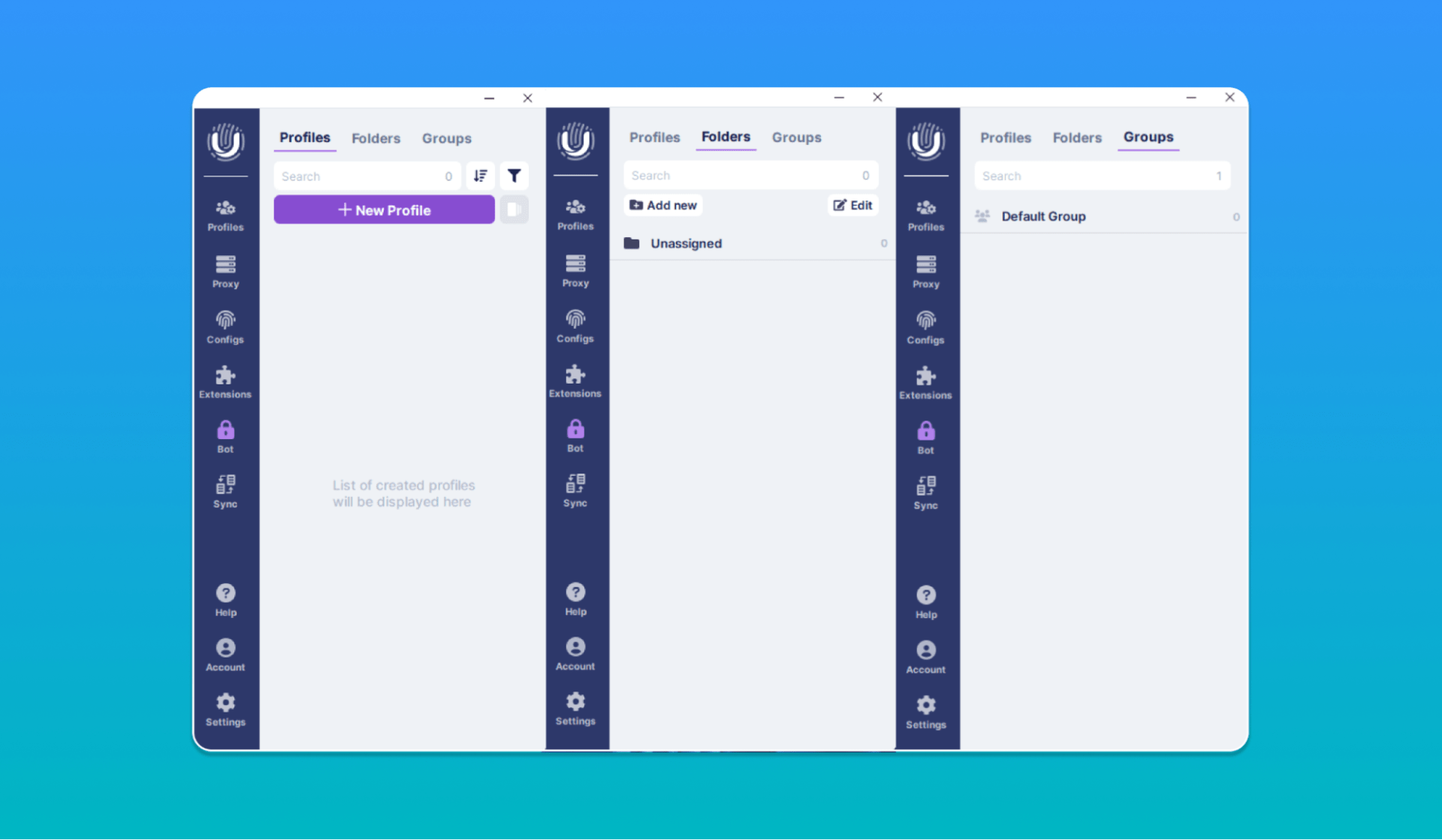 To create a new profile, click on the '+New Profile' button and fill in all the required information. In the central window, you can fill in the group, folder, fingerprint settings, and in the left section, you can view information about your profile: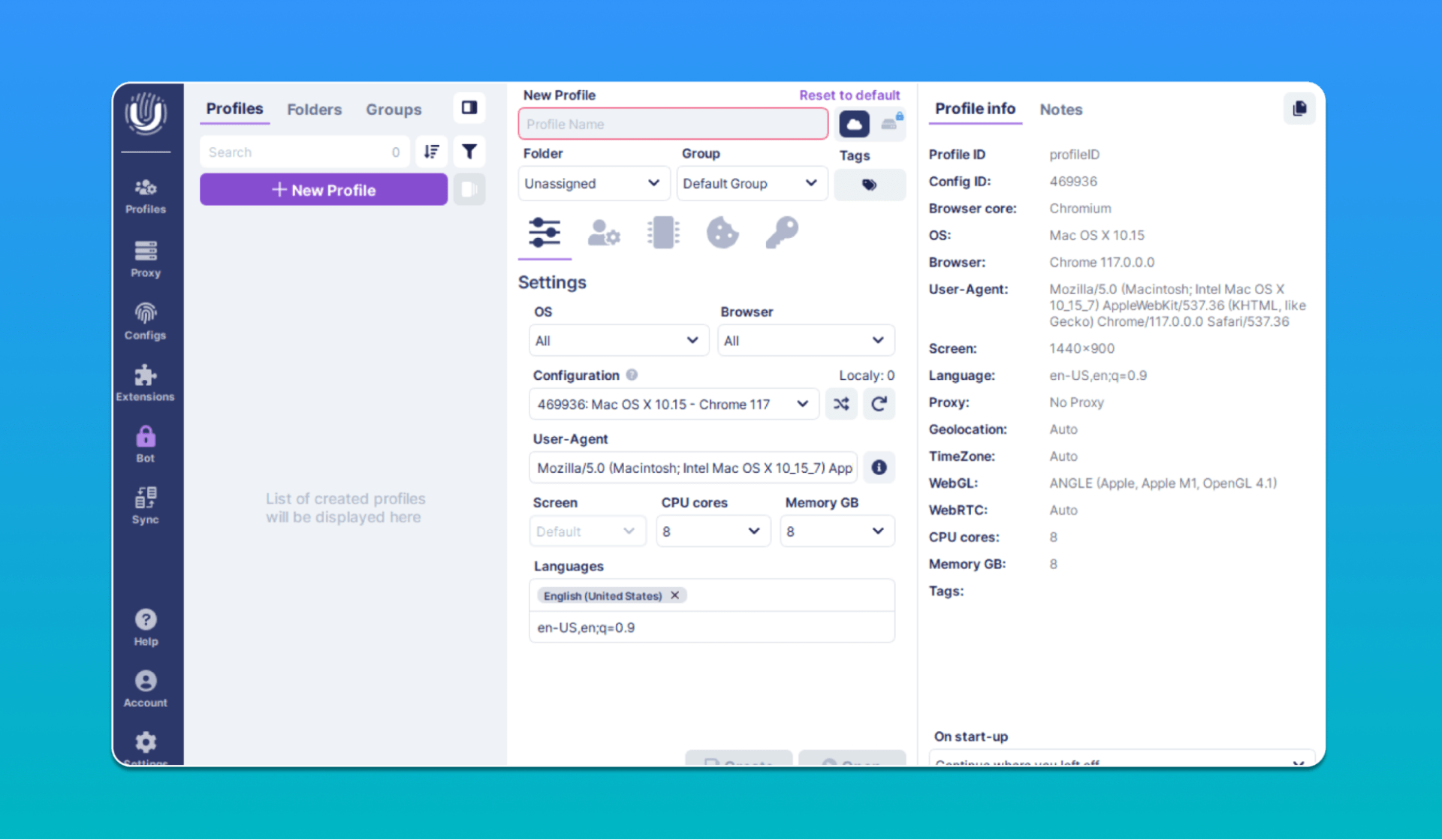 On the right, there's a navigation menu for the anti-detect browser itself. For example, if you click on 'Profile Manager,' you can import and export profiles in Undetectable.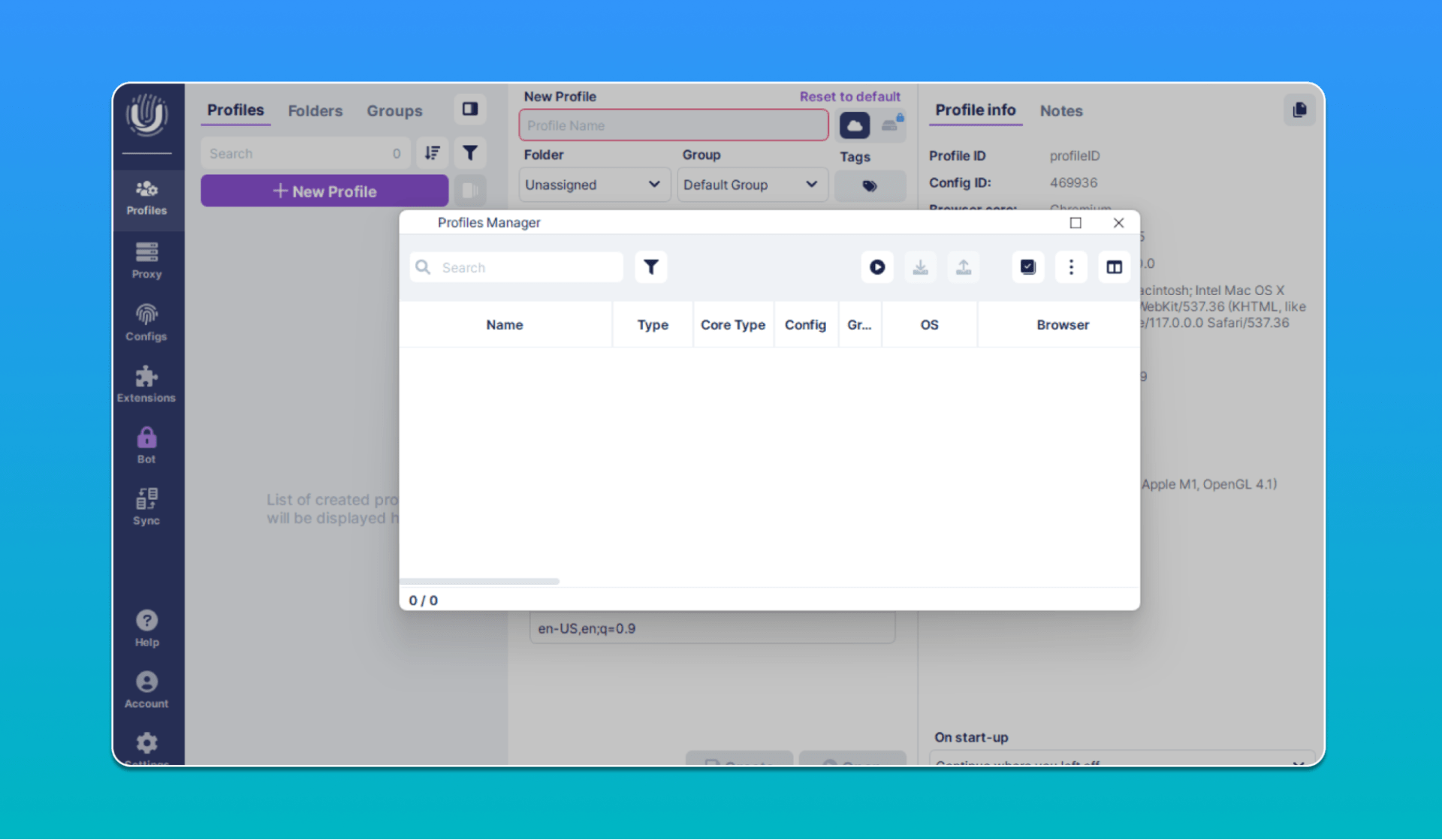 In 'Proxy Manager,' you can add new proxies, check their validity, and manage existing ones.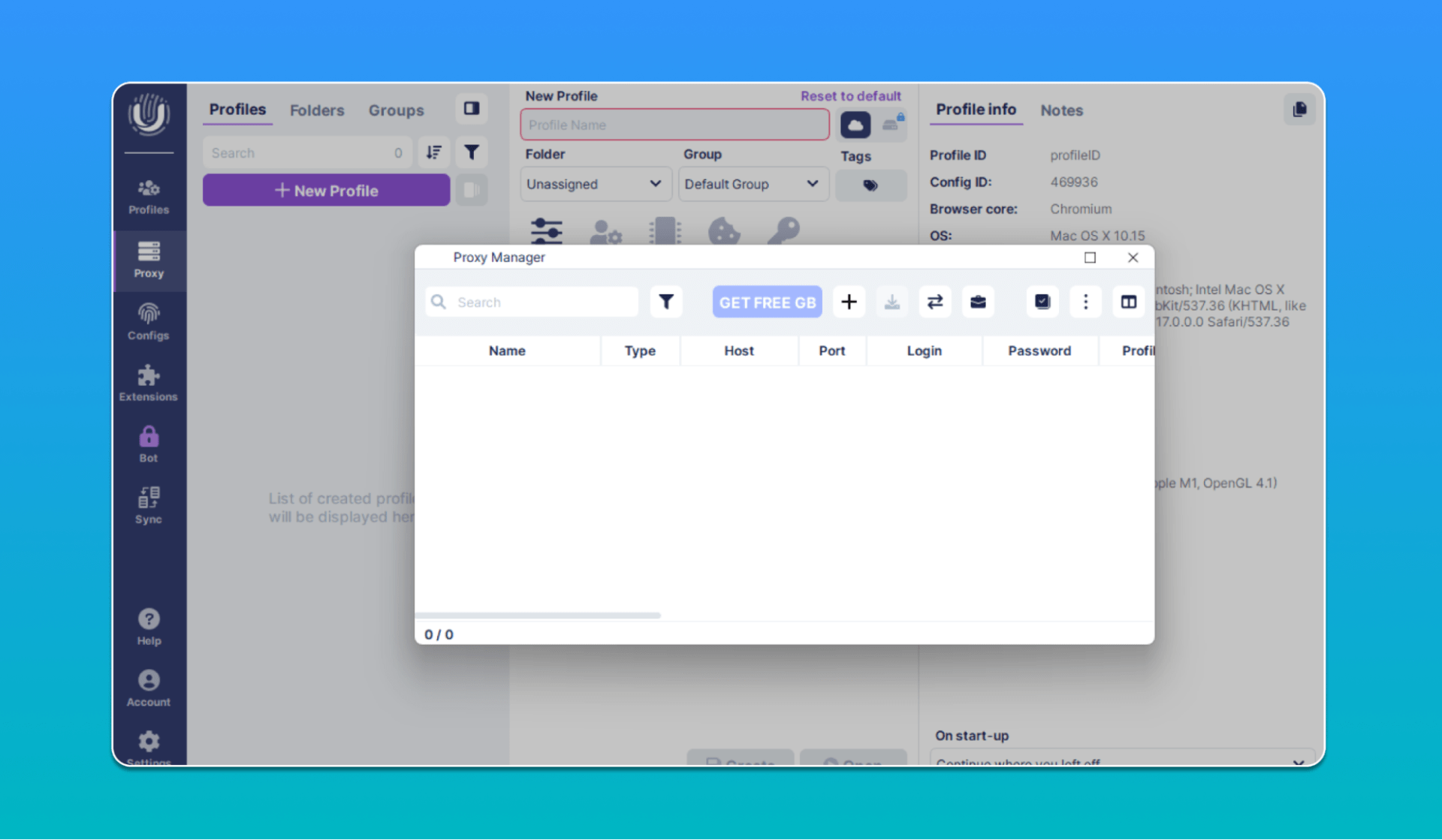 "Configuration Manager" is a list of existing configurations and fingerprints.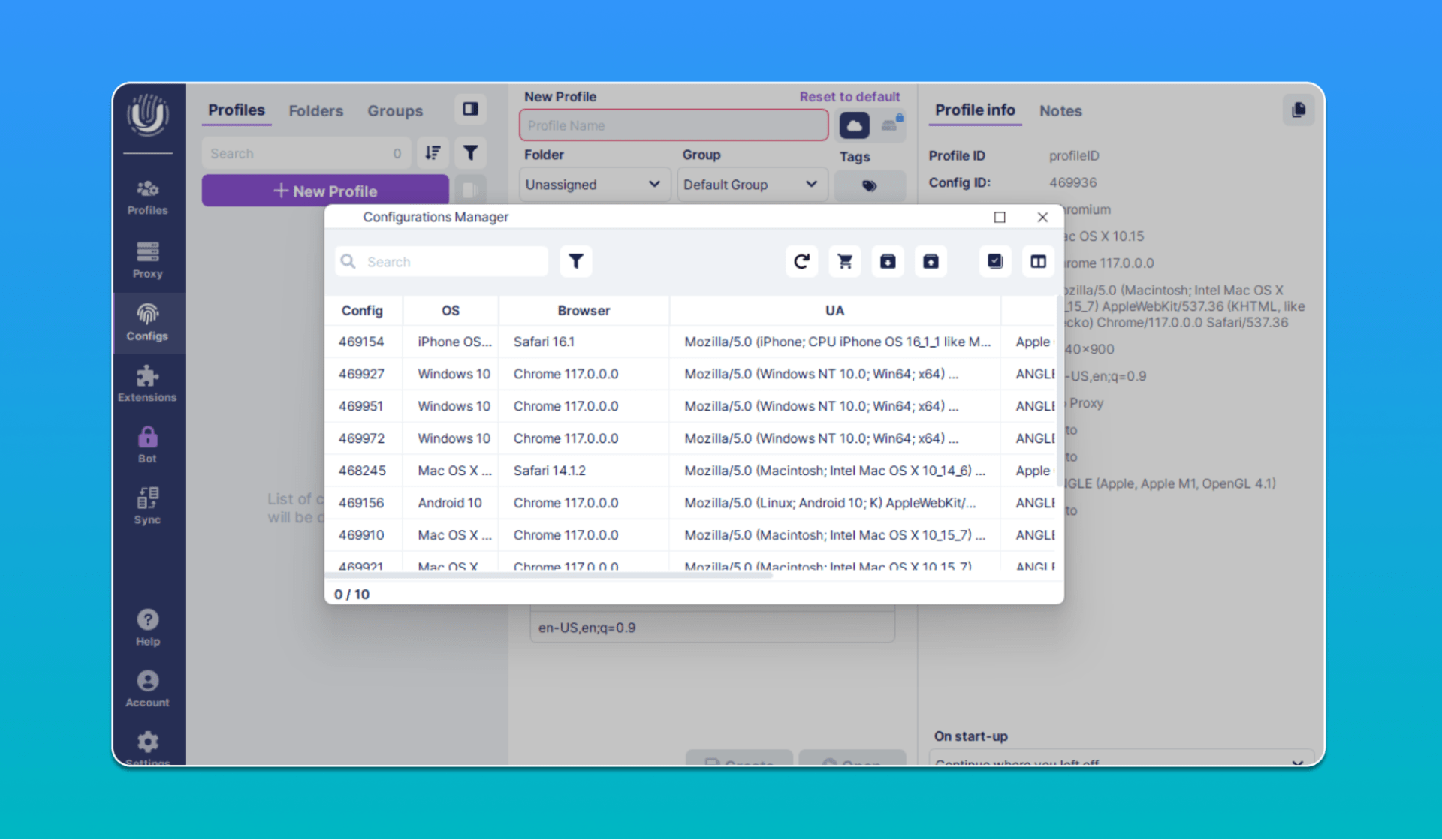 You can import your own configurations or purchase them by clicking on the shopping cart icon. There are over a thousand configurations available on the Undetectable website, accessible to all anti-detect browser users.
The cost of one configuration is $2.5. All the fingerprints sold on the official website are real, which means that using them minimizes the risk of getting banned.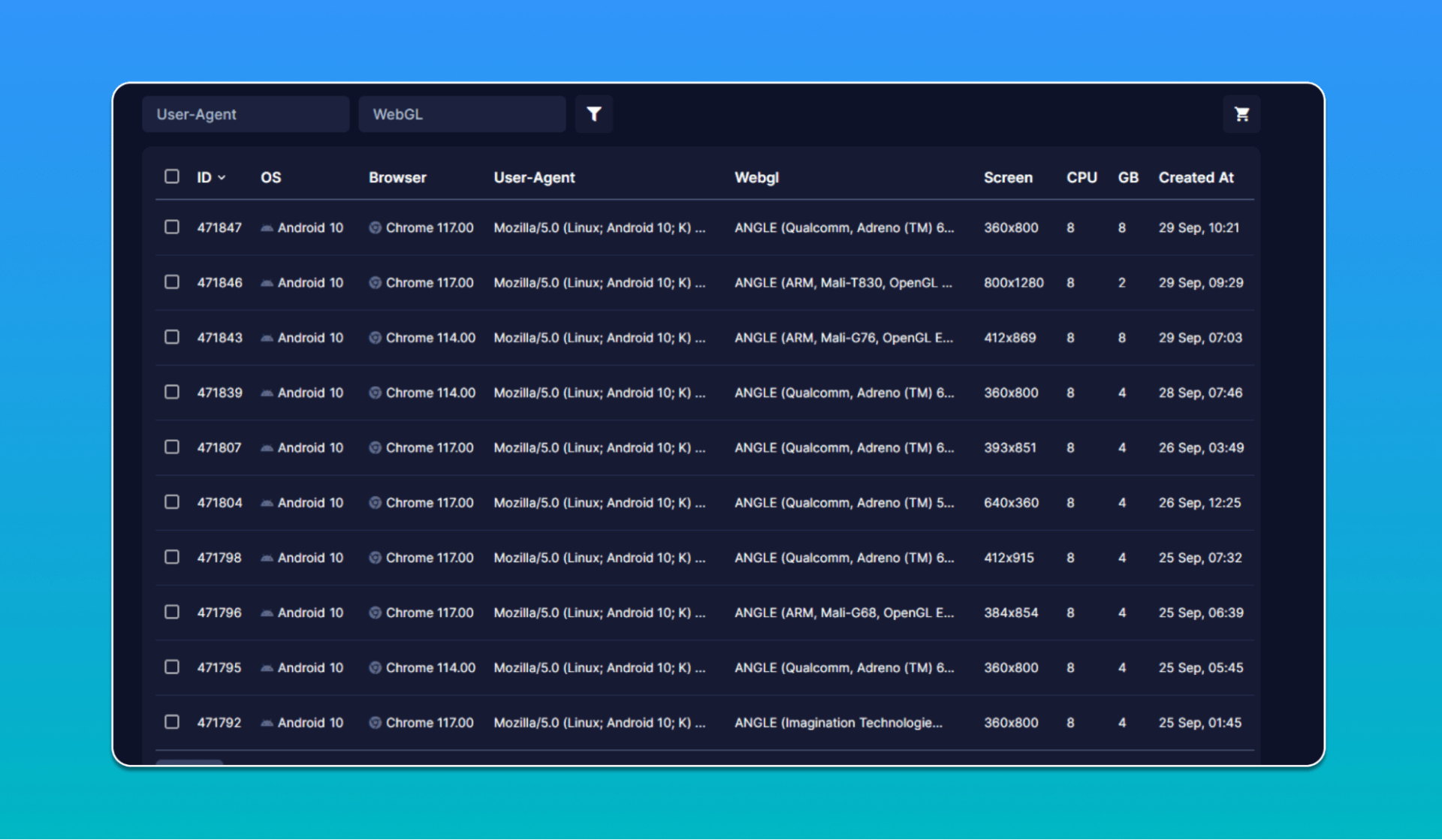 In the 'Extensions Manager,' you can add a list of extensions that will automatically load into your profiles. These extensions can be from your PC or the Google store.
In the 'Bot' tab, you can enable automatic cookie stuffing, and 'Sync' is for synchronizing your anti-detect browser.
Additionally, there are three buttons for getting help, changing personal information, and configuring the anti-detect browser itself.
How much does it cost?
The cost of the Undetectable anti-detect browser depends on the plan you choose. There are a total of 4 plans, and the higher the level, the more profiles and users are available to you.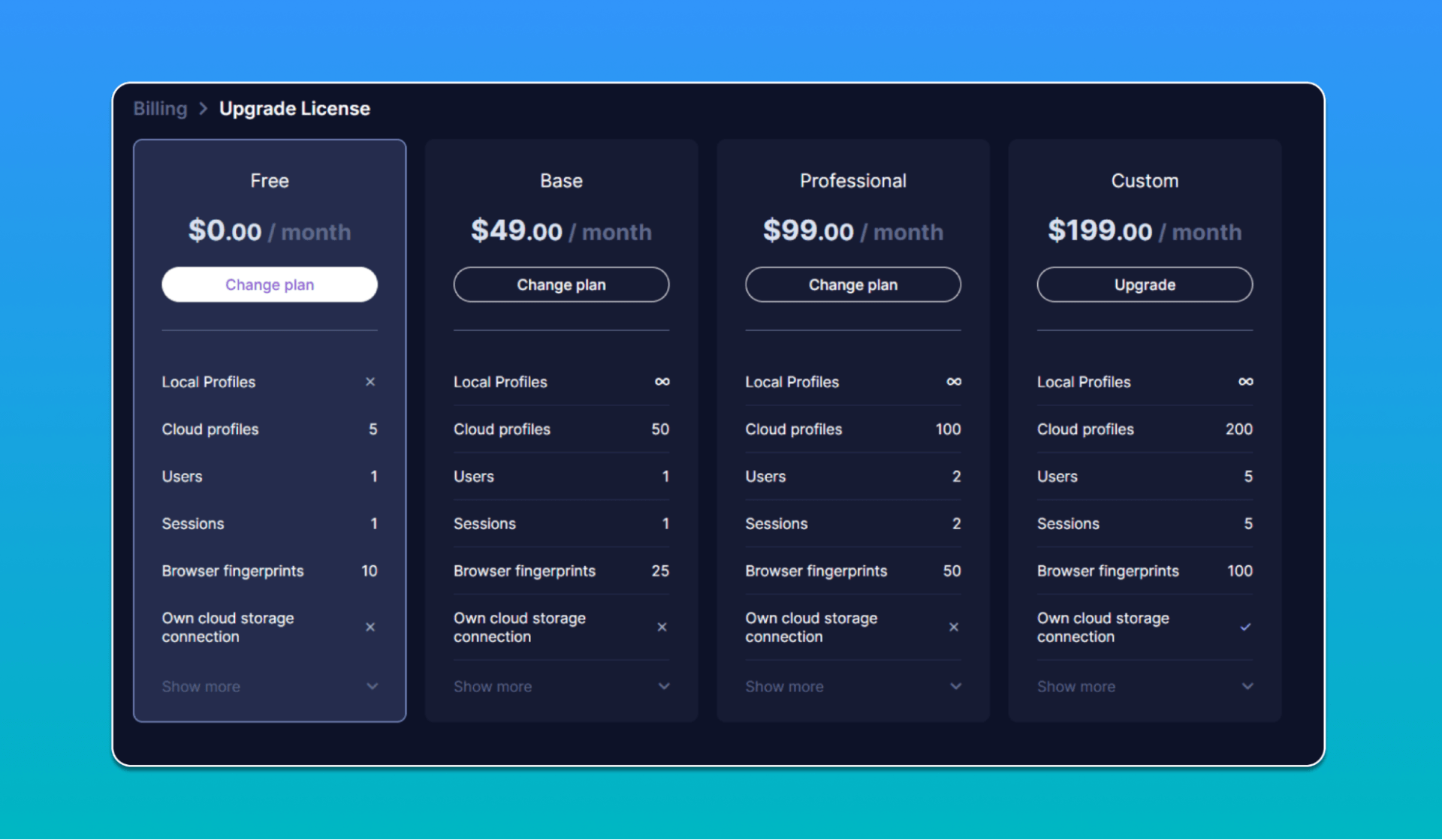 You can pay for your plan using credit cards, cryptocurrencies, and Capitalist.
Users' reviews on the Undetectable anti-detect browser
Undetectable may not have been on the market for long, but it has already garnered hundreds of positive reviews from users.
You can also leave your review about this anti-detect browser on this page. Share with other users what you like about it and why you use it.
Conclusion
Undetectable is an anti-detect browser that guarantees you 100% anonymity and convenience in your work. If you're looking for an affordable anti-detect browser with a team mode and a user-friendly interface, one that uses real fingerprints, then Undetectable is what you need. Register on the official website and see for yourself.