Telegram Moderation Bots: Top-List and Review
It is difficult to maintain order in channels with commenting enabled on Telegram: discussions can involve insults, slurs, or spamming. The same issues can occur in group chats. To assist administrators, moderation bots have been created for Telegram chats. Let's discuss what they are and which ones to choose.
What is a Telegram moderation bot?
A Telegram moderation bot is a script that helps maintain order in discussions. There are many moderation bots available for Telegram, each with different functionalities.
The primary function of these Telegram moderation bots is to remove prohibited words. You can configure them to filter out profanity or other content, such as reposts or any mention of politics. When a user sends a prohibited message, it is immediately deleted.
Some other possible functions include:
Complaint system: Users can report individuals who violate the rules.
Warning and banning system: Users who violate the rules can receive warnings and be temporarily or permanently restricted from communicating.
Statistical data collection: Bots can provide statistics about the chat overall or specific participants.
We will explore these functions in more detail when describing the capabilities of the bots.
Telegram moderation bots can be added to both group chats and channels. Channels require separate chat groups for commenting on posts. To activate the bot, you need to start it, assign it as an administrator of the chat/channel, and configure its settings.
The setup process usually doesn't take much time, as most bots are command-driven. You click a few buttons, follow the instructions, enable the desired functions, add words to the filter, and pay for the software.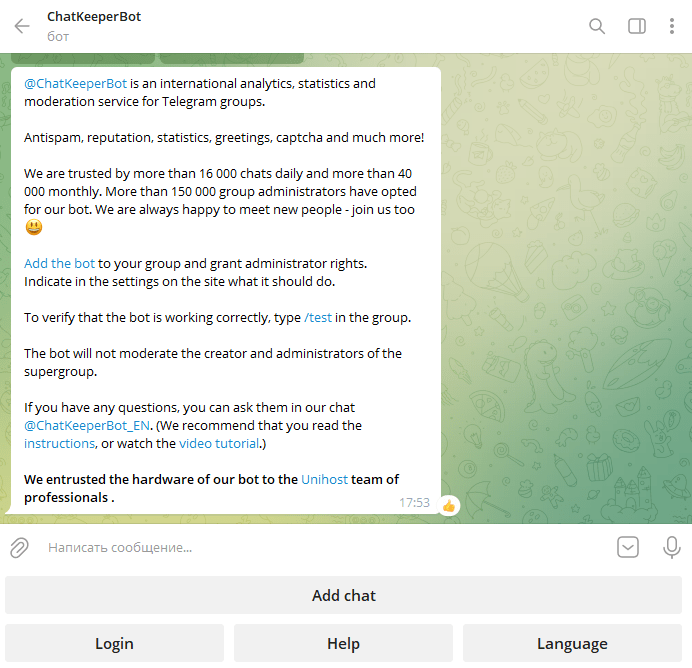 If you are starting from scratch, it's not necessary to immediately add various bots to your chat. First, consider recommendations on how to create an attractive Telegram channel to quickly build an audience. Alternatively, explore ideas for channels to create in-demand content.
Telegram Moderation Bots for Chats
There are many bots with moderation features. Let's list some of the most popular ones, discuss what they can do, and their cost.
ChatKeeperBot
@ChatKeeperBot: One of the most popular and useful moderation bots in the messenger. It has four functional blocks: moderation, triggers, reputation, and statistics.
Moderation: Removes undesirable messages in chats. The bot can filter out profanity, links, advertisements, flooding, and spam. You can configure specific words that trigger the bot's action.
The bot can issue warnings and punishments for rule violations, such as prohibiting users from sending messages.
Triggers: Automates actions. With triggers, you can replace an administrator. The bot can send messages, automatically respond to chat participants, and issue punishments without requiring owner confirmation.
Reputation: A system that allows users to earn points. The bot increases the reputation of active users and can assign negative reputation to rule violators.
Statistics: Provides analytics on chat activity. ChatKeeperBot can analyze chat history, show the top 10 most active participants, display all active filters, and provide other data.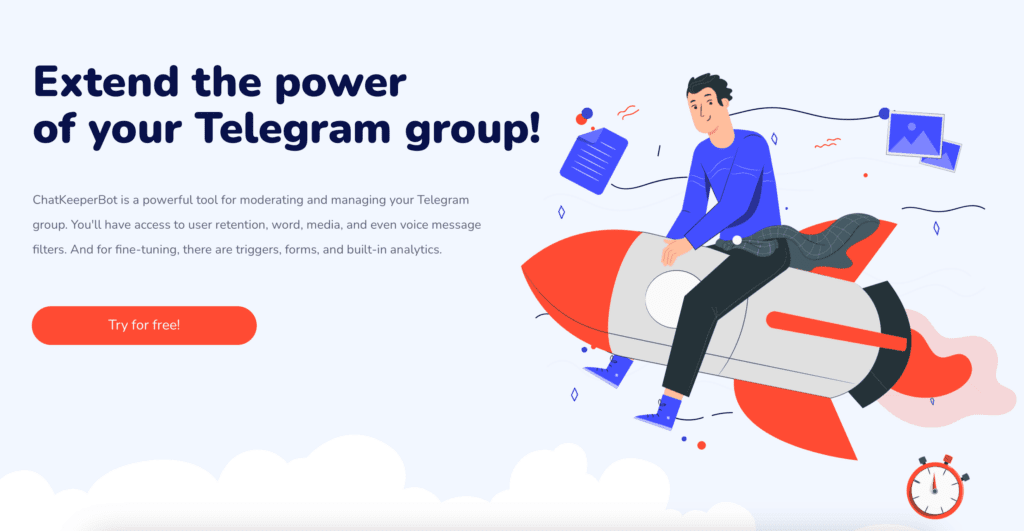 The bot also allows you to create welcome messages, embed surveys and forms, and pin rules. Most functions are available for free. You can add up to 12 triggers, up to six conditions, and up to three actions within each trigger.
Paid plans start from just a couple of bucks per month for monthly billing. These plans remove ads from paid messages, provide user verification, and allow bot name customization, among other features.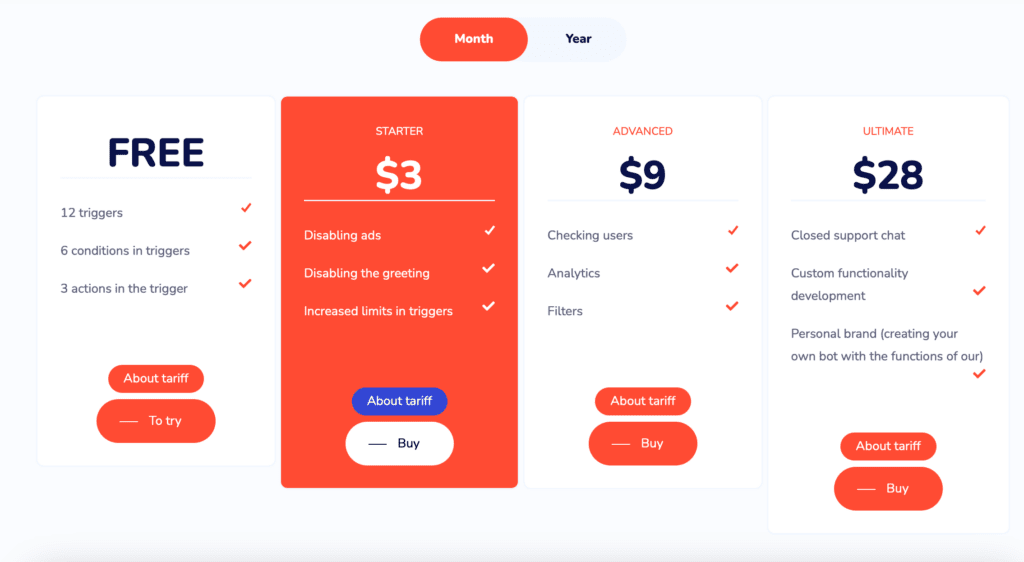 FovBot
@FovBot: A professional platform for managing groups and channels in Telegram, created in 2017. This tool offers a wide range of features.
Moderation: Similar to other bots, it can delete messages with prohibited words or form a list of stop words. For example, if a user uses stop words three times, they will be blocked. FovBot also helps with channel monetization by combating spam. You can configure it to remove any type of link, including external links or @username links that are not mentions but refer to channels, chats, or bots.
It allows the creation of a white-list of exceptions, where the bot won't delete specified links.
Also among the bot's other features are:
Automatic greeting for each new participant.
Information output, such as local time or cryptocurrency rates.
Spammer blocking: information about spammers is obtained from a shared database.
Reputation system and statistics.
The bot can be used for free, but there is also a paid version that costs $1.10 per month and provides additional features like adding a custom bot mirror.
Combot
@Combot is one of the most popular solutions for moderating chats and channels. It is installed in over 170,000 groups.
The bot has three major feature modules: moderation, analytics, and triggers.
Moderation allows full control over the chat. The service can delete messages with prohibited words, offensive language, links, and mentions. It also includes warning and banning systems.
Users can report unwanted participants to administrators. The activity of new users can be restricted, such as by temporarily preventing them from communicating for 60 seconds.
The bot can automatically detect and block spammers.
Triggers enable the creation of a reputation system and its management. They can also be used to set up automatic responses to frequently asked questions and launch regular activities, such as offering built-in games to users.
Analytics provides standard statistics on chat posts, users, and overall group engagement. It allows you to view the most active subscribers and evaluate overall user engagement.
Most of the bot's features are available for free. There is a paid version, but the pricing information is currently not available.
ProtectronBot
@ProtectronBot (link opens in Telegram) is another popular service designed specifically for chat moderation. It can:
Block spammers.
Filter unwanted words.
Verify new users.
Issue and lift bans.
Filter links and mentions.
Remove system notifications.
Limit frequent message sending.
The bot needs to be manually managed through commands. For example, the command /blacklist_add word can add a word to the blacklist.
Due to manual management, the Telegram moderation bot may seem less convenient. However, it is entirely free, and all features are available without restrictions.
BetaOrgRobot
@BetaOrgRobot is the beta version of the BetaOrgRobot bot. It can be used now, and in the future, you will be able to switch to the standard version of the bot, which will include almost all the features of other moderation bots.
Currently, BetaOrgRobot has three available modules:
Removal of prohibited words: You can add words to the prohibited list, and the bot will delete messages containing them.
Welcome message: Each new participant in a channel or chat will see a welcome post that you can customize.
Arabic filter: It removes messages in Arabic and restricts access to the chat for Arabic users.
The bot can be used for free.
There are many similar bots available, such as AngryModerBot and GroupHelpBot, which have similar functionality, so we won't describe each one separately.
Things to Know Before Adding a Moderation Bot in Telegram
Show users the rules. Don't introduce a moderation bot if subscribers are unaware of what is allowed and what is not. Present the rules in a separate post and pin it in the chat or channel where all participants can see it.
The shorter the message with the rules, the higher the chance that people will read it to the end. Nobody likes lengthy rule compilations. Try to be concise. If you need to explain a lot, include the most important points in the message and provide a link to a page where the complete rules are published. Those interested can study them further.
Avoid overly strict restrictions. It is not advisable to ban users after their first violation. Also, avoid adding all possible variations of words that may offend or insult someone to the filters. This could lead to situations where the bot deletes messages that do not actually violate the rules, simply due to errors.
Excessive moderation can lead to user dissatisfaction and, over time, result in low engagement. Some users may be banned without a serious violation, while others may choose not to write anything extra to avoid catching the attention of the automated moderator.
Monitor the bot's performance. Any automated software can make mistakes, especially in the context of moderation, where a simple typo can trigger a response.
Periodically check all of the bot's actions if it operates in automatic mode. Also, prominently display information on what users should do if they encounter an unfair decision.
Use other bots to increase engagement. Some bots can suggest where to find content for publications, others can add reactions to posts, and some can even launch games directly in chats. There are also bots that facilitate management, such as for automatic posting.
Add bots with features that will appeal to your target audience. However, it's important not to overdo it. Make chat communication clear: explain in a pinned message which bots are active and what they are used for.
Choose a Telegram moderation bot, configure it properly, and save time. Wishing you extensive reach and profitable projects!
FAQ
Why are moderation bots needed in Telegram?
They automatically moderate communication by removing advertisements, profanity, and spam. They can also issue warnings and ban users who repeatedly violate the rules or behave inappropriately.
How to add a Telegram moderation bot to a chat?
Follow the link in the messenger, open the bot, and launch it. Add it to the chat or channel, and make sure to grant it administrator rights — it won't be able to function without them. Then configure it to perform the desired actions.
Which Telegram moderation bots are the best for chats?
There are many Telegram moderation bots available. The most popular ones are ChatKeeperBot, FovBot, and Combot. Some people may use less popular or free versions of bots. It all depends on your goals, budget, and the number of participants in the chat.
Good