TikTok Organic Content Marketing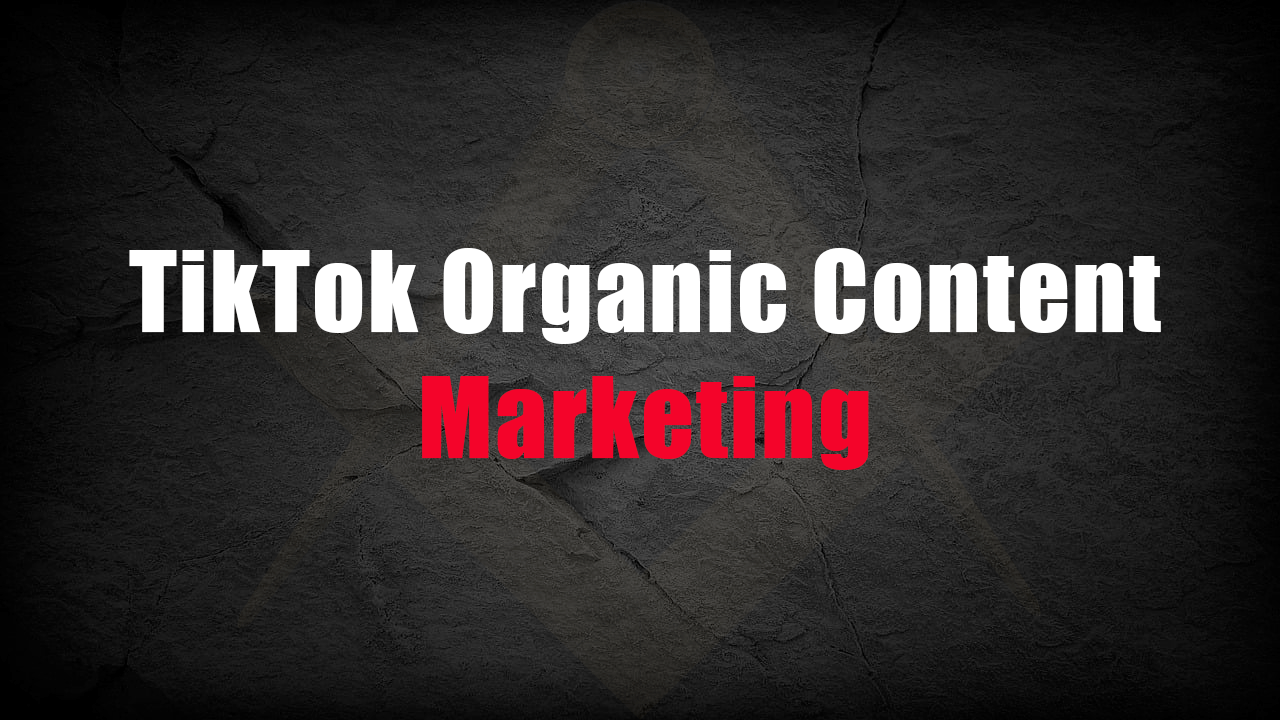 Are you struggling to create engaging TikTok videos? Would you like to know about effective TikTok organic content marketing? This article guides you through the process of creating and implementing a successful TikTok strategy.
Why Organic Content is Best for TikTok
In the past three years, TikTok has become a serious contender in the social media world, leaving platforms like Facebook, YouTube, Twitter, and Pinterest playing catch-up. The app has revolutionized social media with its pioneering of short-form content – quick, 15-second vertical videos that have become increasingly popular. What's more, these videos don't require an expensive ad budget or high production value. This is why TikTok is a winning platform for most brands, particularly for startups or eCommerce businesses that have limited resources but a lot of time and energy for marketing. There are three main advantages to being on the platform:
Low marketing costs. You can make a significant impact on TikTok without spending a lot on TikTok ads, provided you have the right content.
Increased online attention. Short-form video has become the most popular media format online. TikTok organic content can help you grab and maintain the attention of your target audience.
Content suitable for different platforms. TikTok's growth is a blessing for busy social media managers. Once you've created short-form video content for the platform, you can reuse it across other social networks, saving time and effort.
Best Types of TikTok Organic Content for Business​
Our guide will show you how to develop a successful TikTok organic content marketing strategy that grabs attention and drives conversions. Before we delve into the details of crafting, filming, and editing your content, let's discuss what you need to create.
Start by identifying your brand's main content pillars. These are the three or four key content types that communicate your message, brand identity, and community. Although every brand is unique, we'll explore some of the most common content pillars here.
Most TikTok brands should create content that includes:
Trending content that taps into viral audio, jokes, and styles on TikTok.
A series of original and related videos that keep viewers coming back for more.
Community engagement content that encourages followers to take action and become loyal customers.
Let's take a closer look at each type of TikTok video.
Best Types of TikTok Organic Content for Business: Trends​
TikTok trends are largely based on audio, which functions similarly to hashtags on the platform. By tapping on the background audio of a video, you can see more videos that use the same sound and even incorporate it into your own content. Often, particular audio is associated with a specific meme or joke, resulting in viral trends that have been featured in over 4 million videos. As a powerful pillar of organic content, leveraging TikTok trends has the potential to generate millions of views if executed strategically.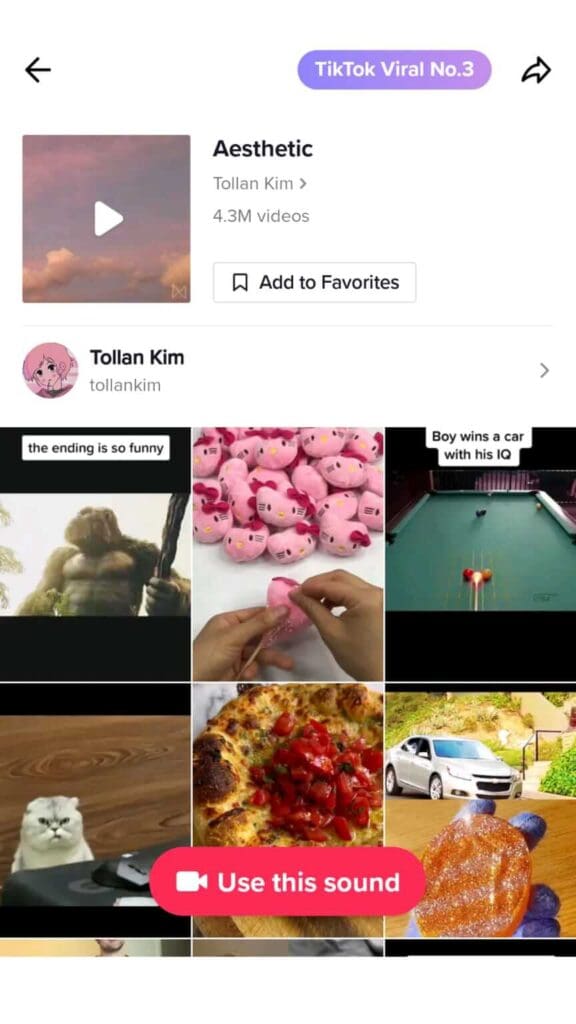 However, trends on TikTok have a short lifespan, which is why it's important to keep up with what's currently popular on the platform. Spend 15 minutes a day scrolling through videos to see what's trending, but don't consume aimlessly – view it as a way to study what works.
If you find a video template that aligns with your brand, tap on the audio to see how many other users are participating in the trend. It's not necessary to post on every trend, focus on the ones that can help you communicate your message effectively.
Creating trend videos allows you to generate a high volume of content without investing a lot of time and effort into production and scripting. It also demonstrates your familiarity with TikTok's culture.
However, it's important to note that if you solely post trend videos, you won't be able to convert viewers into customers. To convert trend video viewers into new customers, you'll need to create original content.
Best Types of TikTok Organic Content for Business: Series of Original Videos
Unique and original content is essential for your TikTok organic content marketing strategy. Creating videos that showcase your brand, story, process, products, and services will help you build a dedicated fan base. Unlike trend videos, original content allows you to stand out and differentiate yourself from competitors.
One way to create original content is by producing a series of related videos that encourage viewers to come back for more. Make it clear that these videos are part of a series by adding text overlays with episode numbers, and encouraging viewers to check back for more clips in the future. You can also use TikTok's Playlists feature to group series at the top of your profile page for easy access.
A considerable amount of your TikTok content should showcase your products and services in a fun and engaging way. Be creative in highlighting various features, tutorials, hacks, tips, and tricks. These types of videos should make up the majority of your TikTok organic content marketing on the platform.
Best Types of TikTok Organic Content for Business: Community Engagement
Including community engagement in your TikTok organic content strategy is crucial. One unique feature of TikTok is the ability to respond to comments with video responses. In addition to liking and responding to comments in text, using the video response feature can help increase your content output. You can even base a video on a comment from a viewer, as seen in this example.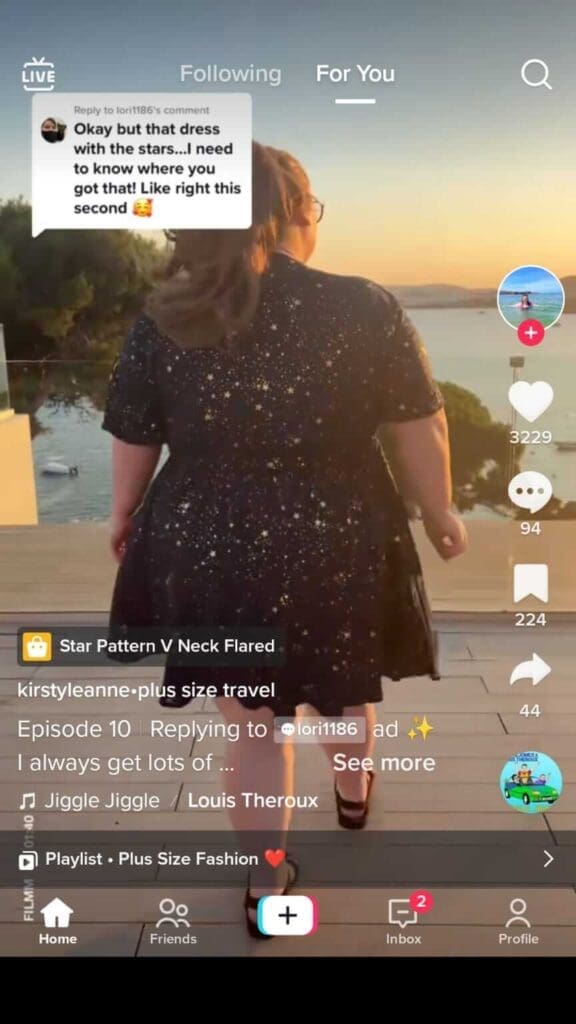 Engaging with your audience on TikTok has two key benefits:
It boosts the reach of your original content by responding to comments on your videos.
It helps to foster relationships with potential customers.
Think of this as a content funnel. Trending content attracts new viewers to your profile, original content retains their interest, and community engagement solidifies their loyalty. While producing original content can be time-consuming, you can maintain a consistent flow of content by sharing trend-related and community engagement videos as well.
Now that we are done with the theory, here are the steps that can help you make your TikTok organic content marketing successful. In short, first of all, you should script and edit your TikTok content to make it effective. Then, make sure that you post your content frequently. ​Also, getting a creator person would be a great solution. And last but not least – try to use your TikTok organic content on other platforms.
So let's take a closer look at every step we've mentioned above.
Steps for Successful TikTok Marketing: Script and Edit Your Content​
After determining the types of content you want to create, the next step is to establish a content workflow that includes three stages:
Content planning: Outline each aspect of your video, including text overlays, special effects, and frames.
Content production: Record your short-form video according to your plan.
Editing and approval: Edit your video as necessary, remove unnecessary segments, and obtain final approval for posting. It's best to have videos approved at least one week prior to publication.
Why Script Your TikTok Content?​
Although scripting a 15-second video may seem unnecessary, there are several compelling reasons to do so.
Firstly, scripting saves time in the long run by providing a clear plan for content creation.
In addition, creating a script ensures that your content has a clear goal and engaging opening. With only 15 seconds to capture your audience's attention, it's crucial to avoid being vague or boring.
Scripting can also be useful when collaborating with content creators or influencers to ensure that important talking points are not overlooked.
Finally, a detailed script enables you to analyze and optimize your content by testing different elements and identifying the video styles that generate the most engagement.
How to Script TikTok Content​
What should be included in a content script?
A rough outline of the verbal content. It doesn't have to be exact, but it should ensure that you don't forget any important points.
A plan for visual elements, including any necessary shots of products, scenes, or specific clothing.
Specific audio to set the tone of the video.
A detailed draft of any text overlays, including the desired font style and size.
A description of the general tone, body language, mood, and speaking style.
A list of any special effects, filters, or sound effects and when to use them.
It's also a good idea to include links to any audio, video inspiration, or special effects used in the video. Over time, this will build a reference library of successful video elements, saving time for future content creation.
How to Edit TikTok Content​
When it comes to editing your short-form video content, you can choose between TikTok's native editing tools or third-party apps. TikTok's editing tools are already equipped with various filters, retouching options, effects, photo collage tools, and various overlay and special effect features. While they are already great, using external editing tools can give you more flexibility and options to enhance your content. One of the best editing apps is CapCut, created by ByteDance, the same company behind TikTok.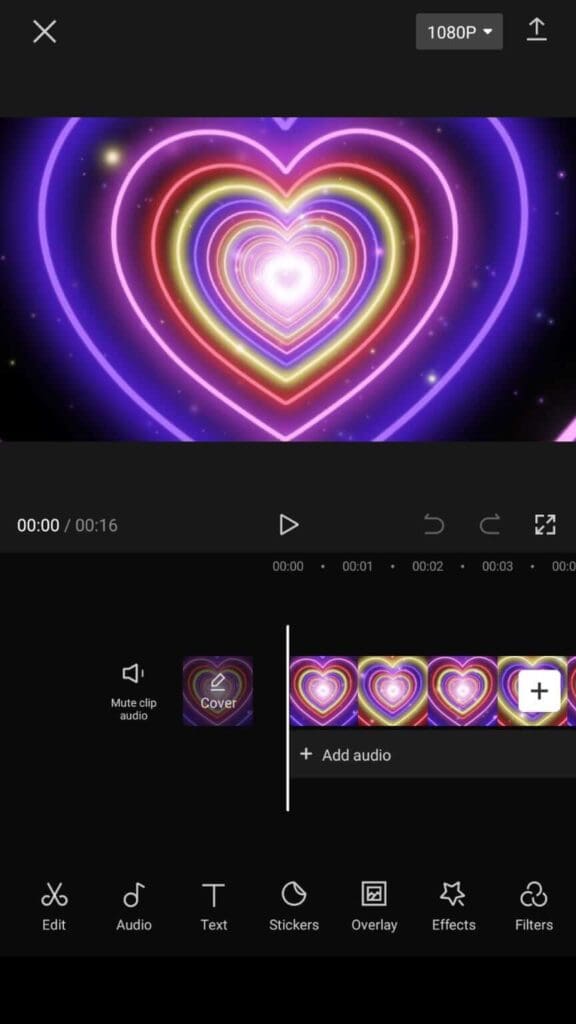 CapCut is a versatile app that offers all of TikTok's basic editing tools and more. One major advantage of using CapCut is that it allows you to export videos without TikTok's watermark, which means you can repost your edited video content on other social networks without the TikTok branding.​
At this point, you should have a clear understanding of your brand's content pillars and a well-defined content flow to help you post organic short-form videos on TikTok.
However, there are still some additional tips that can help you get even more out of your TikTok organic content marketing. Here are three suggestions to consider:
Steps for Successful TikTok Marketing: Post Frequently​
Consistency is crucial for success on any social media platform, and TikTok is no exception. Posting a single amazing video annually won't be enough to achieve your goals. However, posting five slightly less polished videos every week is more likely to attract an active and engaged audience.
TikTok Advertising Case Study: Boosting Conversion Rates with Engaging Funnels
It is essential to establish a regular posting schedule that balances quality, quantity, and your personal life. For most brands, posting five to seven videos per week is ideal. If you can only commit to posting three videos a week, it's better to stick to that schedule than to post inconsistently.
If seven videos per week seem overwhelming, remember that each post offers an opportunity to learn more about your audience. Not every video will be perfect, but that's okay – consider those less successful posts as research. As you continue to post, more of your content will resonate with your audience.
Scheduling tools can make it easier to maintain a consistent posting schedule. You can schedule video posts using the TikTok desktop app or third-party apps like Later, which can also help you cross-promote your content on other social media platforms.
Steps for Successful TikTok Marketing: Get a Creator
TikTok's posting style is usually in first-person, with videos showing one person facing the camera. However, it doesn't have to default to you, the social media manager. You can get creative with the person who would make content for you, a creator, and think about who your brand wants to show. Is your messaging aspirational, relatable, authentic, exclusive, or diverse? Can you find creators who fit the bill? Remember that you always have the option to work with content creators or influencers to expand your creator.
It's important to consider the person you want to present to your TikTok audience, and whether that should be represented by a person or a mascot. Some brands choose to never show a human face or use a mascot instead. However, these tend to be brands that are already big. If you're still building your audience, then a human touch will help you connect with more people.
When choosing who to represent your brand, it's also important to keep in mind your target audience. If your audience is primarily younger, then a younger creator may be more effective. On the other hand, if your audience is more mature, then an older creator may be more relatable. Regardless of who you choose, make sure that they align with your brand values and messaging.
One brand that has used a comedy mascot instead of a human face in its videos is Duolingo. While this is an exceptional strategy that works for their brand, it's important to consider whether a mascot or a person would be more effective for your specific brand and audience.
Also, make sure you check out TikTok's Newsroom to stay tuned with all the new features they implement. For example, they introduced Promote for more ways to boost organic content.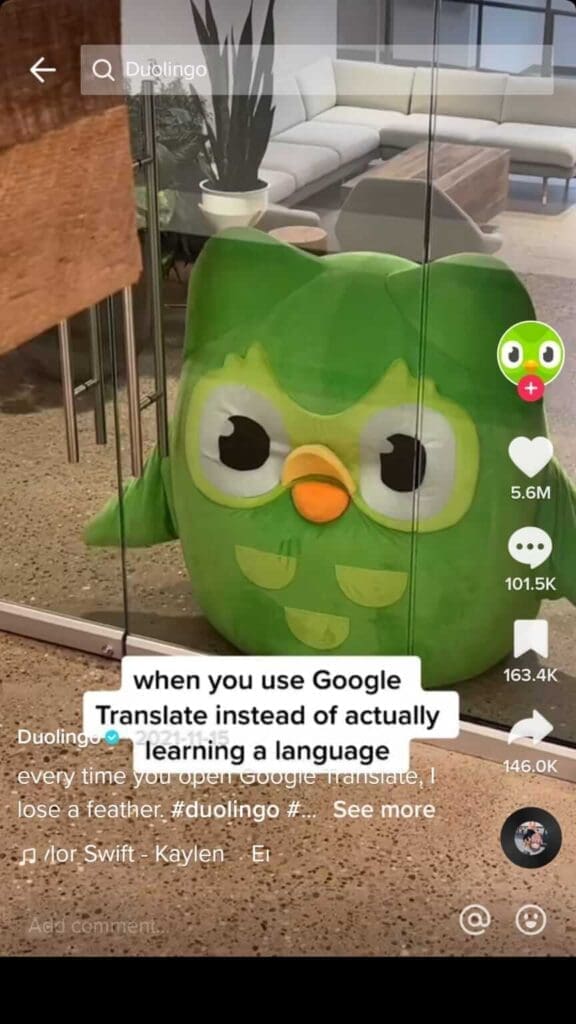 Use Your TikTok Content on Other Platforms​
TikTok has become a dominant force in social media with its short-form, scrollable content. As such, creating a TikTok strategy is equivalent to creating a comprehensive social media marketing. One of the best ways to make the most of your short-form videos is by resharing them on other platforms, as this increases your reach and maximizes your efforts.
While it's ideal to create unique content for each social media platform, this can be challenging in practice. However, you can still make the most of your TikTok content by redistributing your best videos to other social networks.
We are sure that the future of social media is in short-form video content, so it's important to have a strategy in place. By using the content workflow outlined above, you'll be well-equipped to succeed on TikTok and beyond.