White Hat SEO: Definition, Methods, Pros & Cons, Services
The complexity of website promotion in organic search is constantly increasing due to ranking algorithm updates and new projects in competitive niches. Webmasters have to spend more and more time on creating an SEO strategy.
Novices often search for a quick path to high rankings and relevant traffic, but there are no magic tools. Achieving your goals can only be done through consistent comprehensive work.
White Hat SEO is considered the most effective method of promotion that can provide long-lasting results. The optimization strategy includes dozens of individual components, the interaction with which will allow you to gain visibility for queries from the semantic core.
Before we get down to white hat SEO, make sure you've read our detailed article on black hat SEO.
White Hat SEO: Definition
White Hat SEO technology is associated with various website promotion tactics that do not violate Google's recommendations. It is believed that such strategies pave the way for stable traffic.
If search engine algorithms see that a project is constantly evolving and users are satisfied with the content, it earns trust. White hat marketing methods require a lot of time and resources, but the efforts should pay off in the long term.
Promoting through White Hat SEO is especially beneficial for projects with no ranking. If they consistently demonstrate stable results for months, it will undoubtedly influence their authority.
Websites with a history should not relax either. If competitors' resources are evolving better and faster, you can easily lose the title of niche leader. Re-earning the favor of algorithms will be challenging.
Using White Hat SEO also provides a minimal guarantee of protection against falling into the category of websites losing the battle for organic search during Core Updates. Google periodically makes global changes to ranking and changes the rules of the game in some niches.
The development of ranking algorithms in recent years confirms the rule that white-hat SEO can help achieve stable results. If website owners only invest in backlinks, it may not be enough.
Optimizing against webmaster recommendations can lead to domain penalties. To avoid wasting time fixing mistakes, it's better not to make them in the first place. While the site is recovering from filters, competitors can pull far ahead.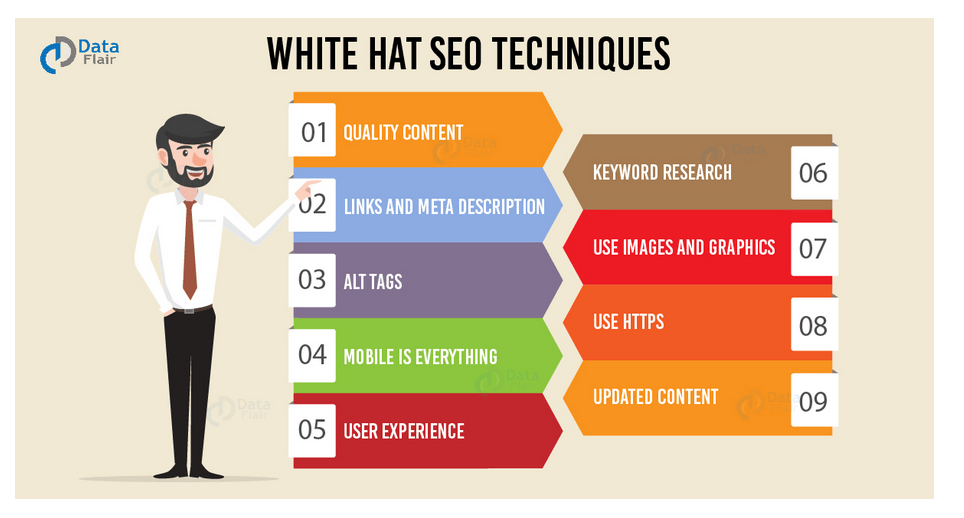 White hat SEO technical methods
Some webmasters focus on external optimization, thinking that it's sufficient for a successful project promotion. In reality, achieving long-term results is only possible when internal optimization is also at a high level.
When every URL of the website is optimized for loading speed, user-friendliness, and other parameters, behavioral factors will be excellent. This will have a positive impact on Google algorithms' perception of the project.
It's better to address technical resource development questions at the early stages of promotion which is considered white hat SEO methods. This way, you can achieve maximum results after implementing active external optimization.
White hat SEO technical methods: Page loading speed
In 2023, users have become accustomed to lightning-fast content loading. If visitors land on an unfamiliar website and have to wait 2-3 minutes for a page to load, most of them will return to the search results.
Google closely monitors the audience's reaction, so a mass return to the search bar won't go unnoticed. Negative consequences may not manifest immediately, but the risk is very high.
It's essential to optimize content loading speed to perfection. If a page loads in 10-15 seconds, that can be considered a good result. Otherwise, no white hat SEO techniques will help.
White hat SEO technical methods: Duplicates and redirects
Duplicates and a large number of suspicious redirects reduce the quality of internal optimization. Pages with duplicated or similar content lead to dilution and can have a negative impact on rankings.
As for redirects, they should be closely monitored. Many popular CMS platforms have monitoring modules with interfaces where you can view redirection statistics and the current status.
To avoid situations where you have to change the addresses of traffic-generating pages, it's essential to configure transliteration modules correctly at the beginning of website promotion. This will help protect your rankings to the maximum extent possible.
White hat SEO technical methods: HTTPS (SSL certificate)
Several years ago, Google announced global changes in search results. These changes focused on enhancing user session security by implementing SSL certificates.
Many webmasters initially believed that the security protocol wasn't a ranking factor, but search results spoke for themselves. In search results, projects without SSL certificates are virtually non-existent.
This type of technical optimization doesn't require a significant investment. Most popular hosting providers offer SSL certificates for free or at minimal cost (around $10).
White hat SEO technical methods: Mobile optimization
For many years now, Google has actively promoted the mobile-first trend, prioritizing mobile traffic. The proportion of visits from mobile devices continues to grow, so every website should inherently display correctly on smartphones.
If a project has issues with content display, you will receive a corresponding notification in the webmaster's panel. In some cases, these notifications may appear even when there are no actual problems, but conducting additional checks won't hurt.
In the near future, the importance of mobile devices will only increase. While some tasks may be more convenient to perform on a computer, quick access to content from smartphones is becoming increasingly relevant.
White hat SEO technical methods: Creating and configuring sitemap, robots.txt
Creating a sitemap and a technical robots.txt file are standard tasks at the beginning of promoting a website. In many content management systems, these files are generated without the webmaster's intervention.
Google has long regarded robots as a recommendation, but it's essential to create and add all pages and sections that should not appear in search results. If robots index unnecessary URLs, you can restrict access to them through htaccess.
A sitemap expedites indexing because search engine algorithms receive the complete structure of the project. You can create it using CMS modules or utilize specialized services.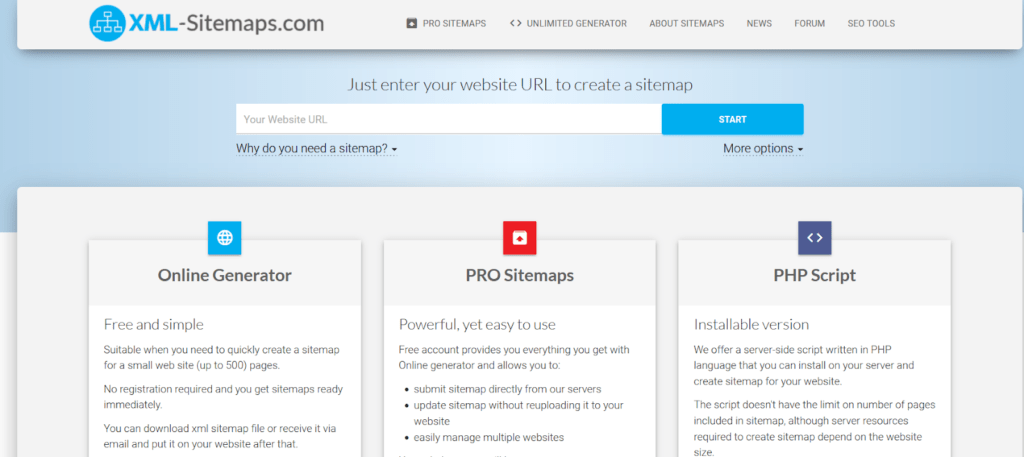 Internal optimization – another white hat SEO direction
Internal optimization doesn't end with tasks related to technical SEO. Content loading speed and a functioning certificate are important, but you shouldn't forget about other aspects of the project.
For example, even if a website is optimized for mobile devices and has no content loading issues, it's not enough to ensure a perfect user experience.
Visitors come to the site for valuable content and tools that help automate everyday tasks. If these components are missing, any optimization becomes futile.
Internal optimization: Site structure optimization
A site structure is considered high-quality when search engine robots can easily scan pages, and visitors can find the content they need within a few clicks. This includes URL structure and the approach to creating visual navigation.
Setting up the URL format and other structural components is not complicated, but it's essential to pay attention to this aspect in the early stages of project development. Making emergency changes after achieving a stable traffic flow can risk losing the progress made.
Internal optimization: Internal linking
Internal linking serves several purposes. Firstly, it helps distribute authority among the necessary pages. If many authoritative resources link to a category on the website, you can add an internal link to an important page and boost its SEO strength.
Secondly, proper internal linking assists search engine robots in better understanding the structure of the site. If they encounter problems crawling pages, it can negatively affect indexing speed and ranking quality.
Every webmaster has their own approach to creating internal links, and there is no clear-cut instruction for it. However, it's essential to consider users – if an article contains links to irrelevant pages, it can lead to an increase in bounce rate.
Internal optimization: Content relevance
Webmasters often say that content is king, and in niches where content reigns supreme, this is absolutely true. Useful articles that address the audience's problems don't go unnoticed and benefit the website.
If Google's bots regularly observe high visitor activity and the quality of content is supported by good behavioral factors, the website can expect favor from the search engine.
You can assess the relevance of content using any analytics system. It's advisable to install a system that not only tracks user actions but also records them. For example, Hotjar offers this functionality.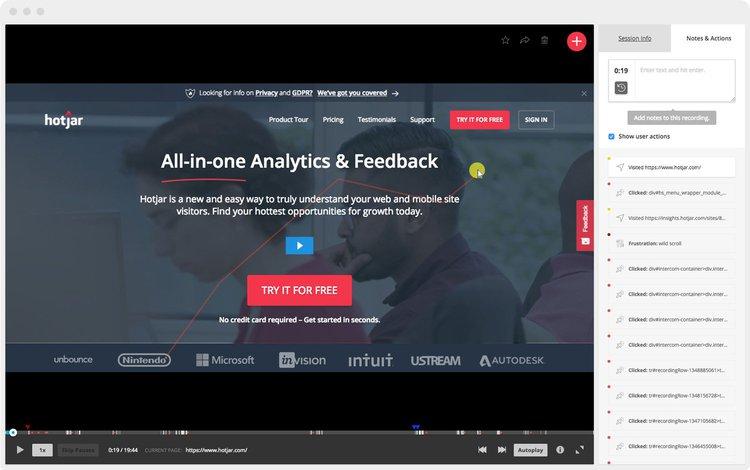 Internal optimization: Headings (H1-H6)
In the SEO community, it's often claimed that page headings are meant only for robots. That's why webmasters add several keywords to each of them and consider the task done.
In reality, headings also matter for users. If a website uses a Table of Contents (TOC) module, visitors can quickly determine whether it's worth spending time on the content.
Therefore, it's essential to strike a balance between users and search engine robots. Avoiding content optimization with keywords isn't advisable, but overloading a page with them isn't necessary either.
Internal optimization: Title and description
White hat SEO promotion always involves working with meta tags. This page component also needs to be optimized for both users and search engine robots.
Google's robots analyze the title and description to better understand the page's content. Users, on the other hand, look at them in search results to decide whether to click through to the site or keep scrolling.
Internal optimization: Content uniqueness
The ranking of pages in search engines is influenced by hundreds of factors, and content uniqueness plays a significant role among them. In some cases, achieving 100% uniqueness may be impossible, but it's essential to make efforts to make the page as dissimilar as possible from what competitors offer.
Uniqueness is not just about obtaining 100% uniqueness in a specific service. It primarily refers to content that competitors cannot easily reproduce. If content can be easily copied, maintaining a high ranking will be challenging.
External optimization
After completing the internal work on the website, it's time to actively engage in external optimization. This includes not only building a backlink profile but also improving the project's image.
To become a leader in a highly competitive niche, a lot of effort is required. It's not enough to simply acquire hundreds of backlinks from authoritative sources. If these links come at a cost, their value may be limited.
The website should be recognizable. It's important that users, when in need of content or specialized tools, mention a specific project. In such a case, the resource won't face ranking problems.
External optimization: Competitor analysis
It's important to keep your main competitors at a distance while closely monitoring their actions. This allows for a quick response to changes and adjustments to the project's promotion strategy. Allowing the situation to drift without attention can lead to problems.
Special attention should be given to projects that have shown significant growth in recent months. If their visibility and traffic consistently increase, it's essential to find a clear explanation for this and then use the gathered information to promote your own resource.
External optimization: Link strategy
The link profile serves as the foundation for successful optimization. You can invest a lot of money in content, but the results may be weak. To fully unleash the potential of a resource, you'll need backlinks.
It's essential to create a profile development strategy right after registering the domain and deciding to work on the project. It's also important to periodically update the strategy based on fresh data.
External optimization: Anchor list
The anchor list can provide insights into how effectively a resource is building its link profile. If the list consists only of commercial anchors with suspicious keywords, it may lead to sanctions.
It's advisable to create a balanced anchor list to increase the chances of successful promotion. An organic profile serves as the most effective safeguard against ranking issues. If algorithms have no objections to the anchors and link attributes, you can proceed with promotion confidently.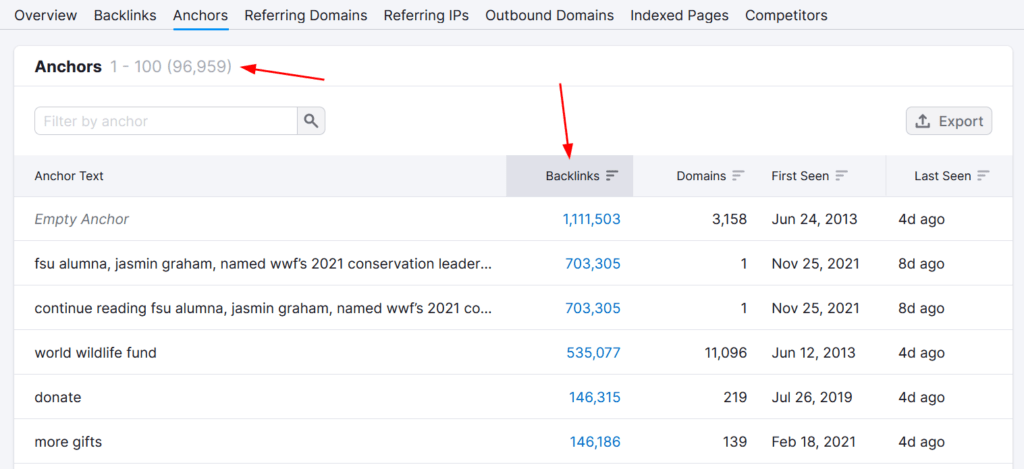 How to correctly build up a website's link mass?
In SEO blogs and specialized resources that produce materials on search engine optimization, there are many recommendations for working with links. However, many of them have nothing to do with practical application.
A personalized link-building strategy should be created for each website. Simply purchasing links on an industrial scale without clear criteria for donors is unlikely to be beneficial.
The positive effect of link building will only be noticeable when there is a balance between the organic profile and the authority of the domain. Focusing solely on SEO juice can lead to penalties.
Quality donors, recipients, and link weight
Website owners who are new to search engine optimization often spend a lot of time figuring out which donors they should get links from. Very often, they choose resources randomly and focus on the quantity of links.
Experienced white hat SEO specialists recommend paying attention to the following parameters:
Authority;
Audience engagement;
Relevance;
Spam level.
If a potential donor doesn't have 10,000 links in their profile, it doesn't mean they are not of high quality. If they have a highly engaged audience, you can still establish link relationships.
It's important to remember that one of the key indicators of quality for each project is user behavior factors. If most of the links have user clicks with good behavioral metrics, the website deserves trust.
Smooth growth (without explosions)
There are many myths surrounding link explosions. However, there are currently no recent studies that definitively prove the negative effects of this phenomenon. Therefore, it should not be perceived as something inherently bad.
It can be said unequivocally that artificial link explosions are not part of white hat SEO practices. Search engines are against any link exchange schemes. When it comes to sponsored content, the links should have a "sponsored" attribute in the source code.
In the profiles of some authoritative projects, there are occasional link explosions that do not lead to a sharp drop. If the explosion is natural, there may be no problem.
What not to do?
Sometimes website owners do not want to spend time on tedious SEO work. They prefer gray optimization methods that are supposed to provide quick results and save the budget for promotion.
In many cases, this concerns working with the link mass. Instead of gradually building up the link profile, webmasters buy profile runs, placements in hundreds of directories, and use other questionable methods.
Link building in large quantities can be seen positively only if the quantity does not overshadow the quality. It's unlikely to increase organic search visibility in this way. Therefore, it's better to focus on planning a profile strengthening strategy with gradual implementation.
Monotonous backlinks (platforms)
From the perspective of search engines, one of the key components of a high-quality link profile is diversity. If 90% of the backlinks come from similar resources with identical attributes, it will raise suspicion.
To protect against sanctions and achieve maximum visibility, it's necessary to create an organic profile. It should include links from different projects and with all available link attributes.
Anchor text only
Anchor text links are used to enhance the weight of pages in the context of specific keywords. Commercial websites in various niches actively use them. It's impossible to do without anchor text links, but a balance must be maintained.
If 99% of the links in an online store's profile have suspicious anchor text, the site may face sanctions. In this aspect, one should not emulate competitors. Even if they do not hide sponsored links at all, copying such tactics is risky.
Toxic links
Toxic links are connections to low-quality projects. These include doorway pages, PBNs (Private Blog Networks), sites with duplicate content, spammy platforms, and many other resources. Links from such sites may be present in the profile, but their proportion should be minimal.
It's better to add links from high-quality blogs to the profile. You can integrate target keywords into the anchor text, harmoniously complementing the overall picture. If these links generate traffic with good user behavior metrics, it will be an additional bonus for the website.
Advantages of using white hat SEO
Promoting a website using white hat SEO methods is positioned as the only legal tool for achieving results. The use of gray and black optimization strategies sooner or later leads to penalties.
If a project has authority and can offer visitors valuable content or unique tools, it has every chance of securing a top position. Good visibility in the semantic core, audience favorability, and stable traffic growth will be the best achievements.
Furthermore, using white hat SEO also provides some guarantee of stability. If competitors employ tactics like artificial link building or buy links without disguising them as organic, it is quite possible to outperform them.
Security
SEO is a unique field that is primarily based on experimentation. The methods that work in one case may not necessarily be effective in other cases. This is why similar websites rarely achieve the same visibility.
White hat SEO is considered safe because its methods are based on Google's recommendations for webmasters. In ideal conditions, website owners do not use keyword stuffing, mass link building, and other prohibited methods.
Security in the context of search engine optimization is conditional. No project has a 100% guarantee of avoiding penalties. This applies even to authoritative resources that have accumulated a significant trust factor.
Duration
Webmasters use black hat methods to achieve desired results with minimal effort. However, not everyone realizes that this happiness will be short-lived.
White hat SEO carries minimal risk for the website. It can also face penalties, but only if there is evidence of rule violations in promotion. If there are no complaints about the project, it will consistently receive traffic.
It is the duration that is the main advantage of using white hat SEO. Optimizing a project will require a lot of resources and time, but in the long term, it will pay off with traffic.
Liquidity
Content ranking algorithms are still not perfect. In search results, you can come across doorway pages and other low-quality resources designed for gathering clicks and quick monetization. They have a short lifespan and don't always pay off.
However, when a project consistently receives traffic and fulfills user tasks, it can be monetized. Visitors can send donations, purchase products, or subscribe to a SaaS platform. It all depends on the site's characteristics.
The liquidity of using white hat SEO methods is very high. Therefore, it is not appropriate to compare them with gray or black SEO. Winning the battle for traffic through prohibited methods will be short-lived.
Key components of SEO
Successful website promotion in any niche is based on several fundamental components. It is desirable for each of them to be brought to an ideal state. Only then can you achieve a stable result.
The optimization strategy should take into account not only the current SEO trends but also the specific characteristics of the niche. For example, if traffic leaders rely on backlinks, it's unlikely that you can surpass them solely through content.
The approach to promotion should be periodically updated to adapt to the search engine results page (SERP) situation. This will help you compete with competitor websites and adapt to updates in the core ranking algorithm.
Quality content
Quality content with a balanced amount of relevant keywords helps attract relevant traffic. If competitors cannot offer articles of a similar level, it will be challenging for them to compete.
Quality content implies unique and well-structured information that assists visitors in fulfilling their queries. If this is supported by good user engagement metrics, the website can rank for keywords.
It's important to understand that a website doesn't necessarily stay in the top rankings for years. To increase the chances of long-term success, it's necessary to periodically update pages with fresh data.
Obtaining the right links
The concept of the "right" links is relative. Each website owner has their own approach to strengthening their link profile. Consequently, it all depends on the goals, budget, and the situation in the niche.
In some niches, the number of potential link donors is very limited, and webmasters have to spend more time creating a list of platforms. It's advisable not to dilute relevance to reduce the risk of penalties.
A website is unlikely to face ranking restrictions after just a few comments on a blog. However, if there are thousands of such mentions, algorithms may trigger a suspicious activity mode. Predicting the final outcome in such cases can be challenging.

On-page optimization
On-page optimization involves achieving the perfect technical condition of a project, proper interlinking, a clear structure, and unique content. If a website can offer its audience useful tools, this will also have a positive impact on its ranking.
When it comes to successfully gaining visibility for all queries, it can take a lot of time. The search results change daily, and when a Core Update is rolled out, it can shake up entire niches.
Most on-page optimization tasks are completed in the early stages of a website's development. After that, it's mainly about adding high-quality content, building quality backlinks, and monitoring redirects.
Good user experience
All website owners want to achieve good user experience, but it's challenging. User experience is the result of interaction between users and the website.
User experience is influenced by numerous factors, from the usability of the interface to the quality of the content. Metrics like bounce rate, session duration, and others can be poor due to various issues.
The webmaster's task is to identify all shortcomings in a timely manner and address them promptly. For example, issues like link schemes and broken redirects need to be dealt with as quickly as possible.
Which White Hat SEO tactics can lead to penalties?
SEO is an experimental field with unpredictable outcomes. Therefore, it doesn't make sense to rely solely on competitors or public case studies in other niches.
The use of white-hat and gray-hat SEO methods does not guarantee the completion of all SEO tasks or quick penalties. The final result depends on the search engine algorithms' evaluation of the project's quality.
A project can be penalized for:
Suspicious links in the backlink profile;
All the mentioned methods are not directly related to white hat SEO, but it all comes down to the approach. For example, if you create 10-15 links per month and use safe anchor texts, problems are unlikely to arise. However, if you set a low quality threshold, the risk of penalties increases.
The global issue in search engine optimization is that even white hat SEO methods do not provide protection from filters. Sometimes, projects suffer due to algorithm errors or competitive attacks.
To have a chance at successful promotion, you need to be prepared for any development scenario. Even if a webmaster doesn't buy links, invests in content, and actively engages with the audience, the website can still face issues. To promptly identify them, monitoring traffic and messages in the console is essential.
Backlink analysis tools
Successful link building consists of individual tasks that need to be executed with high quality for upcoming promotion. You'll need a list of potential donors, an anchor text list, profiles on exchanges, and other components.
Completing a large volume of work without using specialized tools is challenging. If there were no SEO platforms on the market automating link building and internal optimization tasks, webmasters would have to spend hundreds of hours on them.
Backlink analysis tools are needed by every website owner regardless of competition level, niche, and other factors. Buying a paid subscription is not obligatory; you can use the limits of a free account.
The top search marketing platform provides users with a variety of useful tools. Most of them are focused on links, but there are also modules for tracking rankings, content marketing, and other tasks.
You can assess the capabilities of Ahrefs for checking the link profile for free. The service offers basic analysis of quality assessment, report coverage, and data insights. The link profile analysis interface displays key metrics.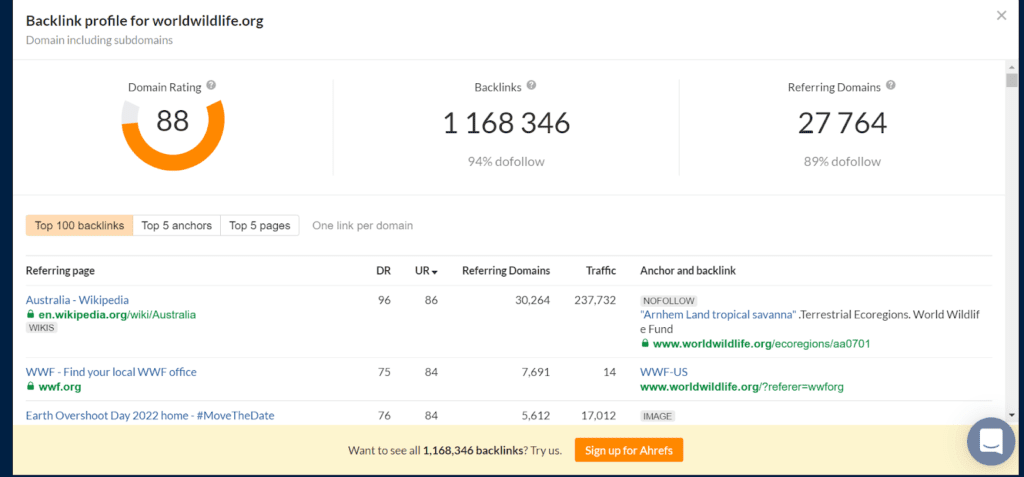 SEMrush
This service is positioned as the main competitor to Ahrefs, but it is more focused on traffic analysis, position tracking, and marketing tasks. Website owners love SEMrush for its free daily limits for performing various operations.
The SEO platform provides a detailed report on backlinks, where you can see attributes, popular anchors, profile change dynamics, and other important data. SEMrush can also be used to check the toxicity of backlinks.

Serpstat
A Ukrainian service that allows you to analyze links, check positions, and monitor the progress of competitors. Similar to SEMrush, Serpstat provides customers with free daily limits for checks.
The subscription cost for Serpstat is not significantly different from the prices of the main competitors. However, the platform's capabilities are constantly expanding, and a paid subscription will help address many issues.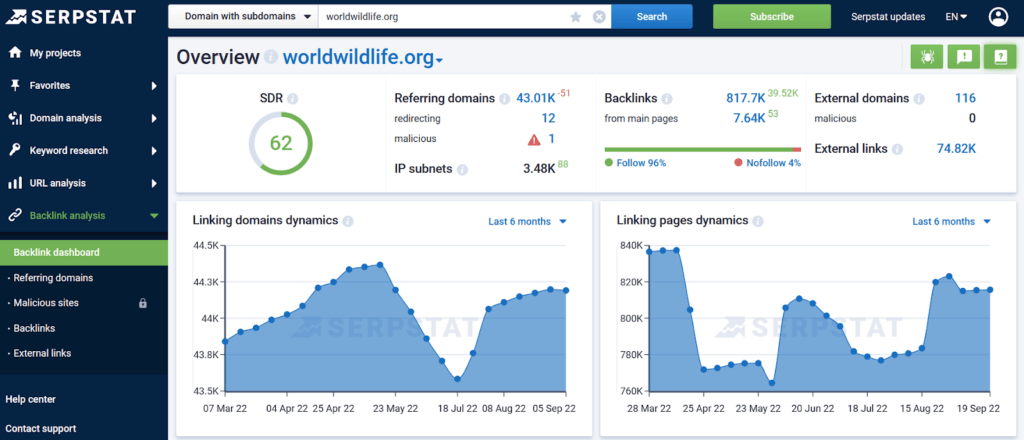 Majestic
Majestic is often referred to as the best service for analyzing backlink profiles. It has a large historical index containing data from millions of websites in search results. It even retains information about long-inactive projects.
This search marketing platform offers webmasters their own metrics for assessing the quality of domains, which can be used in relation to link sources. The pricing of subscription plans is not significantly different from Ahrefs or SEMrush.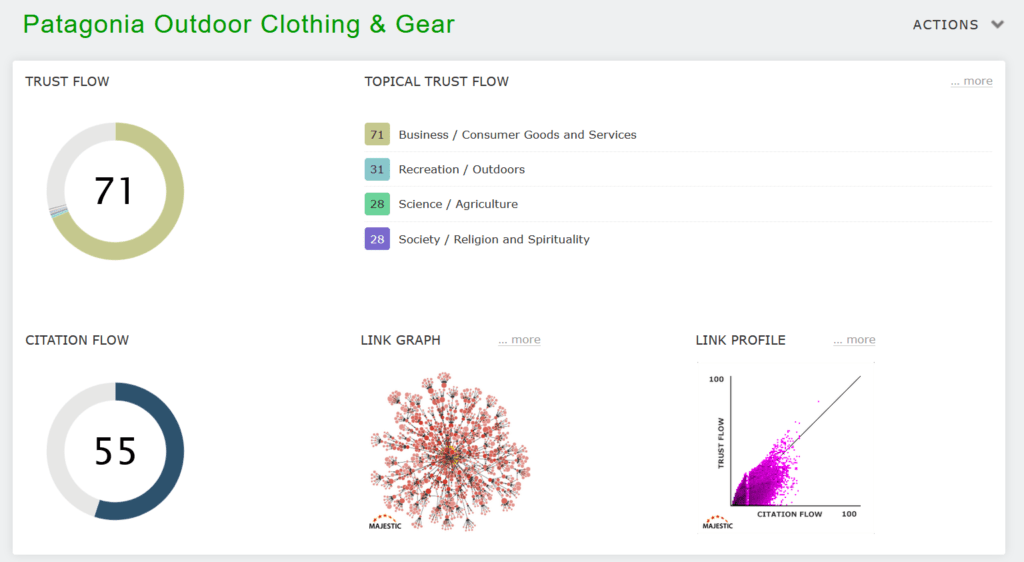 Before paying for any service's pricing plan, it is advisable to analyze its capabilities to ensure that all the tasks you have can be covered within a single interface.
The difference between white-hat, grey-hat, and black-hat SEO
When experienced webmasters talk about one optimization method being purely white hat SEO and another being gray hat SEO, these words should be taken critically. In practice, there is no clear distinction between them.
Phishing, hidden text, and forced redirects are 100% black hat. Link exchange schemes, creating PBNs, and other questionable methods lean more towards gray SEO than black SEO.
| | | | |
| --- | --- | --- | --- |
| Criterion | Black hat SEO | Gray hat SEO | White hat SEO |
| Google recommendations | No | No | Yes |
| Long-term results | No | No | Yes |
| Chances of retaining positions during Core Update | Low | Low | High |
| Risk of sanctions | High | High | Unlikely |
| Traffic liquidity | Low | Low | High |
| Costs | Depend on scale | Depend on scale | Depend on scale |
Even for beginners, it is evident that it's advisable to consistently use only conditionally safe promotion methods. If you provide algorithms with even minimal evidence of violations, the response can be very swift.
Conclusions
White-hat SEO is a versatile promotion tool in any niche. If competitors rely solely on link building or don't pay enough attention to optimization, this can be used to achieve the desired results.
Using white-hat methods allows for long-term results. Gray hat SEO and black hat SEO methods cannot ensure profitability in the long run.
FAQ
Can a website be promoted solely through white hat SEO methods?
Yes, it is possible. The key is for search engines to see that the website is constantly evolving and providing value to the audience.
What methods are used for website promotion?
It is necessary to optimize both internal and external aspects to their ideal state. This applies to both content and external links.
Is using white hat SEO promotion safe?
Yes, white hat SEO is safe, but no method provides 100% protection against sanctions. Even authoritative websites sometimes fall under filters.
Will white hat SEO help avoid Google penalties?
White hap SEO can help if the owner simultaneously does not use prohibited optimization methods. The outcome of each case depends on many factors.
How do white hat SEO and gray hat SEO promotions methods differ?
White hat SEO methods are focused on providing a good user experience. Gray hat SEO and black hat SEO methods may help achieve quick results, but it's unlikely they can be sustained for many months.