YouTube Analytics: How to See It for Different Channels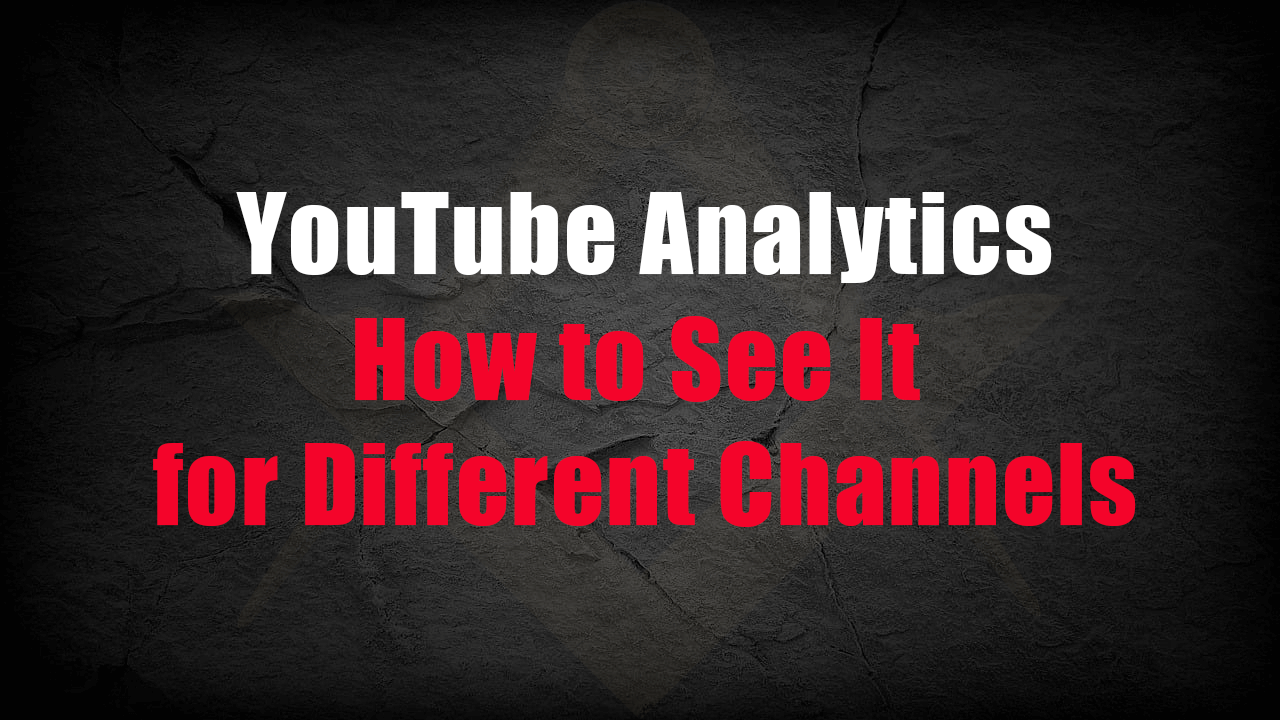 YouTube Analytics: what tools does it have? how to see them? can you see the statistics of your own channel and someone else's? From this article, you will learn how to see channel statistics on YouTube and how it can help you promote your channel.
Why YouTube Analytics Is Needed
Analyzing data from YouTube analytics allows you to track the progress of your videos and those of your competitors. It helps you understand the target audience that watches your channel and what content resonates the most with them. Consequently, YouTube analytics is essential if you are involved in YouTube promotion or if your YouTube channel helps drive users to your website or other social media platforms.
It will provide you with all the necessary information, the most crucial of which is the profitability and benefits your channel brings.
How to See YouTube Analytics for Your YouTube Channel
YouTube analytics are available to any channel administrator. To access the statistics data, you need to start promoting your channel and gain subscribers; without them, the metrics won't be visible.
So, here's what you need to do to see YouTube analytics for your YouTube channel:
Download the YouTube Studio app (or access the Creator Studio).
On the left panel menu, select "Channel analytics."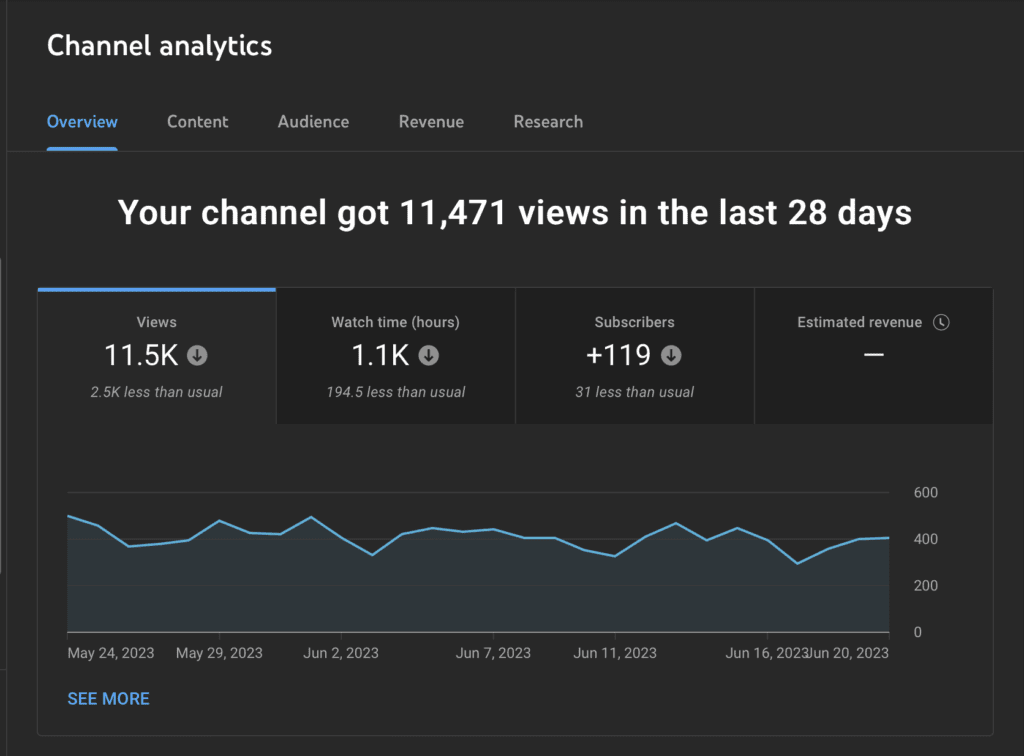 The "Channel Analytics" window will open, featuring the following sections:
Overview
Content
Audience
Search queries
Let's break down each point separately.
The "Overview" section displays the number of views your videos have accumulated in the last month and highlights the most popular content during that period among all the materials you have uploaded. This section includes:
Regular channel data
Popular videos for a specific period
Real-time statistics (for the last hour)
Story data for the next 7 days
The "Content" section includes:
Number of views
Impressions (how many times the audience has seen your videos)
Number of uploaded videos, live streams, premieres, and Shorts for a given period
Video icon CTR (click-through rate)
Average watch time
Statistics on the sources from which viewers find your videos
Most popular video sections
Video remixes
The "Audience" section provides statistics on recurring viewers, unique viewers, and information about subscribers:
Time when the audience watches videos on YouTube
Duration of time the audience spends watching videos
Demographic data: age and gender
Popular subtitle languages
Target audience regions
Other videos that your target audience watches
Other channels that are of interest to your subscribers.
The "Reach" tab provides information about YouTube traffic:
Traffic source types (how the audience discovers your videos)
External traffic sources (third-party sources where your videos, links, or channel are attached)
Recommended videos (recommendation section where your videos are shown alongside others or after watching other videos)
Popular playlists containing your videos
YouTube search queries that display your video.
The "Interaction" tab displays information at the video level:
Most engaging video segments for your audience
Like-to-dislike ratio in specific videos
Tags on products that you have marked in your videos (which ones are clicked more often).
The "Search Queries" section helps you identify the most popular YouTube search queries over the last month. Here, you can view queries on YouTube, queries from your subscribers, and saved queries.
In Analytics, you can see your earnings if you join the YouTube Partner Program.
What metrics should you pay attention to?
Each parameter has its own graph.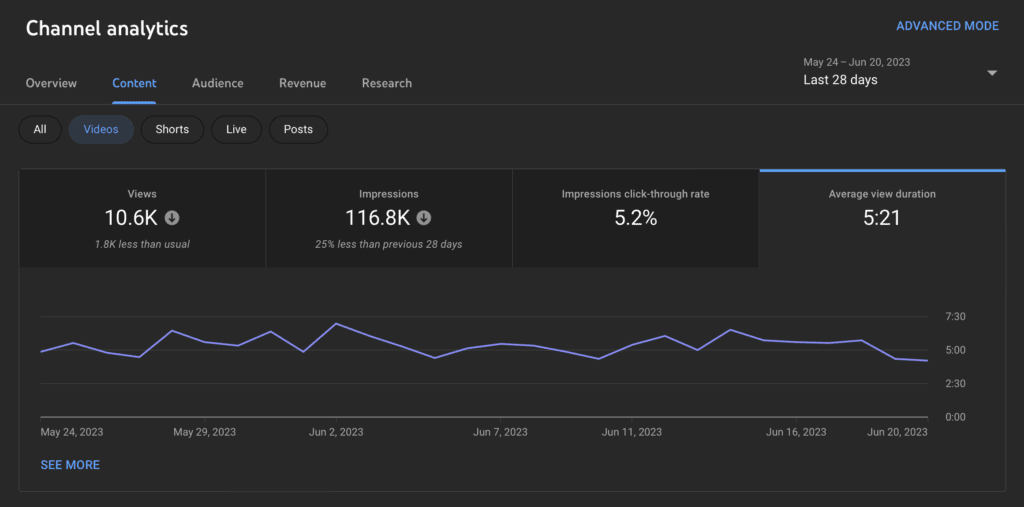 For example, this graph displays the average duration of video views.
If the percentage decreases and you notice that your videos are not watched until the end, it means that subscribers are not showing interest in them.
The most important criterion for determining the success and profitability of a channel is the interaction with subscribers, which includes likes, comments, view count, and shares.
Likes/dislikes can help understand the audience's attitude towards the channel and specific videos. Therefore, the most attention should be given to metrics that indicate the expressed interest of subscribers.
We have already established that revenue directly depends on the ratio of the number of subscribers to their activity on the channel.
How to view income information:
Open the YouTube Studio app or access it on the website.
Go to the Analytics section.
Select the Revenue tab.
How income data is displayed:
They are updated daily.
Data is shown with a 2-day delay.
Final income data may differ from current data as there are deductions for invalid activity that are not immediately visible.
In addition, YouTube Studio has an advanced mode available in each analytics section, which provides information about the geography, age, and gender of subscribers, traffic sources, and other useful graphs and characteristics.
Attention should also be paid to individual videos on your channel, as this will help understand the interests of the audience.
How to analyze an individual video:
Open YouTube Studio.
Go to the Analytics section.
Open the Advanced mode.
The Advanced mode displays all viewing data, as well as a profile of the target audience who viewed the videos.
In addition to YouTube Studio, there are other services where you can find a lot of useful information about your YouTube statistics, but we'll discuss them a bit later.
So, which metrics are useful for YouTube promotion?
Views. Keep track of the number of views for specific videos. It is important to analyze the title, description, and effectiveness of external advertising.
Overview. Determine the average watch time for each subscriber by dividing the total watch time by the number of views. This will help you understand the percentage of viewers who watch your videos until the end and at which point they leave. This information will help you gather general insights about your content and identify areas for improvement.
Audience demographics. These are basic data about your target audience. While they may not provide a complete portrait, these metrics show the main parameters such as gender and age of recurring viewers.
Popular videos. You can find the most popular videos, playlists, and queries related to your channel. This information will help you navigate your content. Additionally, you can analyze popular videos and queries not only on your channel but across all of YouTube, which helps you stay on top of trends and take note of what works well. You can also analyze the videos that your subscribers are watching on YouTube.
Description and tags. Some services assign scores to video descriptions and tags. Based on this information, you can understand which tags are popular in user searches and learn about effective video description structures.
And, of course, it is essential to keep an eye on your competitors – an unofficial rule in any kind of promotion.
How to see YouTube analytics for someone else's channel
You can see the YouTube analytics of competitors' channels using special paid or free services. These services can help you understand your own analytics and promote your channel.
Popsters
Popsters is an analytics service that works with all social networks. It helps track audience's favorite posts, publications, and videos, monitor performance indicators and average effectiveness of content, track dynamics, and simultaneously monitor multiple companies.
The service allows you to export reports in any format.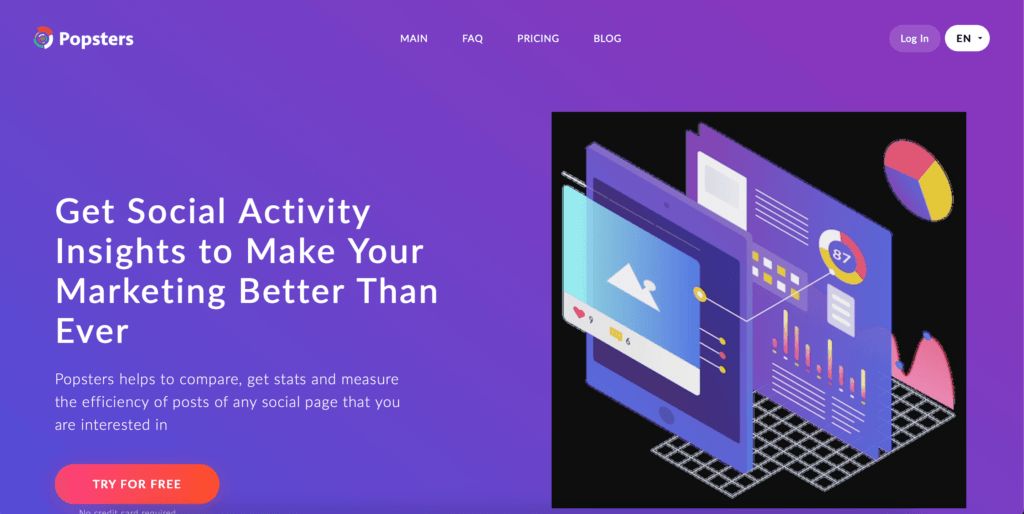 All you need to do is select the desired social network, grant access to your account, and choose a plan.
The service offers two plans:
Free and trial: 7 days, 10 initial uploads, 15 favorite records.
Paid plan: 1 social network, unlimited uploads and favorites, reports and analysis of any page (even without administrative rights).
The service also provides videos on how to use its features for different purposes.
vidIQ
The vidIQ service is aimed at increasing YouTube views.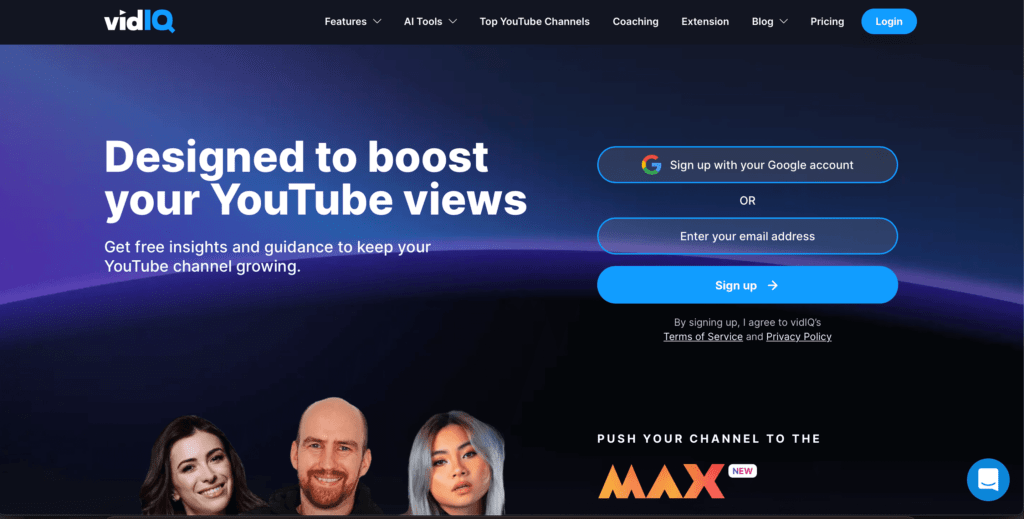 Its features include:
Automated generation of new video ideas.
Options for channel development and content management.
Channel statistics.
Working with keyword recommendations, titles, and descriptions.
The service offers free registration for YouTube beginners, a Pro version (analytics and keyword research) for $7.50 per month, and a Boost version (views boost for new videos) for $39 per month.
TubeBuddy
TubeBuddy is a service for optimizing your YouTube channel.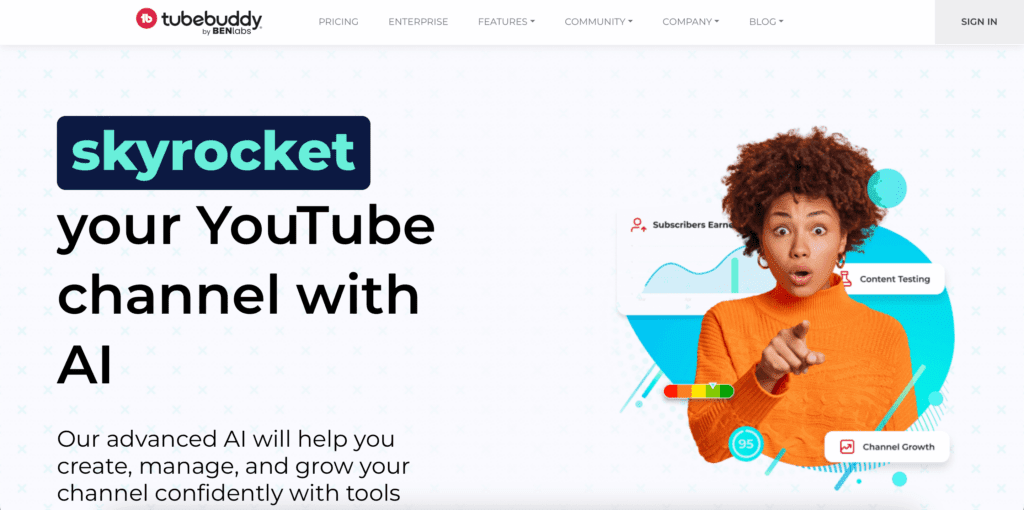 The popular "Star" plan costs $7.59 per month and is designed for content creators who value time-saving features.
The service helps find effective video topics and provides quality suggestions for interesting titles and descriptions. It offers templates that save time and provides promotion options.
SocialBlade
SocialBlade helps track statistics across various social networks.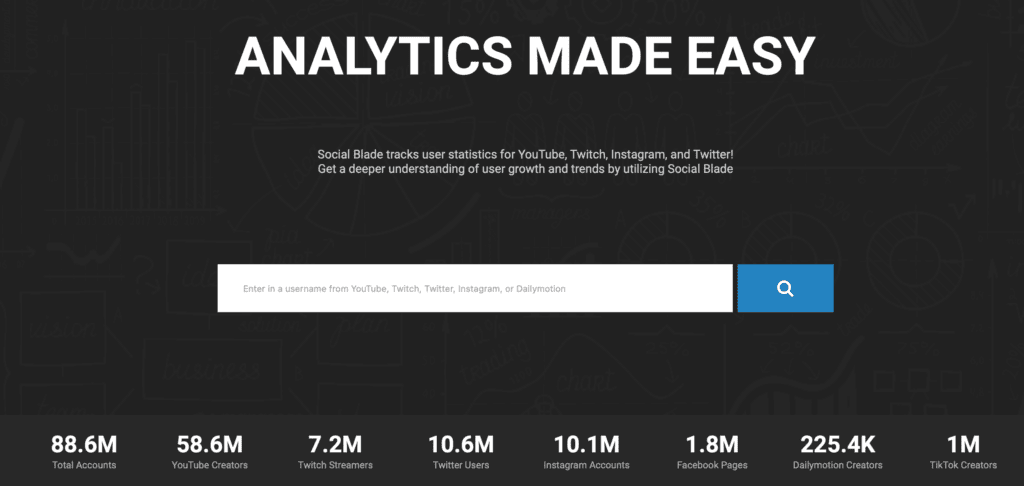 The service offers information and guidance for beginner YouTubers who need channel promotion and subscriber growth. It has experts who can help boost your channel.
Free registration is available, and after that, you can access statistics on audience, video earnings, views, and subscriptions. The paid version provides more detailed information without ads on the website and costs from $3.99 per month.
LIVEDUNE
Livedune guarantees subscriber growth and reach with minimal investment.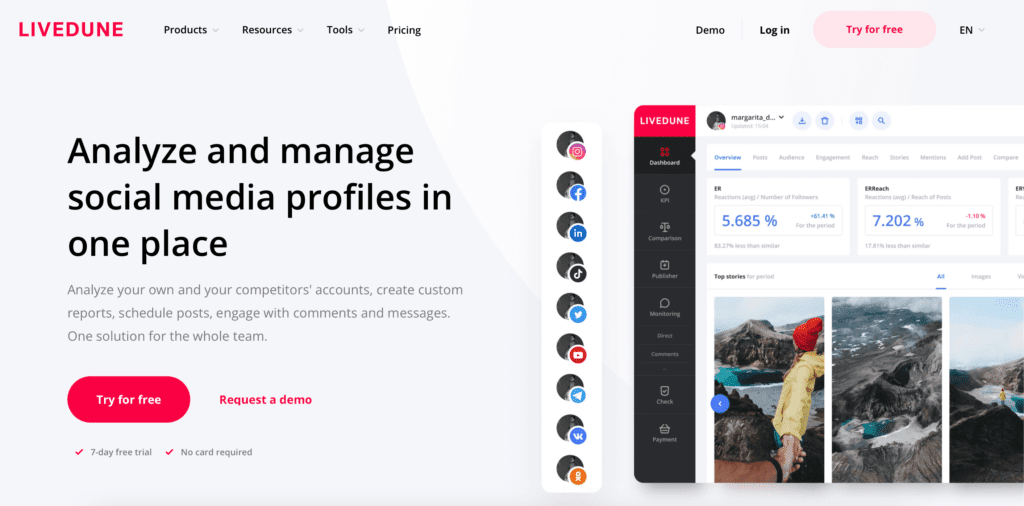 The service collects account statistics, monitors comments and messages, and includes an autoposting feature. It also allows you to download reports.
EPICSTARS
EPICSTARS focuses more on advertising campaigns but also provides channel statistics.
The platform helps calculate budgets and forecast reach and views.
Feedspy
Feedspy is a content analytics service for various social networks.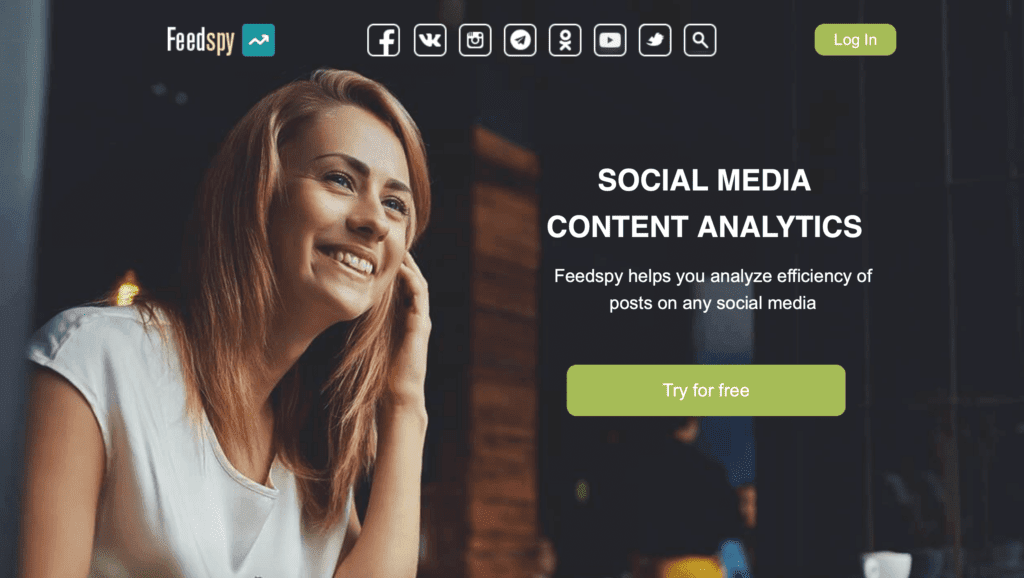 First, you need to authorize and then enter the channel or page name.
What to do with a competitor's statistics?
If a creator is successful, has real subscribers, and employs legitimate methods to gain them, you can analyze their promotion strategies, content themes, and other ideas.
However, if you discover that their subscribers are fake, monitoring such a competitor would be pointless.
Can you find out how much a YouTube channel earns?
You can find information about the earnings of any channel. There are several options to do so:
Method 1:
On the SocialBlade website, you can view monetization information without registration:
Go to the website and select the YouTube platform.
Enter the channel ID or name in the search bar at the top of the site.
The "ESTIMATED MONTHLY EARNINGS" column shows the approximate monthly earnings based on the available data, and the "ESTIMATED YEARLY EARNINGS" column shows the earnings for the year.
You can also perform a similar operation on the Whatstat website:
Go to the website.
Enter the channel link or ID in the search bar at the top of the site.
The channel statistics, including earnings, will be displayed.
The only drawback is that the data is only approximate, based on program analysis.
Method 2:
You can take a different approach. Earnings from a YouTube channel consist of the following components:
The number of video views with ad impressions.
The number of people who click on advertisements.
User engagement and actions on the channel.
You can estimate the approximate earnings using this information:
Divide the total number of views by 1000 and multiply by 1 dollar.
Method 3:
A more accurate calculation can be obtained by using information from the channel's price list for direct advertisers. You need to assess the most popular formats and multiply them by the average number of videos per month.
Additional methods:
The video descriptions may provide information about the author's partnerships, courses, or other products.
Analyzing the author's sales can provide a more complete picture.
Conclusion
YouTube is one of the most popular media platforms that allows users to discover and create diverse content, as well as utilize it as an advertising platform. Channel promotion involves not only attracting subscribers and creating appealing videos but also using analytics for maximum growth.
YouTube Analytics (both for a channel and a video) is essential for monitoring the effectiveness of your content, understanding how the audience reacts to different videos, determining audience preferences, and monetizing the channel.
The Analytics section in YouTube Studio provides statistics and data on your channel's performance. Special services and directories allow for more detailed analysis of your own and other channels, providing video ideas, ready-made promotion templates, and even information on competitors' earnings and YouTubers' incomes.
FAQ
What does YouTube analytics include?
YouTube analytics include all the information about your channel and content, such as target audience, profitability, number and quality of views and impressions, and analysis of likes and dislikes.
Where can you see it?
You can view YouTube analytics in YouTube Studio (Analytics section) or through specialized services and catalogs for analyzing and tracking statistics across different social media platforms.
Can you access the statistics of someone else's channel?
You can access the statistics of someone else's channel by using YouTube analytics services, entering the channel's ID, URL, or name in the search bar.
How can you find out how much money a channel is earning?
To find out the earnings of your own channel, you can check YouTube Studio's Analytics section. Additionally, you can visit services like Whatstat and SocialBlade, where approximate income information will be provided along with general statistics.