YouTube Shorts monetization: how to make money on shorts now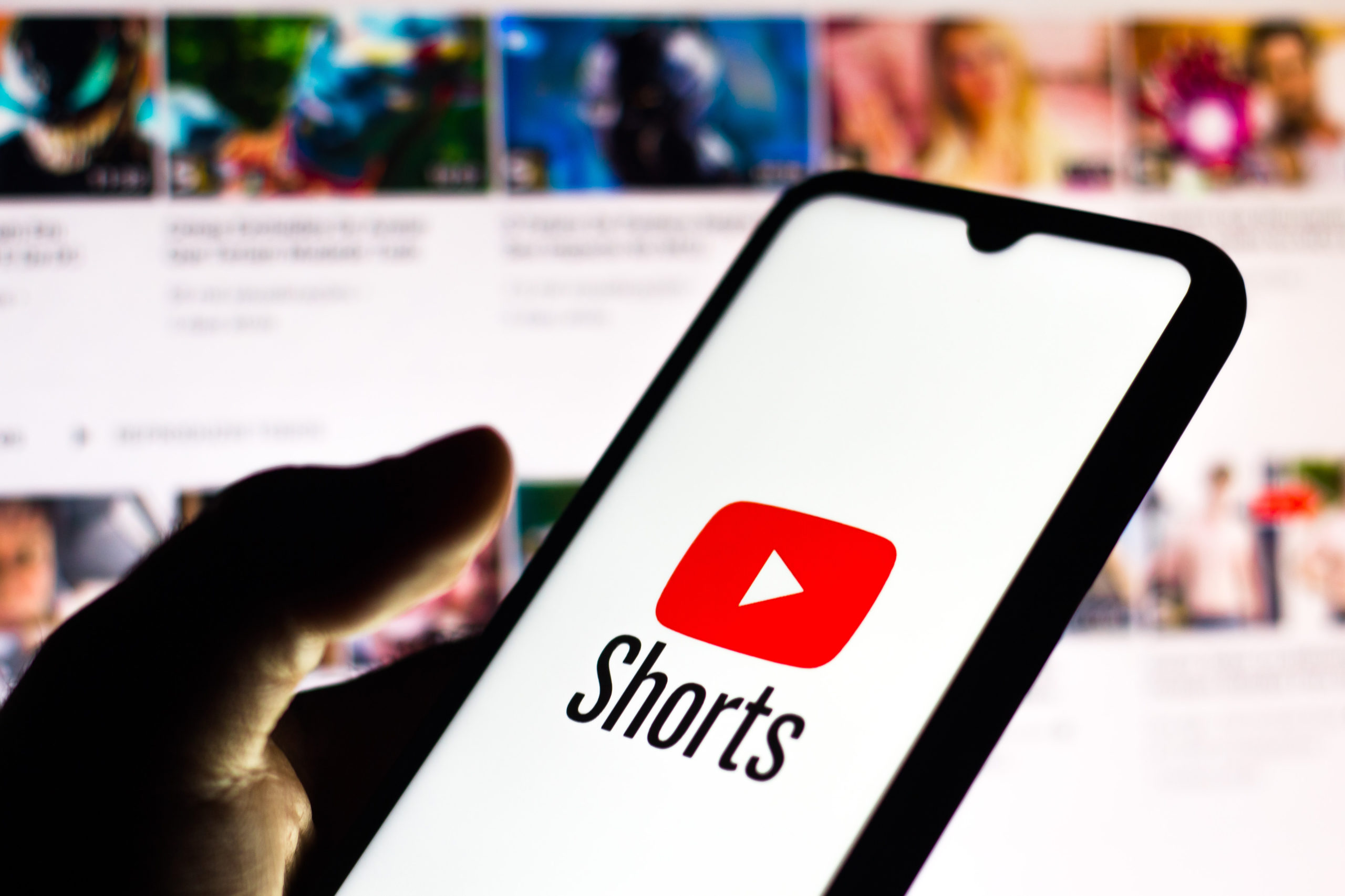 After the format of short videos appeared in May 2021, Google created a $100 million fund to attract and support their authors. This was a temporary action before the official monetization of YouTube Shorts was launched. In February 2023, it was launched, but there are few examples of how to earn from it yet. Therefore, below we will consider the format itself, individual trial attempts at earnings, and other monetization opportunities for "shorts".
How Monetization of YouTube Shorts Works in 2023
The internal monetization is based on AdSense advertising, which is shown between videos. The user watches one, flips through it and moves on to the next. Since it is not inserted directly into the video, it is difficult to associate the revenue from it with a specific author.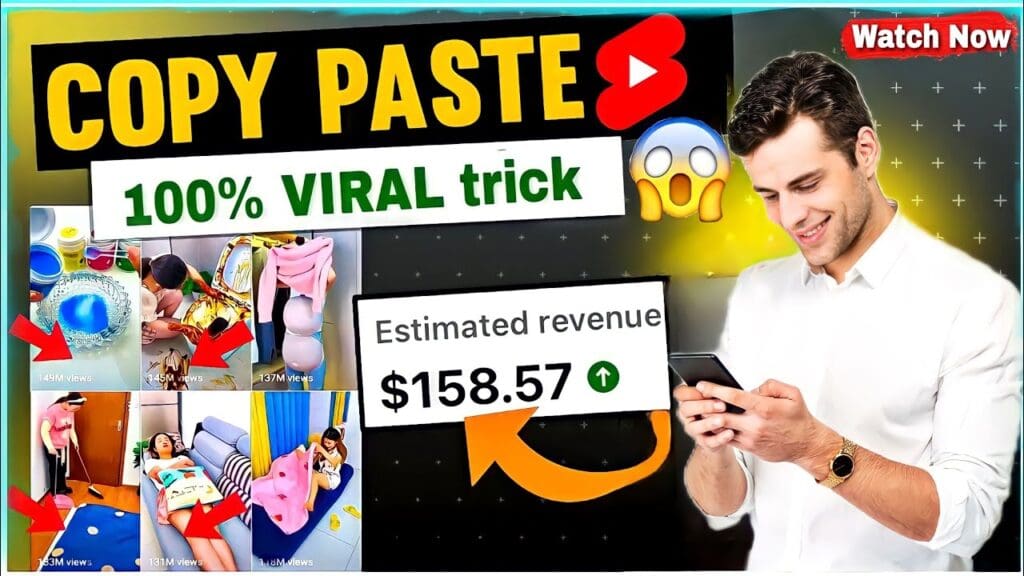 Therefore, video creators are paid not for the fact of advertising displays or clicks on it, but for views of their videos. This happens according to the following scheme:
The platform receives a certain amount for advertising displays in the past month in a specific country;
The amount received is divided by the total number of short views in that geo;
If a musical track is used in part of the videos, half of this part goes to licensing payment. If two tracks are used, then two thirds, three tracks – three quarters, etc. For example, if a track is used in 40% of the videos, 20% of the amount received is spent on licensing;
A specific author receives a share of the total amount proportional to the views;
45% of this share goes to the author's earnings.
Example: In Estonia, "shorts" received 100 million views and $1000 for advertising payment through AdSense. 20 million of them used licensed music, so 10% goes to cover the music license. There remains $900. The video of author X received 5 million views, that is, 5% of the total. As a result, he is entitled to $45 out of $900. Of the $45, 55% is taken by the system, leaving the author 45% or $20.25.
To earn on AdSense advertising, you need to:
Open an account;
Accept the monetization module;
Upload videos that do not fall under the types of content that are limited in monetization;
Do not inflate views.
In addition to advertising, income is generated by views of videos by users with a YouTube Premium subscription.
You need to apply and accept the monetization module even if your long videos on your channel are already connected to it. To connect to the module, you need to accumulate at least 10 million views over the last 90 days.
What is the Shorts monetization module in simple terms?
A monetization module is a program that includes you in a list of authors who will receive revenue from advertising. To do this, you need to go to the "Channel Monetization" section, go to the "Shorts Feed Advertising" tab, and click the "Enable" button.
After enabling the module, your shorts will start to be monetized if they meet the content requirements and your channel has not been detected in view fraud, copyright violations, or other illegal activities.
Requirements for Shorts format content
In terms of technicalities, short videos must meet the following parameters:
Vertical orientation 9 by 16;
Resolution of 720 px;
Video file format – only MP4;
The length of the video is up to 60 seconds.
That's why uploading short videos through the YouTube mobile app is much easier than through the desktop.
Monetization cannot be applied to the following types of content:
Shock content;
For adults;
Alcohol, tobacco, drugs. Exception – scientific and educational topics with a disclaimer about the harm of psychoactive substances;
Infliction of harm or dangerous actions;
Firearms. Exception – educational reviews with a disclaimer;
Insult, provocation, discriminatory videos;
Assistance, recommendations, and training in illegal activities such as hacking accounts or theft of money.
Since April 2022, videos justifying war in Ukraine or denying the fact of its conduct are not subject to monetization. This now also applies to the shorts format. In general, it is worth thinking a lot before publishing content on politics – it attracts the most restrictions according to statistics.
Content that violates someone's copyrights also cannot be monetized. Complaints about them can arrive even if you simply insert someone's fragment into your video. So if you want to comment on someone's video, film, song, it is better to use audio or text comments, and not to insert a fragment of the original work into your own video.
How to Make Money on YouTube Shorts: 4 Ways
Nowadays, there are four main ways to make money on shorts. These are:
Monetization through AdSense;
Advertising integrations;
Conditionally-free traffic for affiliate marketing;
Accepting donations through the "Super Thanks" function.
Of course, you can also include the promotion of a Telegram channel, a main YouTube channel, and the promotion of your own products as ways to make money, but shorts serve as a supplementary tool to the main source of income. The same goes for creating musical tracks – if they are licensed, when they are used by video authors, the developer will receive licensing compensation.
Internal monetization through Google Adsense advertising
This is usually what is meant when talking about earning money on shorts. This method is straightforward, but first, it gives very small earnings, and second, it imposes many restrictions on authors. Internal monetization is best when the majority of your subscribers and viewers are residents of tier-1 countries. Then, the highest earnings are available to you, as advertising in the US, Australia, Switzerland, and Canada is the most expensive.
All you need to start is to publish as interesting videos as possible that do not fall under platform restrictions and to carefully select tags for promotion. Initially, you are allowed to publish no more than 15 videos a day, but later the daily limit can be increased to 100 clips.
Advertising integration
Shorts are not the best format for video rollouts for integrations, as they usually require 2-3 minutes of detailed storytelling. But some advertisers allow advertising in the form of a text insert or a mini-story for 10-20 seconds. The main rule here is that the advertising insert should not be larger than the main content. Ideally, the ratio should be 1 to 2 or more. For example, if you make a 10-second advertising insert, the main clip should last no less than 20 seconds, and it's better to be 30 or 40 seconds.
This fits perfectly into shorts, so you can confidently negotiate with advertisers and do micro-integrations. Especially if your videos get hundreds of thousands and millions of views. However, advertisers are still a little wary of "shorts," so it's harder to negotiate a good price for integration into large videos. To get the best result from the integration, it's best to release the video at the most optimal time.
YouTube plans to launch the BrandConnect service so that video authors can directly connect with brand representatives and conduct advertising integrations.
Conditionally free traffic for Affiliate Networks
In affiliate marketing, shorts are used as a traffic source. The vertical that is poured from this source is dating. Nutra and gaming are poured less often. A domain with a redirect through a partner link is inserted into the video description. If the partner allows hosting the landing page on their own, they simply transfer it to their own domain.
In the case of dating, the typical scheme is as follows: they take videos of girls from Tik Tok, download without a watermark, and upload to the account. For gaming, they shoot the gaming process, and for nutra, they unpack the means and show the "before and after" effect.
Although YouTube periodically tightens the screws, webmasters do not leave the "shorts" aside and even occasionally upload cases of driving traffic and guides.
Accepting Donations
Thanks to the "Super Thanks" function, the authors of the "shorts" can count on donations from regular viewers. And for this, it's not even necessary to stream—it's enough to simply turn on this function on your channel and receive money for already published videos.
After connecting the function, a button appears under the video, as shown in the screenshot below.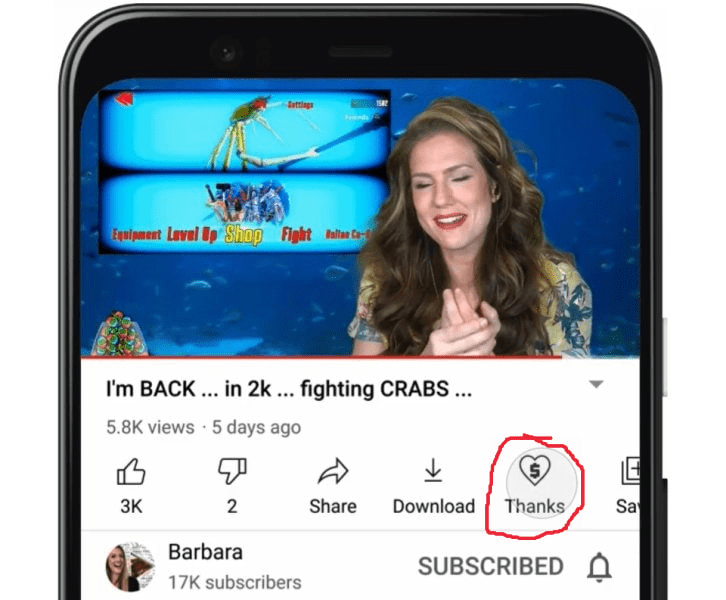 When you click on this button, a page appears with a choice of donation size. After sending the money, clapping hands will appear on the screen, and the author will receive the specified amount. The size of donations is 2, 5, 10, or 50 dollars depending on the author's settings and the user's choice. From this amount, the system sets aside a large amount of donor comments so that they stand out from the rest. The task of the author is to encourage viewers of the videos, for example, promising to respond first to the highlighted comments.
How much can you earn?
In the video "How We Made 77 Million Views on YouTube Shorts," the authors clearly showed that there is no need to expect big money from monetization yet. A thousand views of shorts are worth much less than a thousand views of full-length videos. Thus, a video with more than a million views brought them … $0.99. A similar situation is with other videos. In general, monetization brings about 50 cents per million views of the video, remaining not the best option for earning on "shorts". And probably, for a long time, it will continue to lag behind other ways to earn on short films.
Of course, if you release videos in English and optimize them for the US, UK, Australia, the earnings will be higher. But even in these geo, the income rarely exceeds 1-3 dollars per million views.
In terms of integrations, the size of earnings is difficult to predict. After all, if you have a well-known channel, expensive geo and topic, you will personally recommend the advertiser, for integration you can ask for thousands of dollars, even in shorts. If the channel is small, you will have to be content with modest sums. Although advertisers are willing to pay significantly less for integrations in shorts, you can earn several thousand dollars a month simply because short films can be published much more often.
By uploading to affiliate marketing offers, you can earn no less worthy sums. The main thing is to use automation tools – parsing and uploading of films, automatic uploading, setting of tags, processing and unique films, etc. If you do everything manually, the extraction of traffic volumes will be a problem.
Examples of earnings on YouTube Shorts
Those who earn from monetization, integrations, donations do not share their cases. This is not surprising, as the topic of earning on shorts is still very young, there is little experience in it, and they do not want to share it yet. There are only three affiliate marketing cases in the network on earnings on shorts, but they are very instructive.
2000$ in Dating with conditional-free traffic from YouTube Shorts
YouTube can ban accounts in batches if they are being used for online dating services, especially adult ones. Therefore, before uploading the videos, the case author took care of anonymizing the accounts. To do this, the following were used:
Anti-detect browser Dolphin;
VPN. However, according to the author, proxies work better;
Google account shops;
Tik Tok as a source of video clips;
A disposable phone number service for registering email on GMail;
Domain and hosting.
The author registered email on GMail with a disposable phone number, set up attractive photos of girls on the profile and named the channel with female names. The call to action was written in the header.
Video clips of girls from Tik Tok were downloaded to fill the accounts. Later, the video clips became more difficult to get views, so the case author started buying trust accounts on Google. He also launched a paid browser extension that automatically wrote comments to the clips.
Considering that YouTube periodically tightened its security, the author implemented his case in several rounds. In total, he was able to earn almost 2000 dollars.
3400$ on gambling and 'Ural Pelmeni'
The case author noticed that videos from "Ural Pelmeni" were getting millions of views in a few days. He agreed with the partner program manager, after which he was connected to the offer. After buying Google accounts, setting up anti-detect, cloaking, the case author started uploading clips to YouTube in the form of shorts. It turns out that the links must be cloaked, otherwise the channels fly into the ban almost immediately. After successful cloaking setup, conversions started coming in the first hours.
The setup worked for about a month, bringing the author a profit of about 3000 dollars. A little less than 400 dollars went to expenses. After the views of the video started to drop and the conversions went down.
From $100 to $300 a day on Shorts and Dating
In George Masankin's report at CPA LIFE 2022, a case was presented on obtaining conditionally-free traffic from YouTube Shorts. The webmaster opened accounts under the US, filled them with video clips, and received 5-10 thousand transitions per day. From them, about 100-150 registrations resulted, each was paid as $2. Traffic also arrived from other countries, accordingly, target actions were paid at a lower rate. But in general, raising $100-200 or even $300 a day was quite possible.
Conclusion
Monetizing through YouTube shorts is currently difficult to call a source of good income. Moreover, participation in it imposes significant restrictions on content. Currently, "shorts" are more of an auxiliary tool for promoting a channel or attracting traffic to other resources. However, promoting the channel and exploring the monetization of short videos is not a hindrance – most likely, earnings from AdSense advertising will grow in the future.
FAQ
What is YouTube Shorts?
YouTube Shorts are short videos that are placed in separate lines on YouTube. If you watch a video, you can swipe up to open the next short video and keep scrolling through them, stopping only at interesting ones. It's very similar to TikTok within YouTube.
Are Shorts monetizable?
Since February 2023, authors are entitled to a reward proportional to the number of views of their video for showing AdSense ads between videos. The size of the reward depends on how much advertisers spent on advertising in the author's country and how many short videos have been viewed in countries where the video is watched. The revenue from advertising by country is divided by the number of views, and the system determines how much to credit the author for each view of their video from different geos.
What are other ways to earn money on Shorts besides official monetization?
You can earn money through affiliate programs. Many people make product reviews by inserting an affiliate link to a store or marketplace. The Super Thank You function also allows for additional income. Shorts are a great tool for promoting your channels, accounts, websites, and business projects.
How much can you really earn?
So far, it's not possible to earn a lot on monetization. However, those who redirect traffic to affiliate programs can earn 1000 dollars a month or more.
What requirements should video clips meet to be monetized?
The clips must conform to the 9 by 16 format and have a resolution of at least 720 pixels. They must not infringe copyright and must comply with YouTube's policy. Clips of some themes may be subject to limited monetization – only certain types of ads will be shown on them.