Push ad networks are intermediaries between affiliates and advertisers. Site owners install a push script on their portal and sell network traffic. In essence, push ad networks work on the same principle as teaser networks. Not only can you get traffic through push ad networks, but you can also monetize your own sites.






The Best Push Notification Ad networks Rating showcases the best services for passive earning on your website, push mailing for affiliate marketing, and purchasing and selling push subscriptions. Push advertising is a relatively new format, but it has already become a constant source of traffic for affiliates and a safe way to earn money for website owners of any niche and GEO.
The Push Notifications workflow is as follows: a webmaster (website owner) sells push subscriptions to the affiliate network manager, who then purchases push traffic from the advertiser (affiliate) based on CPC or CPM. Users then click through to the advertised website from the push notifications.
Before starting to work with any particular affiliate program, we recommend reviewing feedback from affiliates and website owners.
What is Push Traffic Affiliate Marketing?
Push traffic in affiliate marketing is one of the oldest sources of traffic. It appeared about 10 years ago and is still one of the most popular sources of traffic. Push notifications are those messages that pop up in the corner of the screen when you visit a website from your phone or computer. Typically, users are asked to subscribe to receive push notifications.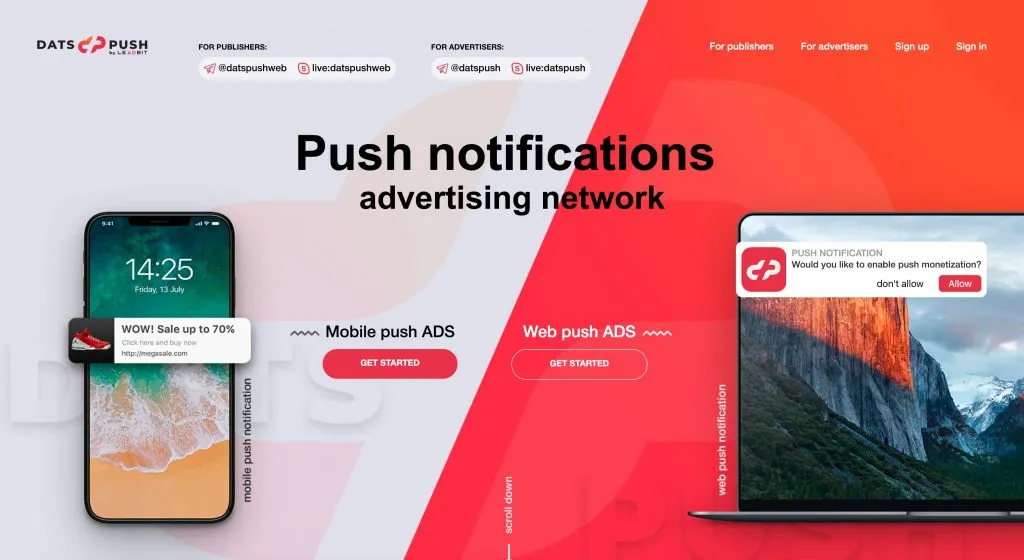 If you click "Allow," you will be automatically subscribed to push notifications. These are known as classic push notifications and they will not appear without a subscription. Recently, in-page push notifications have become popular. They pop up in the corner of the screen and do not interfere with viewing the content. They look like messenger windows or classic notifications.
All clicks from push notifications to an offer landing page or pre-landing page are called push traffic. In push affiliate marketing, traffic is directed to almost all verticals, but most often to:
In push ad networks, not only do they direct traffic to offers from affiliate programs, but they also monetize their own websites. If you're a webmaster, you can place push notification codes on your website and earn money that way. Collected subscription bases can also be a way to earn money from push notifications. Major advertising networks have exchanges for buying and selling collected bases.
To help you decide whether or not to use push traffic, we have compiled a table of all the pros and cons of push traffic.
| | |
| --- | --- |
| Advantages | Disadvantages |
| Easy to set up and convenient to test – only creative and text are needed. In the best push ad networks, creatives can be duplicated, with slight variations in the caption. | Push traffic audience quickly burns out, so you have to constantly test new creatives. |
| Traffic is cheap – payment is made on a CPC or CPM basis, rates for different GEOs vary, but are available even for a minimal budget. | There are many clicks, and some networks have bot traffic. |
| Push ad networks do not have the same strict moderation as contextual advertising or social media targeting. Traffic can be directed to any verticals (but some types of creatives are still prohibited). | |
| Push notifications are harder to ignore than banners or teaser ads. A pop-up notification attracts more attention and requires user action. | |
FAQ
What is a push ad?
A push ad is a type of mobile advertising that delivers a notification or message to a user's device screen, even if the user is not actively using the app or website associated with the notification. Push ads can be targeted based on user behavior or preferences and are designed to capture the user's attention and encourage engagement with the app or website. They are often used for promoting time-sensitive offers or events, such as sales or promotions. Push ads can be delivered through various channels, such as mobile apps, web browsers, or email, and can be personalized to the individual user. However, push ads can also be seen as intrusive and may lead to user dissatisfaction if not used strategically.
What is the difference between regular push notifications and in-page push?
Regular push notifications are the traditional kind, they consist of a notification with an image and text. To receive them, users must first subscribe to the notification service. In-page push, on the other hand, do not require a subscription and are often displayed as message windows or traditional notifications. Additionally, In-Page Push notifications can be shown on iOS devices.
What is push traffic and what are its advantages and disadvantages?
Push traffic refers to all user clicks that come from push notifications to a landing page or pre-landing page. Sometimes, push traffic also refers to the collected subscription bases that can be sold. The main advantage of this traffic is its low cost and ease of subscription base collection. The downside is that there are often a lot of clicks that don't convert and empty clicks. Bot traffic is also common.
How can you make push notifications more effective?
To improve the conversion rate of push notifications, you should pay special attention to targeting. The best push traffic networks have deep targeting options, from GEO to devices and OS, and allow you to select a schedule for notification display. To optimize targeting, create a customer profile and determine when they are most active online. If you have enough money for advertising, test several approaches to see what works best.
What is a push notification ad network?
A push notification ad network is a platform that connects advertisers with publishers to facilitate the delivery of push notification ads to users' mobile devices. Advertisers create and manage their campaigns on the network and specify the target audience, budget, and other parameters. Publishers provide the network with access to their user base and agree to display the ads in exchange for a commission. The network uses sophisticated algorithms to match the right ads with the right users, based on their behavior and preferences. Push notification ad networks can be an effective way for advertisers to reach a large and engaged audience, while providing publishers with a new revenue stream. However, it's important for both advertisers and publishers to carefully vet the network and ensure it complies with industry standards and regulations.
What are some push traffic advertising networks?
All advertising networks can be divided into two types: for publishers (website owners) and for affiliates. The best push advertising networks combine the functionality of both. You can find the top push traffic networks in our rating in this article.
What kind of earnings can I expect from push affiliate programs?
It's difficult to give an exact figure for earnings from push traffic as it depends on several factors, such as whether you're promoting offers from CPA networks or monetizing your own website, the vertical you're working with, how push notifications are paid (per click or per impression), and more. However, the profit potential can be impressive, as evidenced by case studies on push affiliate marketing.