How to bypass copyright on YouTube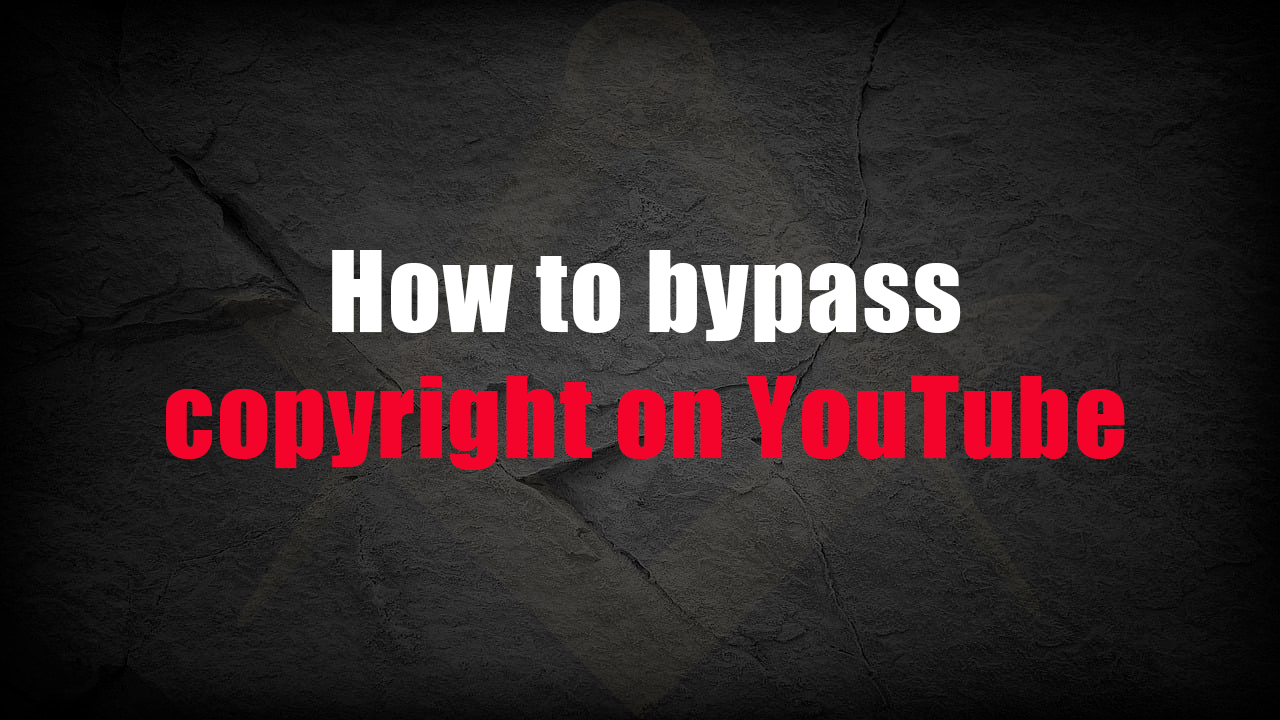 The question of how to bypass copyright on YouTube is one of the most pressing issues for channel owners. Today we will discuss different ways to do this. And for those of you who want to avoid copyright infringement, we have compiled a comprehensive checklist and a collection of services where you can find free music and videos.
What are copyright laws for video and music?
To understand how to bypass copyright on YouTube, let's first understand what copyright laws are in general. It refers to the exclusive right to control the use of music and videos. They belong to the licensor if they are officially registered with all the legal formalities.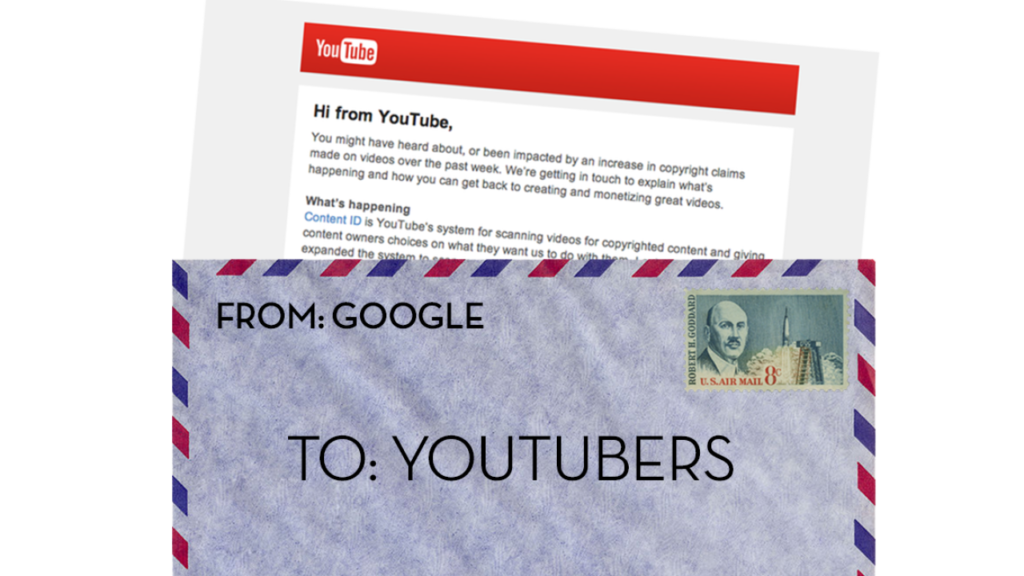 For YouTube channel owners, bypassing copyright is a sore spot. After all, their videos can be removed for violating copyright laws. To do this, it is enough to fall into the hands of YouTube's Content ID algorithm or receive a strike from vigilant viewers. YouTube's algorithm identifies matches between your content and other sources, and also checks whether the source of the video or music has a license. If a match is found, you will receive a complaint about copyright infringement.
Your channel will not be blocked after the first offense. For example, those who have already monetized through the YouTube Partner Program are given 7 days to remove the content. If a copyright infringement warning is issued three times, the channel will be blocked.
This is especially frustrating if you are engaged in affiliate marketing on YouTube or have already monetized. You can earn money on YouTube in other ways. We have already talked about how much YouTube pays for 1000 views. No one wants to lose earnings because of someone else's copyrights. But there is a way out of this situation, even several ways. We will tell you about them now.
How to bypass copyright on YouTube
There are various ways to remove copyright from videos and music on YouTube. We do not guarantee that they will definitely work since YouTube algorithms are constantly improving. Yet still, you can try.
1st way. Bypass copyright through uniqueness
This way of avoiding copyright on YouTube is designed only for the Content ID algorithm. It will not protect you from strikes by viewers. But the chances that a viewer will file a complaint only for copyright infringement (if they are not the author, of course) are slim.
A slight rotation of the "picture" by a couple of degrees. This is hardly noticeable to the viewer but is already a unique image for the algorithm.
Stretching, or other distortion, of the video works the same way.
Overlaying frames or filters – these are available in all popular video editors.
Slight slowing down or speeding up of the video sequence – to avoid discomfort when watching.
Change of color and light – making the image black and white or making the tones more vivid.
It is also possible to try to bypass copyright on music on YouTube. For example, slightly slowing down or speeding up the tempo. Experienced channel owners say that the optimal acceleration is 1.3 times. Or add a barely audible beat and other sounds that are difficult to distinguish to the track. If you know how to work with audio editors, this won't be a problem.
By the way, we came across an exotic way to uniquely customize music on YouTube. On one of the forums it was suggested that audio be overlaid with sounds that are inaudible to the human ear. This is infra- and ultrasound. AFFDAYS does not advise doing this, and not even because of technical difficulties. The reaction to infrasound can be unpredictable – at the very least, a headache for the viewer.
2nd way. Trick YouTube's copyright system through a new channel
This method of bypassing copyright infringement on YouTube is a bit easier. All you need to do is create a new channel and not confirm it with a phone number. Then immediately upload several videos longer than 15 minutes.
The trick is that YouTube prohibits new channels without a verified phone number from uploading long videos. They will immediately be checked by the algorithm and, of course, rejected. There probably won't be a recheck.
Next steps are also simple:
Confirm your account with a phone number;
Upload more videos;
Wait a couple of days. If there is no response from Content ID, then the trick worked.
This method can only remove copyright from YouTube videos once. After you confirm your phone number, new videos will be fully checked. But the method is suitable for channels that are disposable and used for affiliate marketing on YouTube.
3rd way. Upload short fragments
Let's say it right away: this method of bypassing copyright on YouTube no longer works. Old guides on how to bypass copyright for videos and music suggest uploading short fragments. Supposedly, YouTube's algorithm does not perceive video and music fragments less than 30 (in other sources – 10) seconds. But now this is no longer the case.
How to check videos and music for copyright
It's best to check videos or tracks for YouTube copyright before publishing them. This will save you time and keep you from unnecessary stress. Here are some working methods of verification.
How to check for copyright on YouTube
You can check a video for copyright on YouTube itself. To do this, select the required track or video theme and enter it in the search. Open the appropriate result. Then expand the video description. If there is a license, it will be indicated. The names of copyright holders will also be indicated. Most often, this is the "Music from the video" block, but there are exceptions – for example, the rights to a movie fragment.
How to find out about music copyright on YouTube through eProves
Recently, a service has appeared where you can find out about music copyright on YouTube. This is eProves.com. Enter the name of the track or the name of the performer in the search box on the main page. After a few seconds, you will be shown whether the track has copyright.
The service only searches the YouTube database. So this does not give a hundred percent guarantee against copyright infringement. But it will definitely protect against Content ID strikes.
How to check for copyright on YouTube videos
YouTube also have added a way to check for copyright on videos immediately after uploading. This service is called Checks and is available directly in the YouTube Creator Studio, but currently only on a desktop version, not on mobile.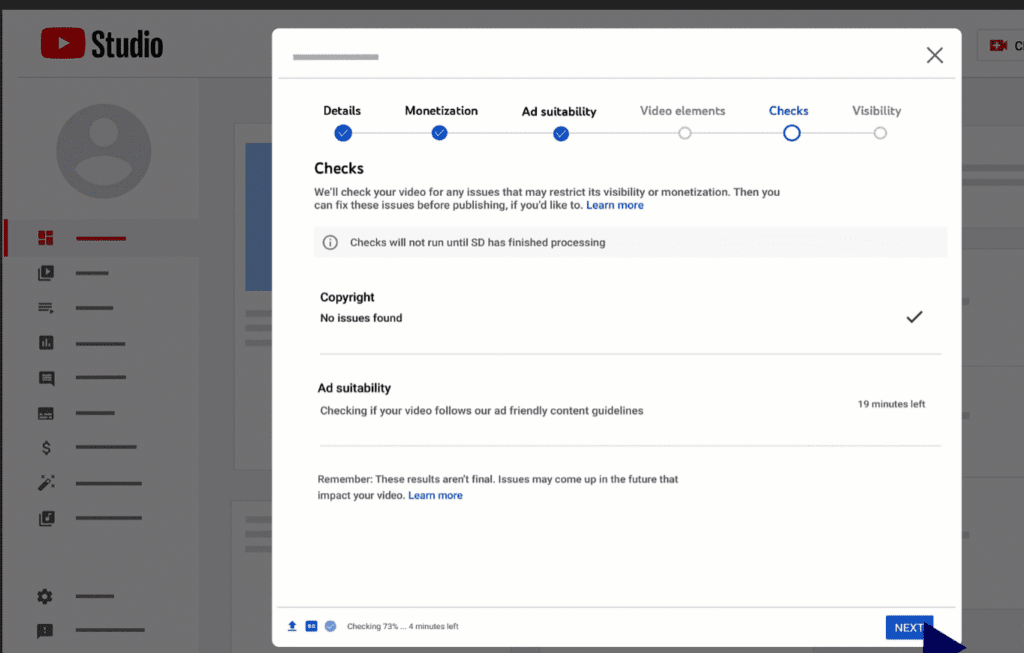 To check a video for copyright, upload it but do not publish it yet. The algorithm will check it during the upload, which takes about five minutes. If the video violates copyright, a warning will appear with a red or yellow icon. The icon will be green if everything is fine.
How to avoid copyright infringement on YouTube
Here is a small checklist that will help you avoid copyright infringement on YouTube:
Whenever possible, create unique videos. Compilations and collections are easier to make, but they can accidentally trigger the Content ID algorithm.
Before adding music to your video, check if it has a free license. You will find several services that can help you with this.
If you still need to use other people's videos or music, use all possible ways to make them unique. Chances of bypassing YouTube's copyright policy are bigger if you use as much ways as possible.
Pay attention to the content, not only to the description under the video. Unfortunately, even indicating the name of the music or video author will not help. Content ID looks for matches with other sources, not just the description.
Try not to violate other platform rules. Do not try to inflate your subscribers either. It is better to buy a YouTube channel with monetization right away. By doing that you will avoid extra content checks.
Are there any legal ways to bypass copyright?
Unfortunately, bypassing copyright on YouTube or elsewhere by itself is a violation of law. You can only try to dispute complaints. This method works if the video or music belongs to the "public domain". But it may also work in other cases, like when you have already deleted the disputed content.
To dispute copyright on YouTube, go to the Creator Studio. Click on the "Content" menu on the right. Then, click on the content filters and select "Copyright strikes".
A list of videos that have received strikes will appear. Now:
Go to the "Restrictions" column and select the desired video.
Hover over "Complaint: Copyright" with your cursor.
In the drop-down menu "Details/Select Action", choose "Dispute claim".
If there is no response from the copyright holder within 30 days, the strike will be cancelled. But even if you need to delete the video, you can file an appeal. This is done in the same place, through "Details/Select Action". Now select "Appeal".
How to find free videos and music
To avoid violating copyright on YouTube, you can search for free content. Typically, this content has a Creative Commons license, or the contract for copyright protection has expired. Here are a few reliable services that can help you avoid copyright infringement on YouTube.
YouTube Audio Library
In the creative studio menu, click on "Audio Library". You will find a collection of music and sound effects that you can add to your videos completely free of charge. The selection is quite decent: at the time of writing this guide, there are 1,517 tracks in various genres and 728 sound effects available for free.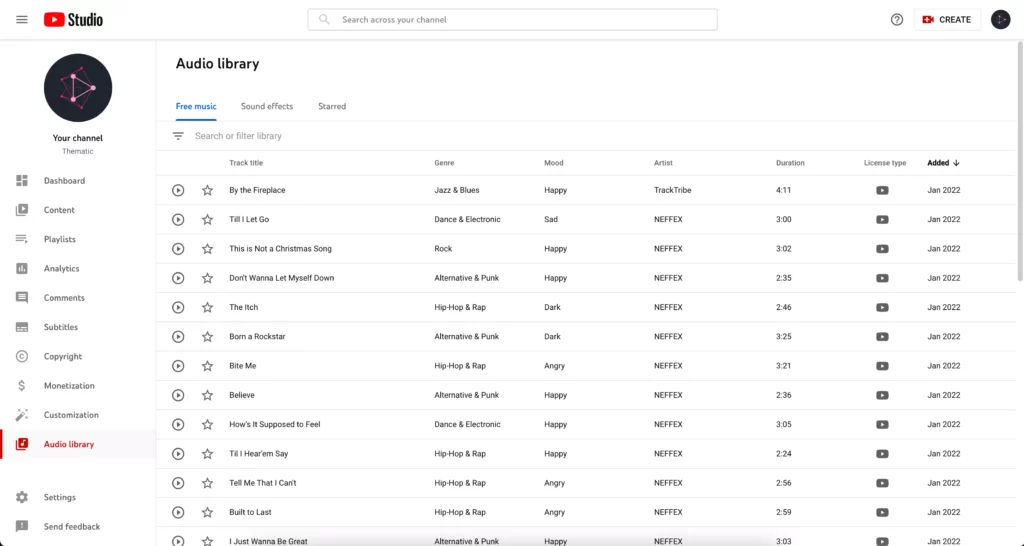 SoundCloud
This is a service with a lot of free music. To find it, enter "Free Music", "Creative Commons", or other similar queries in the search bar. Then, in the menu on the left, specify whether you want to find tracks, albums, or entire playlists. There is also grouping by genres – just choose the desired one in the "Filter by Tags" section. By the way, the service can also be used to check for a free license for tracks.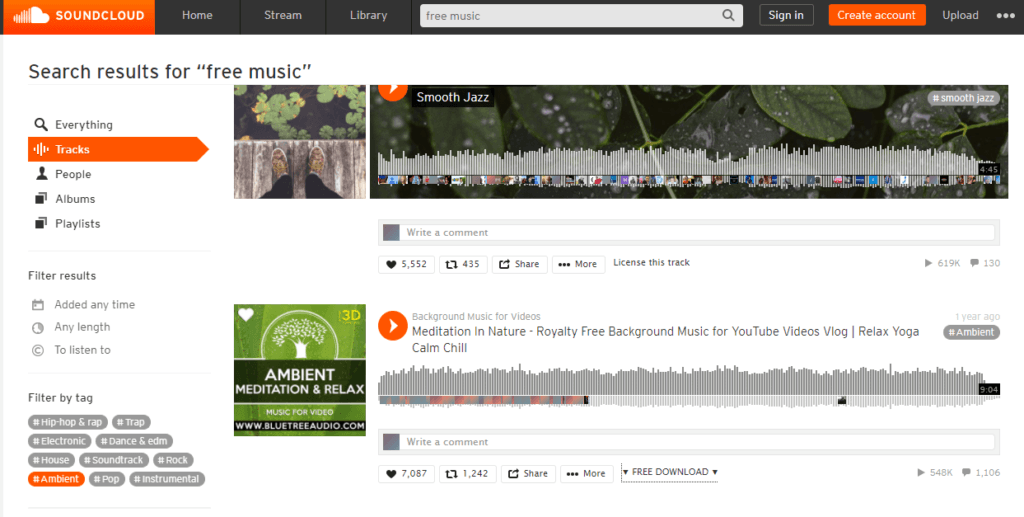 FreeMusicArchive
This service works even simpler. On the homepage, simply select what you want to find. In our case, it is "Royalty-free music for YouTube".
A list of options will appear. They can also be sorted by genre, duration, and direction. To download the music, you will have to pay for access. But nothing prevents you from using this service only for checking.

Pixabay
This is a service that collects photos, videos, and music for free use. In the top menu, click on the desired category and enter keywords. After a while, you will get hundreds of options. You can also add keys and choose subcategories.
Pixabay even has 4K videos. And you can download everything for free.
Videvo
This video stock contains more than 500,000 free videos in different categories. Its huge advantage is that the videos are grouped into collections. So searching is much more convenient. There is also a top-list of popular videos. Creatives that can be downloaded for free are marked with the word "Free". Others, with a lightning bolt icon, require premium access payment.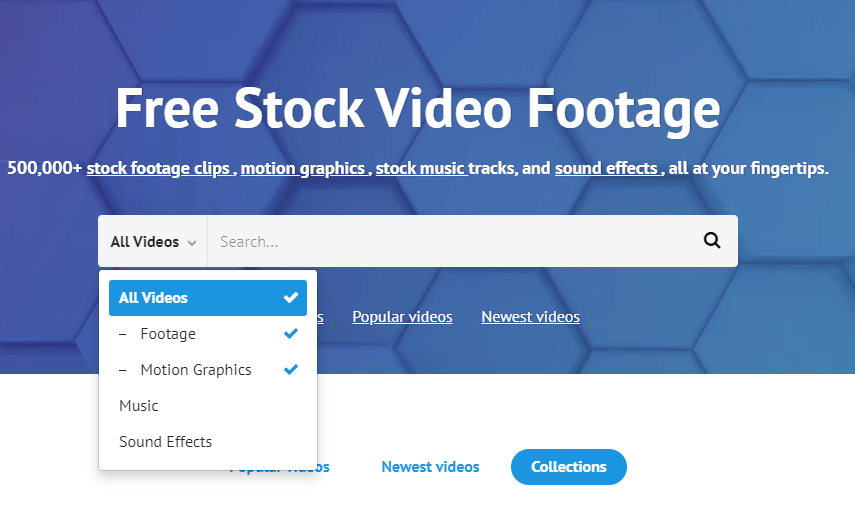 Conclusion
Trying to deceive copyright on YouTube is not the easiest path for a channel owner. It is easier to upload truly unique content. Fortunately, there are plenty of services where you can find it. And if you really want to add your favorite song, try looking for a remix or another non-copyrighted version. We wish you success and high earnings on YouTube!
Can copyright infringement be avoided?
Yes, it can be avoided. To avoid copyright infringement on YouTube, upload unique videos and music with a free license. Even if you upload someone else's content and specify the licensor's name, the algorithm will still consider it an infringement.
How does YouTube determine copyright?
There is a special algorithm for this – Content ID. It compares your content to what you've already uploaded, and determines if the source is under a closed license. YouTube doesn't provide the exact name of the copyright holder. You just get a copyright infringement complaint
Does video uniqueness work for copyright cheating?
This method of circumventing copyright is one of the most controversial. We don't guarantee that video uniqueness will work. But, if you try several uniqueization methods at once, there are possibilities that it will still work to cheat copyright.
How do I connect a copyright on YouTube?
YouTube doesn't issue a copyright license. But, if you see a violation of your copyright, you can file a complaint about it. Fill out the form, be sure to include the URL of all the infringing videos and your contact information.
How do I challenge the copyright on YouTube?
There's only one legal way to challenge copyright on YouTube – try to appeal the complaint. You can challenge the complaint through the menu "Restrictions/Complaint: Copyright/Detail". Next, expand "Choose an action" and select "Dispute the claim".
Are there any non-copyrighted videos and music?
Yes, this is content with an open Creative Commons license. Just be sure to clarify if a particular track or video can be monetized. Services for finding free music and videos allow you to do this. And you won't violate copyrights if you put music in the public domain on YouTube. For example, classical music.