home
/ articles
/ Alternative search engines without restrictions and censorship: 18 Google alternatives
Alternative search engines without restrictions and censorship: 18 Google alternatives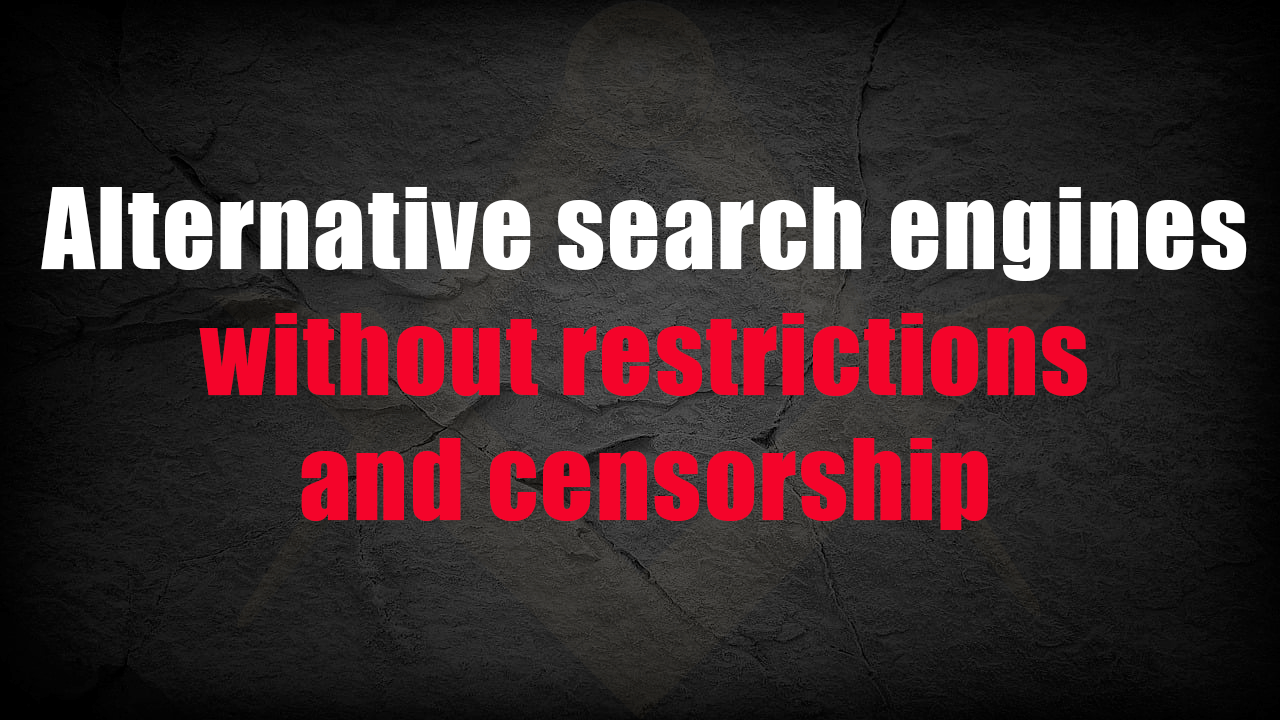 Today, the most popular search engine in the world is Google, which captures over 92% of all traffic and connects billions of people. However, there are alternative search engines without restrictions and censorship on the internet that also attract a fairly large number of users. Google alternatives cover different countries around the world. In this article, we will look at the top search engines that are not inferior to Google and sometimes even surpass it.
Search engines comparable to Google
One of the main reasons why despite the high popularity of Google, many people search for information in other systems, which will be discussed below, is the company's specific data collection policy. The information processed by algorithms does not disappear after the work is done and remains on the servers. And this is extremely inconvenient for various areas, such as affiliates driving traffic to their offers.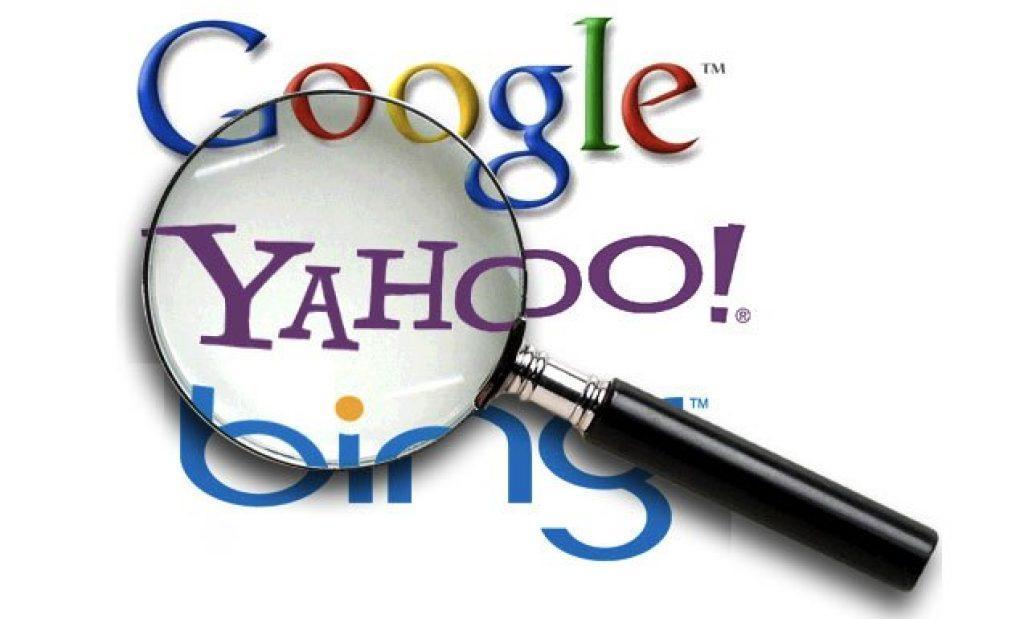 Yahoo
The oldest American search engine, which is rightfully considered a legend of information technology. It appeared at the dawn of the development of digital systems and was one of the first. At one time, the company was top-notch and could buy Google with all its assets for just one million dollars. However, decades later, Yahoo found itself on the brink of bankruptcy, which almost led to its acquisition by Microsoft.
Currently, Yahoo is visited by 2.67% of all users worldwide. Essentially, it is a multifunctional service with a rich set of tools, including a search engine and mail service.
While at first being just a search engine, gradually, thematic news, mail, store, and other popular sections began to appear on the main page. It is a worthy replacement for Google with only one drawback – it cannot be installed on a PC and can only be used as a browser version. After all, modern Yahoo is a large internet portal, not a classic search engine. Web search is just one of its functions.
Attention! In fact, the search here is carried out using Bing – Yahoo only controls the design and results displayed in the search results.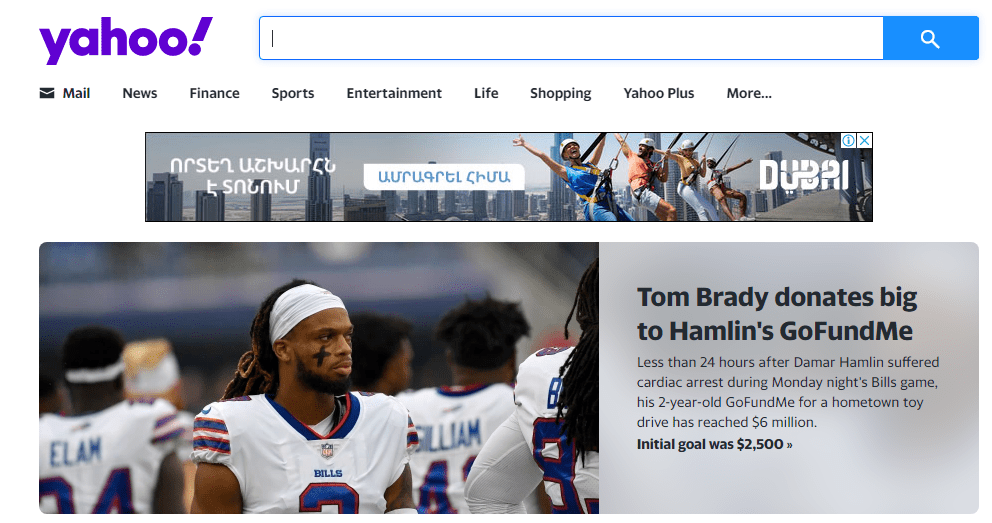 Pros:
Wide range of opportunities for shopping and conducting business. Online stores rank high in Yahoo search results.
Versatility. In one click, you can get the latest news, weather forecasts, etc.
Cons:
Lack of dating on most search results. Therefore, there is no way to understand whether the information is current or not.
Too much advertising.
Lack of a right-hand column.
Not quite accurate interpretation of user intent. Google is much better in this regard.
Bing
Bing is a search engine from Microsoft that occupies 2.3% of the market. The program has a simple interface with sections – maps, images, videos. There are also many additional tools.
Bing is multilingual and automatically detects the user's geolocation. There is an opportunity to personalize the system even without registering a profile. During the process of collecting information in response to user requests, an analysis of links is carried out to detect threats, which allows information to be provided from safe sources.

Pros:
High-quality images and video search.
Improved integration with social networks. News from there ranks higher in the SERP. In other words, users can access thematic posts from Facebook, Instagram, Twitter directly from the search engine.
Cons:
Low speed. Bing is not as fast as Google.
Not inclusive. For example, forums are poorly ranked by this search engine.
Baidu
The most popular search engine in China. The platform has completely displaced Google from the local market, with 97% of the population living in the country using Baidu. One percent each is allotted to the United States and Japan. However, the platform works exclusively in the Chinese language.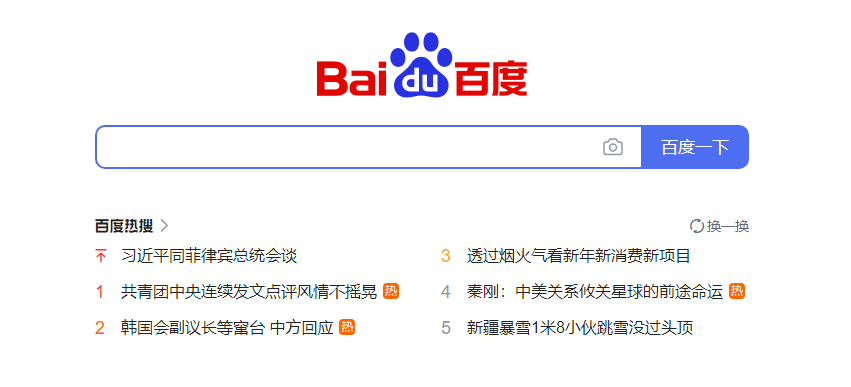 Pros:
AI. Baidu outperforms modern artificial intelligence in this regard.
Search quality. Some people rightly call it the "Chinese Google". Indeed, Baidu quickly finds the necessary content with added value.
Cons:
Censorship. A chronic problem in communist countries. Baidu suffers from it and has to reduce the number of sites.
Slow loading of large files.
DuckDuckGo
A well-known American search engine that has an open-source code. Search results are collected from Wikipedia, Bing, and Yahoo. The company provides maximum confidentiality and privacy of data for users. Moreover, the system does not store history and logins.
Unlike most popular search engines where a huge number of filters are set, which adjust the information based on the preferences of a specific user, DuckDuckGo shows the real picture regardless of the user's previous actions.
Pros:
Priority is given to confidentiality. Personal user information is not disclosed to third parties.
No advertising.
Cons:
Not very user-friendly.
Less relevant results are displayed as there is no personalization.
Has few built-in services.
You.com
A relatively new platform developed by former chief scientist of Salesforce, Richard Socher. It is aimed at providing the most relevant answers, allowing the user to get the most accurate information from a wide range of sources, including forums, communities, and social networks. This provides an opportunity to collect rare LSI phrases.
Attention! The company claims that their platform will not rely on advertising for revenue and is built on advanced language processing technology to refine search results.
The system has a modern interface with a user-friendly functionality. The search results are divided into thematic blocks, which speeds up the process of finding the necessary information. At the same time, even little-known websites and projects can make it to the top if they contain an accurate answer. For example, there are many reviews from expert authors and real people. You can say that the system "googles" for the user and provides a complete picture of the search results.
StartPage
Unlike its competitors, this system uses a personal engine, but the software is slightly weaker than that of its competitors. The basis of the search is taken from Google, but all queries remain anonymous, and the search is not based on the user's personal preferences.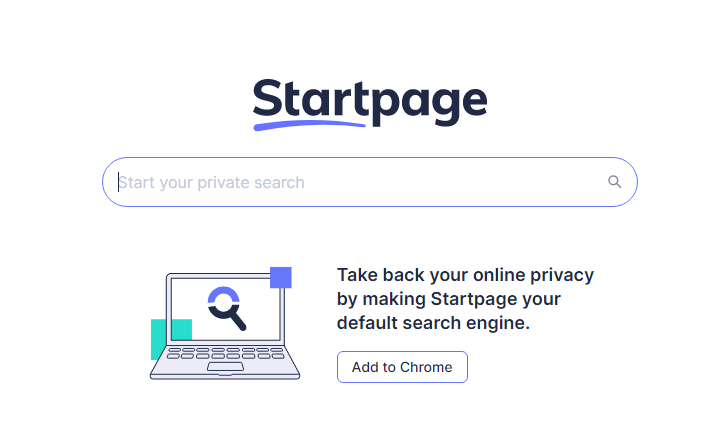 StartPage ensures complete confidentiality. By using proxies and generating unique URLs, the need to use cookies is eliminated. Thus, users get complete anonymity of their actions on the Internet. The system does not even record IP addresses and offers an additional private surfing mode.
Pros:
Does not store user IP addresses and does not use tracking cookies on devices.
All user search queries on the start page are encrypted using HTTPS. This option protects against tracking on the Internet. No one will be able to intercept your connection (for example, in a public Wi-Fi network) to see what queries you are surfing.
Anonymous browsing function. Allows you to view any site in the search results list through a proxy server, thereby hiding location, internet provider, browser type, network settings, and more.
Cons:
StartPage earns revenue from advertising. Therefore, the search results include many advertiser sites.
Search engines without censorship and limitations
The main reason for refusing to use Google is the fact that the platform actively collects personal information from customers. Online tracking is not a myth, but a fact that has been talked about for a long time. To avoid worrying about your data, searches, and movements, it is worth giving preference to more reliable search engines. Let's consider the best systems that have no restrictions and censorship.
NotEvil
This search engine operates on an anonymous Tor network and doesn't require a separate browser for use.

The platform provides access to resources that Google doesn't display, such as personal libraries, blogs, news outlets, online stores, and more.
YaCy
YaCy is a decentralized search engine that utilizes a P2P network. Users who have the software installed on their computer or mobile device can automatically scan the network using a search robot. The results obtained from a query are then fed into a shared database.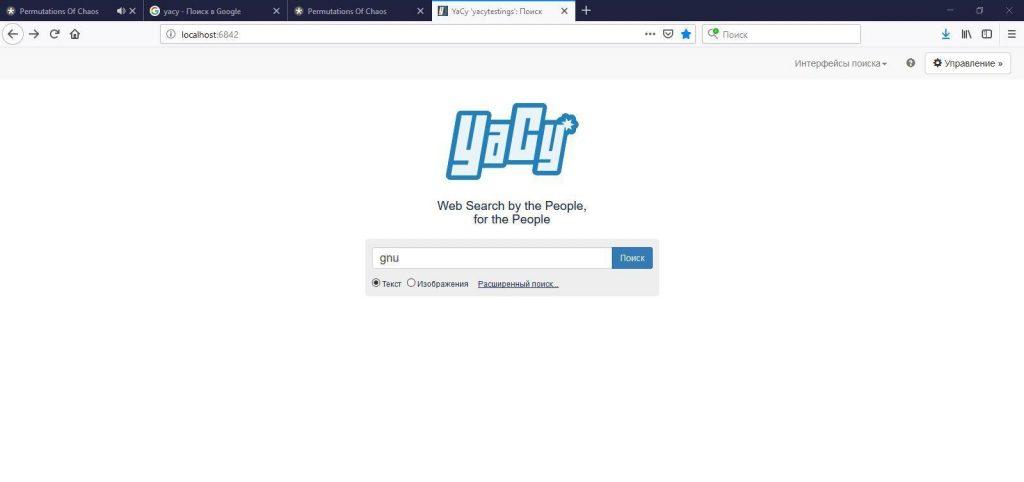 The technology and information-gathering methods used by YaCy are vastly different from traditional search engines such as Google. Since there is no single server, the search results aren't dependent on any particular user. There is no censorship, and the data is sourced from deep levels of the internet, including non-indexed networks. This is an excellent option for those who value a free and open internet.
Pipl
Pipl is another interesting search engine that doesn't impose any restrictions on users. The developers claim that the adaptive algorithms they use completely eliminate any blocking. The search process is based on structured information from databases, comments, social media, and more.

This is a great option for conducting comprehensive searches on individuals, companies, or events.
Wolfram|Alpha
This unique computational search platform enables independent analysis of objects, goods, events, and more. Results are presented in the form of charts, tables, and reports.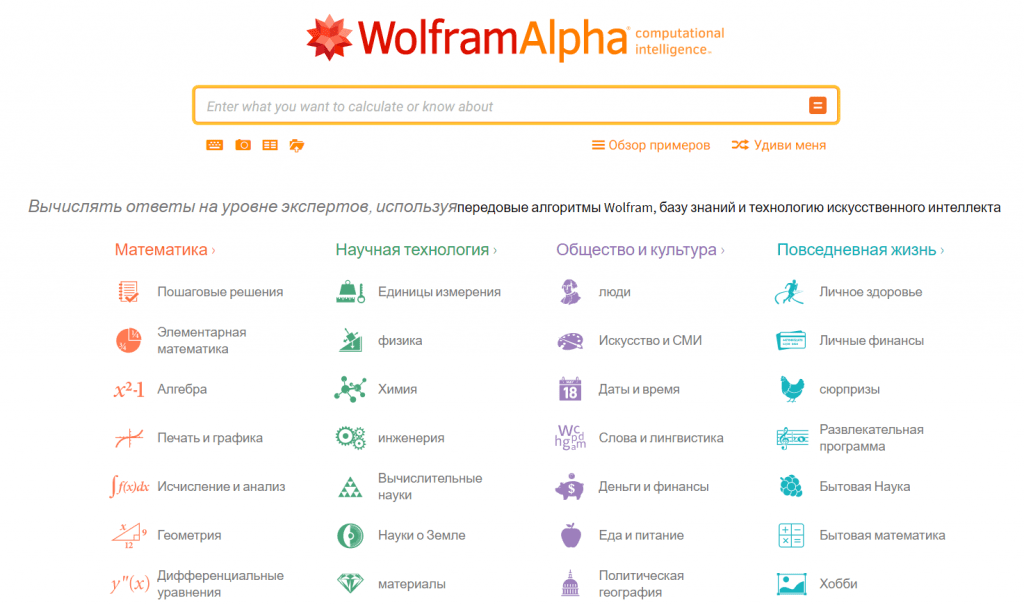 This platform is especially useful for obtaining systematic computational information sourced from the internet.
Dogpile
The platform performs a metasearch of the query on various search engines such as Google, Yahoo, Bing, Yandex, and others.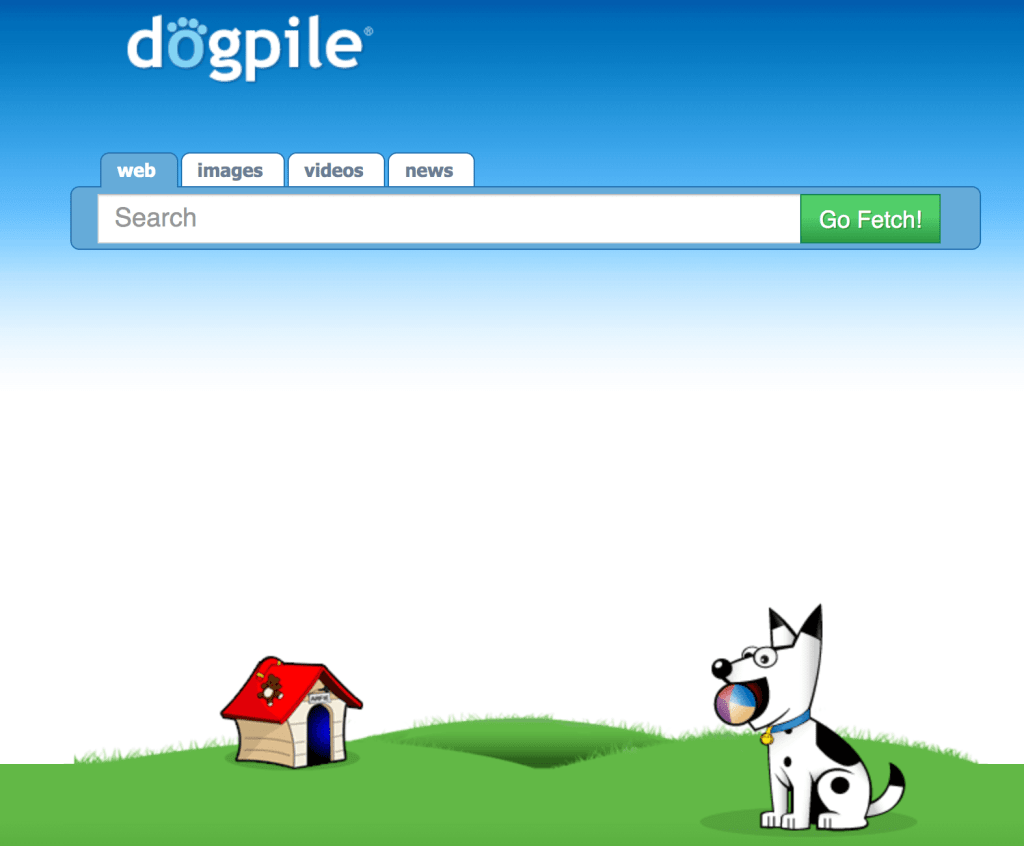 The creators assure that Dogpile can provide users with the most comprehensive information from all corners of the internet. This is an excellent option if there is no way to find the desired data in popular systems.
BoardReader
It provides convenient search for uncensored and unrestricted textual information. The scope is narrowed down to the analysis of social platforms, forums, comments, posts, and notes.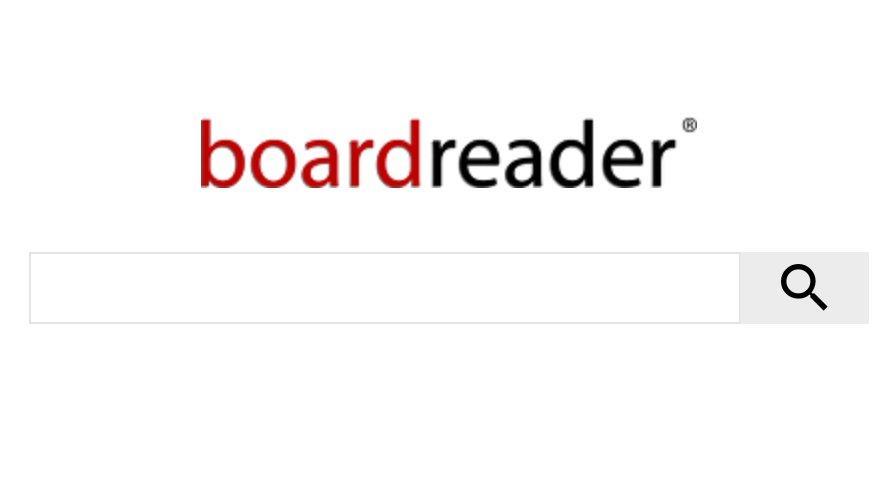 The system of additional filters allows narrowing down the results and obtaining the most accurate answer to a specific query.
New search engines on the internet with high potential
Today, there are a huge number of search engines. Some of them can be considered a full-fledged alternative to Google, while others have a more narrow specialization in search. Well-tuned tools and filters allow you to quickly obtain accurate information according to the query. Let's look at platforms with high potential for development:
AOL. A relatively young and promising American search engine that has been actively developing lately. It has an extensive functionality, which attracts the audience.
ASK.COM. An unusual platform that operates on a principle similar to "Answers" website. The main difference is that users receive not just a brief answer to their queries, but full articles.
EXCITE. In addition to the search field, customers are offered a wide selection of additional services such as weather, news, events, etc. The platform provides a lot of interesting, relevant, and truly useful information.
WOLFRAM ALPHA. It is particularly popular among students, as all the information provided is based on authoritative sources. This significantly simplifies the process of writing thematic works.
Swisscows. The work of the search robot is based on semantic search using artificial intelligence. Thus, the system tries to predict what answer the user wants to receive.
FindSounds. A narrowly specialized platform focused on finding sounds based on given tags. The audience coverage is not yet large, but the platform is gaining momentum.
Conclusion
Undoubtedly, Google is the leader among the world's search engines. The platform has a huge audience coverage and includes a large list of additional options. However, the service is not without its drawbacks. Tracking desires, personal data, and geolocation is not liked by everyone, which is why users are increasingly looking for alternatives.
What is the most popular search engine?
Google is considered the most popular search engine in the world. More than 92% of all users on the planet prefer this option for searching information.
Are there worthy alternatives to Google?
Currently, users have a fairly extensive choice of search engines that can fully replace Google. Some of them have several indisputable advantages in terms of confidentiality and functionality.
Where can you search for information other than Google?
There are several worthy alternatives that users should pay attention to: Yahoo, Bing, DuckDuckGo, and others. To choose the most convenient option, it is enough to conduct a small test of each of them.
What is the safest search engine?
Among the search engines that guarantee complete safety, DuckDuckGo and notEvil can be highlighted. However, in reality, there are quite a lot of search engines, and the choice should be made depending on the purpose.
Are there search engines that are not tracked?
A large number of search engines have been created that work without taking into account the personal data and geolocation of users. Moreover, they do not even remember the search history, logins, and actions performed.
Is there a search engine without censorship and restrictions?
Today, there are many search engines that allow you to obtain complete information without censorship restrictions. Among them are YaCy, notEvil, Pipl, and Dogpile.
What search engine is used in China?
Baidu is the most popular search engine on the territory of the PRC. The service is so in-demand that about 97% of the entire population of the country uses its services.