home
/ case studies
/ 474% ROI: How Targeting Facebook Browser Boosted a Dating CPA Offer
474% ROI: How Targeting Facebook Browser Boosted a Dating CPA Offer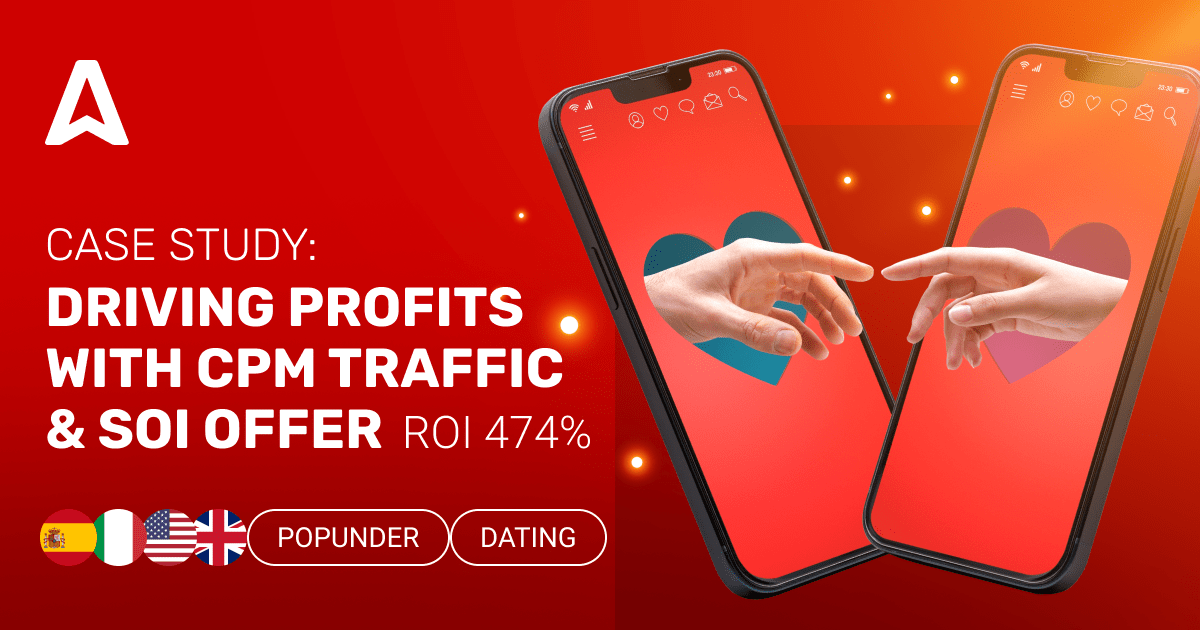 Imagine the perfect union of a Dating CPA offer and Facebook browser targeting. It's a great match, ensuring a happily ever after for your profits. And if that's not enough, the incredible Afflift member, has generously offered to share an extraordinary case study on promoting an SOI offer using Adsterra CPM traffic. Get ready to soak in invaluable advice and insights from this expert! So let's begin!
Hello everyone,
In this case study, I am excited to share my journey of promoting a CPA Dating offer using CPM traffic, and the remarkable success I attained with Adsterra.
I selected a superb SOI offer from a reputable dating network, which offered the flexibility of targeting multiple GEOs. Recognizing Adsterra's potential for Facebook browser traffic, I focused solely on harnessing this traffic source for my campaigns.
To optimize results, I honed in on Android users as my primary target audience. Starting with one GEO initially, I patiently observed conversions before gradually expanding my campaigns to encompass other GEOs.
Here's a concise summary of my Dating CPA offer campaign
Ad network: Adsterra
Campaign Start Date: 08 June
Campaign End Date: 19 June
Offer Type: Dating SOI (single opt-in)
Offer Limits: Mobile only
Geos: Multiple geographical locations (Multi-geo)
Ad Format: Adsterra Popunder
Pricing Type: CPM (cost per mille, or cost per 1,000 impressions)
Total Spent: $43.09
Total Profit: $247.23
ROI: Approximately 474.42%
Now, let's dive into the campaign's details and learn from its success.
My Approach to Targeting and Bidding
To kick off the campaign, I carefully reviewed the offer's terms and discovered that it allowed targeting the Facebook browser. With this knowledge in hand, I remembered that Adsterra provided this specific targeting option. Since I had funds available in my account, I saw it as a perfect opportunity to give it a shot without making substantial initial investments.
In total, my expenses summed up to $43.09, encompassing the costs of ad impressions served through the Adsterra network.
To refine my audience segment, I opted for Android-only OS targeting. However, it's essential to check traffic volumes before implementing such segmentation. In some cases, a network may not be able to deliver sufficient traffic. Fortunately, Adsterra offered a valuable tool that showed me the expected number of ad impressions for my selected targets and bidding. The next lines will shed more light on how this tool works.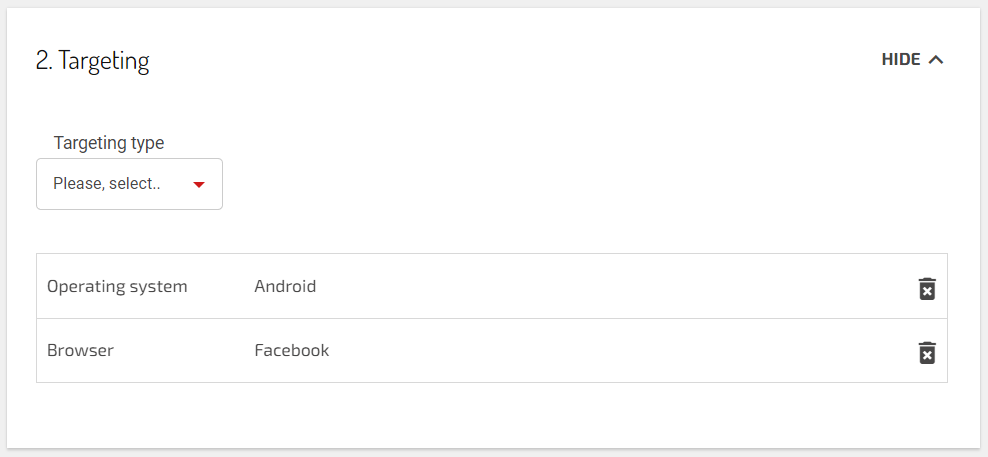 In Step 2 of the campaign setup, you have the option to specify your targeting preferences.
​I opted for CPM (cost-per-mille) traffic for my campaign. With Adsterra's helpful feature, I could estimate the traffic volumes available and see two possible bid options: a minimum bid and a recommended bid.
To maximize the visibility of my ads in countries with fewer impressions, I utilized the recommended bids. However, in some cases where Adsterra indicated that I might not receive sufficient traffic, I slightly increased the recommended bid to ensure a steady flow of impressions.

Geo Targeting Strategy
The beauty of multi-geo targeting offered by my affiliate network enabled me to expand my campaign systematically. I began by targeting Italy (IT), which proved to be cost-effective and delivered promising results during the initial tests. Encouraged by this success, I progressively expanded the campaign to include Spain (ES), and eventually, ventured into more costly markets like the United States (US), the United Kingdom (UK), and Australia (AU).
To ensure clear and comprehensive analytics, I established a separate campaign for each new geographical location. This approach allowed me to gain valuable insights and make informed decisions based on the performance of each individual campaign.
Optimization Strategies
Throughout the campaign, I adopted a vigilant approach to closely monitor its performance and make necessary optimizations. Although it was not an extraordinary case, I utilized fundamental optimization techniques to achieve favorable outcomes.
To concentrate resources on the most fruitful regions, I wisely paused campaigns that failed to generate conversions for specific GEOs. This allowed me to channel my efforts towards the most successful areas, maximizing the potential for positive results.
To ensure a steady flow of traffic in each geo, I re-estimated the traffic volumes and adjusted my bids accordingly. This proactive measure helped me maintain sufficient traffic levels and enhance the campaign's effectiveness.
To validate the efficiency of my spending, I diligently relied on Adsterra's statistics. Although Popunders do not provide CTRs (click-through rates), I leveraged a conversion tracker to gauge performance. One of the crucial metrics I checked was Impressions/Click or I2C. Remarkably, my results were excellent, achieving 3.5% and 4% conversion rates, reassuring me that my campaign was on the right track.
The Results of Advertising a Dating CPA Offer
My targeting approach yielded remarkable results, evident from the following key outcomes:
Total Cost: The entire campaign incurred a total cost of $43.09, which covers the expenses associated with the ad impressions served through Adsterra's network.
Earnings: The campaign generated impressive earnings, totaling $247.23. These earnings signify the revenue generated from the successful conversions achieved through promoting the dating offer.
Return on Investment (ROI): The ROI is a crucial metric that gauges the campaign's profitability. Calculated as (Earnings – Total Cost) / Total Cost, our campaign boasts an outstanding ROI of 474.42%.
The campaign's success demonstrates the effectiveness of my strategies and underlines the potential for lucrative returns in the realm of dating CPA offers.
Below, you'll find a screenshot of the payouts I received in my affiliate network's account:

By exclusively focusing on Android users browsing through Facebook, I managed to attract a substantial amount of high-quality traffic that translated into successful signups.
It's essential to acknowledge that not every attempt with Adsterra or any other ad network will yield immediate success. However, when you discover a reliable source of clean traffic, it's wise to maintain an active account and seize every opportunity to launch new campaigns. Persistence and continuous efforts are key to finding lucrative avenues for your advertising endeavors.
To conclude
Additionally, there are more cost-effective tools at your disposal. If you're looking to purchase CPM traffic in substantial volumes, consider trying out CPA Goal. This powerful tool optimizes your CPM and CPC traffic based on the desired number of conversions or eCPA, enhancing your campaign's efficiency. Interested in exploring these possibilities? Join Adsterra and take advantage of these resources today!