iGaming in Latin America: All You Need to Know in 2023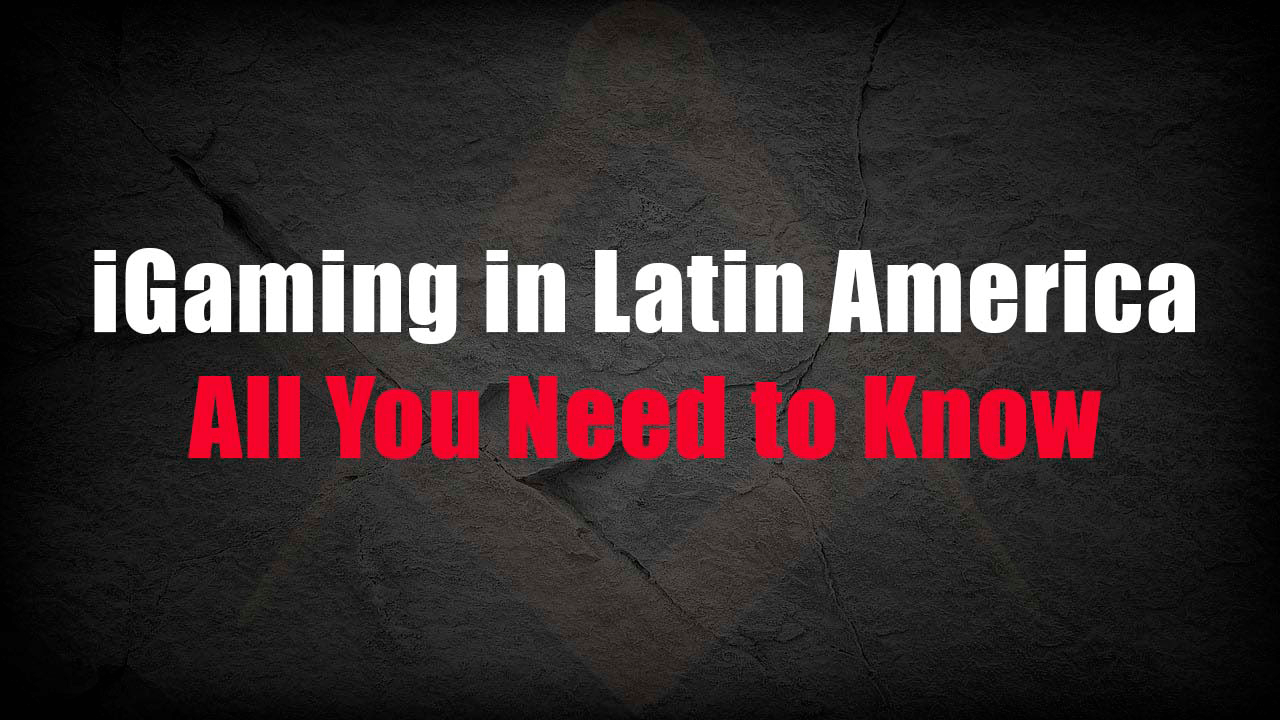 Latin America is a golden opportunity to enter an endless market of active and diverse audiences, but entering this market can be unclear as the legal framework is still in development. Let's take a closer look at the current state of the online gambling market in South America, trends, opportunities, obstacles, and the legal situation.
iGaming in Latin America: General Trends
Latin America is at the center of attention for the global online gambling community. Despite jurisdictional disparities and payment processing challenges, this region is poised to become a major player in the industry. What makes it so promising for online gaming? Several factors contribute to this:
Large population
Growing middle class
High mobile device penetration
Increasing recognition of gambling regulation
Passion for sports betting
Latin America is one of the few regions where sports betting holds paramount importance and sometimes even greater influence than casinos. People's love for sports translates into a desire to support their favorite teams, resulting in high demand for sports betting.
Lotteries, bingo, horse racing bets, and various forms of gambling are a part of everyday life for Latin Americans. In some countries, this loyalty to gambling has been cultivated over many years.
The rapid and promising growth of Latin America is hindered by the absence of a clear and unified regulatory system for online gambling. The geographical landscape appears fragmented, with regulatory acts varying from direct prohibition to full regulation in different countries. The term 'gray markets' refers to areas where gambling is neither definitively legal nor illegal.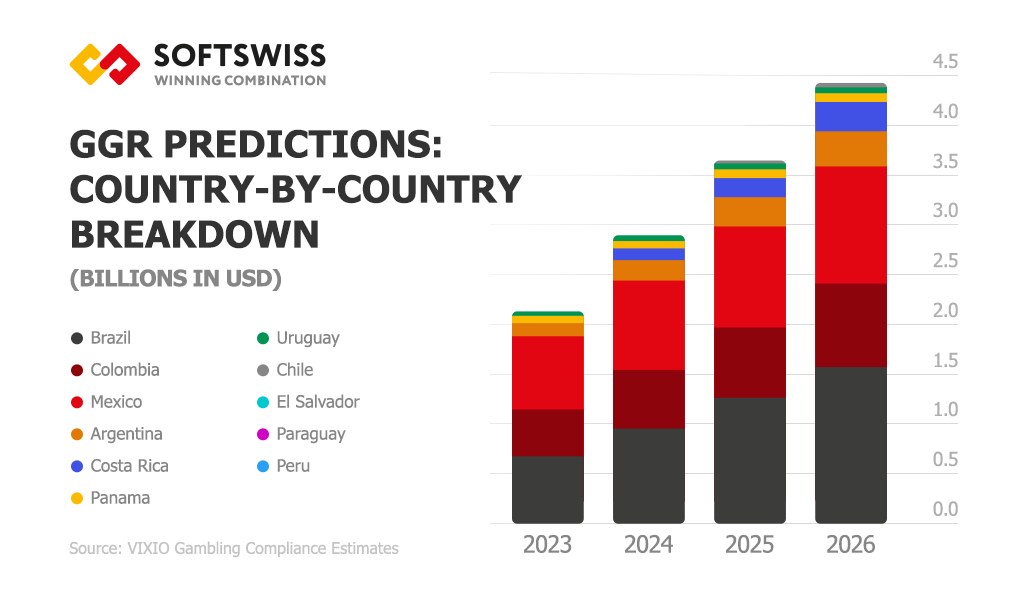 The legal status of iGaming in Latin America
The legal status of online gambling on the continent is ambiguous. There are several countries that have legalized online gambling and are now reaping its benefits, while there are those that prohibit all forms of gambling, cutting themselves off from a share of the market. There are also countries that have not yet determined whether online gambling is either prohibited or allowed.
Argentina
The government structure of Argentina allows for the regulation of online gambling at the level of each of the 23 provinces and the city of Buenos Aires. The main rule is that online gambling is prohibited unless it is allowed at the local level. Online gambling is permitted, regulated, and actively operational in most provinces, but there are still regions where it remains prohibited.
Brazil
As a competitor to Argentina and Mexico, Brazil changed the course of events in 2018 when it developed a gambling regulation law. However, as of 2023, this law has not yet been enacted. It appears that 2023 may bring regulatory clarity to this promising market.
Colombia
Colombia was the industry pioneer in the region, legalizing and licensing it back in 2016. Licensing and cooperation with operators have led to economic growth. Additionally, tax revenues from gambling contribute to and support the country's system.
Licensing requirements
Licensing is fragmented and uncoordinated, varying from country to country throughout South America. The most comprehensive and transparent laws can be found in Mexico and Colombia. Although Brazil still has some uncertainties, clear requirements are emerging there as well. A good example of this is the recent Brazilian requirement for sports betting operators to be physically located in the country rather than operating remotely.
By the way, looking for an affiliate network that provides good offers? Take a look at our top-list of affiliate networks!
Categories of iGaming popular in Latin America
Sports Betting
Latin America is unique in terms of the distribution of influence between casinos and sports. Typically, in all GEOs, casinos are strengthened by the bookmaking business. But in Latin America, it's the opposite, with casinos playing an important but mostly supportive role.
The love for sports is deeply rooted in the local population. It's a strong cultural model that explains the popularity of sports betting. The excitement, thrill, and the desire to be even more closely connected to one's favorite team and invest in the match's outcome make this GEO ideal for sports betting. For example, the most popular sports for betting in Brazil include:
Soccer
Volleyball
Mixed martial arts and Brazilian Jiu-Jitsu
Basketball
Motorsports
Sports betting is not only growing in Latin America but also in other markets. The influence of sports continues to rise, so the combination of sports and casinos within one offering is advantageous in many ways — for promotion, audience reach, and seamless interaction.
Slots, Table-top games
Slots have a large and devoted audience in this GEO, attracting many with the thrill and potential rewards they offer. Table-top games like blackjack and roulette are also popular among players in Latin America. These games provide a more traditional casino gaming experience and are often preferred by more experienced players who enjoy the strategy and skill involved in these games.
Another factor contributing to the growing popularity of slots and table-top games in Latin America is the increasing availability of high-quality online casinos. In recent years, many leading operators have entered the Latin America market, offering players a wide range of games and betting options.
Fish Games
Fish games have relatively recently emerged in Latin America but have quickly gained popularity. Fish games involve catching fish for rewards in an arcade-style setting. This type of game is based on a random number generator. Fish games include an element of competition, where players team up and place bets while shooting bullets. When a bet hits the target and "kills" a fish (or another character), the player wins.
Originating in Asia, fish games have unexpectedly captured the Latin American audience, and here's why:
Unique gameplay: The interaction and competition make the gameplay more unusual. A notable feature is the presence of a "big boss" level where players can expect significant winnings after a successful defeat.
Diverse player demographics: Fish games attract players who typically don't engage in traditional online gambling. The combination of concept and engaging gameplay surpasses what the market offered previously.
Attractive graphics and audio effects: In addition to graphics that enhance the gameplay, the game features powerful audio effects.
Popularity indicators speak for themselves. Here are some South American countries ranked by the popularity of fish games: Argentina, Brazil, Chile, Peru.
In Asia, where this category is firmly established and profitable, the average monthly number of bets ranges from 12 million to 25 million. In Argentina, the number of bets reaches 8.5 million. Therefore, the potential of fish games in this market is far from exhausted and will continue to grow.
Bingo and Lottery-Style Games
One of the reasons for the popularity of bingo and lottery-style games in Latin America is their accessibility. These games are easy to understand and cater to players of different experience levels. There has been significant growth in online bingo in Latin America, with various game options and bingo variants available in the market. Lottery-style games, such as scratch cards and instant win games, are also popular. They offer instant payouts and can be played on the go. The popularity of these games underscores the diversity and depth of the industry in this GEO.
Challenges in the iGaming Market
Payment processing can be particularly challenging in Latin America, where many countries have complex financial regulations and limited access to banking services. This can make depositing and withdrawing funds, as well as processing payments effectively and securely, difficult.
According to statistics, 54% of consumers in Latin America use digital payment methods, while 46% use cash. Popular payment systems in the region include PIX, Boleto, and Pay4Fun. Payment processing is tightly controlled by the government, and government-controlled systems predominate. While digitalization is increasing, it still falls short. The PIX system, developed by the government, is not particularly user-friendly, which has led to the development of the Boleto system, which has become a starting point for secure payments in the gambling industry in the region.
All payments are processed through banks only on weekdays. This creates obstacles, as it can be a reason for fraud by players when they gamble with funds that are not in their account. Additionally, betting vouchers sold offline should not be overlooked. This makes the process of gambling close to complete anonymity, increasing the risk of money laundering and various fraudulent schemes.
Opportunities in the Latin American iGaming Market
Despite these challenges, there are numerous opportunities:
Mobile Gambling
Mobile gaming is one of the most prominent opportunities. It is expected that by 2025, Latin America will account for nearly 10% of the total number of mobile gaming users worldwide. This opens up broad opportunities for gaming offers and mobile-friendly platforms that can reach players on the go.
Esports
Another growing area is esports leagues. This is a rapidly growing online gambling market in Latin America, where many players and fans are interested in games like League of Legends and Dota 2. As more and more players turn to esports, the demand for esports betting and tournaments is on the rise.
Cryptocurrencies
Latin America ranks 7th in the world in terms of the size of the crypto market. An increasing number of local residents are becoming interested in cryptocurrencies. Crypto bettors represent a high-tech audience that is not easy to capture. Given the expected growth in the number of crypto players in the coming years, it makes sense to expand gaming offerings for this market with a wider range of exciting and unique offers.
What to Expect from Latin American iGaming
In the coming years, the gambling industry in Latin America is expected to experience significant growth. More and more countries are legalizing and regulating online gambling, and there is likely to be a sharp increase in demand for online casino games and sports betting.
The industry will need to overcome regulatory obstacles and compete with land-based casinos. 2023 appears to be a reasonable time to enter the gambling market in Latin America and take advantage of its bright and promising future.