home
/ case studies
/ How a guy from Pakistan earns up to $1 300 per month from simple YouTube videos
How a guy from Pakistan earns up to $1 300 per month from simple YouTube videos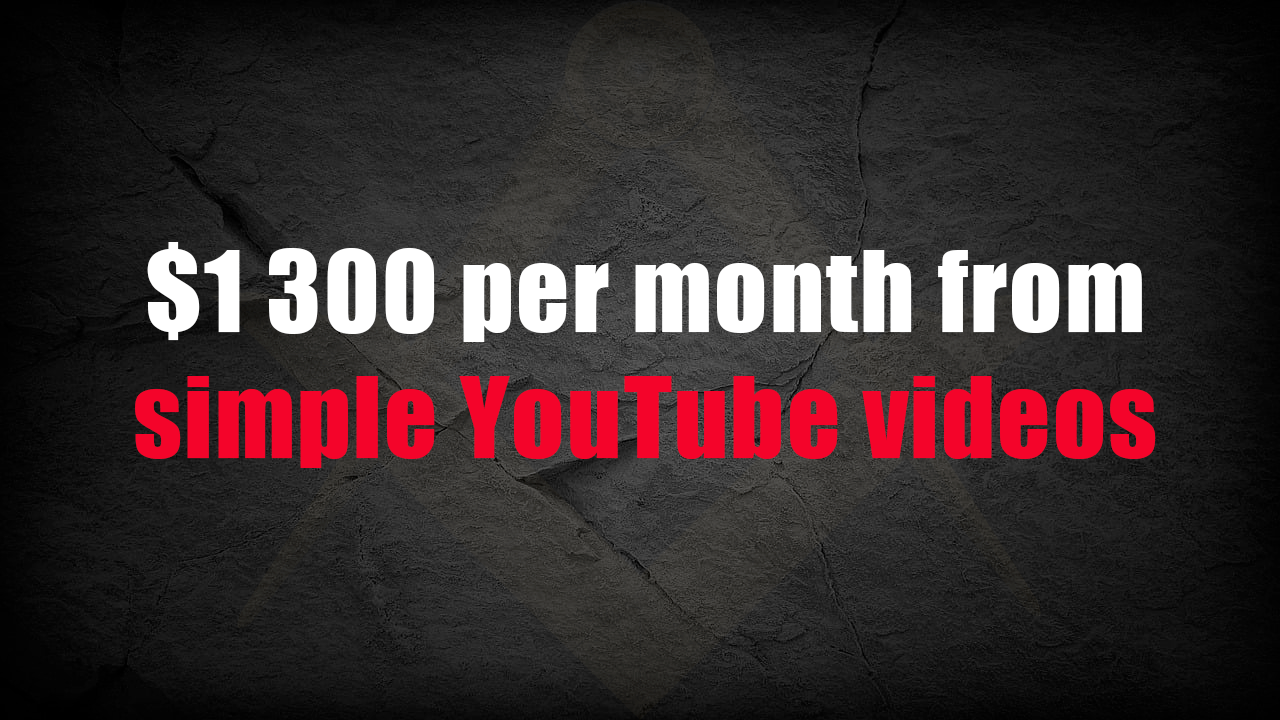 Good day, money makers. In this article, I want to show you an example of how you can earn money through YouTube's partnership program by creating relatively simple content without words and original audio (video).
We will talk about a guy from Pakistan who came up with or copied an idea from other creators and created a narrow niche for himself. He develops quite productively in it and receives a real income.
Before we delve into this scheme, let's understand what Pakistan is and what the average salaries are there. As Wikipedia says, Pakistan is a country in South Asia formed in 1947 with a population of 221,000,000 people. The average salary in the country is $170, an important indicator that we will use as a reference point while reading this article.
It's time to get down to business and take a closer look at this interesting and quite unusual scheme of earning money on YouTube.
The Essence of Earnings
The hero of this article is the author of the YouTube channel called CaptainCigar, where content is created using the program Ultimate Epic Battle Simulator 2. So, if you are perceptive, you probably already understand what this is about, but if not, keep reading.

As we can see, the author takes monetizing his content very seriously. Even in the header, he encourages people to watch his videos. At the time of writing this article, he had 76,300 subscribers. The most important thing in this channel is the content.
As I mentioned earlier, the author uses software and exports the finished video to upload on YouTube. The software is quite interesting and, in a few words, it is a battle simulator that positions itself as the best in this field, allowing users to simulate battles between hundreds of thousands or even millions of units. For clarity, I will add a screenshot of the software below.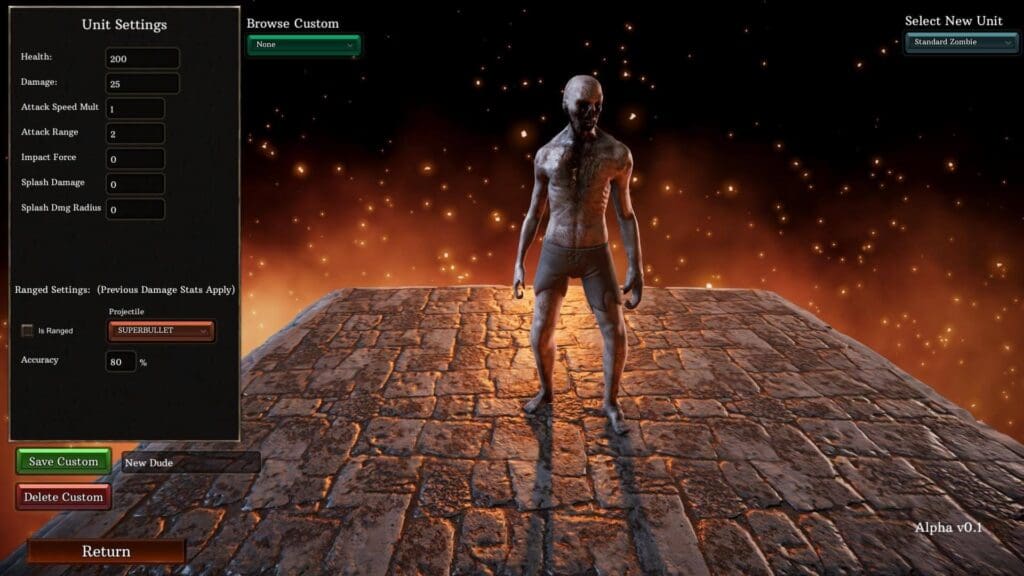 By the way, the software is quite resource-intensive. To work with it, you need a minimum hardware configuration with the following specifications: a 4-core processor, 8GB of RAM, a 3GB video card, and at least 20GB of disk space on an SSD drive.
To jump ahead a bit, you can buy such hardware on the used market for $200-$250. So, if you don't have a decent computer to replicate this success, you will need to spend money on hardware to produce content.
Alright, now that we have covered that, let's move on to the most popular videos on this channel.

As we can see, several top videos have gathered over 5,000,000 views, and the most interesting thing is that their titles and descriptions are in English, which can only mean one thing – reaching a wide audience in the West.
Channel Idea
The main task of the channel owner is to create videos of battles and confrontations between different characters on the Ultimate Epic Battle Simulator 2 software platform. This software can generate a battle between both sides in real-time, and you can also move to any point on the map where the battles take place.
Battles have always been, are, and will be interesting, so users have a high retention rate due to their interest in who will win in this battle. Of course, you can fast forward through the video, but the process and dynamics that the software models to show different outcomes of the battle are essential.
To create such videos, the author practically needs nothing except for the power of his computer. So, in a literal sense, the computer generates profit for the author.
How Content is Created
As I mentioned before, the software allows you to choose from dozens of different units, starting from animals and ending with fictional heroes that can be pitted against each other in a confrontation to see the final result.
So, the author of this YouTube channel has created many videos of zombie vs. soldier battles, tanks, and various fictional stories. It's quite simple: launch the software, choose units, then their quantity and location. A few mouse clicks, and the battle has already begun.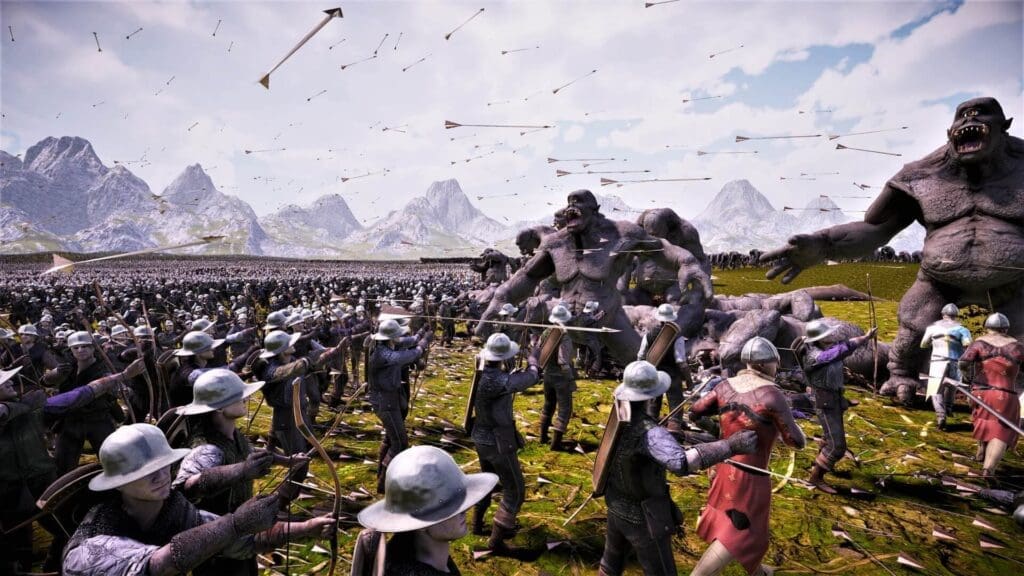 All of this is recorded from the screen or the software may have such a function, which I am not aware of. The fact remains that the author receives a finished video that he renders to get the final file for uploading to YouTube.
Monetization of the channel
The first thing to do is to look at the header of the channel and see what links are set up there. If you look at the first screenshot in this article, you'll see two links: one to the author's second YouTube channel and one to a Facebook group.
I have studied these links and can say the following – the author uploads his videos to Facebook and parallelly shares the most interesting moments of the battles on his second channel.
Next, you need to look at the latest video that was published on this YouTube channel and see what's going on in the description.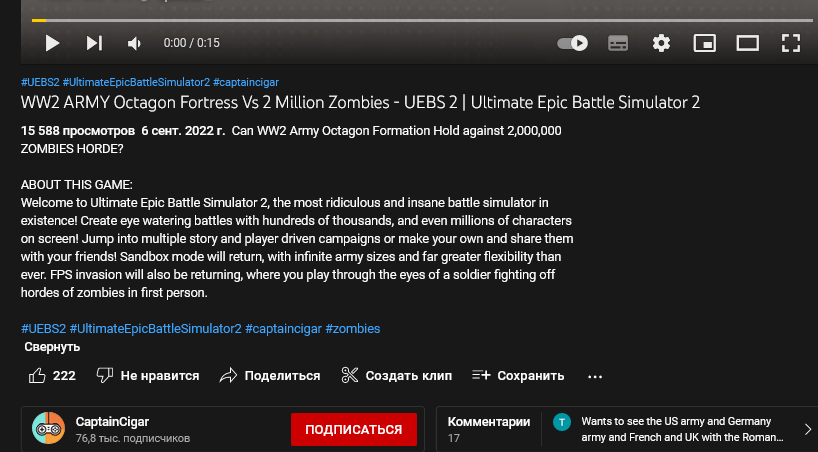 As we can see, there are no links to external resources, only hashtags and a description of the battle itself. This means that the author does not monetize his content in any other way than through YouTube's own partnership program. If that's the case, then we need to go to the analytics service Socialblade and look at more detailed statistics there.
Here's what the analytics service shows us: the channel was created in March 2021, and during that time, the author has published 957 videos that have gathered 30.9 million views, which converted into 76,700 subscribers.
The income indicator starts at $1,300 per month and reaches $21,200. And looking at it, the author of this YouTube channel earns about $16,000 a year.
And now let's remember that the author of this YouTube channel is from Pakistan, where the average salary in the country is $170. Cool, isn't it?! When a computer literally brings in $1,300 a month without mining, SMS, or registrations.
Conclusion
The universal traffic source called YouTube has always brought in good income, starting from the days when "doorways" began to be created back in 2014. Back then, affiliates and webmasters created videos for specific queries and placed links to offers in the description under the video.
I didn't make much money back then, but the money came in regularly. Time flew by, but YouTube remained a universal traffic source. A simple guy from Pakistan, the hero of this article, was able to make a good profit, and you can too. I have shown you the entire earning scheme.
Try it out, test it, and earn money! I hope this article was helpful to you, and feel free to write your comments below if you have any questions.
Good
Nice