Cloaking.House

Cloaking.House
It is not easy to drive traffic to gray verticals on major sources such as Facebook, Google, Bing, and others. Strict moderation systems force the use of third-party software that can help solve this problem. In this case, affiliates can benefit from cloaking services. There are various solutions with unique functionality and pricing policies on the market.
Today we focus on the product called Cloaking.House, which was launched in 2022 and has proven itself positively. It is directly related to the team behind the popular advertising network Push.House and several other well-known projects in the affiliate marketing niche.
Advantages and Features
Traffic flows are processed and filtered using AI based on machine learning, which constantly improves and learns on its own;

It performs exceptionally well on popular traffic sources such as Facebook, Yandex, MyTarget, TikTok, and many other advertising platforms;

Offers deep filtering customization options based on different variables: GEOs, browsers, operating systems, device types, proxies, and ISPs;

Functionality that allows generating custom white- and black-lists with just a few clicks;

Simple PHP integration for easy installation and configuration of scripts, even without technical programming knowledge;

Provides comprehensive statistical data covering every click, GEO, flow, devices, browsers, and much more;

Access to an unrestricted 7-day trial version immediately after registering in the system;

Referral program with a 20% commission on the spending of your referred users.
Registration
To start using the service, we need to register. To do this, go to the main page and click on the "Sign up" button. Fill in the required fields and agree to the service's terms and conditions.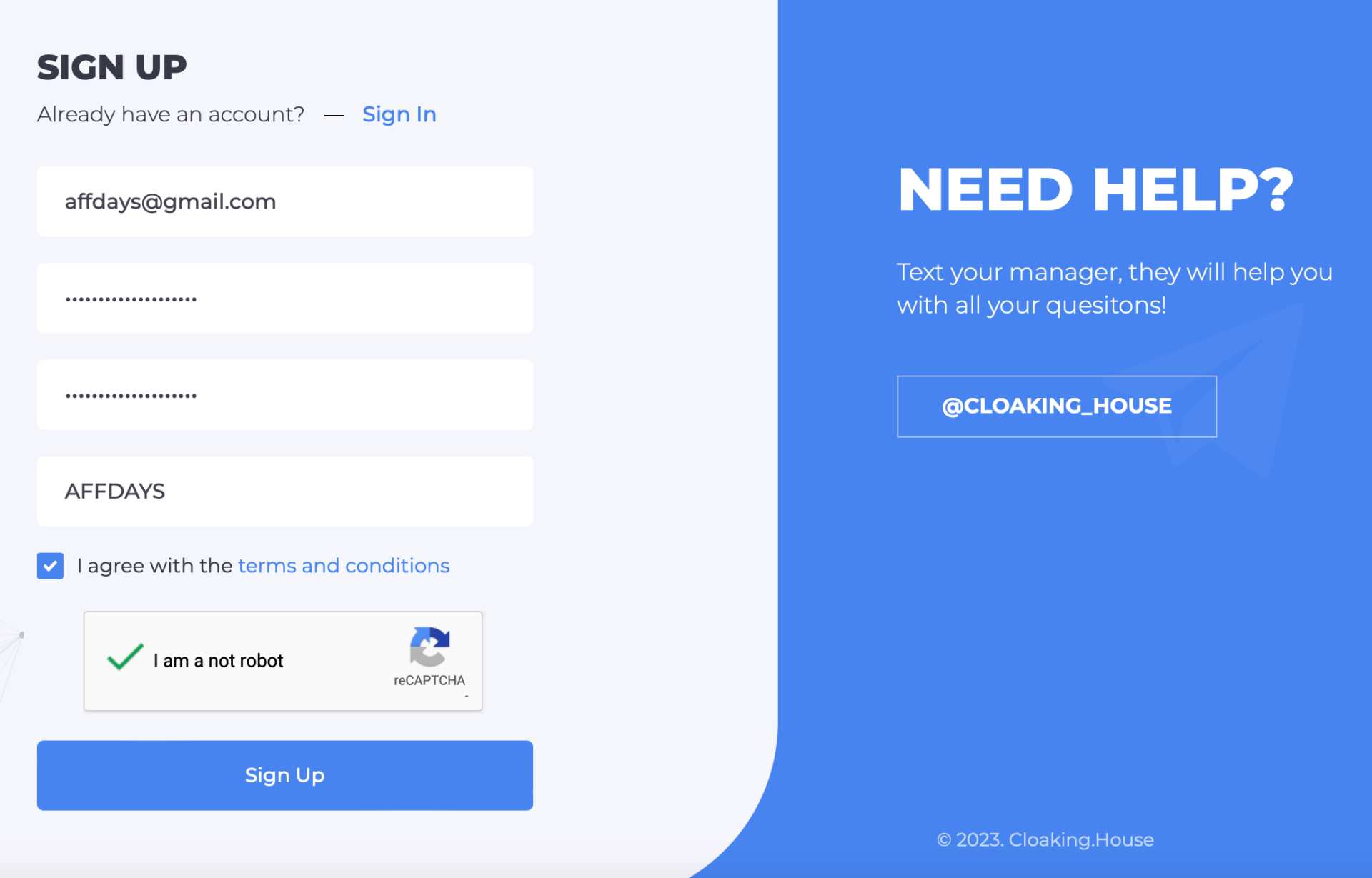 Interface
After registration, you will be immediately redirected to your personal account. You will have free access for a week, which is sufficient to familiarize yourself with the features and try out Cloaking.House in action.
The service's interface is designed in an intuitive manner, with important navigation elements conveniently located in the left menu. We will explore each of them in more detail.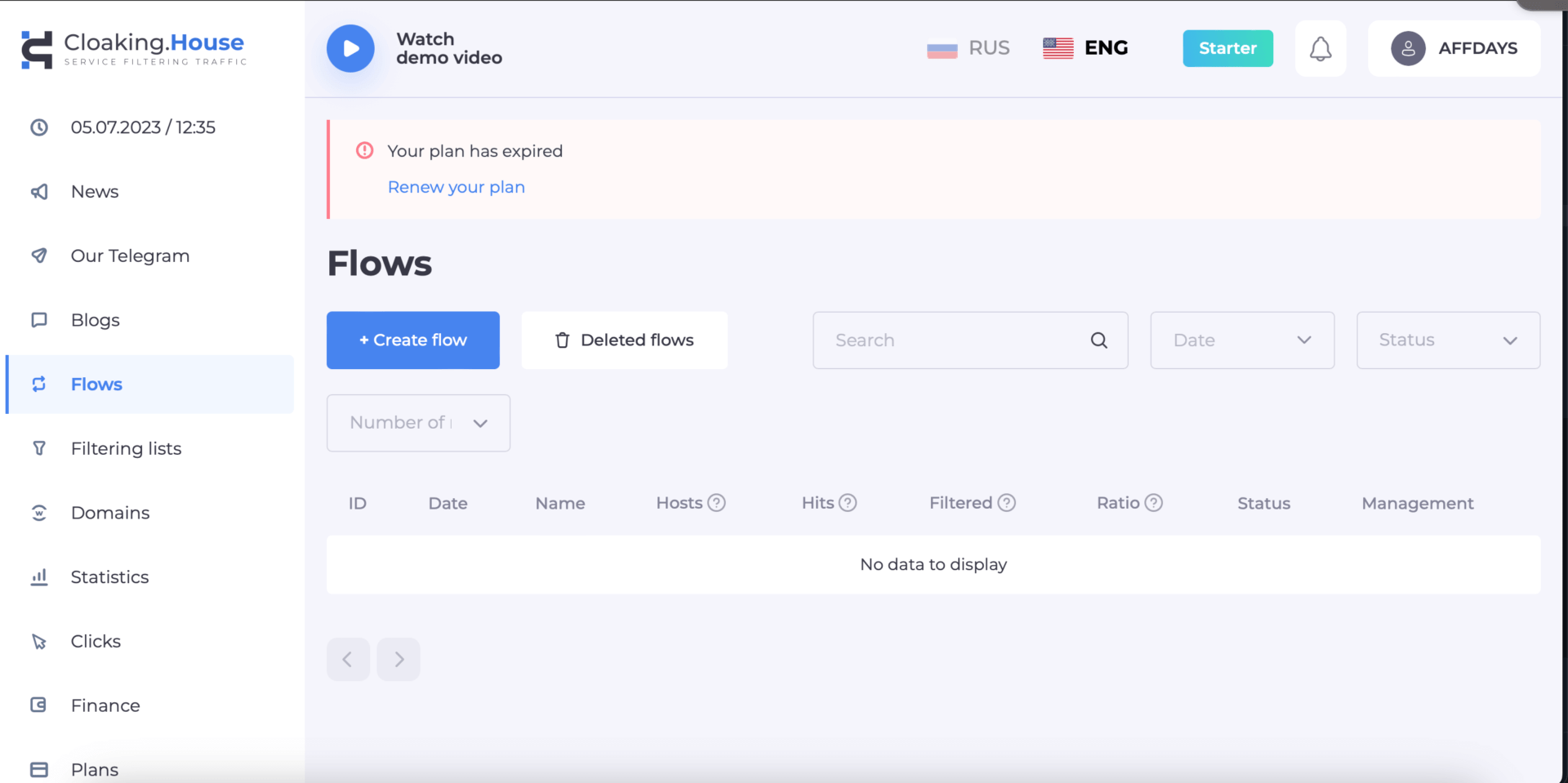 News
This section provides updates and highlights changes and innovations on the project.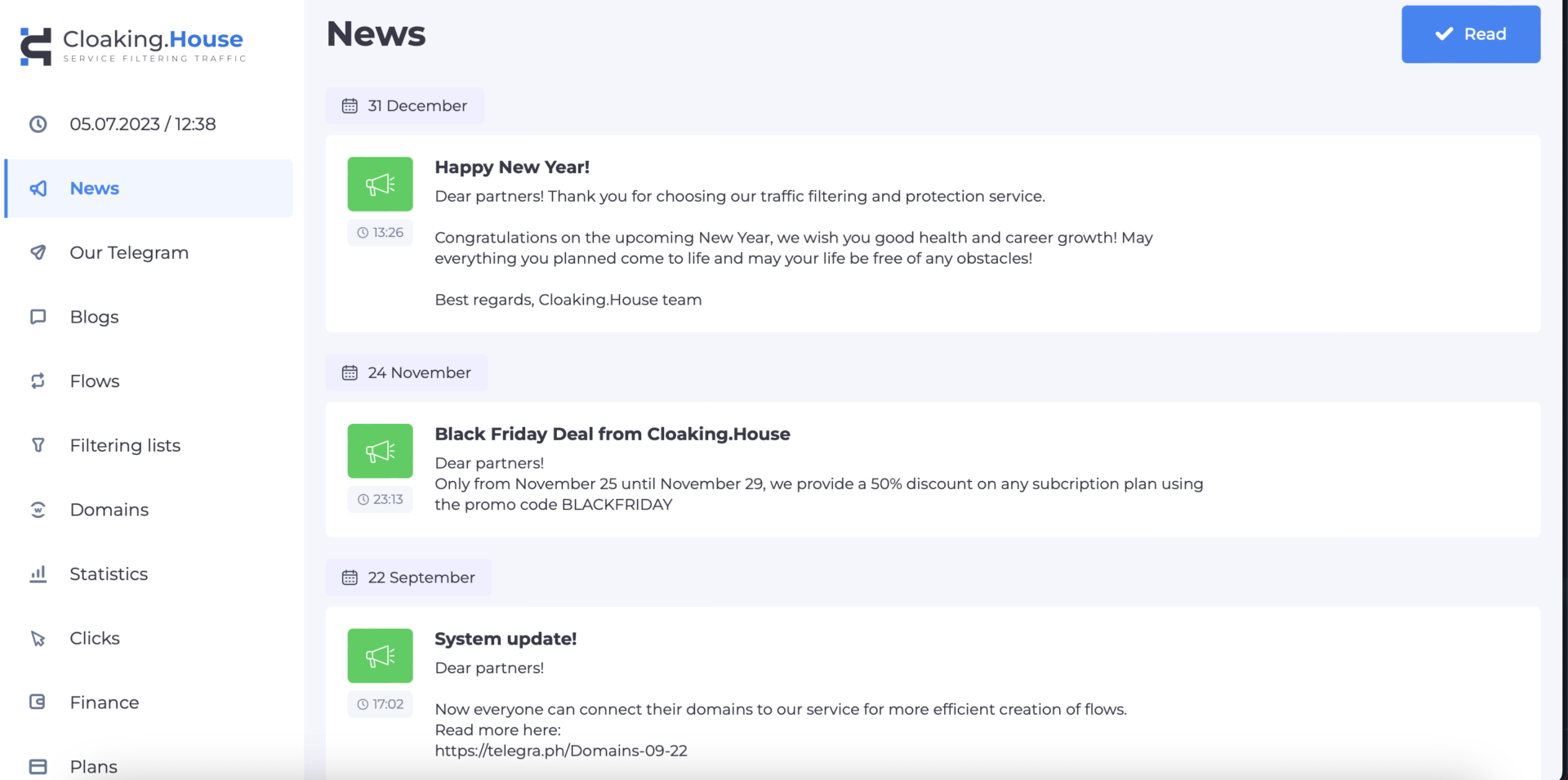 Blogs
The service's blog periodically provides valuable information on working with Cloaking.House.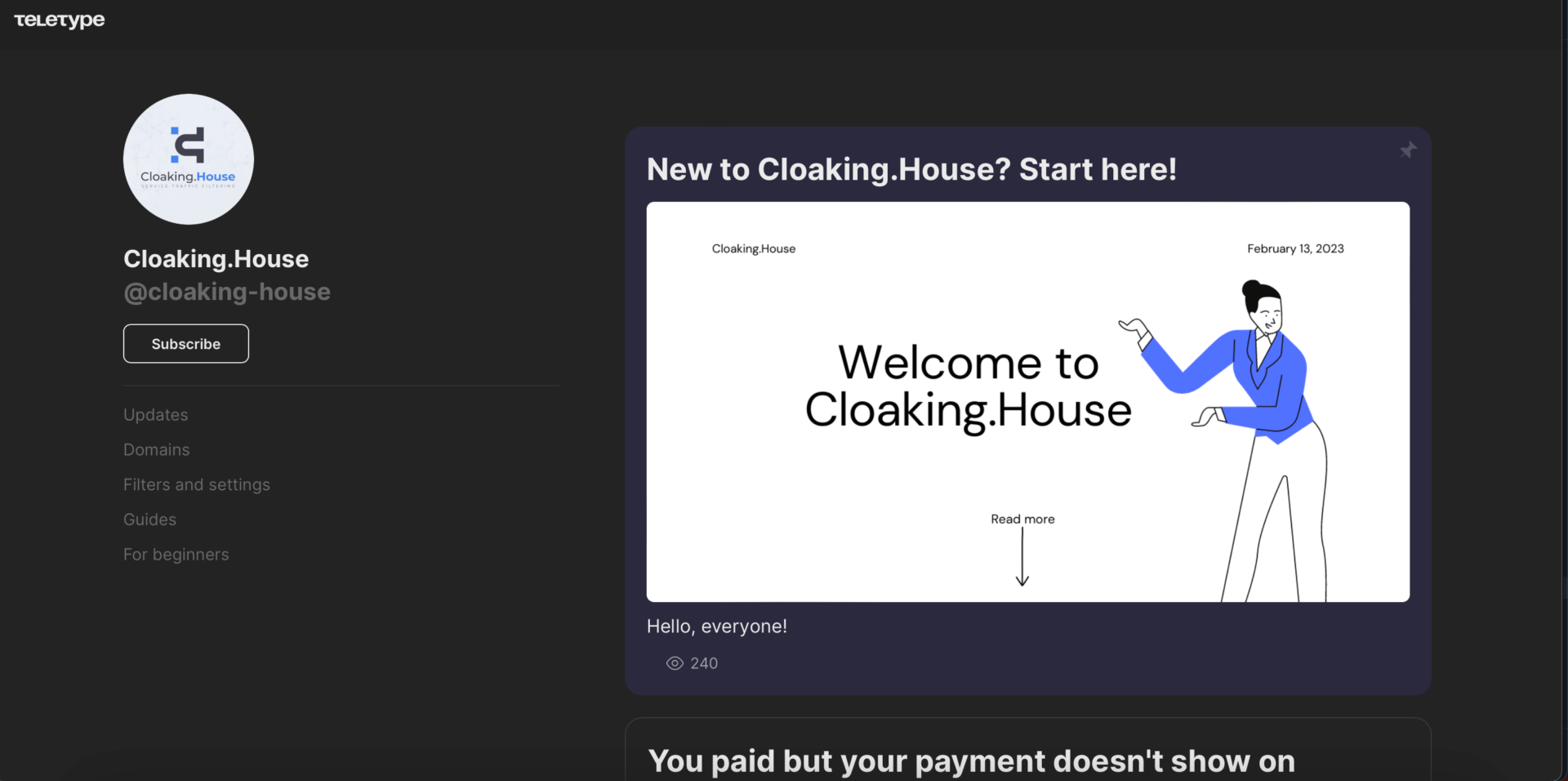 Flows
The main menu item where you can create and manage traffic filtering flows. It provides a summary of information such as the date, name, number of hosts and hits, filtered redirects, their ratio, and status.

Filter Lists
This section contains lists that include filtered IP, ISP, and User Agent lists.

When you click on the "Create List" button, you will be directed to a page where you can enter the necessary variables.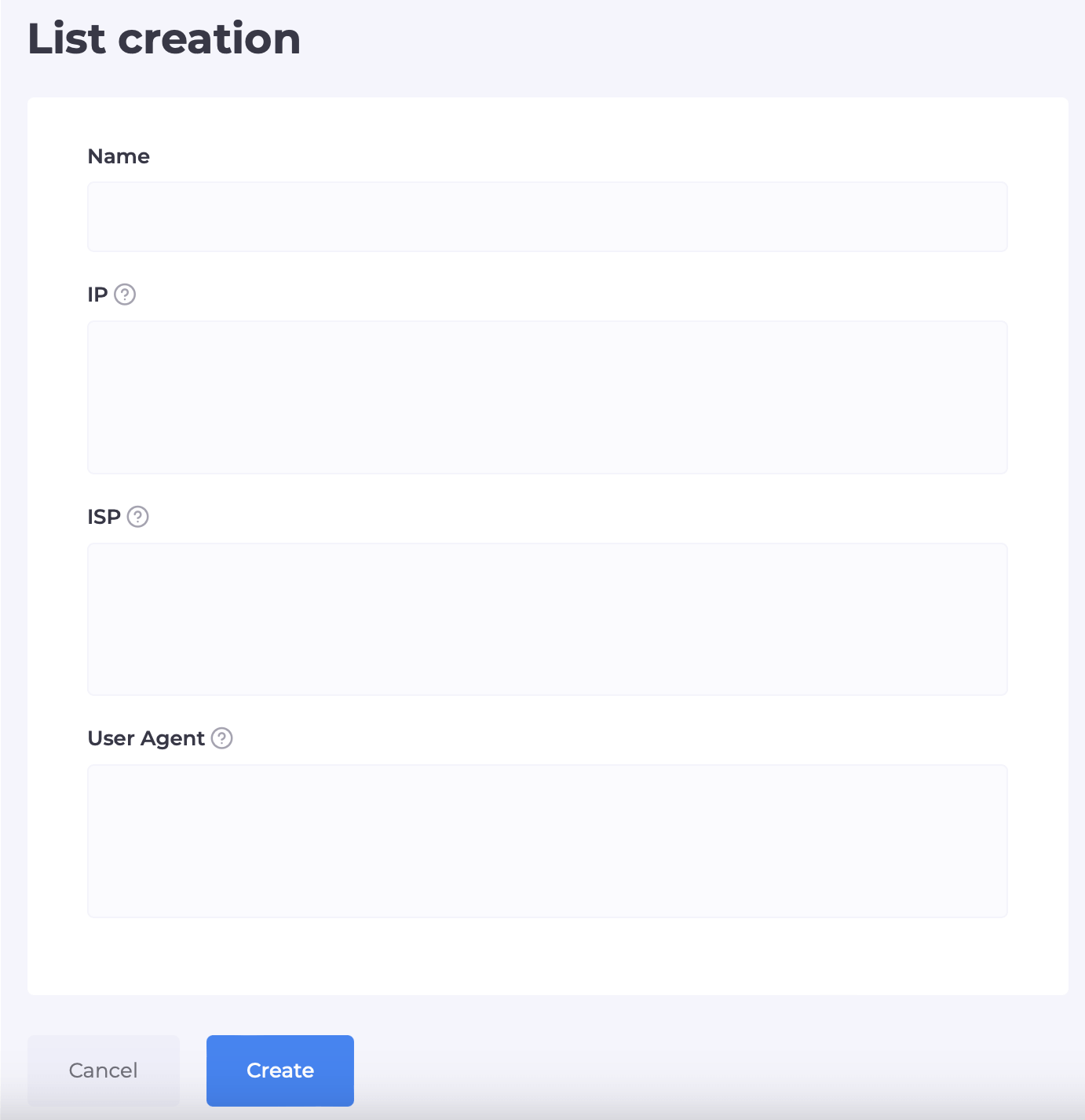 Domains
This section is for domain parking. Adding your domain allows you to avoid purchasing a hosting. Set the Cloaking.House NS servers and, after some time, you can use the ready-made solution with an automatically generated SSL certificate.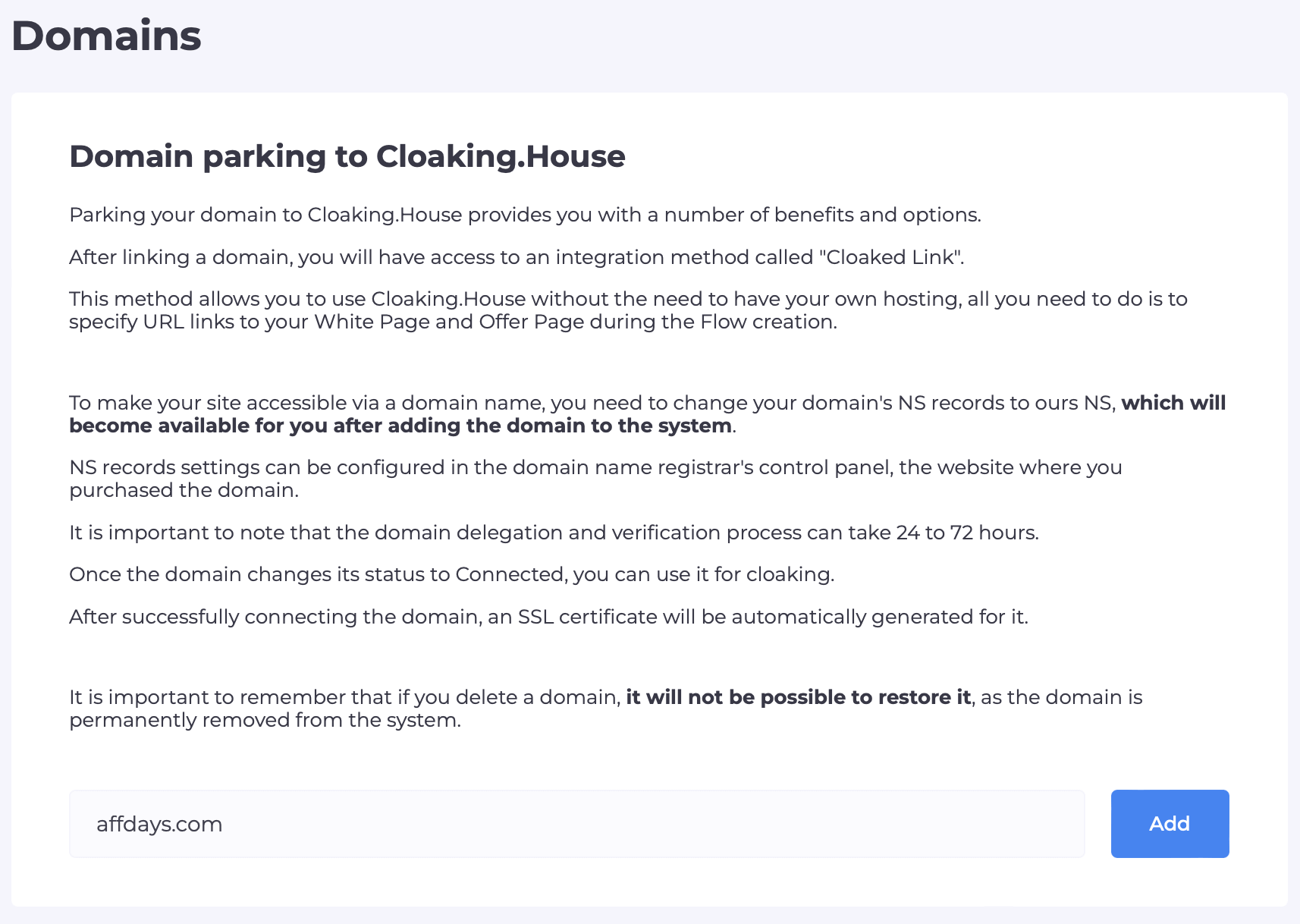 Here, you can also purchase any of the offered domains for $10.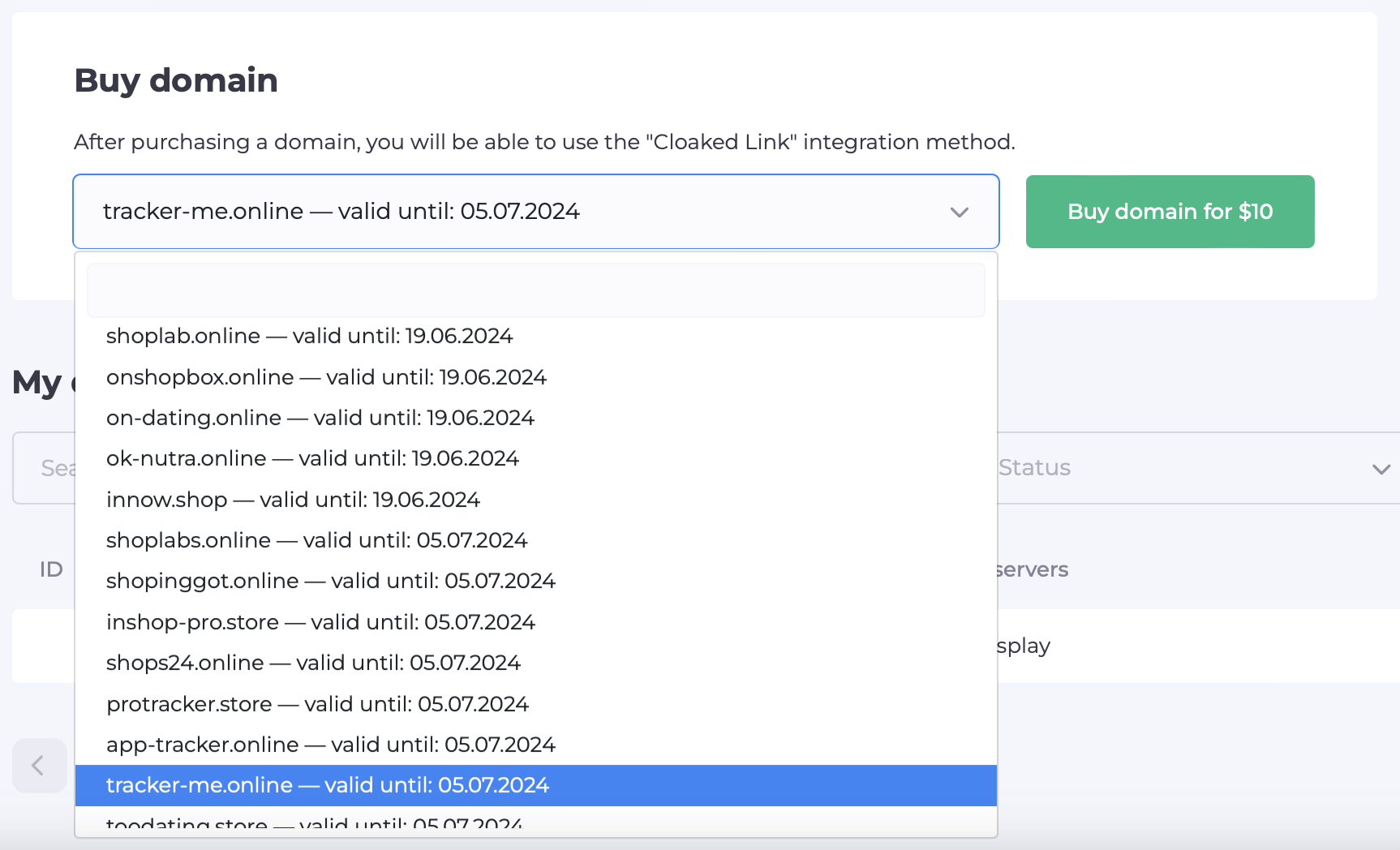 Statistics
Provides overall statistical data with advanced filters for real-time analysis of created flows. Analytics are available based on date, time, days, countries, cities, devices, operating systems, browsers, and brands.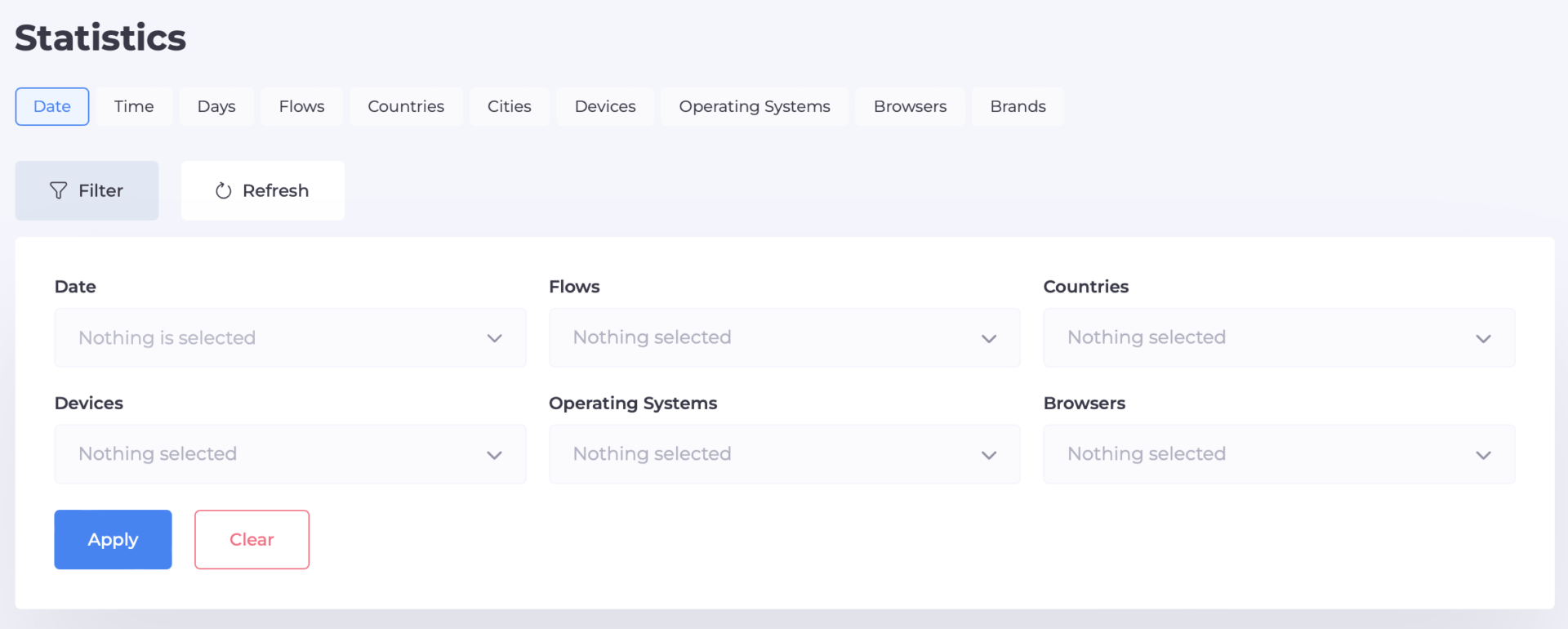 Clicks
Statistics on accepted clicks, filterable by date, flows, IP, country, ISP, Referer, User Agent, device, operating system, and browser.
API
Technical documentation for setting up API integration.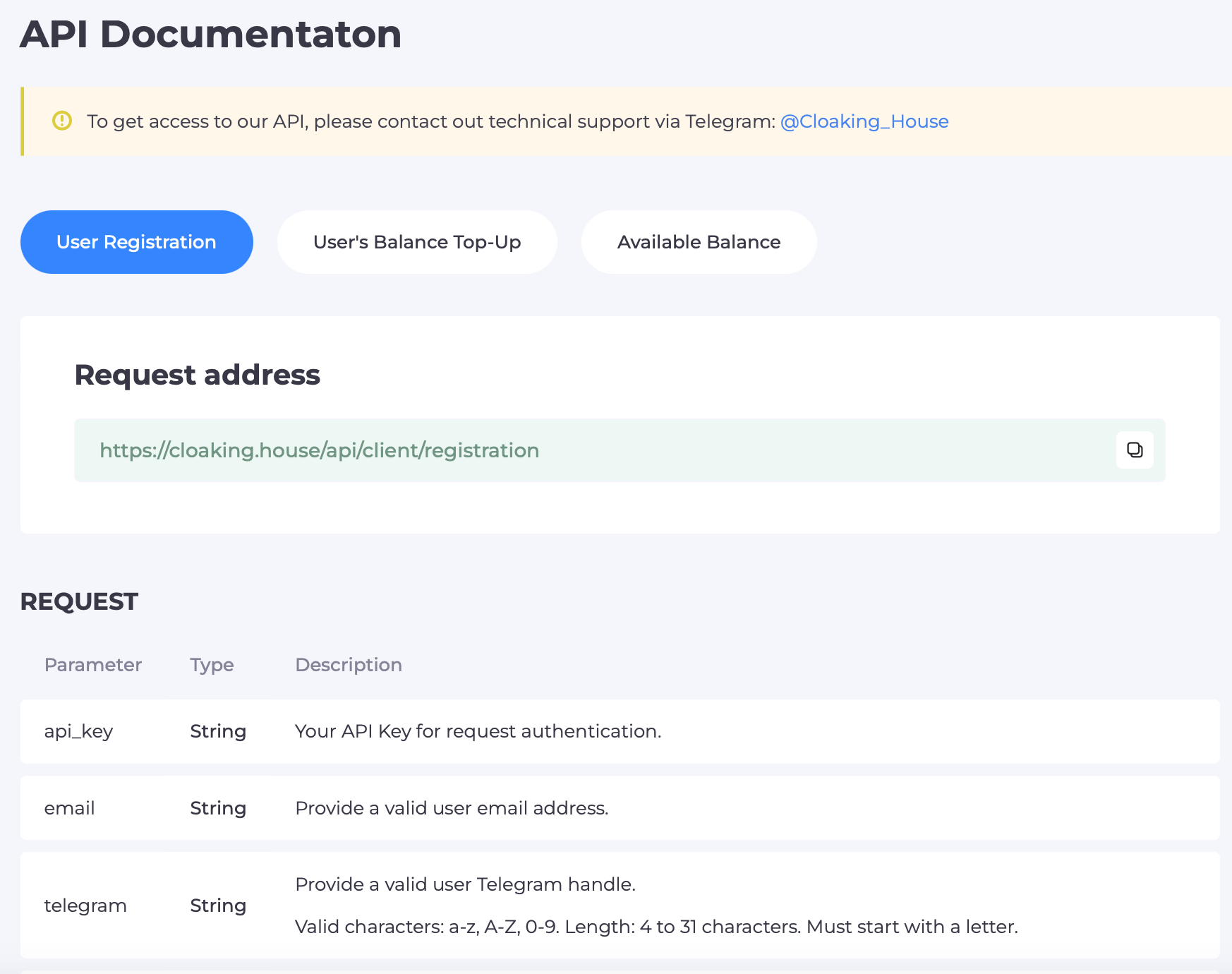 Referrals
Cloaking.House's affiliate program offers a 20% commission on the spending of referred users.
FAQ
The FAQ section provides help and assistance in a question-and-answer format.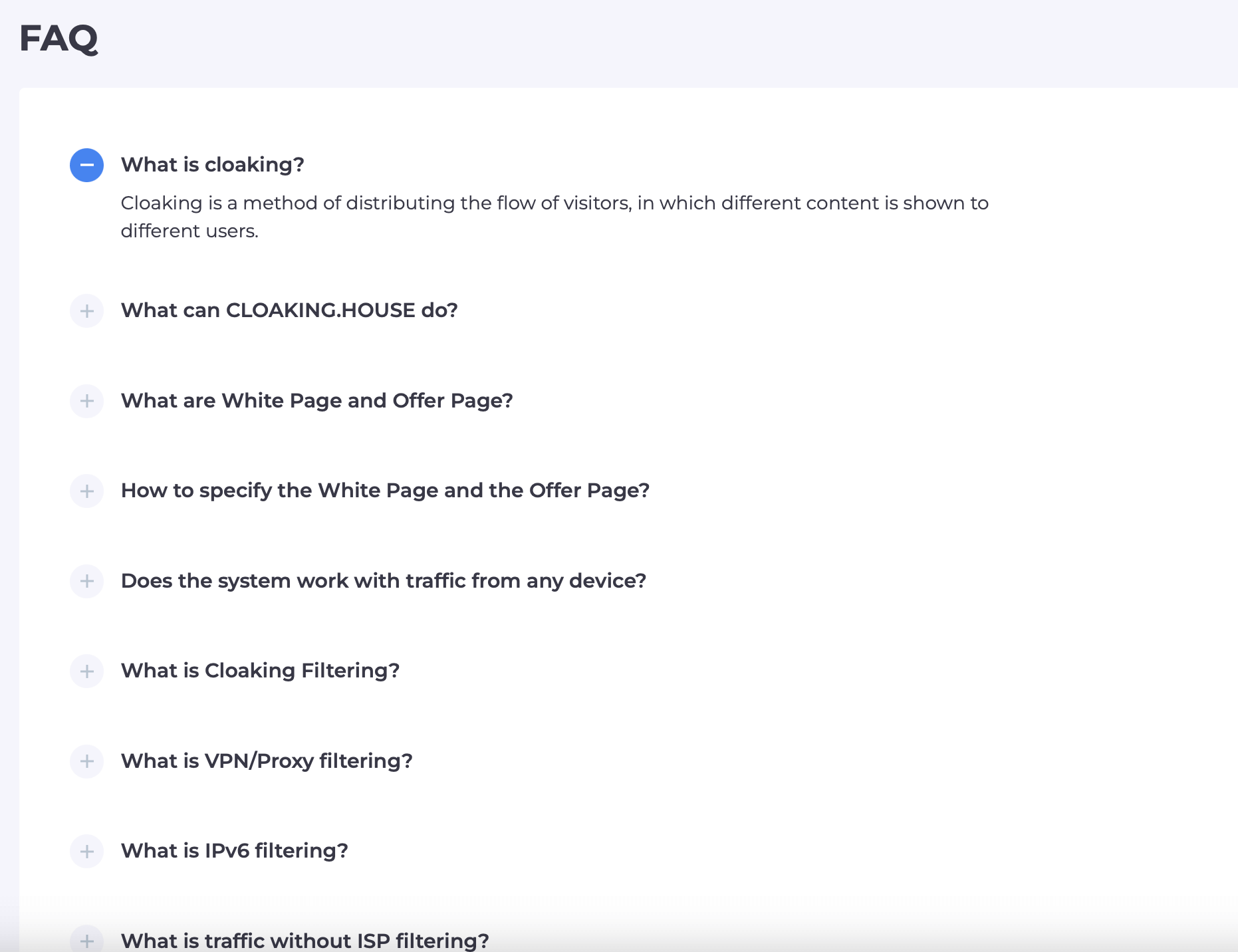 Creating a Flow
To create a flow, go to the corresponding menu section and click on "Create flow." Enter the required information step by step.
Flow Name

– Enter any name you prefer;

White Page

– Pre-prepared page where moderators and bots will be redirected when they click;

Offer Page

– The page you want to cloak, where all the targeted traffic will be directed;

Load content

– If your page is on the cloak domain;

Redirect

– If your page is on an external site;

Iframe – Opening pages in an iframe.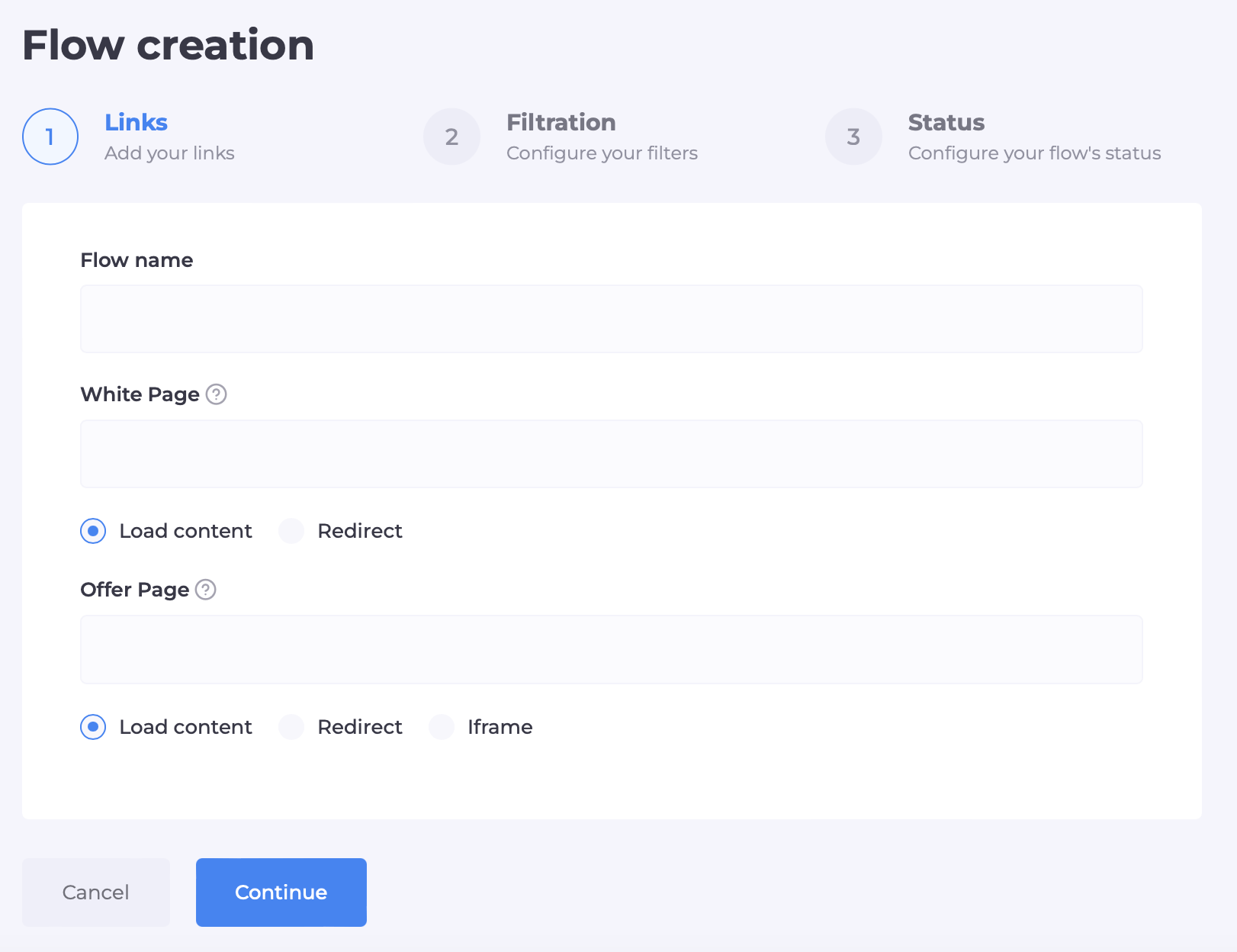 After entering the data, click "Continue" and proceed to the filter settings. By default, the system enables all functions at once. You can customize them to your needs, specifying the number of clicks, allowed countries, device types, operating systems, browsers, and your created blacklists.
Cloaking –

Enable the cloaking filter;

Disallow VPN/Proxy Traffic

– Prevent traffic from VPN/Proxy IP addresses from accessing the Offer Page;

Disallow IPv6 Traffic

– Prevent traffic from IPv6 addresses from accessing the Offer Page;

Disallow Traffic without ISP

– Prevent traffic from accessing the Offer Page if the internet service provider cannot be identified;

Disallow Traffic without Referrer – Prevent traffic from accessing the Offer Page if the referrer cannot be recognized.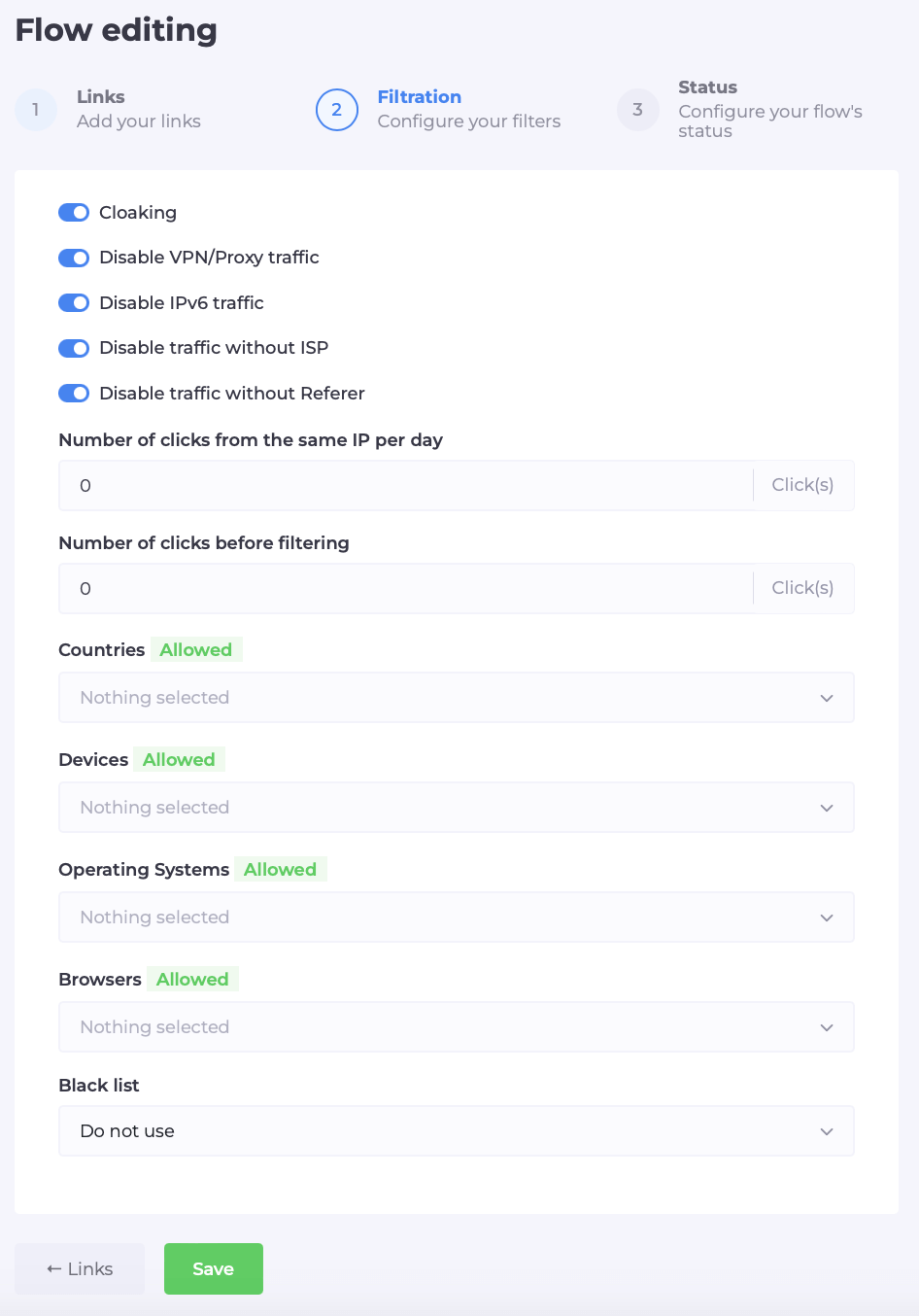 Save the settings and proceed to the last step, where you need to select the status as "Active" to enable the filtering. You can also add a list of white IP addresses that the cloaking will not block, allowing them to be redirected to the Offer Page, bypassing the applied filters.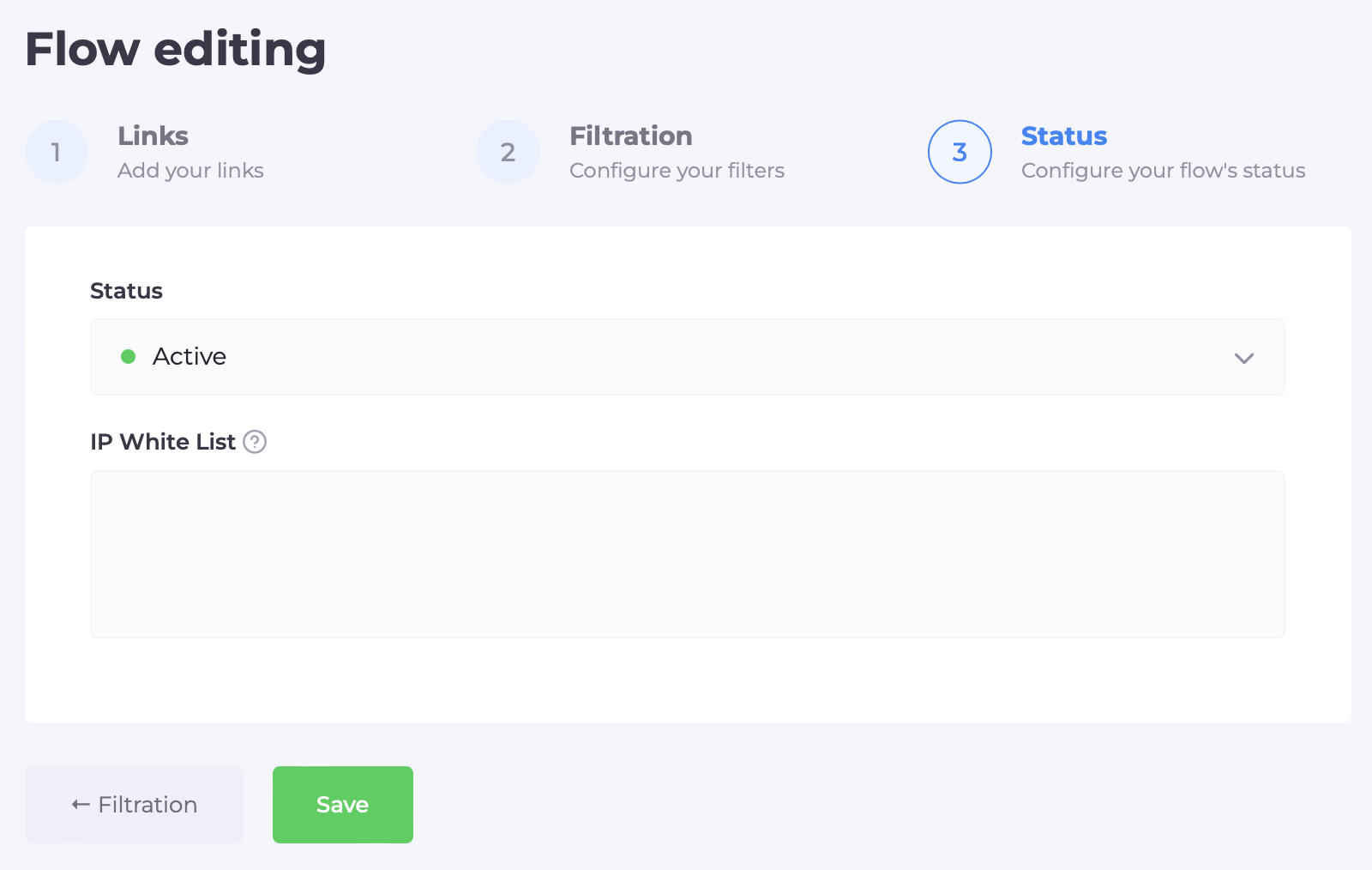 Once you have saved the settings, you have a fully functional flow ready to use. You can manage it from the "Flows" section. Download, integrate, and start driving traffic.

As you can see, the configuration is straightforward, and it can be done quickly in a few steps. However, if you encounter any difficulties, you can always reach out to customer support, whose contact information is provided in the menu, or refer to the detailed video tutorial in your account.
Account Funding
The minimum amount to fund your account is $50. The available payment systems include:
Capitalist;

Visa;

Bitcoin;

Ethereum;

Tether;

Litecoin;

Perfect Money.
Subscription Plans
There are three subscription plans available for working with the service:
Starter

– includes 3 active flows and live support. Priced at $30 per month;

Basic

– includes 10 active flows and priority support. Priced at $100 per month;

Premium

– includes unlimited active flows and live support. Priced at $200 per month.
In addition to the number of available flows, each subscription plan includes the following features:
Unlimited clicks;

Protection against bots and moderators from all advertising sources;

Protection against spy services;

Protection against VPN/Proxy;

Real-time statistics;

PHP integration;

Premium GEO Databases;

IPv4 support;

IPv6 support;

ISP support;

Referrer support;

Device filtering;

Operating system filtering;

Browser filtering;

Blacklist filtering;

Support for all traffic sources.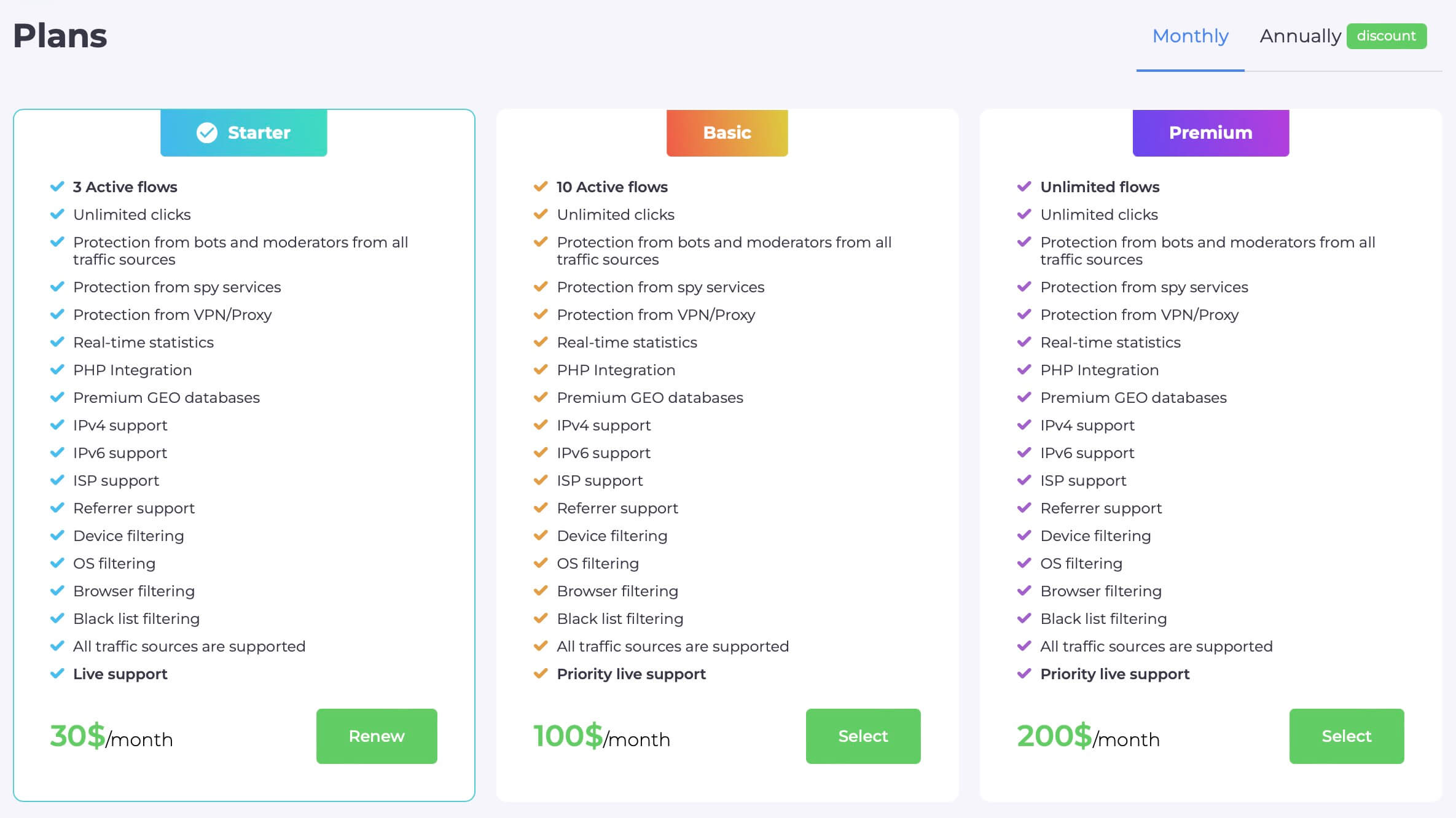 You can save on payment by subscribing for a full year in advance.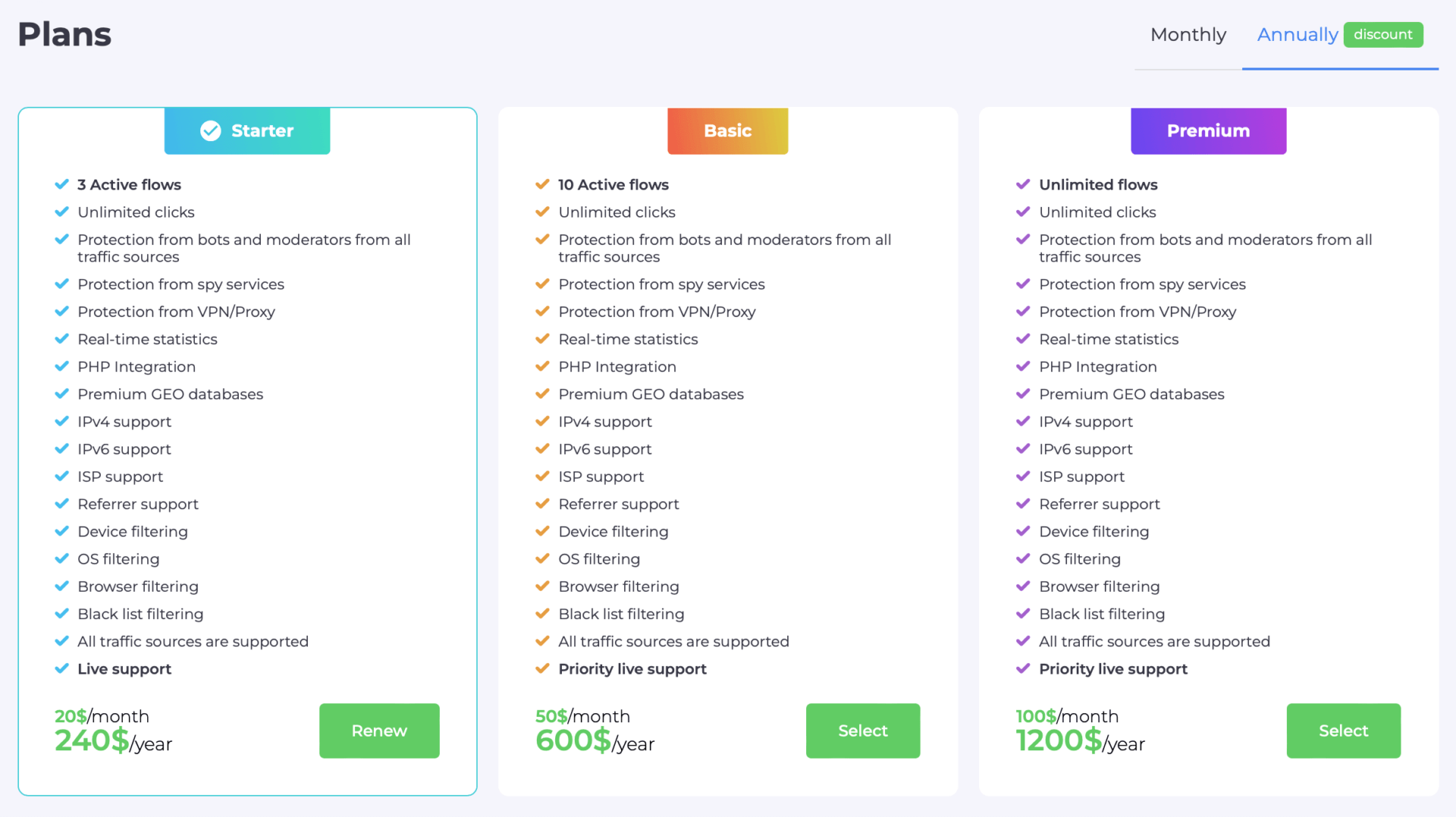 Promo Code Bonuses
Exclusively for our users, the Cloaking.House team offers a 30% discount on any tariff plan. It's very easy to take advantage of this bonus:
Register with Cloaking.House;

Go to the "Subscriptions" section;

Choose a suitable plan;

Enter the promo code

AFFDAYS

on the payment page;

Enjoy the high-quality product.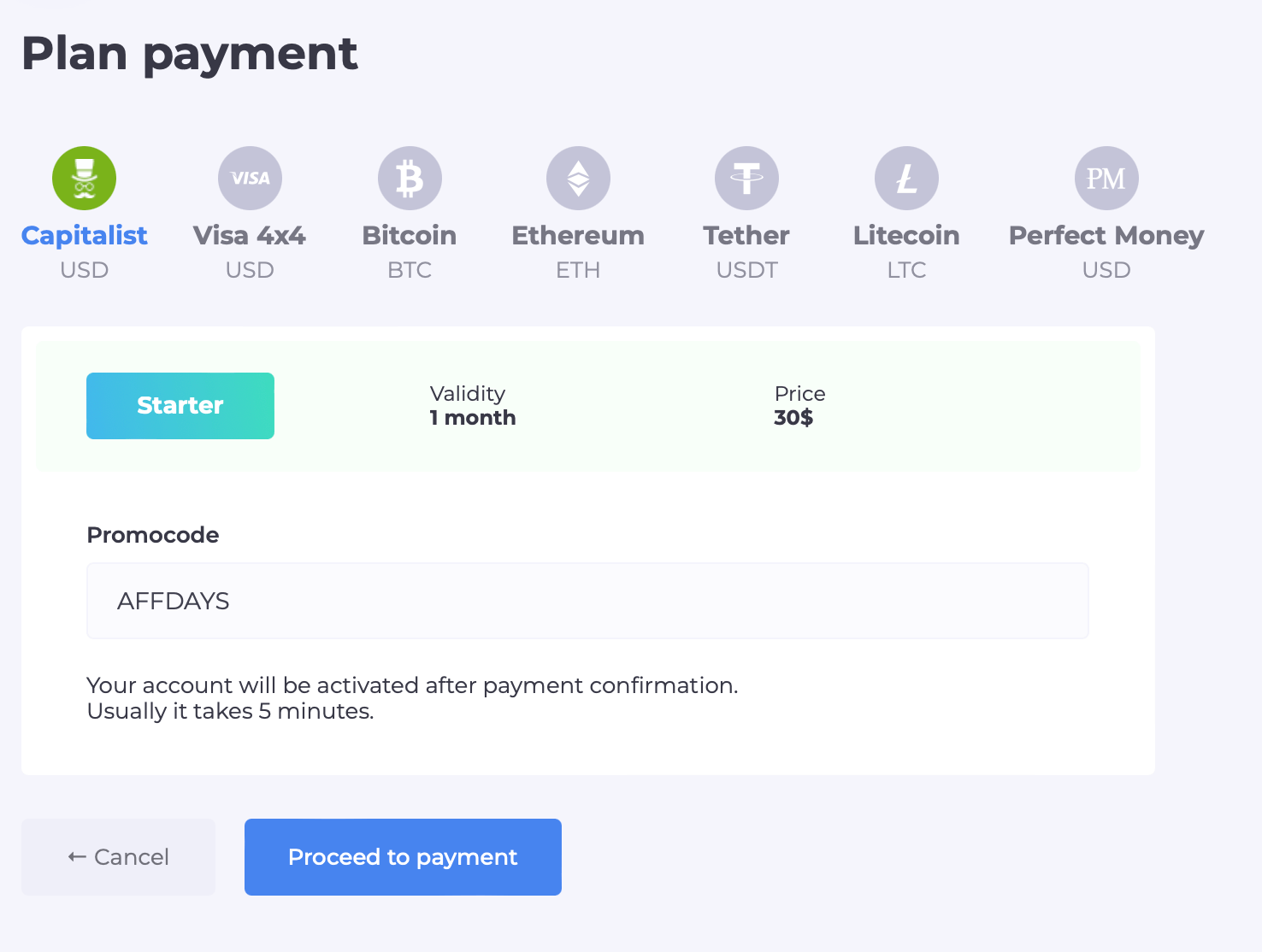 Reviews and Ratings
You can see real reviews and ratings from users of our cloaking service, as well as leave your own comments and impressions, in our global rating listing for Cloaking.House.
Conclusion
Moderation algorithms are improving day by day. Gray verticals require more and more effort and resources to drive traffic to them from popular sources. In such situations, cloaking services come to the aid of affiliates. Cloaking.House is a worthy representative that will safeguard the filtration of your traffic. Its extensive functionality, quality performance, and reasonable prices make it one of the best solutions in the market.